Wonder,
We (a couple of U.S. residence) planned to travel to China. Since I was interested in landscape painting, we choose four well-known places (Great Wall, Guilin, Zhangjiajie, and Yellow Mountain) to visit through Beijing and Shanghai. With a tight schedule, we arranged a private tour through China Discovery rather than a group tour. It was a tight schedule with 8 nights and 9 days, but we made it, beyond our expectation, with the tour arranged by China Discovery.
Here are our comments on the tour:
1. Our travel consultant (Wonder Wang) was not only proficient in making the tour plan and schedule, but also responded promptly to our questions and needs through e-mail and phone calls. For example, disappointingly we missed our original planned flight to Beijing (our first stop) due to an unexpected passport problem encountered during the departing procedure at the airport. With Wonder's prompt response to our problem, we were able to catch the next flight and accomplished our china tour as planned. It was a great relief, which could not have happened without his help.
2. The tour arrangement was well planned covering important aspect of the touring places with efficient transportation from one place to another. The hotels reserved for us were excellent. Their quality and services are as good as 5-star hotels in the United States.
3. Tour guides were on-time, kind, and flexible to our needs. They were knowledgeable about the place that they were guiding and fluent in English. We were very comfortable while touring the places.
4. We are very impressed with the service provided by China Discovery. China Discovery provides top quality touring services with a reasonable expense. We strongly recommend China Discovery to others who plan to visit China.
5. It was our first time to visit China, but we had some limited knowledge about China through news, magazine, and friends who had traveled China before. Based on the limited knowledge, we were a little concerned about our China trip. However, we changed our minds of China completely after our visit. China is safe, clean, and modernized. People are kind and look happy.
6. The convenient features prepared for the tourists are amazing. Cable cars, trams, and escalators to the top of mountains make it possible to reach the tourist spots in a short time with ease. It was relatively easy to walk around on trails in the mountains – every trail is paved leading to vista points, and there were no dirt trails. Some trails are built on the cliff for which many workers lost their life during the construction. We really appreciate their dedication and hard work. Without their sacrifice, it would be much more difficult to view these beautiful world famous sceneries.
7. We also experienced some problems in infrastructure in public place. Often times, domestic flights were delayed. Even in a big airport such as Xian, there were no directions posted in English, nor a guide for foreigners. That made it difficult for us to go to the next gate in time for the next destination. Because of these problems, we missed our flight from Xian to Zhangjiajie. These kinds of problems need to be corrected or improved.
8. Our experience and comments can be shared with others as a reference. I also attach several panoramic pictures taken during our tour, which can be used in your publication.
Sincerely,
Kyoung
The following pictures were shared by Kyoung.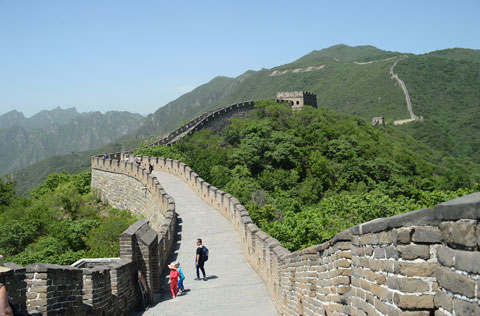 Great Wall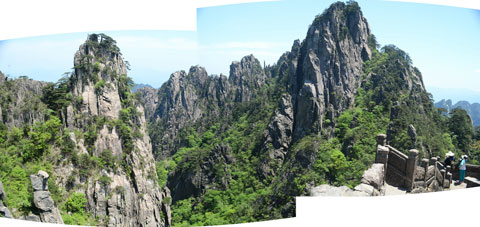 Picturesque Huangshan Mountain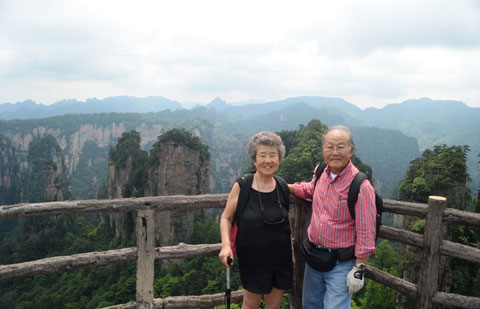 Kyoung & Song enjoy Zhangjiajie tour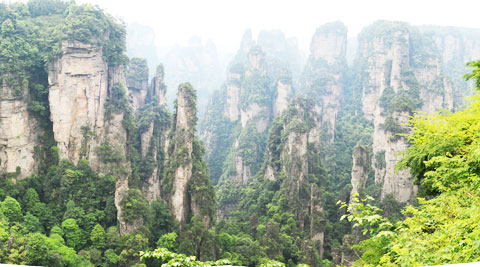 Featured Mountains in Zhangjiajie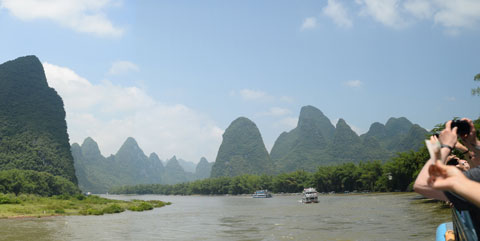 The Most Excellent Landscape in Guilin