Guangdong Hong Kong Macao Greater Bay Area
What Is Greater Bay Area?
Guangdong-Hong Kong-Macao Greater Bay Area, shortened and known as Greater Bay Area (GBA) is the newly developing world class urban agglomeration. Being one of the areas with top strongest economic vitality and top highest openness, this new and red-hot city cluster in the farthest South China plays a crucial role for the national development. Furthermore, praised as one of the four bay areas in the world, together with New York Bay Area, San Francisco Bay Area and Tokyo Bay Area, the Greater Bay Area with world top mega cities (Hong Kong, Macau, Guangzhou, Shenzhen, etc.), booming economy, enormous potential, advantageous location and transportation, top popular tourist hubs, favored policies and pleasant environment, etc. is gaining more and better attention, status and visits.
Location: South China
Coverage: 56 million km²
Population: 69.569 million
GDP: 156,203 CNY
Major International Airport: Hong Kong International Airport, Macau International Airport, Guangzhou Baiyun International Airport, Shenzhen Baoan International Airport
What Are the Greater Bay Area Cities
Greater Bay Area consists with Hong Kong, Macau and 9 Guangdong Provincial cities, namely Guangzhou, Shenzhen, Zhuhai, Foshan, Zhongshan, Jiangmen, Dongguan, Huizhou and Zhaoqing. Boasting four world class cities, Hong Kong, Macau, Guangzhou and Shenzhen, the Greater Bay Area has super talent, energy and ability to spur the economy and national strength of China a lot in front of the world!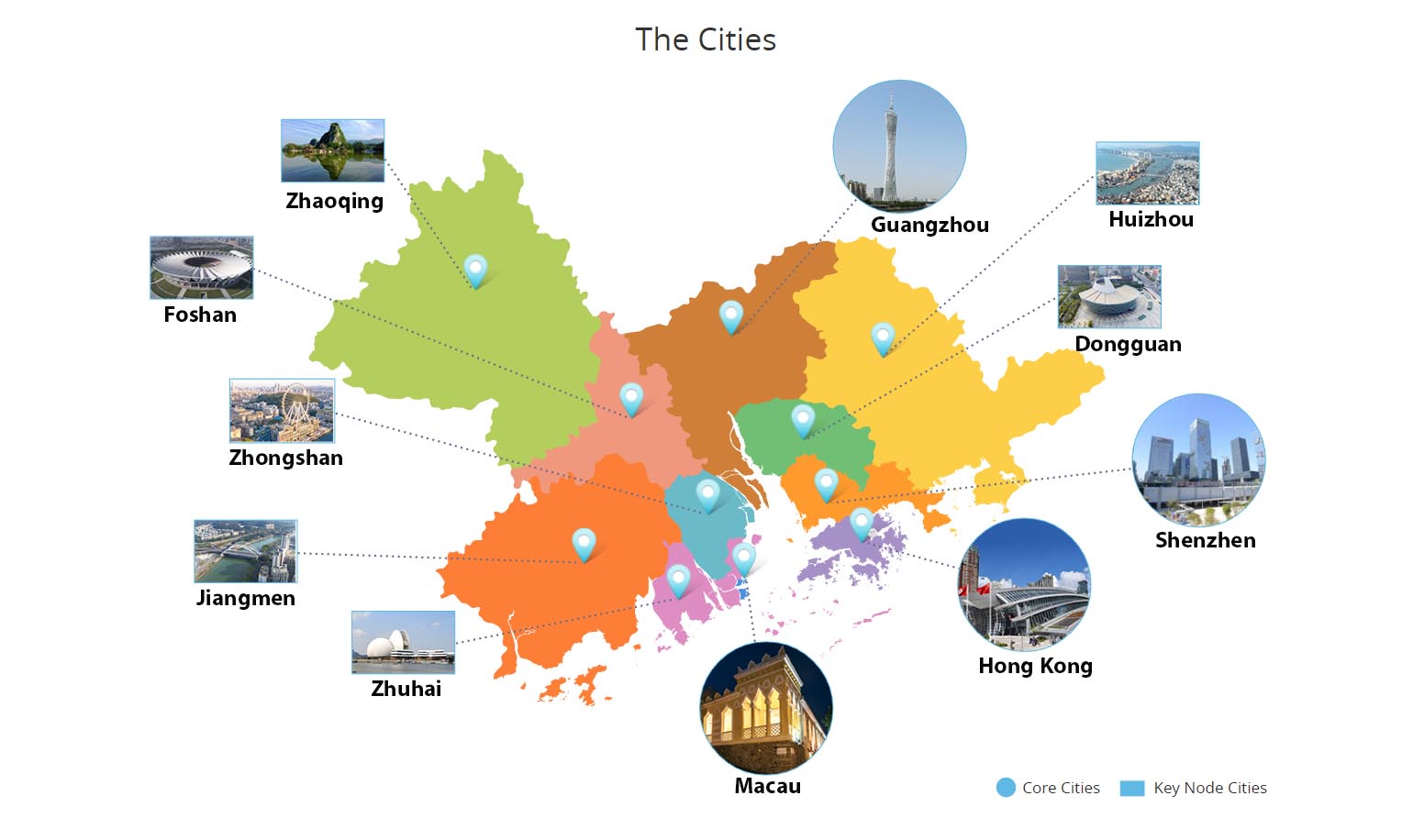 Greater Bay Area Cities
Top Tourist Cities in Greater Bay Area
Greater Bay Area is not only a potential and influential economical and industrial city cluster, but also, it is one of the top several global popular tourist destinations and a large tourist area in China. Among the 2 special administrative regions and 9 provincial cities in Pearl River Delta, Hong Kong, Macau, Guangzhou, Shenzhen, Foshan and Zhuhai stands out obviously as the top tourist destinations for travelers for the blending international and Lingnan culture, changing histories, various delicious food, awesome buildings and a lot of precious traditional folk essences.
Hong Kong - China's Leading "Pearl of the Orient"
Macau - Orgiastic Casino vs. Hybrid Colonial Architecture
Guangzhou - Political, Economic & Cultural Center of Guangdong Province
Shenzhen - "Silicon Valley" in China Formed within 40 Years
Foshan - Cradle of Cantonese Culture Next to Guangzhou
Zhuhai - A Top Best Coastal City in China
Apart from Hong Kong, Macau, Guangzhou, Shenzhen, Foshan and Zhuhai mentioned above, there are also some other recommended tourist cities chosen and reputed by many visitors. For example, Kaiping in Jiangmen City is an excellent place to seek the stories of overseas Chinese with the well-kept more than 1,800 Kaiping Diaolou clusters from the 14-20th cernturies. Zhongshan City near Guangzhou, as the hometown of the Mr. Sun Yatsen is super inspiring to know deep about that great father of the nation influential the world. To seek more authentic flavor of Guangdong, Chaozhou and Shantou favored by numerous Hong Kong people are also a top recommendation for foodies traveling there.
Guangdong 144-hour Visa Free Transit
How to Plan a Trip to Greater Bay Area?
Although Guangdong-Hong Kong-Macao Greater Bay Area is really very large, it is not a complicated matter for a trip planning. Usually, you can start from Hong Kong and spend 6-7 days to discover the best highlights of Hong Kong, Macau, and Shenzhen (or Guangzhou) to witness the top three mega cities and also their well-preserved authentic life style and cultural relics, including Hong Kong Victoria Peak, skyline, Macau historical architecture clusters, Ping'an Finance Center and Splendid China Folk Village (or Guangzhou Chen Clan Ancestral Hall and Huacheng Square), etc. And if you want to visit Hong Kong, Macau, Guangzhou and Shenzhen all together, it will take about 7-9 days. To explore deeper, you can spend 1 more day to savor Cantonese culture and arts in Foshan, 1 more day to see watchtowers in Kaiping, 1 day to enjoy pleasant coastline in Zhuhai, and so on.
Besides, if you have a long vacation, you are highly recommended to have a great China tour beyond the Greater Bay Area to discover more amazing destinations, such as Guilin with incredible Karst landform, Guizhou with fantastic ethnic culture, Beijing with grand royal building heritages, Shanghai with awesome cityscape and modern culture, Xian with impressive Terracotta Warriors and Tang Dynasty history, Chengdu with adorable giant pandas and delicious Sichuan cuisines, just to name a few.
Recommended Greater Bay Area Tour:
◇ 8 Days Hong Kong Macau Shenzhen Guangzhou Tour
Learn More About:
◇ How to Plan a Trip to Greater Bay Area
◇ How to Plan a Trip to Hong Kong
◇ How to Plan a Trip to Guangzhou
◇ How to Plan a Trip to Shenzhen
Travel Greater Bay Area with China Discovery
To help you enjoy a worry free and unbelievably wonderful trip to the Greater Bay Area and the whole China, you can travel with us China Discovery. Our professional travel expert will help you plan your trip from every step and arrange everything very well. Our local guide and drive in each destination will escort you with comfortable private car from your hotel to each tourist attraction and the guide will give interesting introduction of each site to enrich your traveling experience. You can choose your interested tour at below to star your wonderful trip to the Greater Bay Area. Furthermore, since all our trips are customizable, you can contact us for a tailor-made tour based on your interests, needs and budgets!