6-Day Visa-Free Group Tour to Pearl River Delta from Hong Kong or Macau - Resumed from March 15, 2023
Notice on Latest Visa and Entry Policies for Foreigners Entering China - Updated on April 25, 2023:
1. From April 29th, all travelers to China can use Covid-19 antigen tests taken within 48 hours before boarding instead of nucleic acid tests, and airlines will no longer verify pre-boarding testing certificates.
2. In order to further facilitate the entry and exit of Chinese and foreign personnel, it has been decided to make the following adjustments to the visa and entry policies for foreigners entering China, effective from 00:00 March 15, 2023 Beijing time:
1). The entry function of visas which were issued before March 28, 2020 and still valid will be restored.
2). Overseas visa offices will resume issuing various types of visas (including Tourist Visa) for foreigners to travel to China, with specific requirements detailed in the visa application guidelines of Chinese embassies or consulates.
3). Port visa offices will resume issuing various types of port visas for lawful purposes.
4). The policies of visa-free entry for Hainan, Shanghai International cruise arrival, Guangdong for Tourist group entry of foreigners from Hong Kong, Macau, and ASEAN tourist groups entering Guilin, Guangxi will be restored.
3. Attention on China Group Visa on Arrival in Nepal: needs minimum 4 applicants, and no maximum limit. All applicants from one list must all come to the Visa Center for application.
China Discovery will keep focusing on the updates of the latest Chinese visa and entry policy! You can also call 86 010 12367 (Official telephone number of China National Immigration Administration) to check further information. Welcome to join in our Facebook Groups to catch up with the latest news!
Invitation letter is a vital document for Chinese visa application. If you travel with us, we will not only create a valuable tour for you, but also provide you an invitation letter if you request, which will help you obtain your visa successfully. Start customizing your tour in China now!
We are one of the few China travel agencies who have kept active and received lots of feedbacks and reviews during pandemic years

Yaser
"Hello Mr. Wonder, We have arrived safely to Kuwait and are now cherishing our memories of China. The service of the guides was generally very good. They gave us insight into the history..."
read more »
Reviewed on May 29, 2023

Ilia G
"I have purchased a private tour from Lijiang to Shangri-la with a driver in the first week of May, 2023. Tracy Tan (I do not know her Chinese name, unfortunately) from China Discovery..."
read more »
Reviewed on June 7, 2023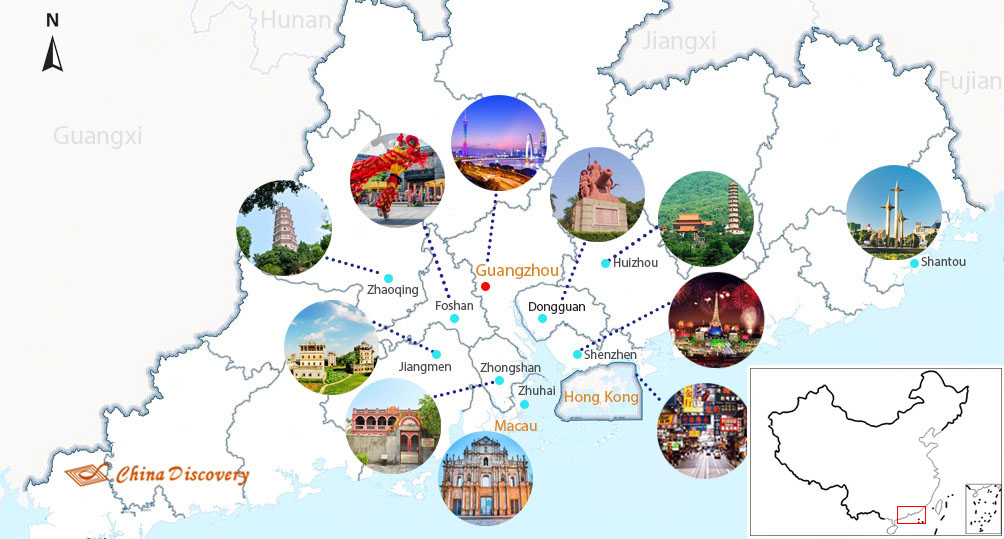 Guangdong-Hong Kong-Macau Travel Map
To promote further travel to Guangdong Province for tourists to Hong Kong and Macau, China implemented the "144-Hour Convenient Visa to Guangdong Province" since November 2000. Foreigners holding ordinary passport can visit 10 cities (Guangzhou, Shenzhen, Zhuhai, Foshan...) in Pearl River Delta, Guangdong, mainland China without visa for no more than 144 hours, and are allowed to exit from any ports in Guangdong Province, as long as he/she travel from Hong Kong or Macau and join in tour groups organized by HK/Macau-based travel agencies.
The 6-day free visa policy was operated in Guangdong Province much earlier than 72-Hour (later extended to 144 Hour) Visa-free Transit, which facilitates long-distance tourism to different types of travel resources in Guangdong-Hong Kong-Macau Greater Bay Area.
Latest News: Since May 1, 2019, Guangdong began to offer 144-Hour Transit Visa Exemption for international transit passengers from 53 countries.
In China, each visa exemption has specific regulations for application. If you travel from Hong Kong or Macau to Pearl River Delta cities in Guangdong, you may either use the 144 TWOV (Transit Without Visa) or 144-Hour Guangdong Free Visa for tour groups. It depend on your specific situations, including nationality, travel route and itinerary and possible places to visit.
Application Requirements
Transit travelers are highly suggested visit our 144-Hour China Transit Visa Waiver Program to get detailed requirements. Below are the essential conditions of 6-Day Visa-Free Tour Group to Pearl River Delta:
● Hold valid ordinary passport issued by any foreign country which established diplomatic relations with China, such as U.S.A, Canada, Australia.
● Already arrived in Hong Kong or Macau.
● Join in a tourist group organized by travel agency legally registered in Hong Kong or Macau.
● Plan to visit cities in Pearl River Delta region only (no intention to visit other cities beyond the 10 mentioned cities).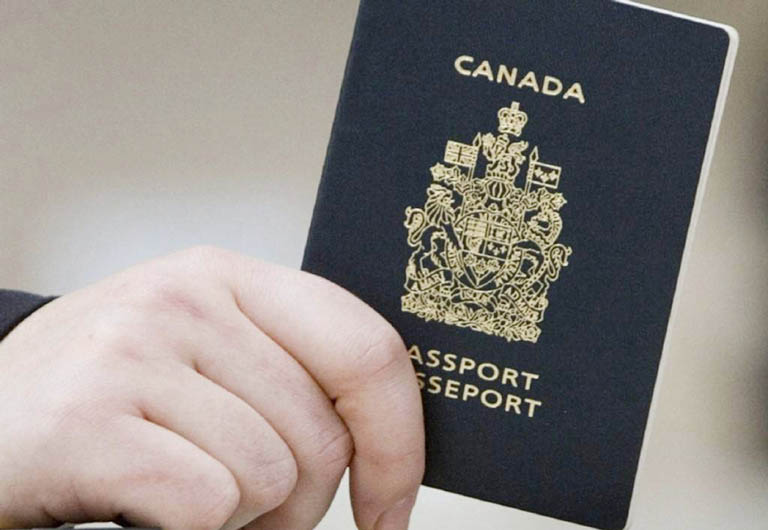 Passport is Needed for Pearl River Delta Free Visa
Other Restrictions You Need to Know
◆ Area of Movement: After entry, foreign tour groups are only allowed to visit and stay within the administrative regions of the 10 cities in Pearl River Delta zone, including Guangzhou, Shenzhen, Zhuhai, Foshan, Dongguan, Zhongshan, Jiangmen, Zhaoqing, Huizhou and Shantou.
◆ Duration of Stay: For eligible visitors, the longest stay period is 6 days, which counts from the date stamped on the Temporary Entry Permit. It is enough to arrange an in-depth tour in Guangzhou, Shenzhen, Foshan and major destinations in Guangdong.
◆ Ports of Entry & Exit: Tourists are permitted to enter and exit from any ports located in the 10 cities and opened to overseas visitors in Guangdong Province.
A Chinese Visa is required at the Exit-Entry Administrative Office of Public Security Bureau, if you intend to stay longer than the permitted period, or travel to other places beyond the appointed cities. How to Apply for A Chinese Visa >>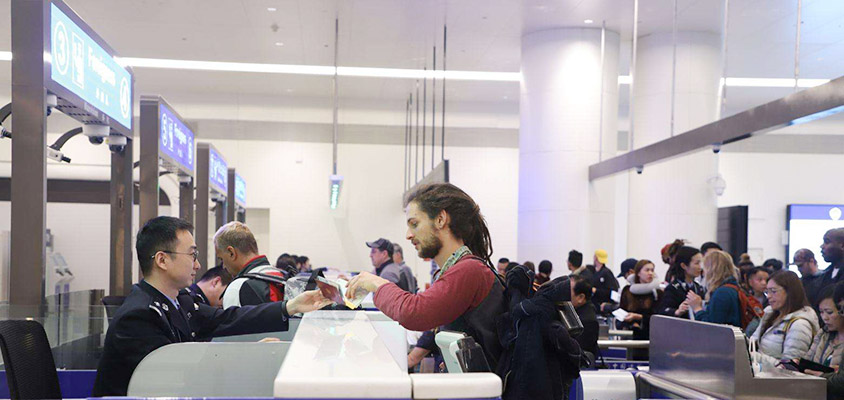 Foreigners was submitting passport for checking at airport
While travelling in Hong Kong or Macau, you firstly need to contact a local travel agency to arrange such a group tour to cities in the Pearl River Delta zone. You shall tell the agent your personal information and tour plan, like travel date, places going to visit, etc. The authorized travel agency will make detailed schedule and confirm details with you.
All you have to do is prepare own valid original passport and follow instructions offered by the travel agency. They will handle the visa-related procedures, help you go through customs clearance and give any support you need during travel in Pearl River Delta.
Now Guangdong offers two kinds of 144-hour visa-free entry policies for foreigners, which apply to different applicants, travel routes, and impose homologous restriction to visitors. See the table below to figure out which is suitable for you.
Comparison Table of 2 144-Hour Visa-Free Policies in Guangdong:
Visa Policy
Application Requirements
Special Notes
Travel Form
Nationality
Document
Travel Route
Entry&Exit Ports
Duration of Stay
Stay Area
144-Hour Visa-Free Transit
53 Countries
passport, connecting ticket
country (region) A→Guangdong → country (region) B
E.g.
HK-GZ-Macau; U.S.A-GZ-HK.
Entry (3):
Guangzhou Baiyun Airport, Shenzhen Bao'an Airport, Jieyang Chaoshan Airport.
Exit Ports (32) in Guangdong
144 Hours
(6 Days)
Guangzhou, Shenzhen...
21 cities in Guangdong
single traveler or tour group
144-Hour Visa-Free Visit
any foreign countries (establishing diplomatic relations with China)
passport, ticket & hotel booking, travel itinerary
HK/Macau → Pearl River Delta → Any Country/Region
Entry & Exit Ports in Guangzhou, Shenzhen, total 10 cities in Guangdong
Guangzhou, Shenzhen, Zhuhai...
10 cities in Pearl River Delta
tour group only
It's clear to see that the 144 TWOV is more suggested for international transit passengers with fixed travel route, while another rule allows visitors to go back to HK(or Macau). In both policies, a Temporary Entry Permit will be issued for the short-term visit at the port of entry, without any charge. You're free to use one of them based on your own situations.
The Pearl River Delta (PRD) in Guangdong Province is not only a bustling economic region in Southern China, a globally influential base of advanced manufacturing and modern service industry, a important foreign trade port to the world, but also is the origin and carrier of Cantonese culture, Teochew Culture and Hakka Culture.
During the 6 day group tour to Pearl River Delta, you can witness the modern metropolis cityscape and trace back history in Guangzhou, marvel at architectures in worldwide styles in Shenzhen, gorgeous costal landscape in Zhuhai, catch a glimpse of Yue Opera, Lion Dance, Foshan Martial Arts in Foshan, taste delicate Cantonese Cuisine in the UNESCO City of Gastronomy - Shunde, etc.
◇ 5 Days Brilliant Lingnan Culture & Food Tour (Guangzhou, Foshan & Shunde)
◇ 8 Days Amazing Greater Bay Area Tour (Hong Kong, Guangzhou, Shenzhen, Macau)
China Discovery is a professional and experienced travel companion who offers high-value and worry-free China tours for you. We not only design ideal itinerary covering sightseeing, dining, transfer and hotel, but also can provide any visa support & help you need for China travel. Except 144 TWOV & visa-free for tour groups in Guangdong, China has offer  144-Hour Visa-Free Transit in Beijing, Shanghai, Xian, Guangzhou, Chengdu, Xiamen, Kunming, etc, and  72-Hour Transit Visa Exemption in Guilin, Harbin, Changsha. With our help, you may take advantage of the free visa to experience different kinds of landscape, culture and history of China.
Please feel free to  contact us to join in our top recommended Pearl River Delta tours, or let us customize a once-in-a-lifetime trip to Guangzhou, Zhuhai, other destinations in Guangdong Province and China for you.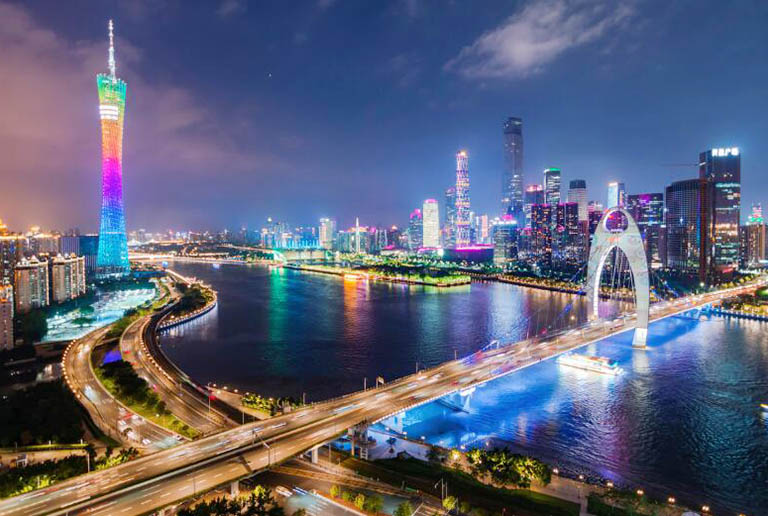 Dazzling Night View of Guangzhou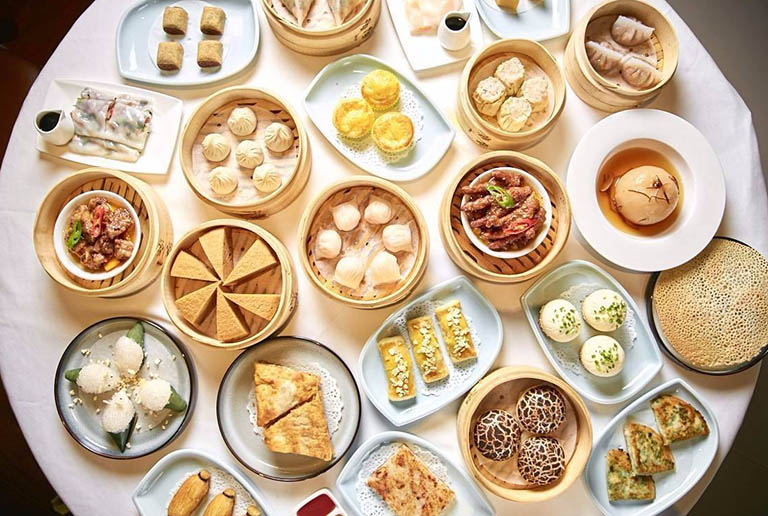 Enjoy Dim Sum during Yum Cha Time
Popular Guangdong Tour Packages
Guangdong Travel Planning
All Useful Guangdong Maps
Recommended Tours
Top 3 tours chosen by most customers to explore in the best way. Check the detailed itinerary, or tailor your own trip now with us.
6 Days Hong Kong Macau Shenzhen Fusion Tour

Hong Kong / Shenzhen / Macau / Hong Kong
8 Days Amazing Greater Bay Area Tour

Hong Kong / Guangzhou / Shenzhen / Macau / Hong Kong
5 Days Brilliant Lingnan Culture & Food Tour (Guangzhou, Foshan & Shunde)

Guangzhou / Foshan / Shunde / Guangzhou
Start planning your tailor-made holiday to China by contacting one of our specialists. Once inquired, you'll get a response within 0.5~23.5 hours.
Customize a Trip
Have a question? Get answers from our travel experts or guests
Your Question:

Your Name:

Your Email: