Foshan is the third-largest City in Guangdong Province of Southern China. It is about 20 kilometers (12 miles) southwest of Guangzhou City, the capital of Guangdong. This city in the northern part of the Pearl River is also a vital member of the newly developing world class urban agglomeration - Greater Bay Area (GBA), together with Hong Kong, Macau, Shenzhen, Guangzhou, Zhuhai, etc.
Its name Foshan means "Hill of Buddha" in English. As legend says, Foshan got its name when three statues of Buddha were unearthed from Tapo Hill in the city. Founded in Jin Dynasty (1033 BC-349 BC) and Named in Tang (618-907), Foshan has a history over 1388 years since renamed. With such a long period of history, it comes no surprise that Foshan is one of the birthplaces of Lingnan Culture and also home of Ceramics, martial arts, Cantonese opera and Cantonese Cuisine…
Why Visit Foshan:
Pay Homage to Kung Fu Masters: Known as the Hometown of martial arts, Foshan is the place where southern martial arts originated. The most famous and represented Wing Chun style of Kung Fu was developed here. It is also in Foshan, famous Kong Fu master Wong Fei-Hong and Lp Men (Bruce Lee's master) was born, started to learn Kung Fu and set up martial arts schools.
Foodies! Welcome to the Cradle of Cantonese Cuisine - Shunde! If you are looking for a place to feast your taste bud with most traditional Cantonese cuisine, Shunde in Foshan must be the best choice. It is considered as the cradle of Cantonese cuisine. And in 2014, this city was picked by the UNESCO Creative Cities Network as a Creative City of Gastronomy.
First National Famous City of Lion Dance and Dragon Boat: You must have watched the Lion Dancing in a movie before. How about enjoy such an amazing Kung Fu Dancing up close at its birth-land? You can take photos with the "lions" and even have chance to learn the skills there!
Explore the Source of Cantonese Opera: Foshan is also the birthplace of Canton Opera. It is also where the earliest Canton Opera organization Qionghua Hall established. Now the hall is also a museum of Guangdong Cantonese Opera. It must be a unique experience to explore the opera costumes, earliest films, records, etc. in the museum and to hear opera from the depth of the nearby alley.
Visa-Free Transit Policies in Foshan: Usually, a Chinese Visa is required for foreign visitors touring Foshan. However, transiting tourists from any one of the 53 specified countries landing at Guangzhou, Shenzhen or Jieyang first can have 144-hour visa-free entry to whole Guangdong area. Besides, tourists from 53 countries traveling from Hong Kong or Macau to Foshan can have 6-Day Visa-Free Group Tour to Pearl River Delta (Foshan is included) without visa.
Top Things to Do in Foshan
From historic temples, kiln to exquisite gardens and parks, there are many places in Foshan waiting for your visits. Here we select the top 8 attractions, including Lingnan Tiandi, Ancestral Temple, Qinghui Garden, Ancient Nanfeng Kiln, Ancestral Home of Bruce Lee, etc.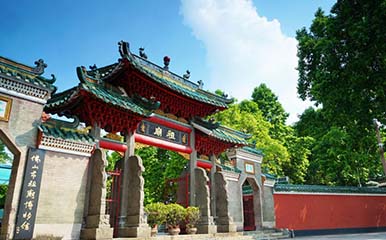 Ancestral Temple
It is a famous Taoist temple in Foshan downtown, also a famous museum of martial art and Foshan folk arts. Here you'll have the opportunity to enjoy a Kungfu show, lion dancing and Cantonese opera…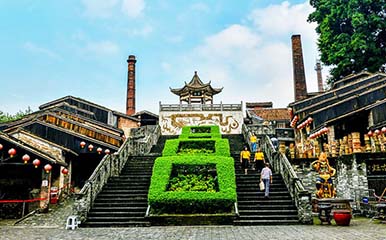 Ancient Nanfeng Kiln
Ancient Nanfeng Klin is where the pottery art of Foshan originated. It was listed in Guinness World Records in 2002 as it has been producing ceramics for more than five hundred years.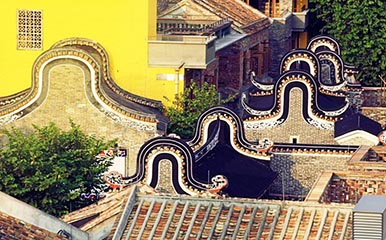 Lingnan Tiandi
Lingnan Tiandi is a huge area of exquisite traditional Lingnan-style architectures clusters. It is also a place where can give a glimpse of ancient buildings, life and business of Foshan City.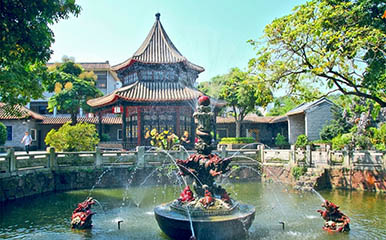 Qinghui Garden
Qinghui Garden built in Ming Dynasty (1368-1644) is one of the four famous gardens in Guangdong. It is also an elegant museum to savor the charming pottery works, gray sculptures, wood carvings...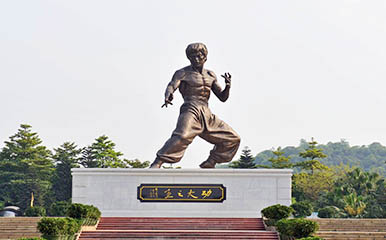 Ancestral Home of Bruce Lee
A must-visit for martial arts lovers and fans of Bruce Lee. It shows Bruce Lee from birth to his films and his development of Kung Fu, plus there is a huge park that would take hours to cover.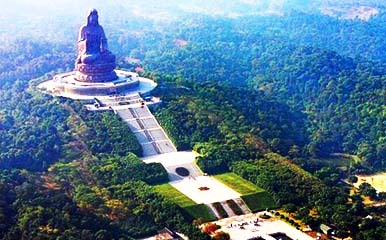 Xiqiao Mountain
A big park where you can enjoy trekking, hiking and even biking. There are pavilions, bamboo trees and also a giant 62-meters-tall Kwan-yin statue atop the mountain with a view of the whole city below.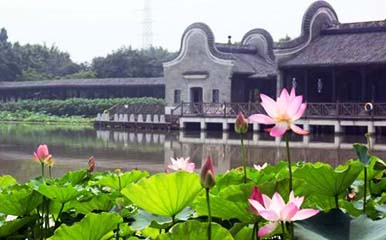 Sanshui Lotus World
It is the largest lotus ecological theme park in the world, featuring 300 diversified species of lotuses. Once you are here, you will be intoxicated by the lotuses in golden, red, purple, blue, green and orange…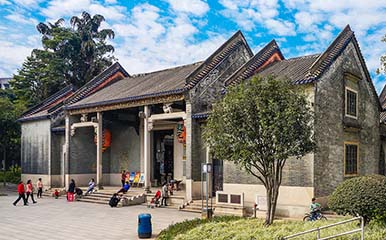 Guangdong Opera Museum
An elegant museum built at the site of first Cantonese organization Qionghua Hall, very close to Lingnan Tiandi. Here, you can get a complete story of how Cantonese opera started and developed.
Featured & Inspiring Activities in Foshan
A tour to Foshan is a great way to get close to Chinese culture and food in Sothern China. Here, you can enjoy Lion Dancing Performance, learn Kung Fu, try authentic Cantonese food, make pottery, take selfies with the giant statue of Kung Fu Star Bruce Lee…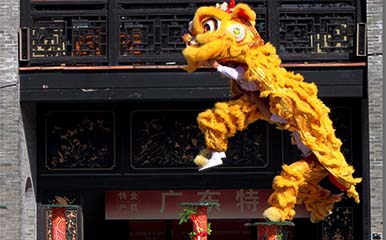 Enjoy Lion Dancing and Learn Kung Fu in Ancestral Hall
Ready to be wowed by the skillful lion dancing players in colorful lion heads and dance costumes: they dance and balance on upright poles that reach up to 2.5 meters high! If the exciting lion dancing performance is not enough to get you packing, then how about learning Kung Fu with excellent masters up close?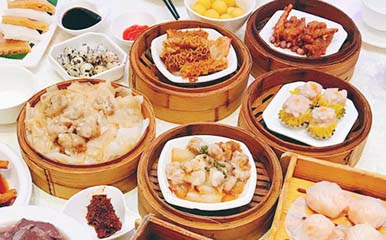 Savor the Most Traditional Cantonese Food in Shunde
Foodies! Welcome to the cradle of Cantonese cuisine! The combination of inventive cooking methods, creative ways of presentation and outstanding flavors, make the city's cuisine truly exceptional. Remember to try the delicious Steamed Rice in Clay Pot and soft and sweet Shunde Double-layer Milk Custard!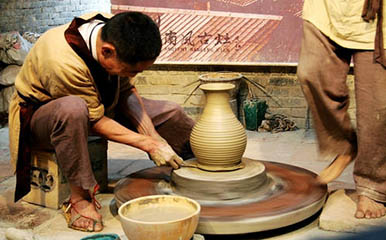 Make Your Own Pottery at Ancient Nanfeng Kiln
A visit to the ancient Nanfeng Kiln built in Ming Dynasty Zhengde years (1506-1521) must be a unique experience, as it is a rare kiln in the world sticking to burning pottery for such a long period time - from 400 years ago to nowadays. Let alone you can enjoy making pottery by yourself there!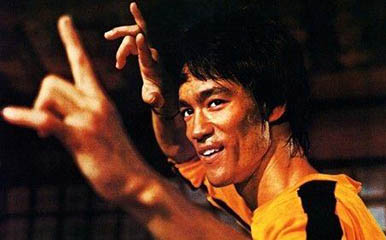 Review the Life of Kung Fu Master & Star Bruce Lee
Fancy about Chinese Kung Fu and the Kung Fu Master and movie Star Bruce Lee? Then Foshan must be a dream site for you! Here, you can take selfies with the giant Bruce Lee Statue and know everything about Bruce Lee by visiting Bruce Lee Park and Ancestral Home of Bruce Lee.
Weather & Best Time to Visit Foshan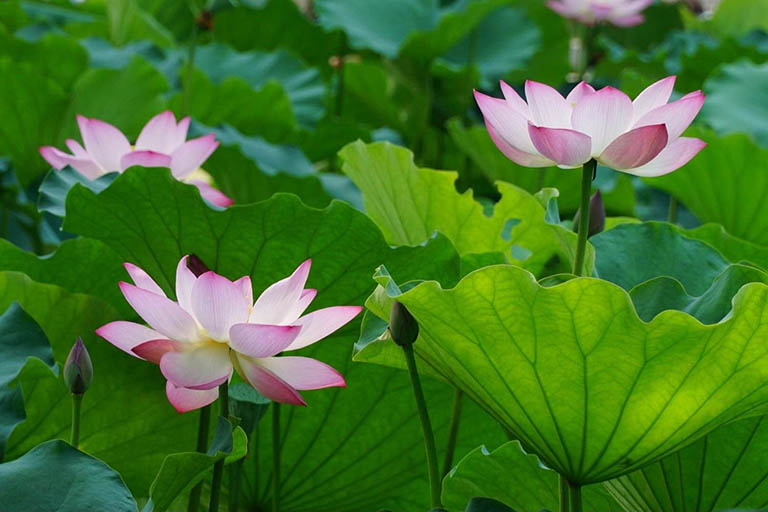 Belonging to the tropical oceanic monsoon climate, Foshan has a pleasant climate of being warm and rainy around the year. The warmest month with the highest average high temperature about 32.8°C is in July, and January is the month with the lowest average high temperature (18.3°C). The wettest month with the highest rainfall is May. And in December, Foshan is the driest with the lowest rainfall of about is 31.6mm. Foshan rains a lot in May. The average rainy days in this month is calculated for about 18.3 days. While in July, Foshan can have average sunshine for about 6.5 hours every day.
Thanks to its relatively present weather, Foshan is suitable to be visited all the year round except the typhoon days in summer.
Warm tip: If you happen to visit Foshan in Chinese holidays like Chinese Spring Festival, Labor Day, etc., you will have opportunities to be welcomed by traditional celebrations. However, you will also likely to encounter with crowds of tourist. If you prefer a visiting in peace and not that crowd, you are suggested to avoid those holidays.
How to Go to & Around Foshan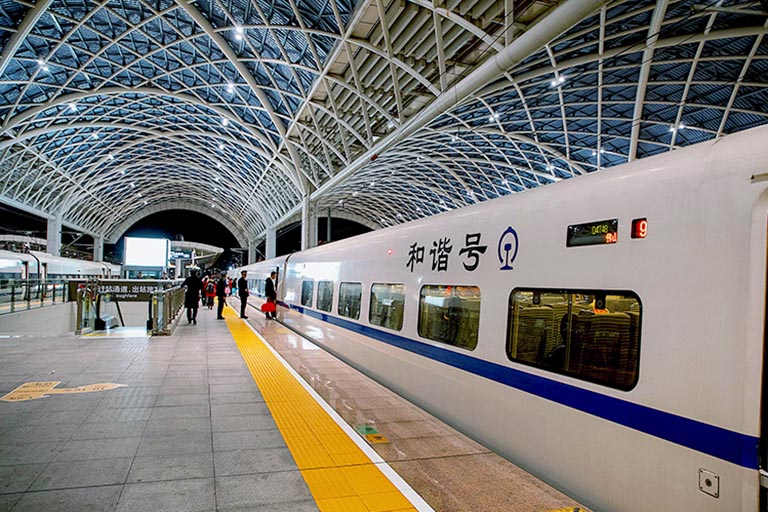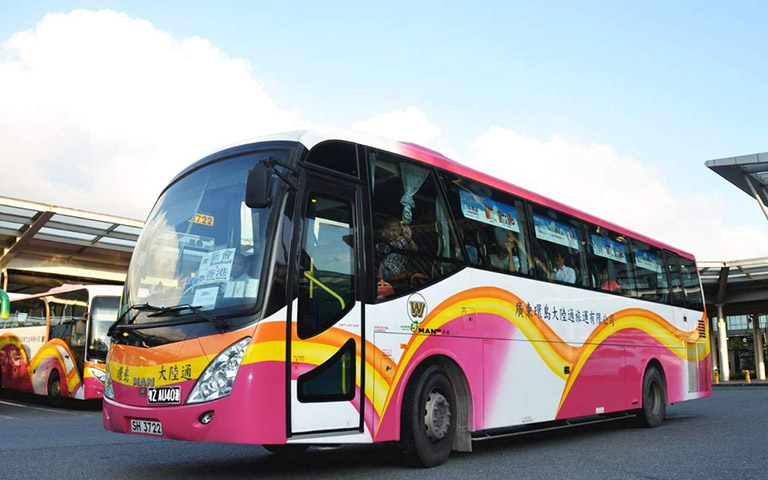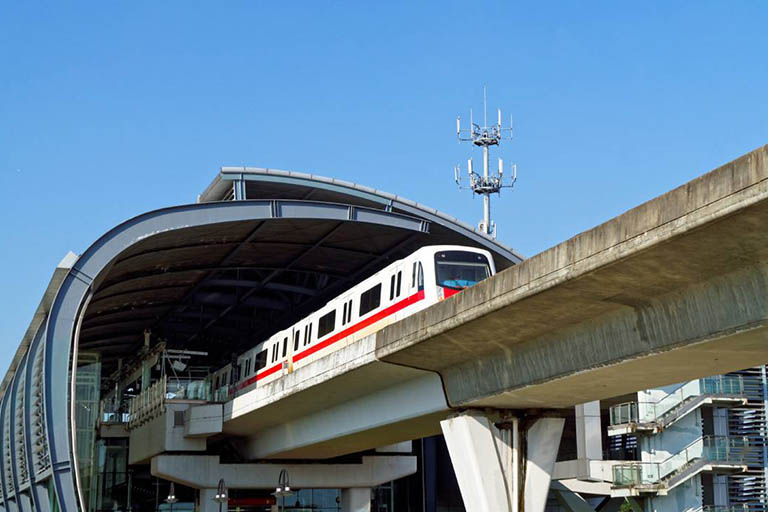 Get to Foshan
By Air: Foshan has its own airport, namely Foshan Shadi Airport (FUO). It has flights between Foshan and Beijing, Shanghai, etc. However, Considering Guangzhou Baiyun International Airport serves more international and domestic flight routes, travelers usually fly to Guangzhou Airport and then catch an intercity bus or MTR to complete their trip. Check more about Flights to Guangzhou >>
By Bullet Train: Every day, there are bullet trains arrive at Foshan West Railway Station from Guangzhou, Zhuhai, Chengdu, Chongqing, Kunming, Guiyang, Guilin, Yangshuo (Guilin), etc. Know more about Guangzhou High Speed Trains >>
By Metro: Guangzhou has operated a Guangfo Intercity Metro Line to Foshan, which connects Guangzhou downtown and Foshan in a half-hour around ride. Guangzhou Metro >>
By Coach: Hong Kong Trans-Island Bus Company provides coaches to Foshan every day. Other cities in Guangdong Province also offer coach service to Foshan, like Guangzhou, Shenzhen, Zhuhai, Jiangmen, etc. Those coaches can arrive at Foshan Bus Station, Foshan Sanshui Bus Station, Shunde Bus Station, etc.
Travel around Foshan
To travel around Foshan City, taxis are the most popular ways and also the top recommended ways. Besides, our private transfer service is also recommended for a worry-free and speedy transfer during a city trip!
Warm Tip: Shunde, the cradle of Cantonese cuisine, is under the jurisdiction of Foshan. The best ways to get to Shunde is catching a train from Guangzhou South Railway Station (or Zhuhai Railway Station) or using private car services. And to get around Shunde City, taxis and private car services are also the best ways.
Hotels & Best Places to Stay in Foshan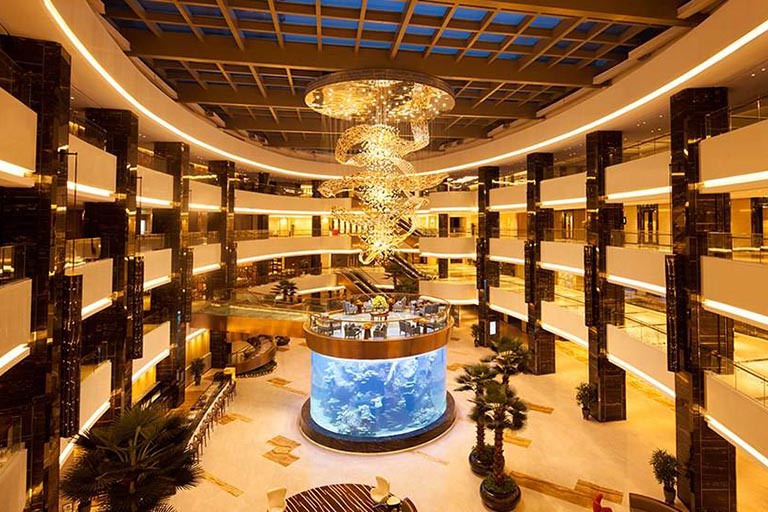 Usually, tourist visiting Foshan City would like to stay at Guangzhou and catch metro line, taxi or private cars to Foshan in the next day morning. Check more about Where to Stay in Guangzhou >>
However, if you are going to visit Foshan for several days or even weeks, you can also find good mid-range hotels in Foshan, like Hilton Foshan, Crowne Plaza Foshan, and the Sheraton Shunde Hotel Foshan, etc. Foshan consists of 5 districts - Chancheng District, Shunde District, Sanshui District, Nanhai District and Gaoming District. For tourists, you are mostly suggested to choose a hotel in Chancheng or Shunde. Chancheng District is the downtown area of Foshan, where you can find best hotels and shopping malls. Shunde is a paradise for foodies and Cantonese food lovers, as it is where Cantonese Cuisine originated. The most famous Zumiao (Ancestral Temple) and Lingnan Tiandi Scenic Area are in Chancheng District. Qinghui Garden and Ancestral Home of Bruce Lee sit in Shunde District.
Latest & Useful Foshan Maps
To help you better plan your tour in Foshan, here we have collected some latest and useful maps, including Foshan Guangdong Map, Foshan Greater Bay Area Map and Foshan Tourist Map. You can check and download the following maps into use!
Other Destinations in Guangdong-Hong Kong-Macau Greater Bay Area
Foshan is only one of the 11 cities of the Greater Bay Area in Southernmost China! Other popular tourist destinations in this area worth your visit too, like Hong Kong, Macau, Guangzhou, Shenzhen, Zhuhai, etc. You are highly suggested to extend your Foshan tour to one, two or even all of those wonderful tourist cities for more China discovery experiences!
Other Hot Destinations in China
China is a vast country with tremendous number of tourist destinations to get much pleasant. Besides visiting Shenzhen City, you can also travel further to more hot destinations, such as Beijing with renowned Forbidden City and Great Wall, Shanghai with charming modern and colonial appearance, Guilin with appealing Karst landform sightseeing, Xian with impressive Terracotta Warriors and Horses, etc.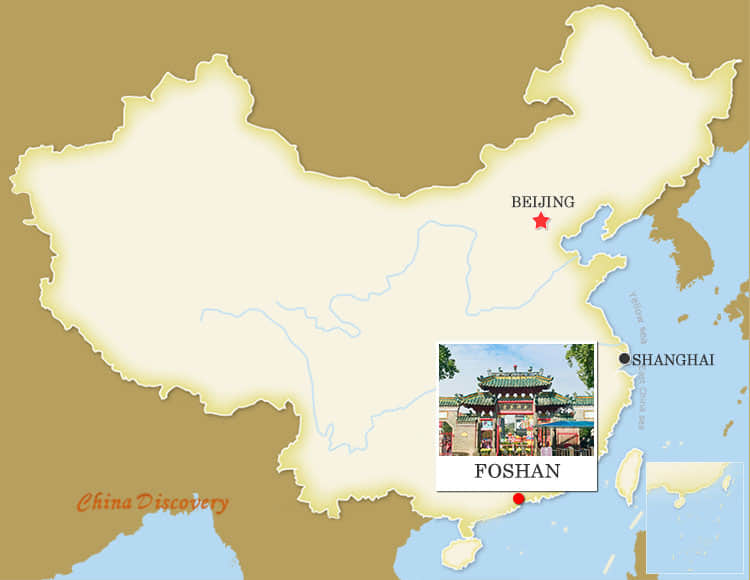 Chinese Name: 佛山
Chinese Pinyin: fó shān
Population: 7.9 million
Language: Mandarin & Cantonese
Tel Code: 0757
Zip Code: 440600
Time Zone: (UTC+8)
Plan Your Foshan Tour
Usually, tourist will spend 1~ 2 days in Foshan to explore its Cantonese and Kung Fu culture and also traditional Cantonese foods.
For a one-day tour in Foshan, you are suggested to visit Ancestral Hall first, as it may be crowded in the afternoon. Also, if you visit Zumiao in the morning, you can happen to enjoy the Lion Dance performance while held on 10:00-10:40. Before savoring the Cantonese foods, continue your visit to the nearby Lingnan Tiandi. And in the afternoon, you can have fun in Ancient Nanfeng Kiln. If you want to explore more highlights of Foshan, you can spend 1-2 days more in this city, and then you can have time to visit Qinghui Gardern and Ancestral Home of Bruce Lee in Shunde!
Besides, as Foshan bordering Guangzhou and not far from other cities in Greater Bay Area like the cosmopolitan city - Hong Kong, Gambling Paradise - Macau, rising star - Shenzhen and hometown of oversea Chinese - Jiangmen, you are highly suggested to spend 2~7 days more to catch more highlights of China!
Recommended Tours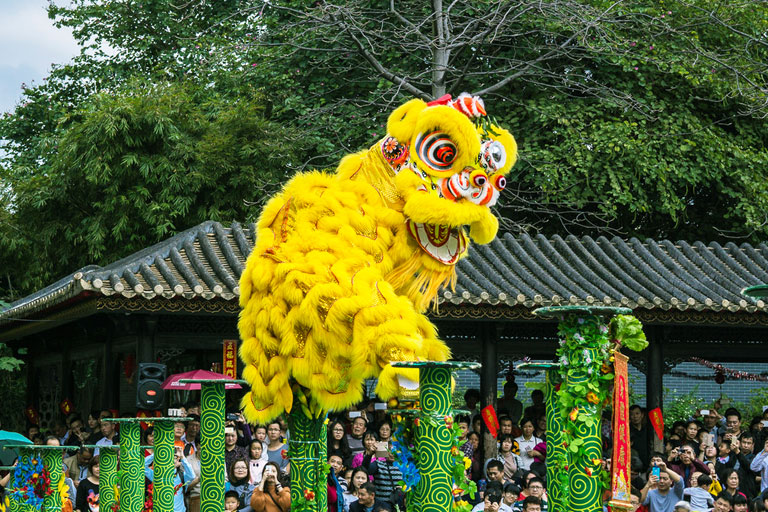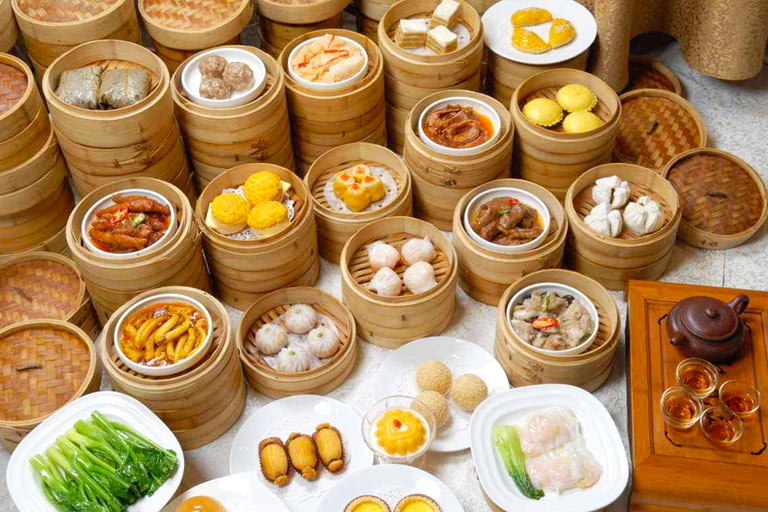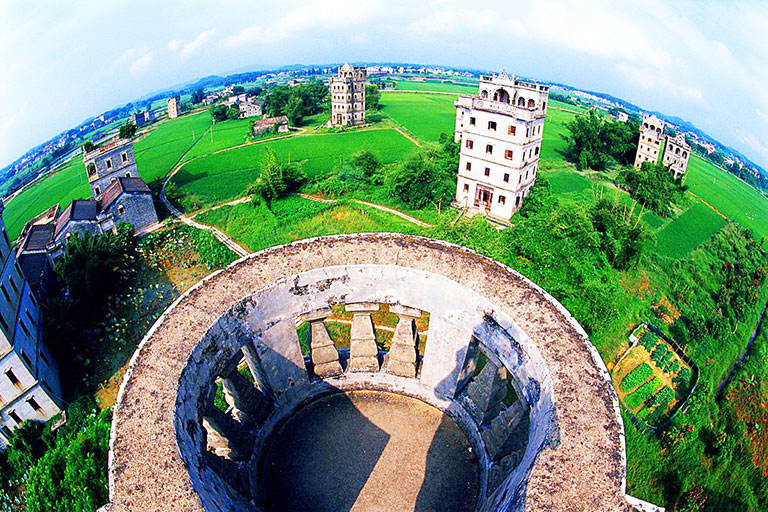 MORE