Hong Kong Trip Plan: How to Plan Your Trip to Hong Kong 2024/2025
Hong Kong, long been super well known globally as the Pearl of the Orient, is still appealing to countless groups of travelers and business people to come by to witness this megapolis with nonstop vigor in South China! Its incredible developmental speed for only a little over 100 years makes it now as a beautiful coastal city, a booming world investigation and trading center, an exciting shopping paradise, an amazing gourmet palace, a convenient transit hub with Mainland China… There are always a rich series of reasons to make a trip to Hong Kong. This ultimate guide will help you know everything about this city, including its transportation, weather, accommodation, best attractions and activities, must-try food, suggested traveling length, useful tips, top recommended itinerary, extension to Macao and Mainland China, etc. in order to plan your trip to the fascinating Hong Kong!
Go to Hong Kong by Flight, High Speed Train...
Hong Kong boasting the top busiest international airport among the world serves about 170 routes to overseas cities and regions in other continents, including New York, Los Angeles, London, Sydney, Toronto, Paris, Rome, Tokyo, etc. Every day, more than 1,000 flights take off at Hong Kong International Airport and need within 5 hours to reach half of the world's population.
Besides, Hong Kong is very well connected with many cities in Mainland China. Travelers can board a flight to reach Hong Kong from Beijing, Shanghai, Xian, Guilin, Chengdu, Guangzhou, and other nearly 50 cities. Also, the newly operating Hong Kong West Kowloon Station creates new way to get there by high speed trains directly from other 44 cities in the Mainland, including Beijing, Shanghai, Guilin, Guangzhou, Shenzhen, Xiamen, Hangzhou, Changsha, etc. There is one train from Beijing and from Shanghai. Besides, Guangzhou launches more than 30 daily G trains every day from Guangzhou South Railway Station to Hong Kong, with a whole riding for only about 1 hour. Moreover, there are about 80 high speed trains depart from Shenzhen North Station and Shenzhen Futian Station there very frequently, which takes only 15-20 minutes to get to Hong Kong Kowloon downtown.
Get Around Hong Kong by MTR, Bus, Tram, Ferry, Taxi...
Traveling within and around Hong Kong is a piece of cake with its highly convenient public transport system. MTR has 11 routes and can take you to nearly everywhere in downtown of Kowloon and Central and a lot of places in New Territories and Lantau Island, including the Airport. Also, you can easily take a ferry, bus, minibus, tram and taxi to your destination without hassle. Most travelers use the local Octopus Card to go more conveniently and save much time and money. If you are interested in the Outlying Islands, like Tai O, Lamma Island, Cheung Chau, etc., there are many daily ferries available, especially Central Pier. To extend to Macao, you can choose the frequently departing ferries, coaches, or hiring a car.
Learn More about:
Recommended Hong Kong Bullet Train Tours:
4 Days Classic Hong Kong Shenzhen Tour
4 Days Hong Kong Guangzhou Sightseeing & Food Tour
6 Days Hong Kong Beijing High Speed Train Experience Tour
5 Days Hong Kong to Shanghai Megacities Fashion Tour by Bullet Train
9 Days Meet Yunnan Nature & Culture from Hong Kong by Bullet Train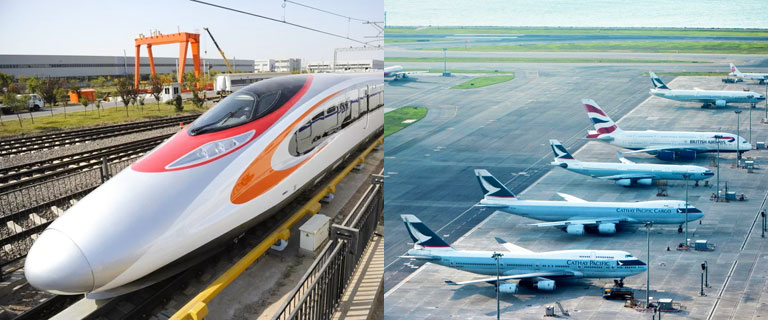 Go to Hong Kong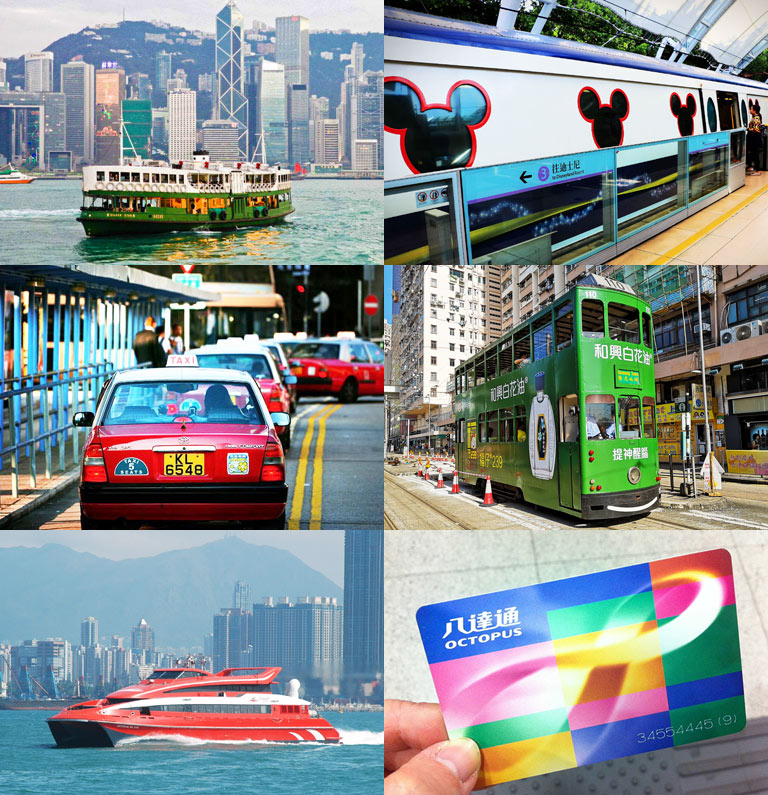 Travel Around Hong Kong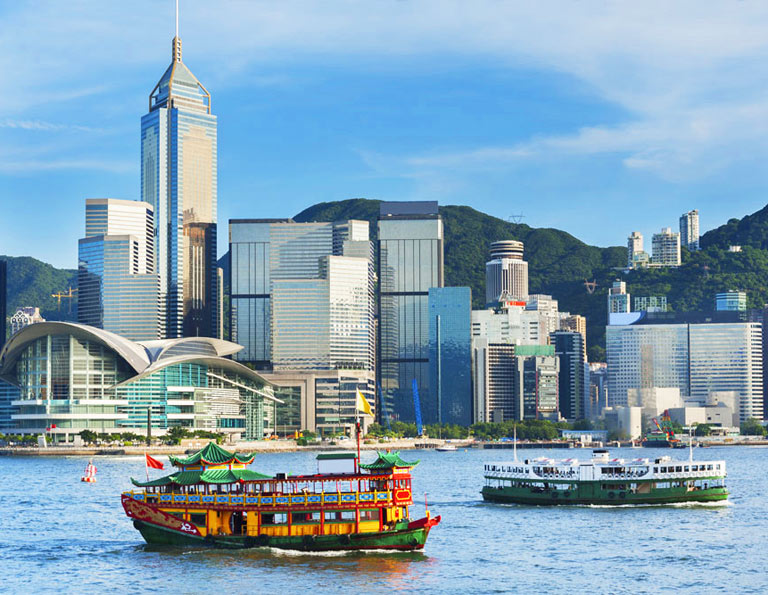 Hong Kong Weather
Belonging to the Marine subtropical monsoon climate, Hong Kong has an annual average temperature at about 73 °F (23 °C). The hottest months are July, August and September, and the coldest months are December and January. The highest average temperature is rarely above 93 °F (34 °C), and the lowest rarely below 50 °F (10 °C). March to May is its spring, when it is warm, foggy and humid. Summer belongs to June to August, when is hot and rainy, also showers and thunderstorms can be met occasionally. However, autumn is during September to November, and the weather is pleasant and sunny. Winter is from December to the next February, temperature drops down, and it changes cool and dry, but not cold. Pleasant breeze, sunshine can be enjoyed easily during winter in Hong Kong. Usually, the rainy season lasts from May to September, and typhoon season usually occurs in July and September.
Generally, Hong Kong is suitable to visit all year round besides the Typhoon period. The best traveling time is from October to the next April, when you can enjoy pleasant weather, not to hot, and rains happen much less.
However, no matter when you visit Hong Kong, it is highly suggested to prepare your sun block, sunglasses, hat or umbrella (also in case of rains).
Learn More about: Hong Kong Weather & Best Time to Go
Hong Kong houses an extremely large quantity of accommodation in downtown and suburb areas. Among the all the three major areas including Kowloon, Hong Kong Island and New Territories (including Outlying Islands), Kowloon and Hong Kong Islands offer more options and are largely more chosen by travelers and business visitors. From world top luxury 5-6 star hotels, to average comfortable hotels to budget homestay and cheap hostels and even berths can be found galore, especially at Tsim Sha Tsui, Mong Kok, Yau Ma Tei, Central, Causeway Bay, Admiralty, Wan Chai, Sheung Wan, etc. For most first-timers to Hong Kong, Tsim Sha Tsui is a top choice, where fabulous view of the Victoria Harbor, many shopping centers and museums are within short distances. Mong Kok and Yau Ma Tei are good to savor Hong Kong local culture with famous Ladies Market, Temple Market and a good portion of budget hotels. Causeway Bay offer many reputable accommodations and is favored for shopping and family visitors. To seek the night life and left historical feature from the colonial era, Central should be at the top of your list.
Accommodation in Hong Kong is usually more expensive than that in other cities in China, and very high occupancy rate is through all year round. However, better prices can be found in around May and June. Better Book Your Accommodation At Least ONE MONTH In Advance!!
Learn More about:
Top Recommended Hong Kong Accommodation | Where to Stay in Hong Kong
Useful Hong Kong Maps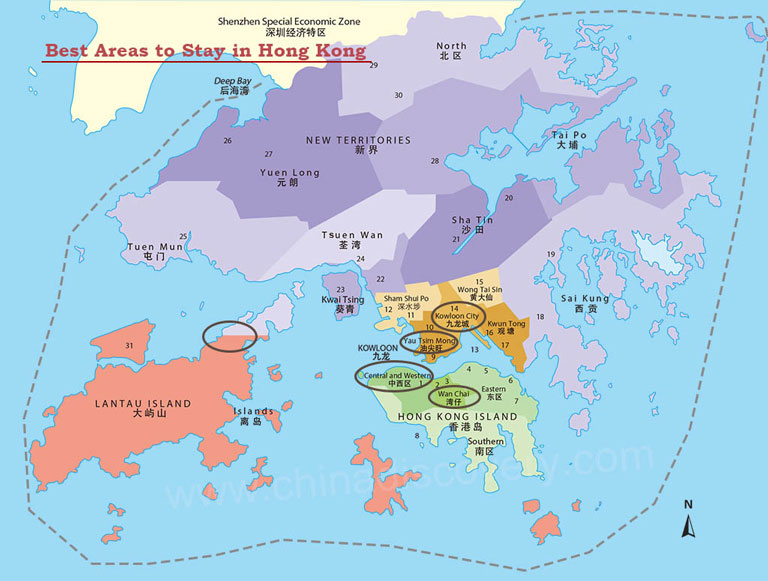 Where to Stay in Hong Kong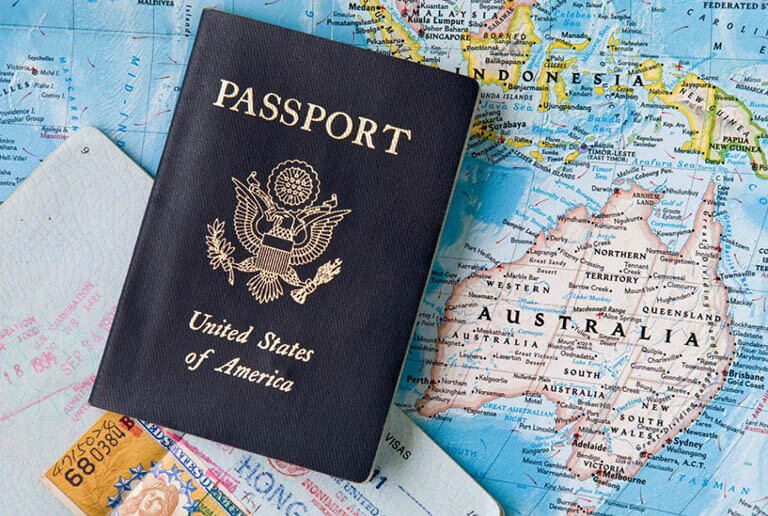 Do I Need a Visa to Hong Kong?
Visa policy of Hong Kong Special Administrative Region is different from that of Mainland China. Citizens of the specified 170 countries and certain certificate owners for any purpose of visiting can entry and visit Hong Kong without visa and stay for from 7-180 days. Those 170 countries include the UK, the US, Canada, Australia, France, Germany, Thailand, Indonesia, etc.
However, if you are not citizens from those 170 countries or do not hold the certificate, you need to apply for a Hong Kong visa. But, it is not so difficult for most citizens around the world. You just need to prepare your passport valid for at least 6 months and with blank visa pages, completed Hong Kong Visit/Transit Visa Application Form, two recently-taken photos, photocopy of your passport/travel document, travel related materials including round-trip flight tickets, hotel reservation, documents proving purpose for the visit (invitation letter), tour plan, etc., and then you can apply your visa. You can send all your forms and documents by the express service to Hong Kong Immigration Department Office, do in person at the overseas Chinese Embassy or diplomatic and consular mission near your residence, etc. The fees are various based on where you submit. And it normally takes about 4 working days for regular processing, however, it may also need up to at least 4 weeks and even one month if your case needs more processing.
Learn More about:
Hong Kong Visa & the Specified 170 Countries | Hong Kong to Shenzhen Visa
◆ Ascend Victoria Peak by Peak Tram for Hong Kong Panorama (1-2 hours)
The Victoria Peak is almost the No.1 place to go for Hong Kong visitors, since the 360 degree cityscape can be admired clearly from this highest point there. You are suggested to go at dusk, so all the fabulous view in day time with all Hong Kong skylines, blue Victoria Harbor, azure sky, long sight distance, charming rosy sunset, and sparkling night view of countless lights and neon will be caught. Taking the more than 130-year old Peak Tram with curiosity and surprises to ascend to the 396m high is the best way to reach.
◆ Take Star Ferry on Victoria Harbor for Hong Kong Skyline (0.5-1.5 hours)
Listed as the No.1 Things to Do by TripAdvisor, the Star Ferry with a lot of fun is worth to board on. Take the time-honored ferry at Tsim Sha Tsui or Central and appreciate the beautiful waterscape of Victoria Harbor and awesome skyline of Hong Kong. Shining lights and night view can be admired if you enjoy it at night. It is perfect to combine it with a light walking along the Avenue of Star with breeze.
◆ Calm down at Peaceful Nan Lian Garden & Chi Lin Nunnery in Downtown (1-2 hours)
Hong Kong hides the peaceful Nan Lian Garden and Chi Lin Nunnery in its bustling downtown of Kowloon. The typical wooden houses, dwellings and courtyards in Tang Dynasty styles, lovely gardens with rockeries, pools, pavilions, floras, etc. makes it a pleasant place to visit.
◆ Make the Earnest Prayer at Best Famous Wong Tai Sin Temple (1 hour)
Super famous locally and favored by travelers, the Sik Sik Yuen Wong Tai Sin is always popular with worshippers for better health and future. The temple building with exquisite decorations and amazing garden will make you love it.
◆ Enjoy Ngong Ping 360 / Tiantan Big Buddha / Po Lin Monastery (1 day)
Take Ngong Ping 360 to catch the broad view of emerald Lantau Island, South China, and the big Buddha. Tiantan Big Buddha is the world 2nd largest sitting Buddha. And the nearby Po Lin Monastery as the Buddhist land of South China is worth to get closer to Buddhist peace away from the urban.
◆ Learn How Hong Kong Has Come to Be in Hong Kong Museum of History (2-3 hours)
Wonder why and how Hong Kong has transformed from an ordinary fishing village to the world top metropolis? Enter this museum, the vivid situation displaying and historical relics will tell you the real experience and development of Hong Kong from its remote era, to ancient times, to war periods, to colonial eras, to its survival to be the trading center and an opening modern city.
◆ Take Leisure and Interesting Stroll at Stanley Market / Temple Street / Ladies Market (0.5-1 hour)
Make a relaxing simple stroll along one of the famous markets. Temple Street and Ladies Market is at Yau Ma Tei and Mong Kok area, and Stanley Market is a little far at south part of Hong Kong Island. You will find a rich array of interesting and never seen things and also feel the authentic local culture.
◆ Have Warm and Happy Family Hours at Disneyland or Ocean Park (1-1.5 days)
Disneyland must be on your list if traveling Hong Kong with your kids. Long time no see to the lovely Mickey and his friends, have all your fun in the wonderful lands and castle to get an unforgettable experience like a dream. If time permits, the coastal Ocean Park is cool to see various marine creatures and play with the entertaining activities.
Furthermore, there are far more things to see and do, like Aberdeen Fishing Village, Ding Ding Tram, Sky 100 Observation Deck, Lamma Island, Cheung Chau Island, horse racing at Happy Valley, nigh life at Lan Kwai Fong, etc. Maybe you just need more time to discover a more wonderful Hong Kong!
Learn More about:
Top Tourist Attractions in Hong Kong | Top Places to Visit in Hong Kong | Top Things to Do in Hong Kong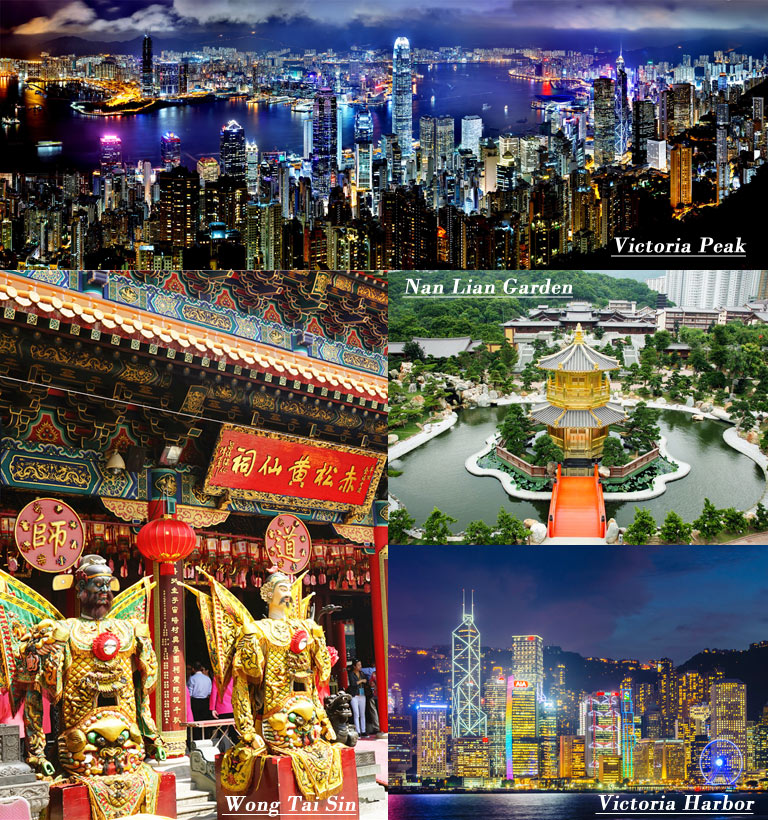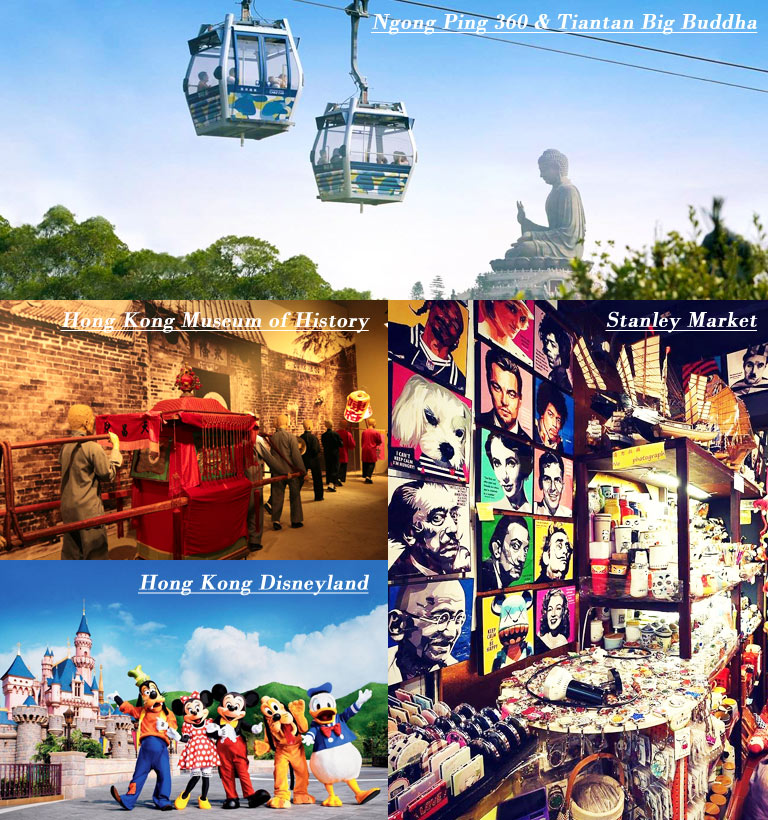 What to Do & See in Hong Kong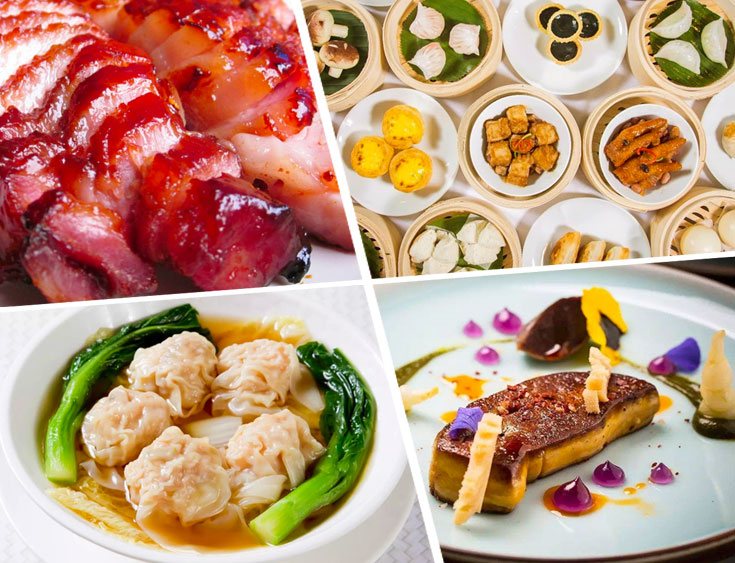 Hong Kong - Foodies' Palace
Hong Kong is a palace for foodies! Numerous kinds of food can be tasted, from local Cantonese and Hong Kong flavor, street snacks, to world famous Michelin restaurant cuisines, to plentiful types of international dishes. You will never worry about what to eat in Hong Kong, but may be wonder which one(s) to choose for this time. To try some local flavors of tea cafe, the Hong Kong-style milk tea, pineapple bun with butter, etc. are good for a first try. Also, dim sum is not to be missed. Over 1,000 choices of exquisite dim sum, including shrimp dumpling, Sui Mai, etc. are easily to make your mouth watering. Remember to try the egg puffs at the street shop, delicious and interesting. Dundas Street at Mong Kok is really famous to taste local street snacks. To try more Hong Kong local food, you can go to taste the roasted goose, roasted pork, Wonton Noodles, Char Sui, egg tarts, etc. You are really highly recommended to try sea food there as they are really fresh and flavoring. Among all the dishes, Hong Kong Styled Stir-fried Crab is a must-order one.
Furthermore, as Hong Kong is an inclusive international city, you can find many dishes from other countries, like French cuisine, Italian Cuisine, American Cuisine, Indian Cuisines, Thai cuisines, Japanese food, etc. Of course, other cuisines in China can also be found, like hot pot, Sichuan food, Hunan food, Shanghai food, etc. Prepare your stomach and make all the gourmets to please your taste bud to the utmost!
Learn More about: Hong Kong Food Guide 2024
Recommended Hong Kong Food Tours: 2 Days Hong Kong Best Food & Cultural Must-sees Tour
Hong Kong has been well known as a shopping paradise for so many years, not only because its lower prices than many other cities, but also the really large quantity of types of commodities it offers. From high-end luxury brands clothing, handbags, shoes, to digital cameras, mobile phones, computers, from dazzling jewelries, watches and other ornaments, to cosmetics and perfumes, from local special dry seafood, pastries, tea, to souvenirs, etc. There is nothing you cannot find in Hong Kong. So, in front of those appealing things, you may also find no reason not to buy something there no matter you visit for traveling, for business, for transiting, or other reasons.
Also, you will find soooo many places for shopping or simple buying, from large advanced department store, boutique shops, popular outlets, to packed stores, rouge street market, etc. Among all the shopping places, Temple Street is really famous and favored to see a lot of interesting and low-prices clothing, watches, and souvenirs. Stanley Market is off the downtown where clothing, tableware, handicrafts, paintings, ornaments, and souvenirs can make your stroll worthy. If you are seeking some large shopping malls with better services and equipment, Causeway Bay and Tsim Sha Tsui are two better options.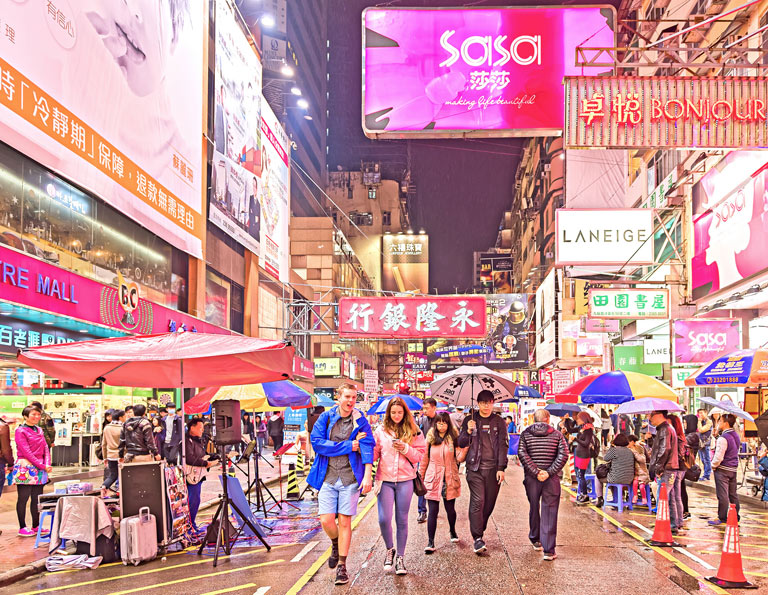 Hong Kong - Shopping Paradise for Everyone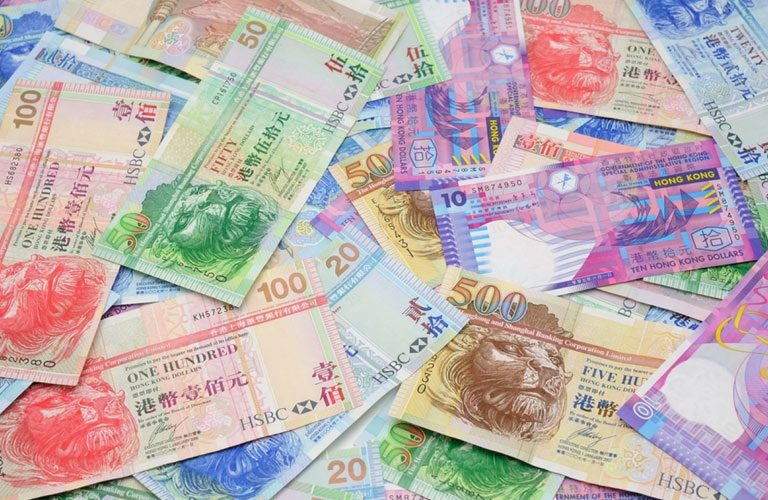 Hong Kong Dollars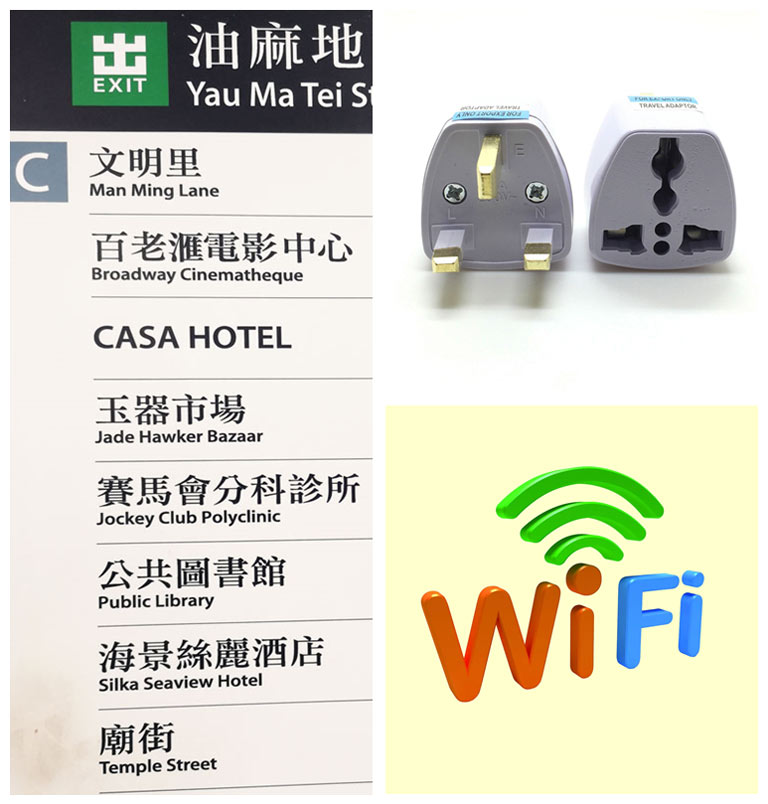 Languages, Wi-Fi & Sockets in Hong Kong
Money & Currency
Hong Kong has its own official currency, Hong Kong dollar. There are banknotes of HK$10, HK$20, HK$50, HK$100, HK$500, HK$1000, and coins of 10 cents, 20 cents, 50 cents, HK$1, HK$2, HK$5, and HK$10. Usually, the exchange rate is HK$1=USD0.128, HK$1=CNY0.88, HK$1=0.1027GBP. For convenience and better rate, it is suggested to exchange some Hong Kong dollars before you go.
Languages
Chinese and English are both the official language of Hong Kong. Cantonese, Mandarin and English are all frequently used there. Nearly 90% people there speak Cantonese. However, as some people can speak English, especially many young people. Chinese and English are used for signs and notes (Cantonese, Mandarin and English for voice broadcasting on all MTR and most public buses), it is easy to travel in Hong Kong for a foreign visitor.
How to Keep Connected?
Keeping in touch is very important when traveling outside!
Wi-Fi
Free Wi-Fi services are widely used in Hong Kong, including major tourist attractions, shopping malls, parks and gardens, museums, MTR stations, airport, train stations, ferry terminals, government buildings, etc. You can download the Wi-Fi.HK app (or csl Wi-Fi) to connect to the Internet and used your Facebook, Instagram...
Calling & Phone Card
If you want to call your family/friends with your mobile phone but don't want to change the phone card, you need the mobile roaming service in Hong Kong. GSM 900, PCS 1800, LTE, CDMA, WCDMA and other most mobile telecommunications systems in the world can be used in Hong Kong. Please require to turn on the service. Besides, if you want to spend several days in Hong Kong and want to call, use the Internet without hassle, you are suggested to buy a phone card, which are easy to get at the Airport, 7-Eleven, Circle K convenient stores, etc.
Useful Numbers
| | |
| --- | --- |
| Emergency services (police, fire, ambulance) | 999 |
| Police Hotline | +852 2527 7177 |
| Hong Kong International Airport | +852 2181 8888 |
| Hong Kong Immigration Department | +852 2824 6111 |
| Customs and Excise Department 24-Hour Hotline | +852 2815 7711 |
| Hong Kong Post | +852 2921 2222 |
| Hong Kong Observatory (for weather information) | +852 1878 200 |
Electricity, Voltage & Sockets
The standard in Hong Kong is 220v, 50Hz. And most hotel bathrooms also have outlets for 100v. Most outlets in Hong Kong are for three-pronged UK-style plugs. A power adapter is suggested to prepare for charging your mobile phones, cameras, tablets, etc. And that can be provided in some hotels or found in some supermarkets.
Learn More about: Hong Kong Travel FAQs & Tips
It is personal to everyone! Hong Kong can take you 1 day to 5 day and even longer based on your purpose to visit there.
1 Day: You may just come for a tight transit, and if so, one day can take you to catch the bests of the bests in this cosmopolitan city. You can visit Victoria Peak by the Peak Tram to see the whole Hong Kong, get relaxed at Repulse Bay and Aberdeen Fishing Village, feel the peace at Wong Tai Sin Temple, Nan Lian Garden & Chi Lin Nunnery, and also walk along the Avenue of Stars with Victoria Harbor landscape.
1 Day Classic Hong Kong Tour
2-3 Days: For most visitors to Hong Kong, we suggest you spend at least 2-3 days to savor more highlights of its cityscape, culture, history, natural islands, food, and shopping fun. On such condition, you can further visit to Hong Kong Museum of History, enjoy the Star Ferry, stroll at Stanley Market, travel away from city to see Lantau Island, the Tiantan Big Buddha and Tai O Fishing Village, taste many kinds of local food, and buy your ideal things.
2 Days Essence of Hong Kong Tour (Hong Kong Island + Lantau Island)
3 Days Hong Kong In-depth Tour with Escorted Walking Experience
4-5 Days: If you are planning to spend 4-5 days, you will have a really in-depth discovery of Hong Kong! One of those days to Disneyland or Ocean Park is not to be omitted if you go with your family. And another and last day, you can completely spend it on the streets and shopping malls if you are a shopaholic. If not, it is also reputable to get close to nature by taking a hike on the Dragon's Back.
Learn More about: Top Hong Kong Tours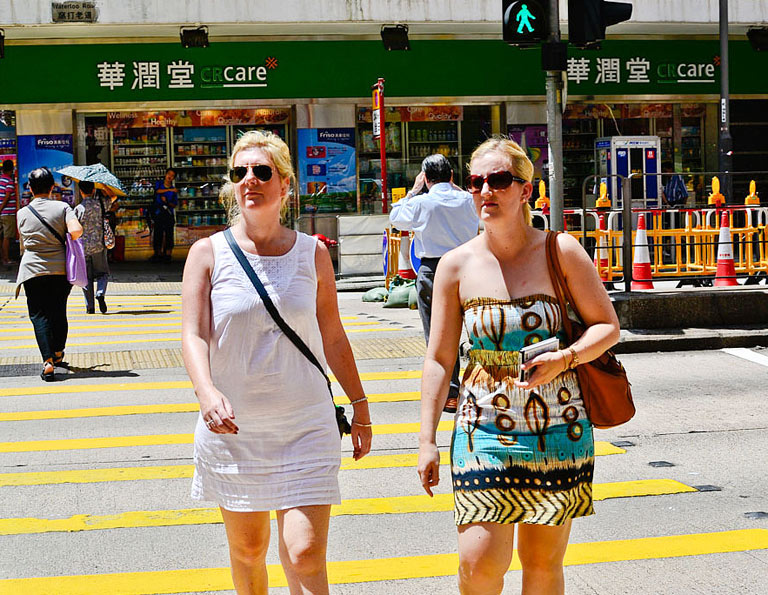 Spend 1-5 Days in Hong Kong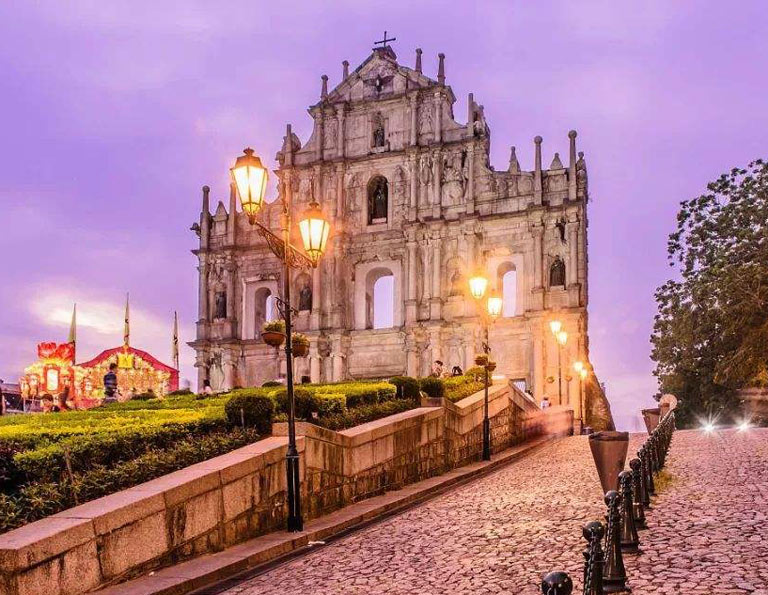 Plan a Trip to Macau from Hong Kong
Macao is a popular tourist destination, where a cluster of eye-pleasing heritage building relics, rich types of flavoring food and snacks, strong atmosphere of traditional China and Western world, etc. can be savored handy. In fact, many travelers visit Hong Kong together with the nearby Macao during the middle period or after leaving.
If you are interested in the historical and exotic Macao, you can do at most of them to enjoy at least 1 day in Macao after spending 2-3 days in Hong Kong with its cityscape, food, culture and history, and shopping atmosphere. Usually, visitors take a fast ferry from Central or Tsim Sha Tsui to Taipa or Outer Harbor Ferry Terminal to start the one-day exploration to the Ruins of St. Paul Cathedral, Senado Square, Section of Old City Wall, A Ma Temple, and Border of Gate and try some tasting Portuguese and Macao food, such as the Portuguese egg tarts, etc. And then, you can take a ferry back to Hong Kong or fly to your next destination very easily. However, if you have 2 days, it is highly recommended to go to one of the casino to feel the world famous casino culture, wander along the historical streets and lanes with diverse World Cultural Heritage architectures and rich Portuguese colonial culture, etc.
Learn More about:
Recommended Hong Kong Macau Tour Packages:
2 Days Hong Kong Macau Highlights Tour
3 Days Hong Kong & Macau In-depth Cultural Tour
It is hot and easy to start your China tour from Hong Kong, why? Hong Kong serves most and frequent international flights among other cities in China. Also, many daily flights connect Hong Kong with over 50 destinations domestically, and super cool high speed train link it with many domestic cities with comfort and convenience.
Usually, starting with Hong Kong, you can first catch the fast development and super modern side of China. After 2-4 days' exploration, you can travel to the Mainland China to seek more highlights of culture, history, nature, arts... of this vast country. You can have fun for 1 day in Shenzhen to witness the incredible Silicon Valley in China formed within 40 years, 2-3 days in Guangzhou to savor the delicate Lingnan carving decorations at Chen Clan Ancestral Hall, 2-4 days in Guilin to admire the graceful Longji Rice Terraces and Karst landscape, 4-5 days on the relaxing Yangtze River cruise experience, 2-3 days to close look at Terracotta Warriors in Xian, 2-3 days to say hello to the chubby giant pandas in Chengdu, 3-4 days to admire the royal palaces and learn China's thousands of years' history, 2-3 days to appreciate the different skylines meeting colonial architectures in Shanghai… Trip itinerary can be planned very easily as you wish, and you can check our top popular tours from Hong Kong to get some ideas!
Learn More about:
China Tours from Hong Kong | Greater Bay Ara Tours
Hong Kong Guilin Tours | Hong Kong Beijing Tours | Hong Kong Shanghai Tours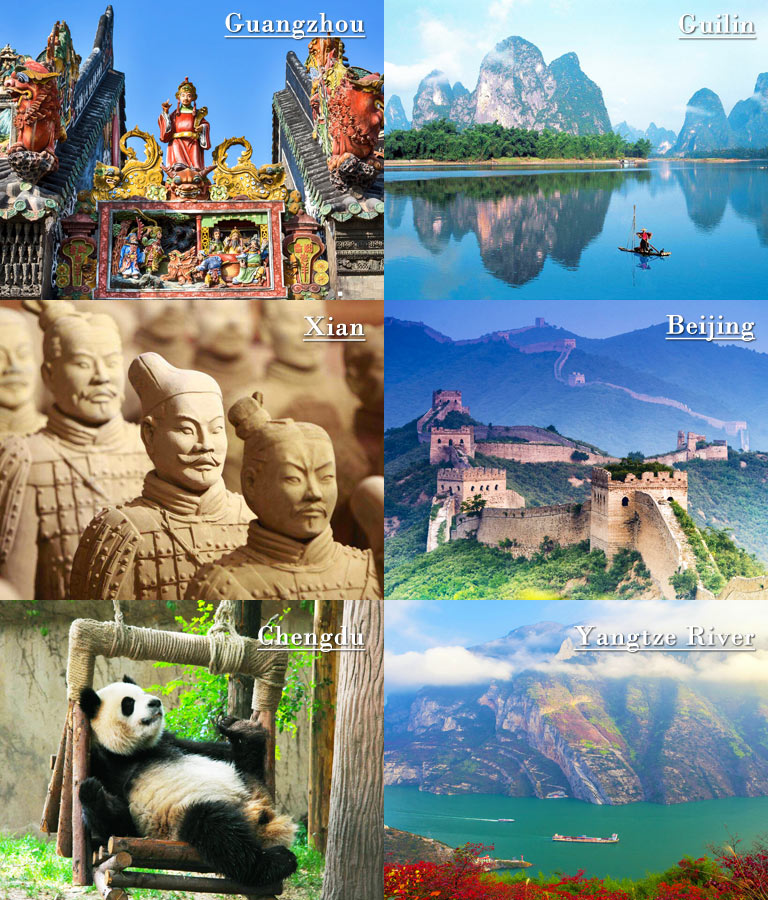 Travel China from Hong Kong