Macau Visa Policy: Visa Free, Visa on Arrival and Visa Application
Notice on Latest Visa and Entry Policies for Foreigners Entering China - Updated on November 20, 2023:
1. China will gradually phase out the appointment system for visa applications. As of now, nearly 100 Chinese embassies and consulates abroad have implemented the "walk-in" system, and it is expected that all Chinese embassies and consulates abroad will have implemented the "walk-in" system by the end of this year.
2. Starting from 00:00 on November 1, 2023, individuals entering or exiting the country are exempt from filling out the "People's Republic of China Health Declaration Card for Entry/Exit."
3. Norway has become the 54th country whose passport holders can transit without visa up to 72/144 hours in China.
4. The 15-day visa-free entry policy for Singaporean citizens has been resumed.
5. Starting from August 30, 2023, individuals traveling to China will no longer be required to undergo pre-entry COVID-19 nucleic acid or antigen testing.
6. Make the following adjustments to the visa and entry policies for foreigners entering China, effective from 00:00 March 15, 2023 Beijing time:
1). The entry function of visas which were issued before March 28, 2020 and still valid will be restored.
2). Overseas visa offices will resume issuing various types of visas (including Tourist Visa) for foreigners to travel to China, with specific requirements detailed in the visa application guidelines of Chinese embassies or consulates.
3). Port visa offices will resume issuing various types of port visas for lawful purposes.
4). The policies of visa-free entry for Hainan, Shanghai International cruise arrival, Guangdong for Tourist group entry of foreigners from Hong Kong, Macau, and ASEAN tourist groups entering Guilin, Guangxi will be restored.
7. Attention on China Group Visa on Arrival in Nepal: needs minimum 4 applicants, and no maximum limit. All applicants from one list must all come to the Visa Center for application.
8. U.S. citizens holding multi-year multiple-entry visas issued before March 28, 2020, whose visas temporarily lost entry functionality between March 28, 2020, and March 14, 2023, due to the pandemic, are eligible to apply for compensation. Those who choose to apply for compensation will receive a free 3-year multiple-entry visa. Those who choose to waive the compensation can apply for a new 10-year multiple-entry visa at the regular fee.
China Discovery will keep focusing on the updates of the latest Chinese visa and entry policy! You can also call +86 010 12367 (Official telephone number of China National Immigration Administration) to check further information. Welcome to join in our Facebook Groups to catch up with the latest news!
Invitation letter is a vital document for Chinese visa application. If you travel with us, we will not only create a valuable tour for you, but also provide you an invitation letter if you request, which will help you obtain your visa successfully. Start customizing your tour in China now!
We are one of the few China travel agencies who have kept active and received lots of feedbacks and reviews during pandemic years

Yvonne
"Hi Jack, A very big THANK YOU to you and your team for the excellent arrangements you made for me and my husband's vacation in Guangzhou and Guilin. Everything went smoothly with..."
read more »
Reviewed on November 30, 2023

Ivonne D
"We had just a few days to go to Dunhuang but China Discovery ( Rita) did an incredible job. She managed to put our whole wish list into a program! The guide we had was amazing ( Jenny)..."
read more »
Reviewed on December 2, 2023
Do I Need A Visa for Macau?
Because Macau (Macao), Hong Kong, two Special Administrative Regions(SARs), are regarded as third regions from China's mainland, it means Macau sets up own visa policy for non-Macanese visitors, and Chinese Visa does NOT give entry permission to Macau or Hong Kong.
A Macau Visa is required normally for a travel to Macau. But, if you are citizens of specific foreign countries and territories, and visit Macau for short-term tour and business, you may have visa-free entry to Macau. US, UK, Australia, Canada citizens, Indians, Filipinos, Malaysians may get visa exempted for Macau, while passport holders of Pakistan, Vietnam and Nepal must obtain a visa for entry.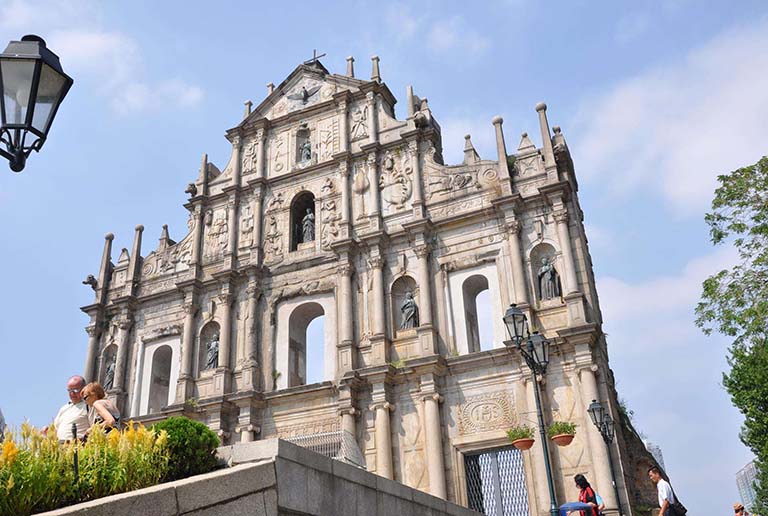 Ruins of St. Paul's - the Most Famous Landmark of Macau
Table of Page Content
Who can Visit Macau without Visa - Macau Visa Free
According to the Entry Regulations released on the Macau Immigration Department, currently, Macau offers (multipe-entry) visa exemption for citizens from total 79 foreign countries (territories) for visit of travel and business affairs. The permitted duration of stay differs by nationality, and accute period ranges from a maxmium of 14 days, 30 days, 90 days (3 months), 180 days (6 months) and even up to 1 year.
Besides, holders of Hong Kong SAR passport and Chinese Passport with flight and visa to a third country are allowed to have 7-day visa-free stay in Macau if transitting through Macau. Check the country list of visa exemptions below to find who is qualified to enjoy visa-free travel to Macau and how may days are allowed to stay in Macau without a visa. (Read the Full list on Macau Immigration Dep in https://www.gov.mo/en/services/ps-1474/ps-1474b/.)
Macau Visa Free Countries List
| Permitted Stay Period | Number of Country | Countries | Continent |
| --- | --- | --- | --- |
| 14 Days | 1 | Brunei | Asia |
| 30 Days | 22 | America, Australia, Canada, Chile, India, Indonesia, Kiribati, Malaysia, Monaco, Namibia, New Zealand, Philippines, Russia, Samoa, San Marino, Seychelles, Singapore, South Africa, Thailand, Turkey, Uruguay | Oceania, America, Aisa, Europe |
| 90 Days | 56 | Andorra, Albania, Austria, Belgium, Bosnia and Herzegovina, Brazil, Bulgaria, Cape Verde, Croatia, Czech, Cyprus, Denmark, Dominica, Egypt, Estonia, Finland, France, Germany, Greece, Grenada, Hungary, Iceland, Ireland, Israel, Italy, Japan, Latvia, Lebanon, Liechtenstein, Lithuania, Luxembourg, Montenegro, Moldova, Macedonia, Mali, Malta, Mexico, Mongolia, Netherlands, Norway, Poland, Portugal, Romania, Slovakia, Slovenia, Serbia, South Korea, Spain, Sweden, Switzerland, Tanzania | Europe, Asia, Africa, Oceania |
| 180 Days | 1 | The United Kingdoms | Europe |
| 1 Year | 1 | Holders of HK Permanent Identity Cards or HK Re-entry Permits | Asia |
Notes: In the above list, there are two special cases. 1.) Holders of Taiwan Compatriot Permit, also called Mainland Travel Permit for Taiwan Residents (台湾居民来往大陆通行证) are also qualified for 30-day visa-free stay in Macau. 2.) Visitors holding HK Permanent Identity Cards or HK Re-entry Permits enjoy 1 year - the longest privilege of visa exemption for Macau.
Who Needs Visa to Macau - Macau Visa Application Guide
Nationals from countries not listed above, and the mentioned visa-free visitors who plan to stay longer and for other purposes, are required to apply for a "Visa" or "Entry Permit" to Macau before arrival or upon arrival. However, ordinary passport holders of the 6 special countries (Bangladesh, Nepal, Nigeria, Pakistan, Sri Lanka and Vietnam), must obtain a Macau Visa through a Chinese Embassy or Consulate before entry into Macau, and he/she is NOT allowed to apply visa on arrival at border ports.
>> Macau Visa Application Required Documents
For Individul Travel & Family Visit
1. Photocopy of your valid original passport's bio data page and used inside visa pages (or international travel document);
2. A completed Macau Visa Application Form(download form here);
3. Proof of financial status (such as bank statement, savings depoist, tax receipt, certificate of employment and income);
4. Related transportation and accommodation arrangment in Macau (such as round-trip flight tickets and hotel booking record);
5. Proof of visit for Macau (such as copy of relative's residence in Macau or Macau Identity Card, with the kinship certificate document );
6.Other documents used for previous travel to Macau, valid visa and entry/residence permit for other countries and regions if has.
For Work in Macau
Except the copy of the date page & used visa pages of your valid passport, completed Macau Visa Application Form, applicants should also prepare copy of employment certificate approved by the Macau authority, which is the application or renewal application letter of "Authorization to Stay for Non-resident Workers" which has been verified by the Macao Immigration Department. Download the work visa application form.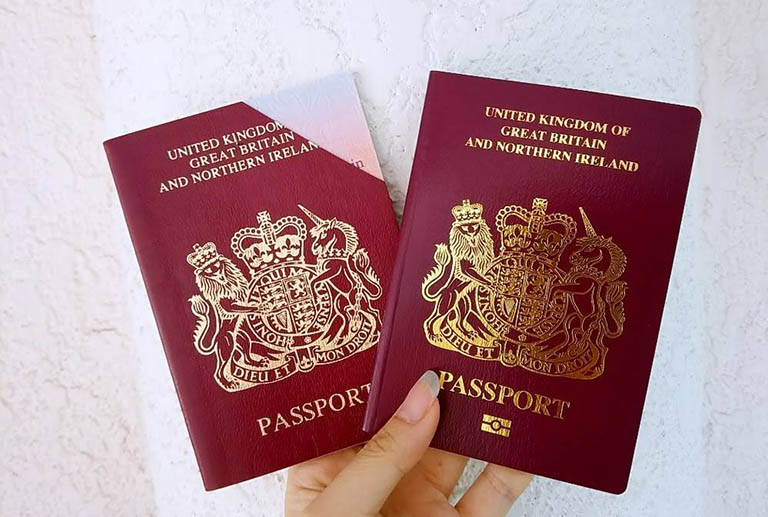 Make Copy of Passport Important Pages
(Part of)Macau Visa Application Form
Applicants need to submit all the necessary documents to the visa office of Chinese Embassy and Consulate during office hours. If they request additional materials, applicants shall submit as required.
>> Macau Visa Fees and Cost
Regular Macau Visa application fee is USD 30, and an additional communication fee of USD 20 will be charged if application will be related to Macau Immigration Department.
Since there will no commnication fee incuring, Express application costs about USD 50 and Extra Express visa application fee is USD 60 only.
>> Macau Visa Processing Time
Chinese Embassy or Consulate will start to process upon receipt of all application documents. You may pick up the visa on the same day, 2nd working day, or 4th ~ 5th working day, depending on which service you will choose.
For regular service, it takes about 5 working days, even 3 weeks (if related to Macau Immigration Department).
Application not related to Macau Immigration Department:
Express Service: it takes about 3 working days. Extra Express Service: you may collect on the same day or next working day.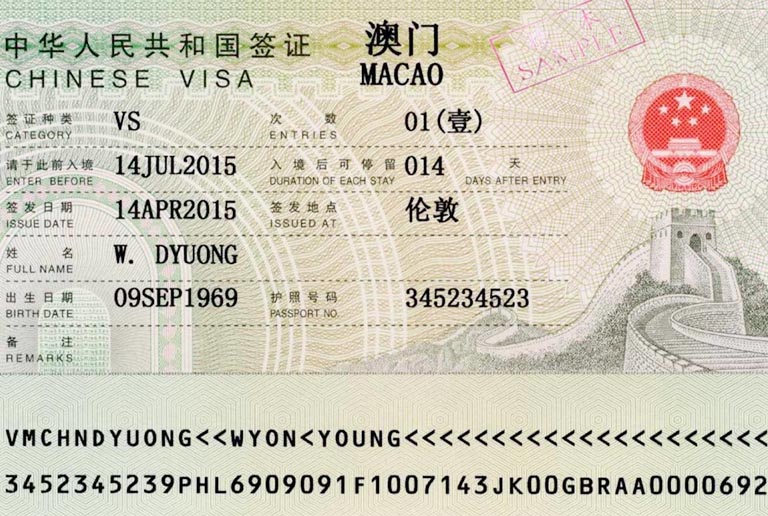 Sample of Macau Visa (click to enlarge)
>> Validity of Macau Visa
Macau Visa has different expiry date and number of entries, including:
1. Single (1) entry within 3 months;
2. Double (2) entries within 3 months;
3. Multiple entries within 6 months.
Please note that the duration of stay is 14 days per entry. Stay beyond the legally authorized period will face penalty by law.
Macau Visa on Arrival
Apart from the two introducted special caes, other foreign visitors can either apply Macau Visa in overseas Chinese Embassy or Consulate in advance or get Macau Visa upon Arrival (Port Visa) at border checkpoints of Immigration Department, Public Security Police of Macau.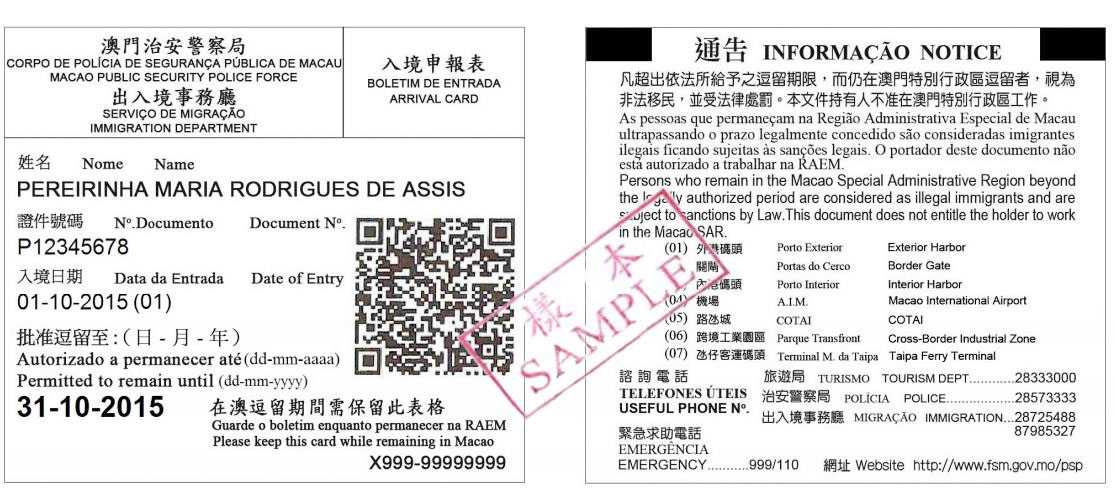 Sample of Macau Visa on Arrival
◆ Macau Visa on Arrival Countries
*Any other country not inclued in the Macau Visa-Free Country List.
*79 Macau Visa-Free Countries, if nationals will stay longer than the permitted duration or visit Macau not for tour or business.
For example: Indians can apply Macau Visa on Arrival, when his planed visit is more than 30 days or for work.
◆ Macau Visa on Arrival Requirements
Except presenting the valid original passport, applicants should also fill in Arrival Card at specialized "Visa Room" at border check points in Macau. Meanwhile, you'd better get ready related travel materials (like air tickets, hotel reservation) which supports your proposed entry and visit in Macau.
◆ Macau on Arrival Visa Fee
Generally, there are four visa types for Macau Visa, and visa fees are charged differently.
No
Type of Macau Visa
Visa Fee
1
Individual
MOP 100
(about USD 13)
3
Family Passport
MOP 200
(about USD 25)
3
Children under age of 12
MOP 50
(about USD 7)
4
Tour Group (with at least 10 members, organized by a single travel agency, present a collective travel document)
MOP 50 per person
(about USD 7)
◆ Macau Visa on Arrival Ports
Below are the main border checkpoints used in Macau:
| Border Checkpoints | Tel | Office Hours | Border Checkpoints | Tel | Office Hours |
| --- | --- | --- | --- | --- | --- |
| Hong Kong-Macau Ferry Terminal | (853) 8798 5327 | 24 hours | Macau International Airport | (853) 8898 1317 | 24 hours |
| Cotai Checkpoint | (853) 8898 9617 | 24 hours | Taipa Ferry Terminal | (853) 8898 1501 | 24 hours |
| Interior Ferry Terminal | Malaysia | 24 hours | Zhuhai-Macau Cross-Border Industrial Zone | (853) 2827 1327 | 24 hours |
Top Things to Do in Macau
Located in west coast of Pearl River Delta, Macau is an famous international free port, a world tourism and leisure center, one of the world's top 4 casinos, which borders Zhuhai (in Guangdong Province) in north and west, and faces Hong Kong across the sea in the east. Over 400 years' collision of Chinese and Portuguese culture turns Macau a distinctive city with numerous historical ruins.
Want to catch a glimpse of unique charm of Macau? Take a walk in the Historic Center of Macau - a UNESCO World Heritage, the biggest, oldest, best-reserved city area with over 20 historical buildings. Visit the Ruins of St. Paul's - the icon logo of Macau. View stunning Macau Tower and relax in the largest casino at Venetian Macau Resort Hotel. Senado Square, St. Dominic's Church, A-Ma Temple, Macau Museum are also major spots deserve a visit. Beyond sightseeing trip, shopping, tasting mixed style Macanese cuisine and experience casino gaming are also popular activities recommended in Macau.
>> Top 12 Attractions in Macau/ Top 8 Things to Do in Macau
>> Where to Stay in Macau/ Macau Weather & Climate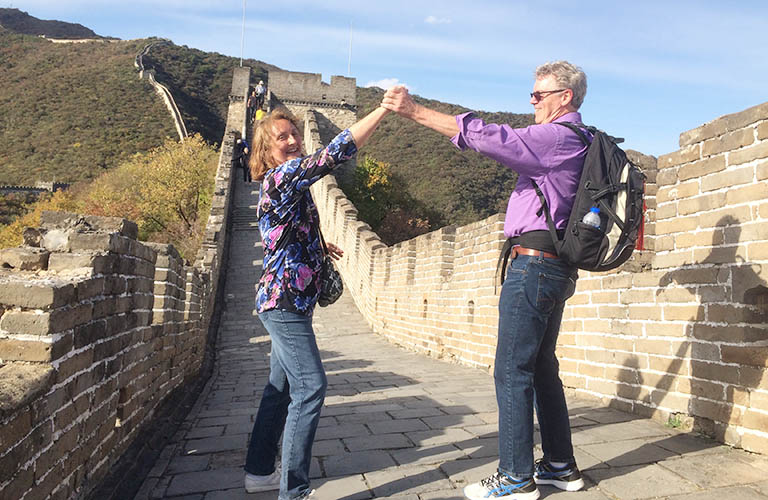 Travel Macau with China Discovery
China Discovery is a professional and experienced travel companion who offers high-value and worry-free tours for you. We not only design ideal itinerary covering sightseeing, dining, transfer and hotel, but also can provide any visa support & help you need to travel to China. Except Macau, Beijing, Shanghai, Guangzhou, Xiamen, Kunming, etc also offers 144-Hour Visa-Free Transit, and Xian, Guilin, Harbin are transit visa exempted for 72 hours. Most traveler like to travel Guangdong-Hong Kong-Macau Greater Bay Area together, and extend further to China's mainland to experience different kinds of landscape, culture and history.
● China 144-Hour Visa-free Transit / China 72-Hour Visa-free Transit
● Travel from Hong Kong to Macau / Travel from Shenzhen to Macau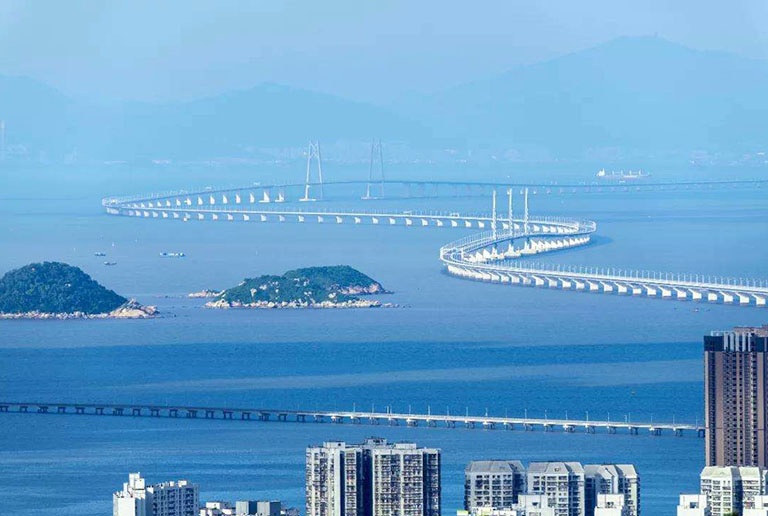 Hong Kong-Zhuhai-Macau Bridge-World's Longgest Sea-crossing Bridge
Keep Reading of China Visa
Recommended Tours
Top 3 tours chosen by most customers to explore in the best way. Check the detailed itinerary, or tailor your own trip now with us.
2 Days Hong Kong & Macau Highlights Tour (by Ferry)

Hong Kong / Macau / Hong Kong
3 Days Hong Kong & Macau In-depth Cultural Tour

Hong Kong / Macau / Hong Kong
8 Days Amazing Greater Bay Area Tour

Hong Kong / Guangzhou / Shenzhen / Macau / Hong Kong
Start planning your tailor-made holiday to China by contacting one of our specialists. Once inquired, you'll get a response within 0.5~23.5 hours.
Customize a Trip
Questions & Discussions
Following are latest questions and answers from our webusers and customers. You can learn many useful information from the discussion and cases. You can also join in the discussions or ask your own question. Our experts will help you ASAP.
Do I need visa for Bhutanese
two of us are visiting Macau in February'2020 to attend the business meeting which is from 18th to 20th Feb'2020.
We are the citizen of Bhutan, kindly let us know if we get our visa on arrival or we we have to process in advance from embassy.
Hi Kashi Maya Chhetri,

Thanks for your question! You can either get your visa on arrival or apply Macau Visa in advance at overseas Chinese Embassy or Consulate near Bhutan, like Embassy or Consulate in Nepal, India, etc. Choose your way according to your itinerary, time and preference. No matter which way you choose, remember to prepare your related travel materials (like air tickets, hotel reservation, and business meeting invitation letter) in advance.
For more detailed info like requirements, ports and fee of each way, please visit:
https://www.chinadiscovery.com/chinese-visa/macau-visa.html

Hope this helps and welcome to China!
Have a question? Get answers from our travel experts or guests
Your Question:

Your Name:

Your Email: