China Maps 2023: Updated, High-Resolution and Downloadable
Search for the latest China maps? Here, China Discovery provides you the wide collection of China maps helping you plan a relaxing China vacation.
You could view maps for specific cities or browse the China provincial maps to gain a better understanding of China's geography. If you are interested the historical and natural sights, just view the China attraction maps. Moreover, some maps are well-suited for planning extensive travel through China, such as Yangtze River & Three Gorges, Silk Road, Tibet, Great Wall, etc. All these maps are downloadable and printable. Please feel free to use them when planning your China trip.
China's Location on the World Map
Covering approximately 9.6 million square kilometers, China is the world's third largest country which is full of vast and diverse landscape. It is located in eastern Asia, adjacent to Vietnam, Laos, Myanmar, India, Bhutan, Nepal, Pakistan, Afghanistan, Tajikistan, Kyrgyzstan, Kazakhstan, Russia, Mongolia, and North Korea.
China Administrative Map
So far, China 34 provincial-level regions, including 4 municipalities directly under the Central Government (Beijing, Chongqing, Tianjin and Shanghai), 23 provinces, 5 Autonomous Region (Tibet, Inner Mongolia, Ningxia, Guangxi, Xinjiang), 2 Special Autonomous Regions (Hong Kong). > China city maps here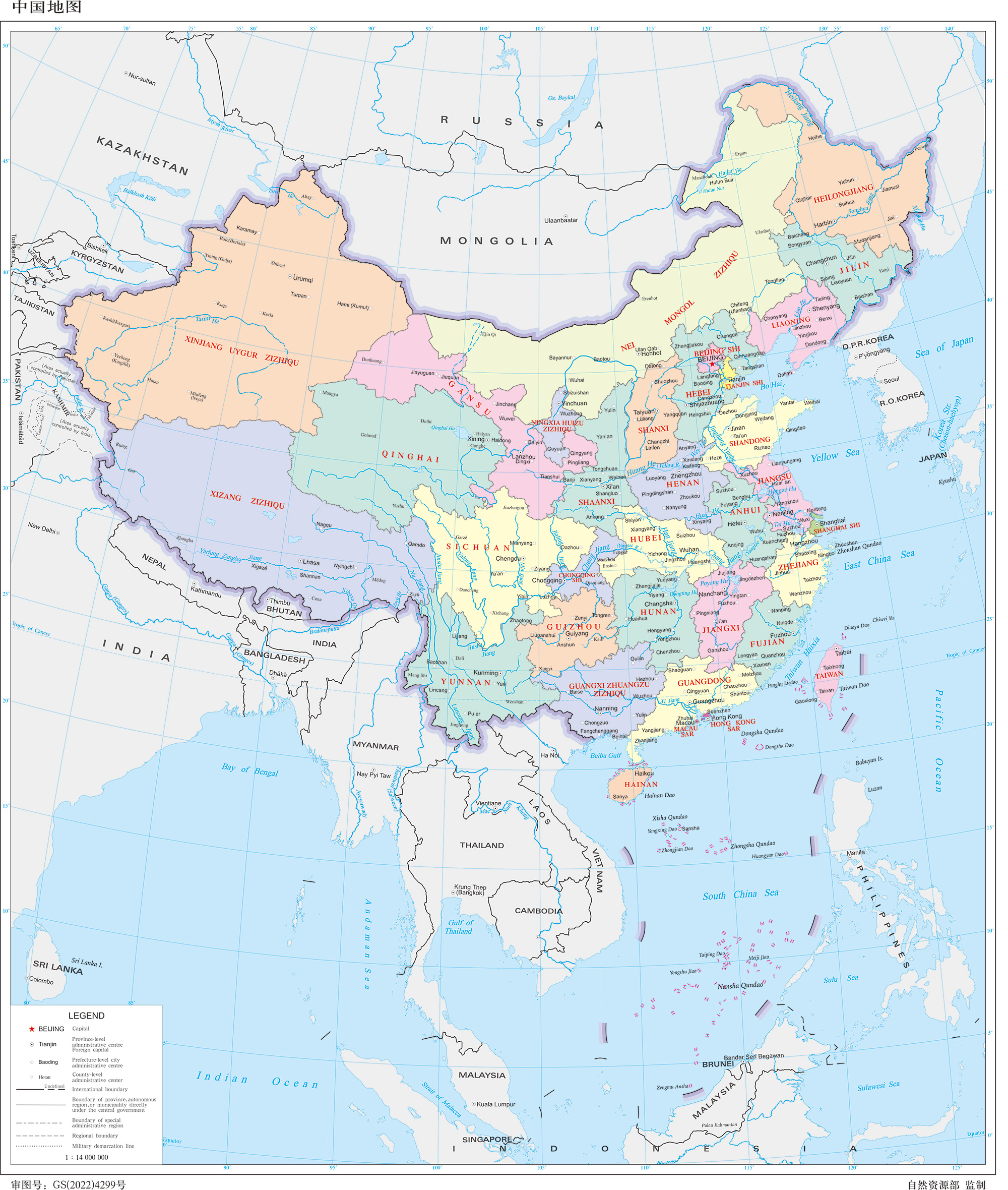 Click to Enlarge China Administrative Map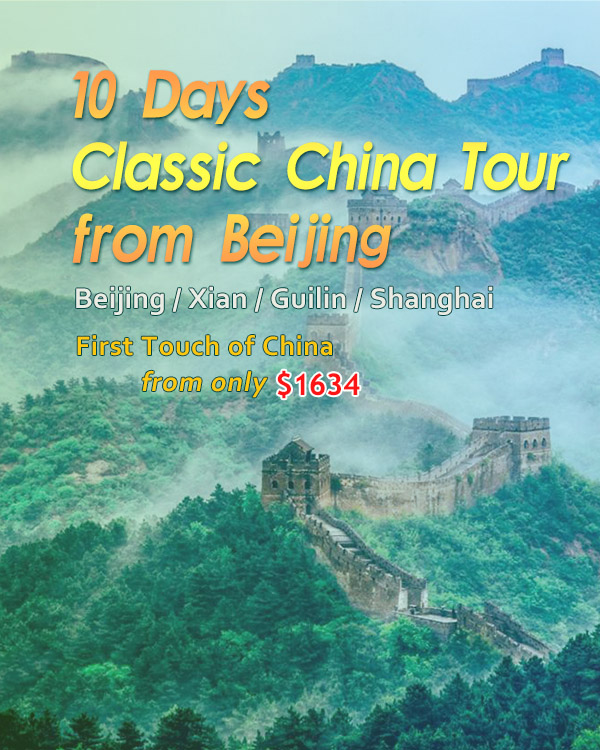 Click to Enlarge Bilingual China Map of Administrative and Geographic Regions

Click to Enlarge Map of China Important Cities and Capitals
Maps of Important Cities in China
More
China Transportation Map - High Speed Train, Airport...
Other Featured Maps of China
China Attraction Maps
More
China Tourist Destinations Map
The map below has already covered most of popular and classic tourist destinations in China. Locate their location on the map, or click in to learn more information about the destinations you are interested in.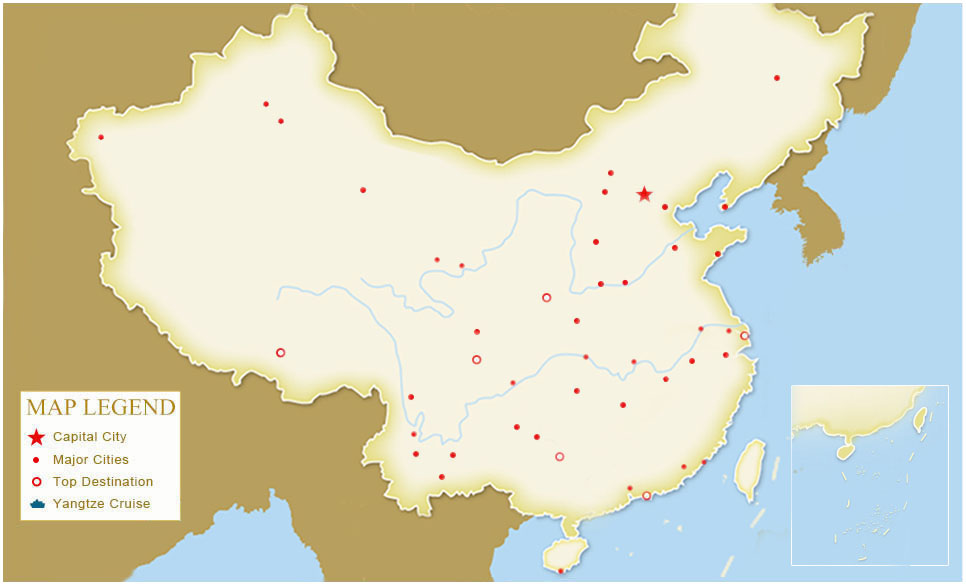 Inner Mongolia
Lanzhou
Kaili
Tianjin
Datong
Jingdezhen
Zhengzhou
Urumqi
Kashgar
Turpan
Dunhuang
Qinghai
Tibet
Beijing
Dalian
Pingyao
Jinan
Qingdao
Xian
Luoyang
Chengdu
Chongqing
Kunming
Guiyang
Guilin
Guangzhou
HongKong
Sanya
Xiamen
Yichang
YangtzeRiver
Zhangjiajie
Changsha
Wuhan
Nanjing
Suzhou
Shanghai
Hangzhou
Huangshan
Harbin
Jiuzhaigou
Fujian Tulou
Lijiang
Yuanyang
Shangri-La
Dali
Wudangshan
Popular Provinces to Go in China
Classic Cities to visit in China
A - D
E - J
K - P
Q - V
W - Z
Are you still looking for more travel maps? Feel free to use the thousands of maps on China Tourist Maps. Or you could just contact us for more relevant high quality China maps & travel information.
China Tour Planning Ideas
Keep Reading
Recommended Tours
Top 3 tours chosen by most customers to explore in the best way. Check the detailed itinerary, or tailor your own trip now with us.
8 Days Best of China Tour (Flight/Bullet Train Covered)

Beijing / Xian / Shanghai
10 Days Classic China Tour from Beijing - First Touch of China

Beijing / Xian / Guilin / Yangshuo / Shanghai
11 Days Fabulous China Tour from Hong Kong

Hong Kong / Guilin / Yangshuo / Longsheng / Chengdu / Xian / Beijing
Start planning your tailor-made holiday to China by contacting one of our specialists. Once inquired, you'll get a response within 0.5~23.5 hours.
Customize a Trip
Questions & Discussions
Following are latest questions and answers from our webusers and customers. You can learn many useful information from the discussion and cases. You can also join in the discussions or ask your own question. Our experts will help you ASAP.
What is best time to go Mohe County/Beiji-arctics village
NA
Dear Tan Kai Leng,

Thanks for your question! The best time for visiting Mohe County ranges from June ~ July or October ~ February.

During its short summer time, the sun is visible for as long as 22 hours. You also get an opportunity to see the aurora borealis which are another colorful phenomenon rare to see in other places. If the sky is clear enough, you are able to see the sun and moon altogether. Locals will hold Summer Solstice Campfire Party during this time, singing and dancing through the night.

Mohe holds the record for China's lowest plunge of the thermometer. On a normal winter day a temperature of -40℃ is common. In winter, it becomes a world of ice and snow. Visitors can go skating and skiing, have a snowball fight with friends, make a snowman with your family, or even learn how to catch fish by making holes in the ice.

Wish you have a nice time!

Have a question? Get answers from our travel experts or guests
Your Question:

Your Name:

Your Email: