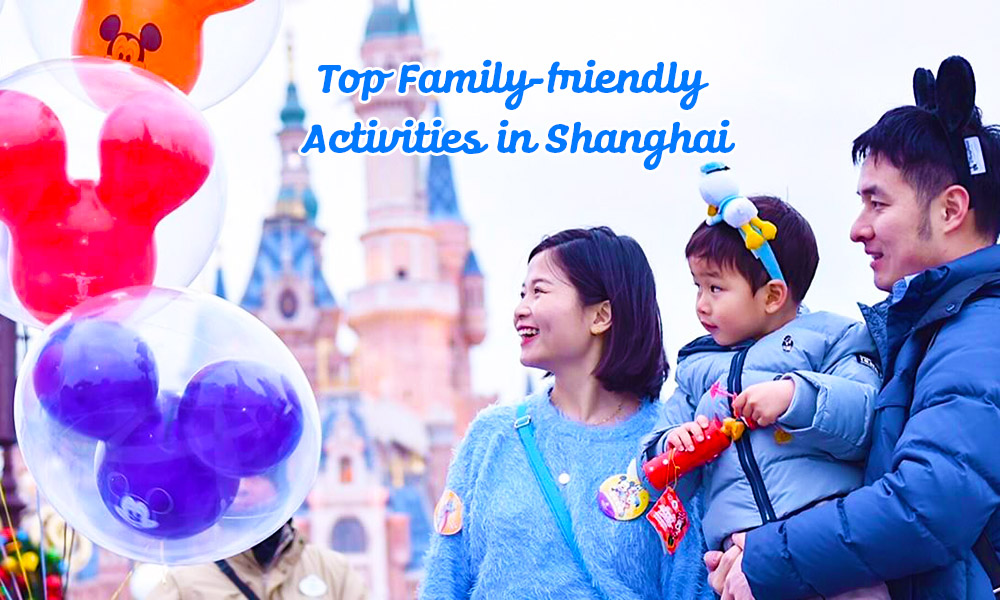 Top 10 Shanghai Family Activities, Interesting Things to Do with Kids in Shanghai 2023
Visiting Shanghai with your family could be an entertaining trip because Shanghai is the most dynamic city in China offering much to do for both kids and adults. You can both trace back to the hundred years ago as well as experience the most fashionable parts of the city. No matter you are interested in history or art, traditional residential area or present architecture, classic Chinese garden or amusement park, informative museum or music concert…
Shanghai can meet your needs for an impressive recreational and educational trip.
To help you plan your family tour in Shanghai, here we share some family-friendly attractions and activities with you. Just get inspired for your family's quality holiday in Shanghai now.
The bund might be the only place that you can visit twice a day but still get fresh impressions. On a day tour to the Bund, you can get a clear view of the exotic building clusters in the Bund, and view the amazing skyline of this metropolis. On a night to the Bund, you will see the dynamic parts of the old buildings, as well as this city. A colorful neon light shows presenting the charm of this ever-bright city. And a night cruising on the Huangpu River is a fun and relaxing experience for all ages appreciating the beauty of both sides of the River.
Helpful Links: The Bund | Huangpu River Cruise
• Popular Shanghai Tour: 2 Days Classic Shanghai City Tour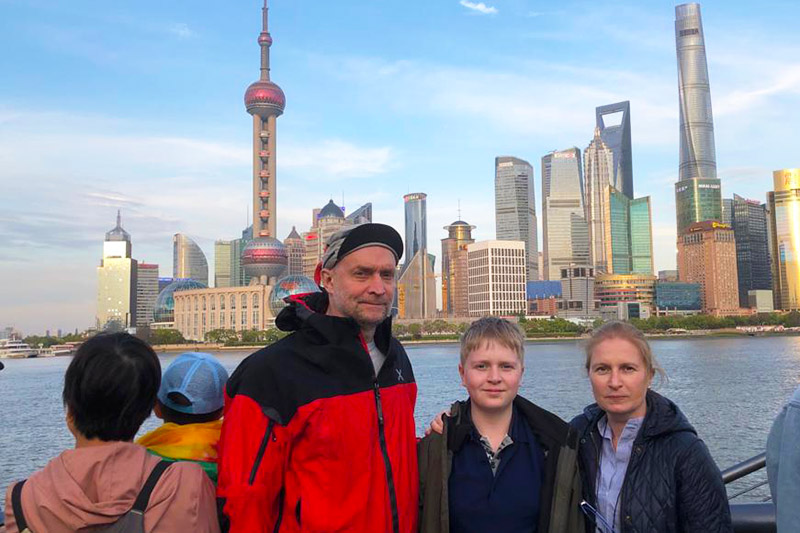 Our Clients Visiting the Bund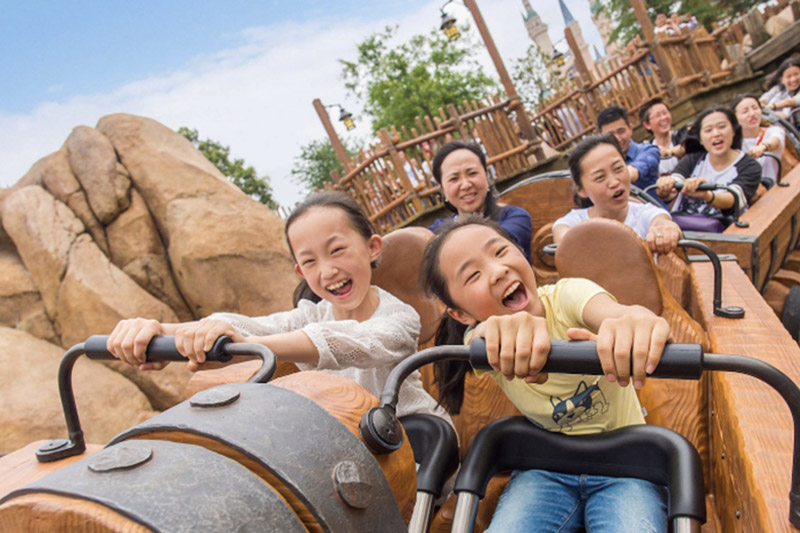 Fun Time Taking Roller Coaster at Shanghai Disneyland
Want to have an amusing and relaxing time with your kids? Shanghai is the right place where lots of themed parks are located. Disneyland Park is the top paradise for both adults and children. It is the first Disney resort in Shanghai, mainland China. In this park, all fantastical dreams come true and you will come to the protagonist of the fairyland. It has several parts, including Shanghai Disneyland Park, Disney Town, two Disney Resort Hotels and Wishing Star Park, and more. You can even book a room with your kids in Disneyland Hotel or Toy Story Hotel in Shanghai Disney Resort with all kinds of Disney characters and figures they like around them from day to dream.
Helpful Links: Shanghai Disneyland Park
• Popular Shanghai Tour: 4 Days Shanghai Magic Tour with Disneyland Park
As a city by the sea, Shanghai shall not be missed without seeing the wonderful marine lives. Shanghai Ocean Aquarium is themed on the ocean and its marine life. There are numerous ocean animals and shows which are loved by children. It is next to the Oriental Pearl TV Tower. The four underwater tunnels are very popular, where allow you to step into them to watch sharks and turtles swimming overhead. Besides, you can go to the theme park, Shanghai Haichang Ocean Park, with five areas: Mermaid Bay, Polar Town, Ice and Snow Kingdom, Underwater Wonderland, and Marine tribe...
• Popular Shanghai Tour: 3 Days Shanghai Family Tour with Ocean Aquarium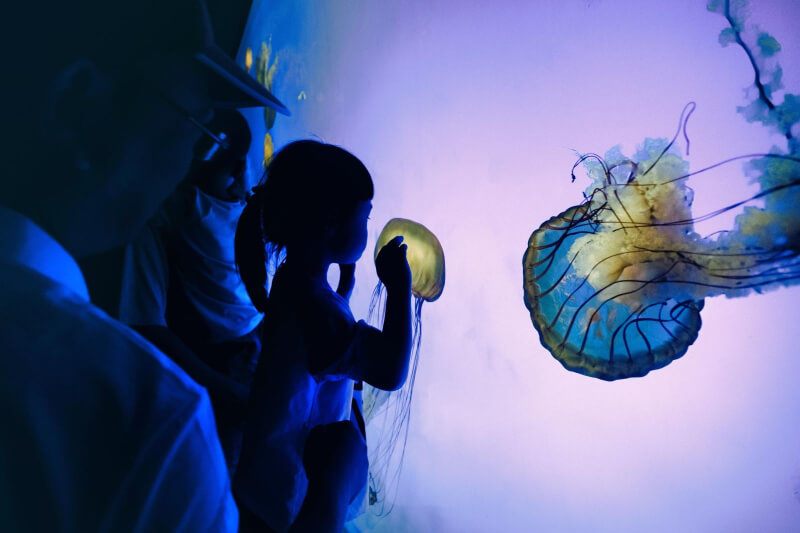 Child Watching Jellyfish at Shanghai Ocean Aquarium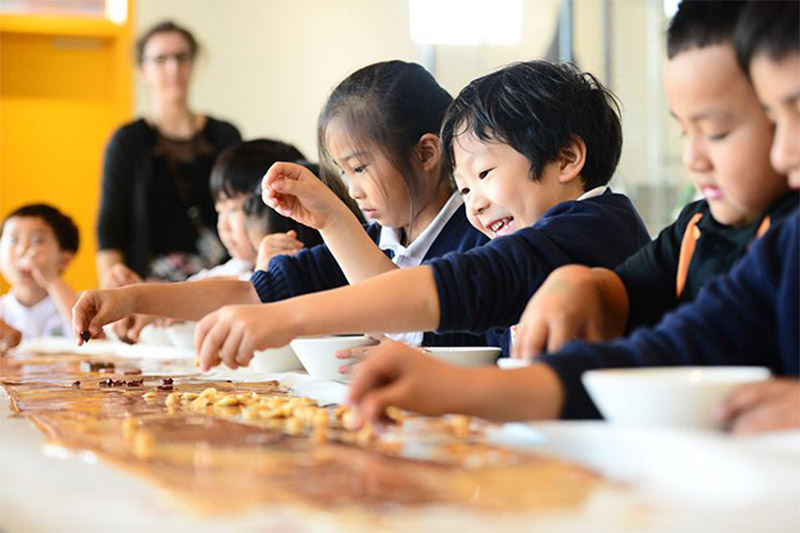 Children Learning Making Chocolate at Zotter Chocolate Factory
Chocolate is always children's favorite. In Shanghai International Fashion Center, the Zotter Chocolate Factory standing by Huangpu River, offering children a wonderful chocolate world. The whole building is a reconstruction of the old factory building. It is not high but the area is large. You can see a chocolate supermarket and Viennese-style coffee shop, and try different chocolate, coffee, cake, etc. You can also taste different flavors of chocolate sauce, and learn how to make chocolate by yourself.
• Popular Shanghai Tour: 3 Days Best Shanghai Family Holiday Tour
For kids, traveling is a good way to learn about different cultures and the world. Since your family visits Shanghai with kids, you will spend study time with your children, learning more about this oriental city together.
An essential visit to Yu Garden offers you the chance to appreciate the classic elegant garden in southern China. There are interesting pavilions, piled rockery, winding corridors, and small lakes for fun. While taking a trip to the museums in Shanghai such as Shanghai Museum, or Shanghai Urban Planning Exhibition Center, both the adults and the kids will get a better mind about this city and its interesting aspects in many ways.
Helpful Links: Yu Garden & Bazaar | Shanghai Museum
• Popular Shanghai Tour: 3 Days Shanghai Past and Present Contrast Tour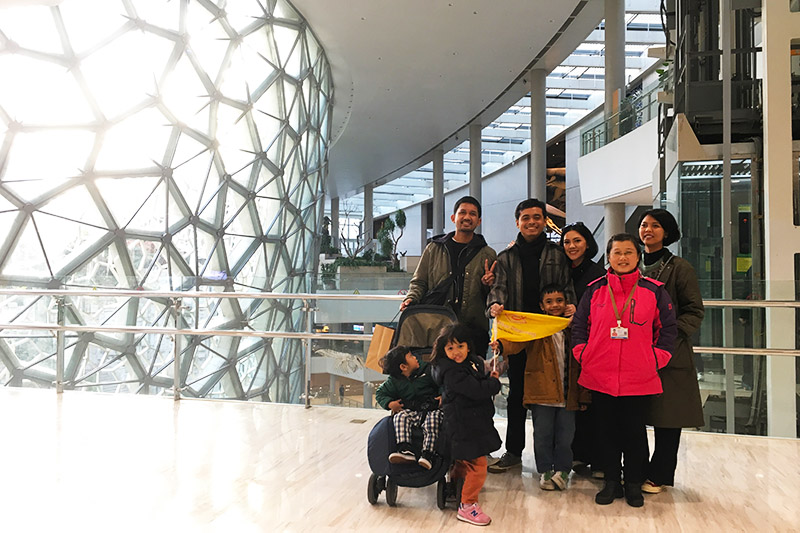 Our Clients at Shanghai Natural History Museum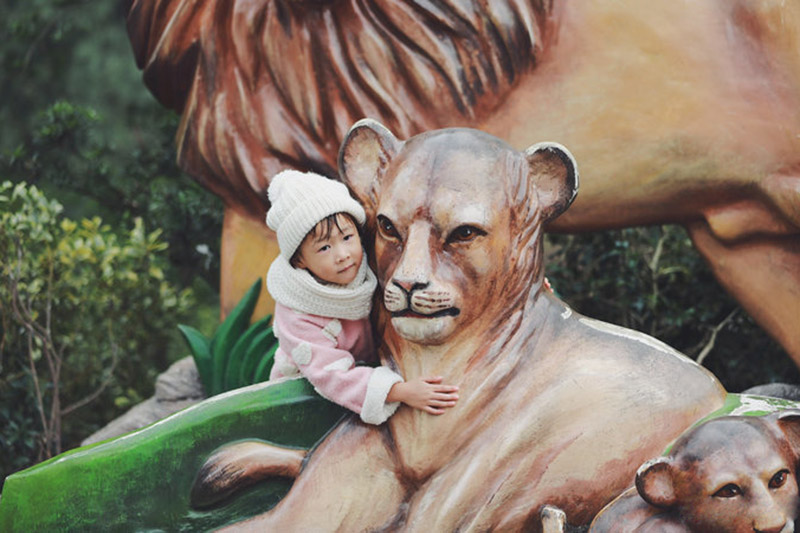 Child at Shanghai Zoo
Children are always animal-lovers. While visiting Shanghai, the most modern city in China, there are still some natural attractions for kids to see the animals. If your family is more interested in wild animals, you can take a special bus tour to Shanghai Wild Animal Park to see elephants, pandas, tigers, bears, lions, monkeys, giraffes, etc. Some kids may have a special interest in insects and just visit Shanghai Natural Wild-insect Kingdom which is an insect museum just located near Oriental Pearl Tower. There are living insects from Southeast Asian countries and living reptiles from South American countries. Many kids are attracted by colored silkworms.
• Popular Shanghai Tour: 2 Days Classic Shanghai City Tour
You will appreciate the amazing skyline of Shanghai at the Bund, and do you ever think to reach the top of this city? For family travelers with kids, especially teenagers, have a desire to go higher to view the city from the top. It is an exciting experience to overlook the cityscape of Shanghai, especially the Bund, the Huangpu River, and the modern skyscrapers.
Shanghai Tower, Shanghai World Financial Center, and Jinmao Tower are Shanghai's tallest buildings where you can reach its top floor for a breathtaking panoramic view of the city. If you want to reach the tallest building, choose Shanghai Tower. But if you want to see the tallest building, choose the other two.
Helpful Links: Shanghai Tower | Shanghai Oriental Pearl Tower
• Popular Shanghai Tour: 3 Days Shanghai Past and Present Contrast Tour
Lying on the Glass Floor of Shanghai Oriental Pearl Tower
Shanghai Circus World
Shanghai Circus World (上海马戏城) is a great place of pleasure near the center of Shanghai City. If you want to spend a night watching the superb show, just visit Shanghai Circus World – a world-famous artistic and recreational venue where the top-level acrobatic shows will take place there. It will be an unforgettable experience to watch the jaw-dropping shows with the most talented acrobats in China and the Happy Circus also offers funny performances with well-trained cute animals that children adore.
Helpful Links: Shanghai Circus World
• Popular Shanghai Tour: 2 Days Classic Shanghai City Tour
Never think exploring the old parts of Shanghai will be boring because what you will see in an ancient site of Shanghai is a seamless combination of how the locals keeping their lives with the old buildings. A visit to TianZiFang or the Old French Concession, you will see how the locals lead their present lives with those old-fashioned buildings. Walking through the narrow alleys or cycling around the area could be fun for kids, and they may find some interesting little shops at the corner. Also, enjoy a tea time with your family in Xintiandi, an old-fashion area with modern cafés, lounges, and malls that will bring you a mixed feeling about this city, fashion but classic, oriental but also western style.
Helpful Links: Tianzifang | Xintiandi
• Popular Shanghai Tour: 3 Days Best Shanghai Cycling Tour
A Visit to TianZiFang
Our Clients in Zhujiajiao Old Town
There are many water towns in southern China where the old dwellings and lifestyle are exhibited. Near Shanghai, there are several small water towns to visit as well. The most popular one must be Zhujiajiao Water Town, which is honored as Venice of Shanghai. In the small town, you can take traditional local snacks, view the oriental picturesque view of the small water towns, and experience the leisurely life-pace of the locals. Traveling with kids, you are suggested to relax yourselves on a boat sailing on the water and get a moving picture of the scenery.
Helpful Links: Zhujiajiao Water Town
• Popular Shanghai Tour: 3 Days Shanghai Highlights Tour with Water Town