Top Family-friendly Activities in Chengdu
There is a saying - "One will be reluctant to leave once coming to Chengdu". To figure out the reason, you really should take your family to the city and be its guests. Chengdu is famous for leisure living style and Sichuan Cuisine, especially the hot pots. So, with your family, explore the slow-pace local life at parks, and taste the spicy hot pot in a busy restaurant. But don't miss the most important things to do - visit the cute Giant Panda. You can also attend a volunteering program to take care of these cute animals. If time is enough, you can extend your trip to visit the most beautiful waterscape in China - Jiuzhaigou Valley, or go to visit the famous Buddhist sites - Leshan Giant Buddha and Emeishan Mountain.
Recommended Chengdu Tour Packages for Family with Kids
Below is our best-selling tours with family activities and you can choose one. Or check all more Chengdu tours or customize a family tour of your own here >
Eager to introduce the delight of Chengdu to your children? Choose. This 3 days Chengdu tour is meticulously designed for families.

Imagine that you have one day to stay closely with the most adorable creatures on the planet, what will you do? Do you want to come face to face to pandas?
To help you plan your family tour in Chengdu, here we share some family-friendly attractions and activities with you. Just get inspired for your family's quality holiday in Chengdu now.
Visiting Giant Pandas or Doing Volunteering Work in Panda Bases
There are 5 panda bases or reserves in Sichuan. But the one in Chengdu, full name as Chengdu Research Base of Giant Panda Breeding, is the most famous and popular due to its convenient location and great facilities. It is located in northern Chengdu, about 10km from the city center.
You can take a half day's visiting with your kids to the Chengdu Research Base of Giant Panda Breeding. You totally don't have to worry about having no space and no places for your kids to run and visit since the base is pretty large with many rooms and parks for different families of pandas. And the road is wide and flat, and surrounded by green bamboo. Fully make use of this chance to observe the daily living of Giant Panda - playing, dinning, sleeping, etc. After the visiting, you can take your kids to learn some facts and knowledge about the panda in the Giant Panda Museum.
To take care of the Giant Panda is a proud experience. If you are interested, take your family to the nearby city - Dujiangyan (50km from Chengdu). There are different programs from a half day's job to four days, and joining in volunteer program is the most inspiration one. During the volunteering job, you will feed the panda, clean the panda's house, etc.
Helpful Links: Dujiangyan Panda Volunteer Program | Chengdu Panda Base
Family Tour to Panda Base with China Discovery
Making Food for Giant Pandas
Local Parks - Best Places to Experience the Local Life
Chengdu is famous for its laid-back living style. The most important thing of people here is to enjoy - food, playing, traveling, etc. So where to explore the local culture? Of course the parks. There are many parks in Chengdu. Most famous ones are the Renmin Park, Huanhua Xi Park, Baihua Tan Park, Cultural Park, etc.
The Renmin Park, located in the center of the city, is the largest base for locals to have fun. The afforest of Renmin Park is very great. Trees and flowers are everywhere. There are also many themed garden in the park, such as the Bonsai Garden, Orchis Garden.
Both the adults and kids will have fun here. Because there are many activities for adults (drink tea, play card…) and kids (flying kite, boating, dancing…)
Helpful Links: Renmin Park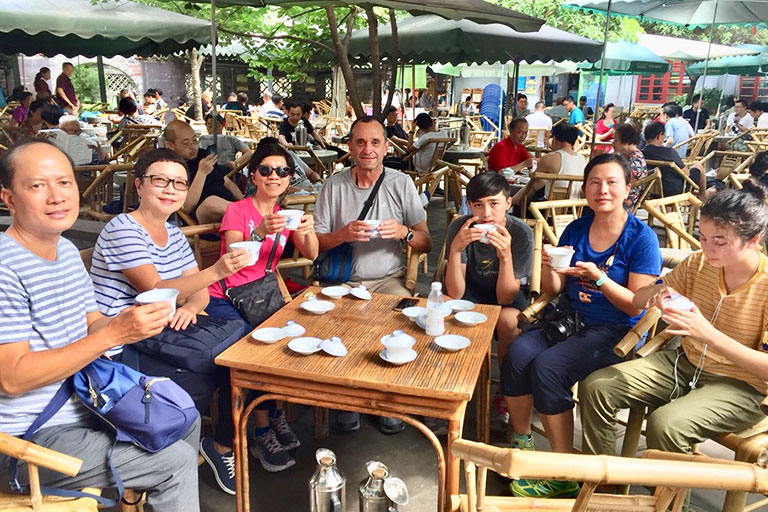 Relaxing and Enjoyable Time in Renmin Park
Sichuan Cuisines - Hot Pot and Many Others
It is said that the local people here spend almost of their incomings on the food. You can image how attractive the Sichuan cuisine is in Chengdu. Chengdu boasts a wide variety of food and snacks. According to statistics, Chengdu has at least over 500 different kinds of established snacks and over 5,000 stores that serve snacks. People who have not been to Chengdu will think all dishes and snacks served in Chengdu are spicy. As a matter of fact, many Sichuan Cuisine & Food are aromatic, sweet, tender, tasty and even tongue-numbing.
According to many foreign friends feedbacks and local Chengdu people's recommends, here are listed Top 10 Chuan Cuisines and Chengdu Snacks:
1. Hotpot; 2. Mapo Tofu ( Bean curd with mince and chili oil); 3. Chuanchuanxiang; 4. Kung Pao Chicken (Spicy diced chicken with peanuts); 5. Huiguo Pork (Double Cooked Spicy Pork Slice); 6. Fuqi Fei Pian (Braised Cow Lungs); 7. Rabbit Head; 8. Dandanmian; 9. Chuan Bei Liang Fen (Bean Noodles in chili sauce); 10. Zhong Dumpling/Long Chaoshou(Long Wonton)
Helpful Links: Renmin Park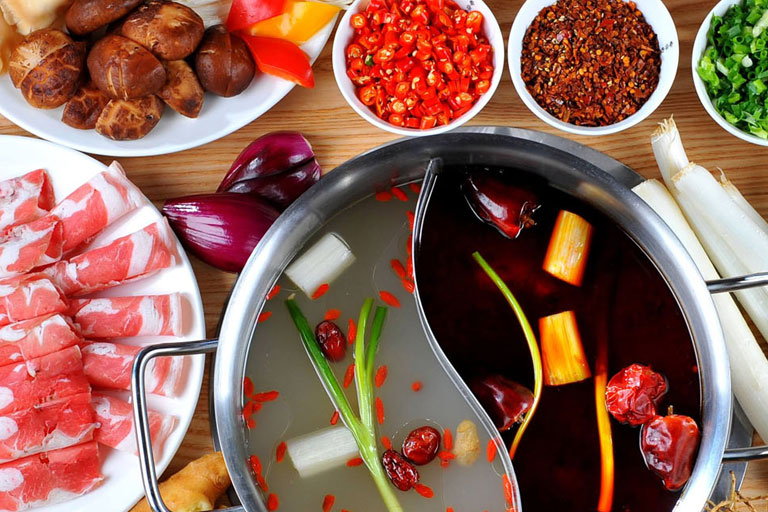 Hot Pot - Typical Sichuan Feast
Sichuan Opera Show - Most Performed at Jinli or Qingtai Road
Sichuan Opera features vivid, humorous narration, singing, and acrobatics. It also boasts a system of stylized movements and its acting is both exquisite and lively. Sichuan Opera performances are always full of wit, humor, lively dialogues, and pronounced local flavors.
Most Sichuan Opera repertoires are adapted from the Chinese classical novels, mythologies, legends, and folk tales. Statistics show that the total number of Sichuan Opera plays exceeds 2,000.
Shufengyayun Sichuan Opera House, Shufengyayun, located in Chengdu Culture Park on Qintai Road, is the ideal place to experience the local arts. It is also the only one of its kind where you may enjoy the local tea, Opera and Arts shows in Sichuan Province. Featuring the Chinese traditional opera performances, unique talent shows, as well as opera costumes, exquisite handicrafts exhibits, the theater is just an ideal place for you to enjoy the local arts and culture.
Helpful Links: Shufengyayun Sichuan Opera House | Sichuan Opera | Chengdu Nightlife
Sichuan Opera Highlight: Face-changing
Take Photo with the Performers
Plan a Family Tour in China?
Check our most popular China Family Tours, which are specially designed for family, covering the classic highlights and kid-friendly activities. All can be customized to satisfy your family needs.
Recommended Tours
Top 3 tours chosen by most customers to explore in the best way. Check the detailed itinerary, or tailor your own trip now with us.
3 Days Chengdu Highlights Tour plus Leshan Giant Buddha

Chengdu: Chengdu Panda Base, Leshan Giant Buddha, Jinli Street
2 Days Chengdu Highlights Tour with Hakka Ancient Town

Chengdu / Luodai Ancient Town / Chengdu
Start planning your tailor-made holiday to China by contacting one of our specialists. Once inquired, you'll get a response within 0.5~23.5 hours.
Customize a Trip
Have a question? Get answers from our travel experts or guests
Your Question:

Your Name:

Your Email: