Luoyang Family Tours & Luoyang Family Activities
Luoyang, home to Longmen Grottoes and only 55 km away from legendary Shaolin Temple, attracts many visitors from all over the world to feel the charm of thousand-year capital and see the authentic Chinese Kungfu. When visiting Luoyang with family, it can be an educational trip with much fun. There are some recommended things to do for you and your family in a Luoyang family tour.
Recommended Luoyang Tour Packages for Family with Kids
Below is our best-selling tours with family activities and you can choose one. Or check all more Luoyang tours or customize a family tour of your own here >
This 3 days classic Luoyang city tour offers you a special Shaolin Kung Fu training in a local martial arts school, also takes you to explore the famous attractions on Shaolin Temple.

This tour helps you make full use of your time. You will not only appreciate the fine example of Chinese Buddhism art, but also explore Zen Buddhism and Kung Fu.
1. Admire UNESCO Heritage Site Longmen Grottoes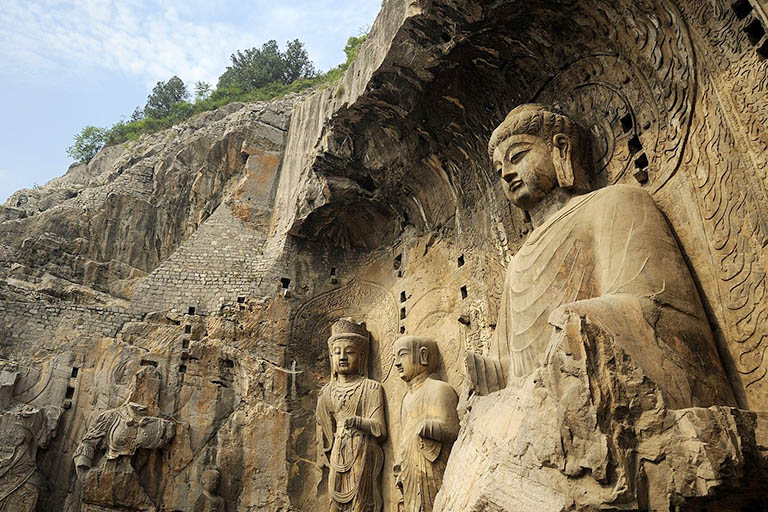 Vairocana Buddha in Fengxian Temple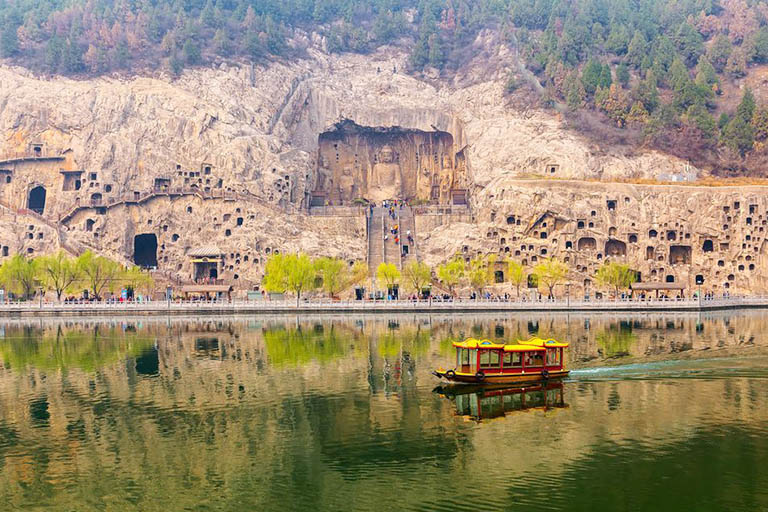 Longmen Grottoes Seen from the East Hill
Location: on the Yi River bank, 15 kilometers from Luoyang downtown
Opening Hours: 8:00-18:00 (February - March, October 8 - October 31); 8:00-18:30 (April 1 - October 7); 8:00-17:00 (November - January)
Ticket: CNY 90
Longmen Grottoes with a history of over 1500 years is a must-see in Luoyang just like the Terracotta Warriors in Xian and Forbidden City in Beijing. It can always amaze tourists by the graceful eye-catching Vairocana Buddha. Some people say its smile is the eastern version of Mona Lisa, but actually, the Vairocana Buddha stone statue is carved about 800 years earlier than the creation of Mona Lisa. Apart from that, there are over 2300 caves and 100,000 Buddha statues in different postures. Most of them are in the west hill of the scenic spot. You can spend a fruitful half day there.
✔ 2 Days Luoyang Longmen Grottoes Tour
✔ 3 Days Essence of Luoyang Tour
2. Learn Authentic Chinese Kung Fu at Shaolin Temple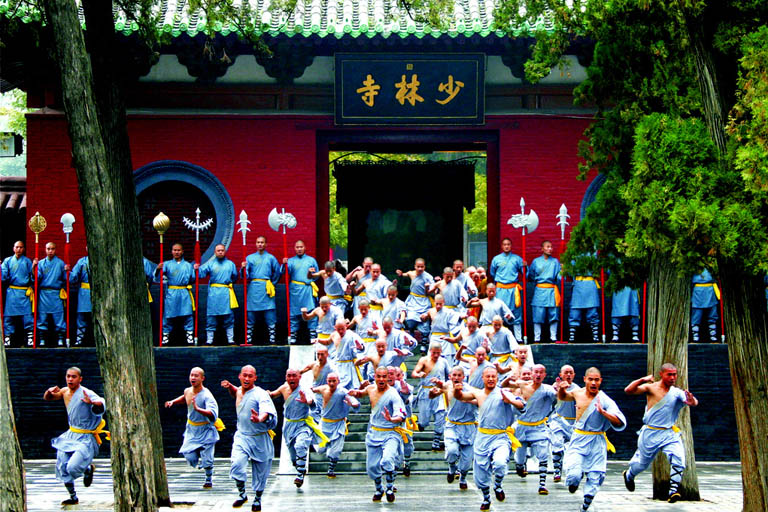 Shaolin Temple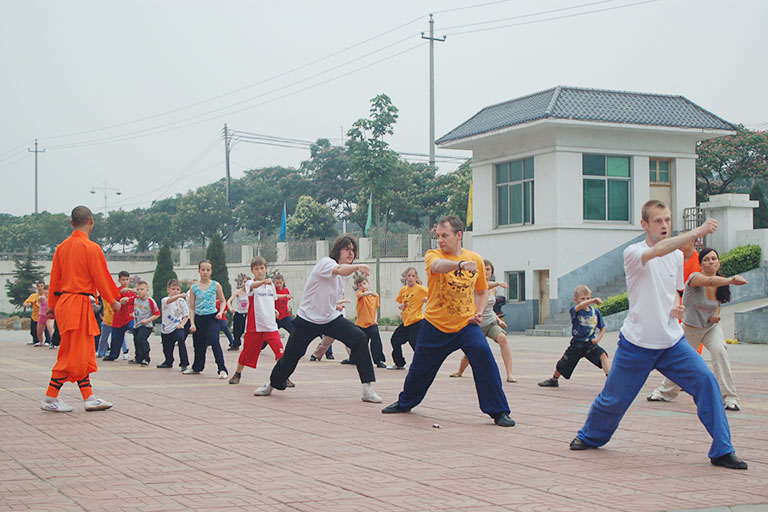 Kung Fu Training
Shaolin Temple Location: Songshan Mountain, Dengfeng, about 55km, 1.5 hours' drive from Luoyang
Opening Hours: March ~ November: 07:30 ~ 18:00; December ~ February: 08:00 ~ 17:30
Ticket: CNY 80
You must have heard of the legendary Chinese Kung Fu in many movies such as the famous Kung Fu Panda. Now in Luoyang, you will have a chance to watch a Kung Fu show performed by the Shaolin martial monks, or better, learn authentic Chinese Kung Fu from the professionals.
There are some Kung Fu schools with legal license near Shaolin Temple such as Shaolin Tagou Martial Art School and YunTai Mountain International Culture and Martial Arts School. You can take short-term (for example, a week or a month) or long-term (half a year or longer) Kung Fu training courses according to your itinerary. It must be an unforgettable experience.
✔ 3 Days Shaolin Kung Fu Tour including Luoyoang Highlights
✔ 3 Days In-depth Shaolin Kung Fu Class Tour
3. Appreciate Different Styles of Architectures in White Horse Temple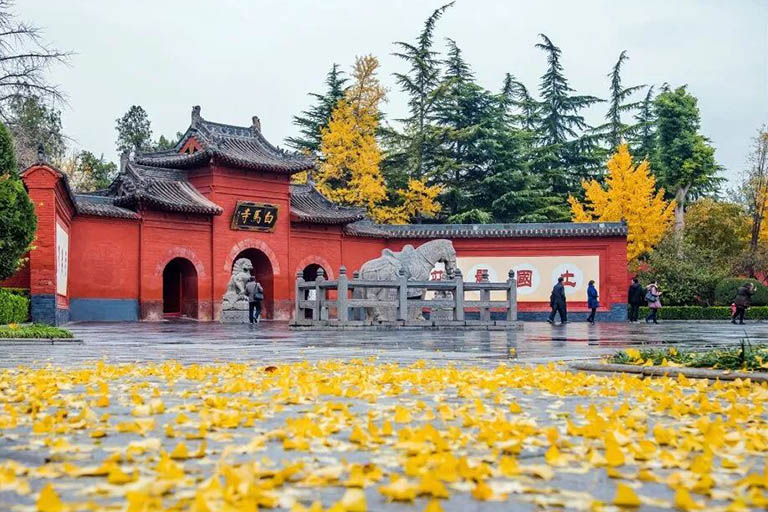 White Horse Temple
Thai Style Temple
Location: Baimasi Town, Luolong District, 23 kilometers from Luoyang downtown
Opening Hours: 07:30-18:00
Ticket: CNY 50
White Horse Temple was firstly built in AD 68. It is the first Buddhist temple in China and enjoys a high reputation in Buddhism. It spread Buddhism to Korea, Japan and Southeast Asia and became a holy land for Buddhist believers all over the world.
It not only has many traditional Chinese pavilions and pagodas like other temples do, but also owns an international zone where you will have an opportunity to see some foreign Buddhist buildings. The governments of Thailand, India and Myanmar have successively invested in the construction of Buddhist temples in White Horse Temple, making it the only international temple with Chinese, Indian, Burmese and Thai style temples. This contrast of color and style is really a please to eye and a special experience to both adults and kids.
✔ 2 Days Luoyang Tour with White Horse Temple
4. Explore Luoyang in Various Museums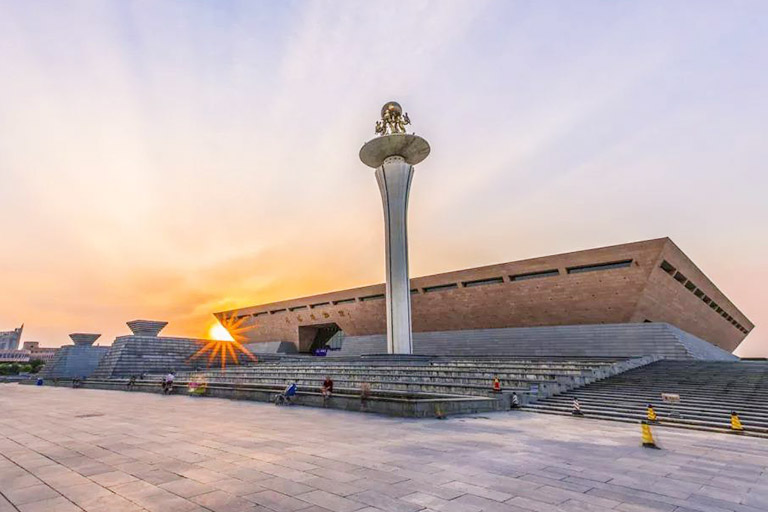 Luoyang Museum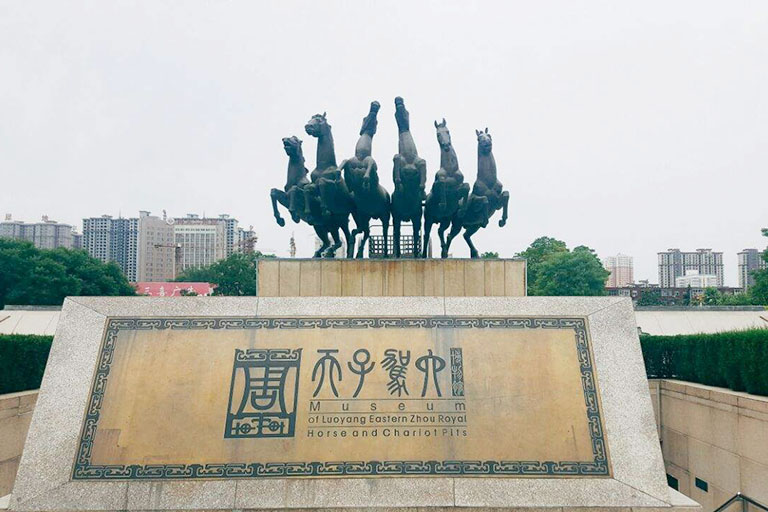 Tianzi Jialiu Museum
Luoyang Museum Location: Nietai Road, Luolong District, 6 kilometers from Luoyang downtown
Opening Hours: 09:00 - 16:30 (Tuesday - Thursday, Sunday); 09:00 - 20:30 (Friday & Saturday); closed on Monday
Ticket: Free
There are about 70 museums in Luoyang. They are in different themes and many of them are suitable for a family visit. Among them, Luoyang museum is no doubt the first choice. It is the largest comprehensive museum in Luoyang. Here you can know Luoyang in every aspect and encounter some of the representatives of superb Chinese ancient handcraft.
Luoyang Tianzi Jialiu Museum (天子驾六博物馆 Ticket: CNY 30; Opening Hours: 09:00-18:00) is in Luoyang center at Zhouwangcheng Square. The museum is built right on the original site, so you will get an immersive experience seeing the horses and chariots buried over 2000 years ago. Luoyang Folk Custom Museum (洛阳民俗博物馆 Ticket: free; Opening Hours: 8:30-12:00, 13:00-17:30, closed on Monday) is another good option as it displays many items that show the wedding customs, burial custom, folk art, etc. in Luoyang.
✔ 3 Days Essence of Luoyang Tour with Luoyang Museum
✔ 5 Days Henan Cultural Tour to Luoyang and Kaifeng
5. Meet Rare South China Tiger in Luoyang Wangcheng Zoo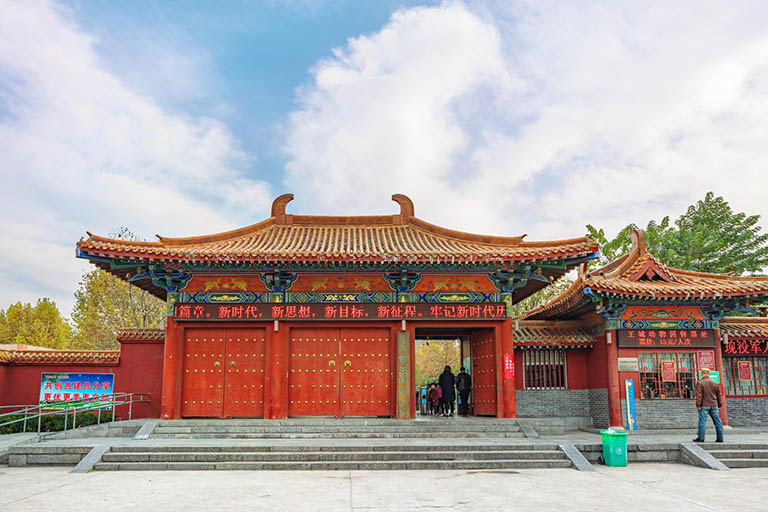 Wangcheng Zoo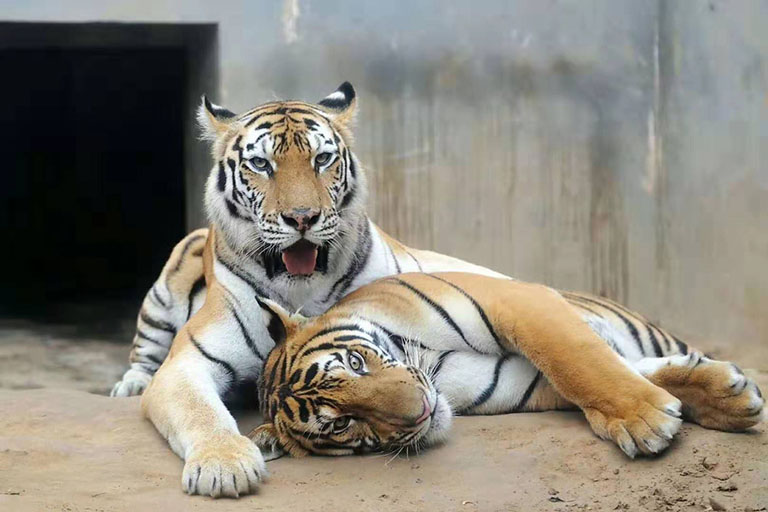 South China Tiger in Wangcheng Zoo
Location: in downtown Wangcheng Park, No. 312 Zhongzhou Middle Road, Jianxi District
Opening Hours: 07:00-17:30
Ticket: CNY 15
Luoyang Wangcheng Zoo (王城动物园) is the only zoo in western Henan Province. There are over 100 kinds of wild animals, including giant panda, South China tiger, northeast tiger, leopard, black bear, brown bear, Red Crowned Crane, and other rare foreign animals, such as African elephant, white rhinoceros, chimpanzee and kangaroo.
South China tiger is a unique species of tiger that is only distributed in China. So it is also known as "Chinese Tiger". This rare animal has been extinct in the wild. Wangcheng Zoo has put tremendous efforts in protecting and breeding this endangered species. At present in 2020, the total number of South China tigers in Wangcheng zoo has increased to 45 (it is the most in China), while the number of South China tigers in the world is only about 200. Apart from the Wangcheng Zoo, as the largest park in Luoyang, Wangcheng Park itself is a good place for tourists to take a walk.
Travel with China Discovery
In order to have a perfect tour to Luoyang, you can choose to travel with a professional travel agency like China Discovery. We master the most up-dated travel information and are specialized in offering travelers incredible Henan experience. Before your trip, our travel consultants will communicate with you one to one and make an itinerary according to your own travel length, interest and budget. As your itinerary is settled, we will book hotel, flight or trains for you. During your trip, our local travel guide will deal with all details for you and you just need to focus on sightseeing.
For more about private tour with China Discovery, you could contact us to tailor-make the best tour you want.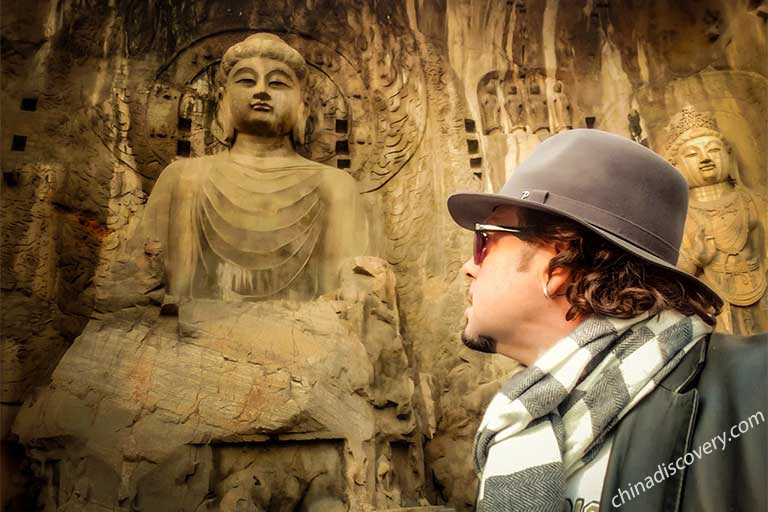 Our customer visited Longmen Grottoes
Plan a Family Tour in China?
Check our most popular China Family Tours, which are specially designed for family, covering the classic highlights and kid-friendly activities. All can be customized to satisfy your family needs.
Keep Reading about Luoyang
Read More Family Travels
Recommended Tours
Top 3 tours chosen by most customers to explore in the best way. Check the detailed itinerary, or tailor your own trip now with us.
3 Days Shaolin Kung Fu Tour including Luoyang Highlights

Luoyang / Dengfeng / Luoyang
8 Days China Ancient Capitals Tour

Beijing / Luoyang / Xian
11 Days Essence of China Culture Tour by Bullet Trains

Beijing / Pingyao / Xian / Luoyang / Shanghai
Start planning your tailor-made holiday to China by contacting one of our specialists. Once inquired, you'll get a response within 0.5~23.5 hours.
Customize a Trip
Have a question? Get answers from our travel experts or guests
Your Question:

Your Name:

Your Email: