I had a wonderful New Year's Day holiday this year because I got a chance to be panda volunteer which means I am able to work as a panda breeder and stay closely with them, even feed them!
Dujiangyan Panda Base is located in Qingchengshan Town (named after Mt. Qingcheng) of Dujiangyan City. So I was thinking why not put Mt. Qingcheng to my itinerary and stay overnight near the panda base, so I don't have to get up that early since the volunteer program starts at 8:30am!
Well, come to the point, Riley is going to share the 2-day classic Mt. Qingcheng and panda volunteer tour with you.
Day 1 Chengdu City to Mt. Qingcheng by Bullet Train
Winter is a charming season for Mt. Qingcheng, what in front of me is a white snow fairyland. Check out some pictures first.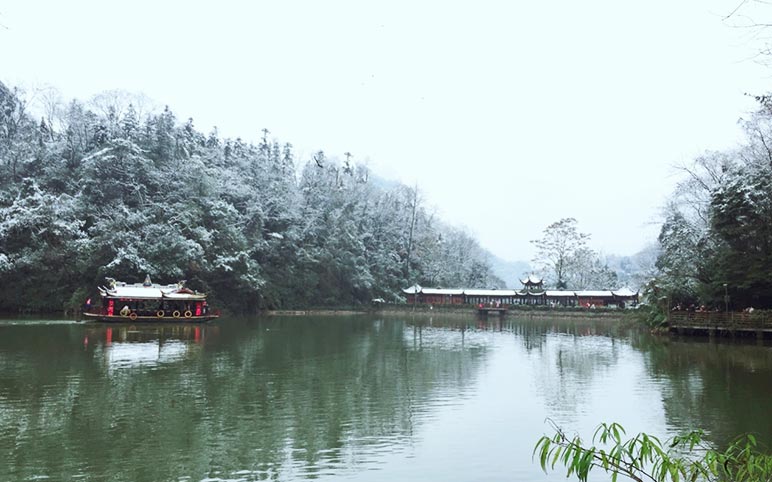 This is Yuecheng Lake, located at the foot of Mount Qingcheng.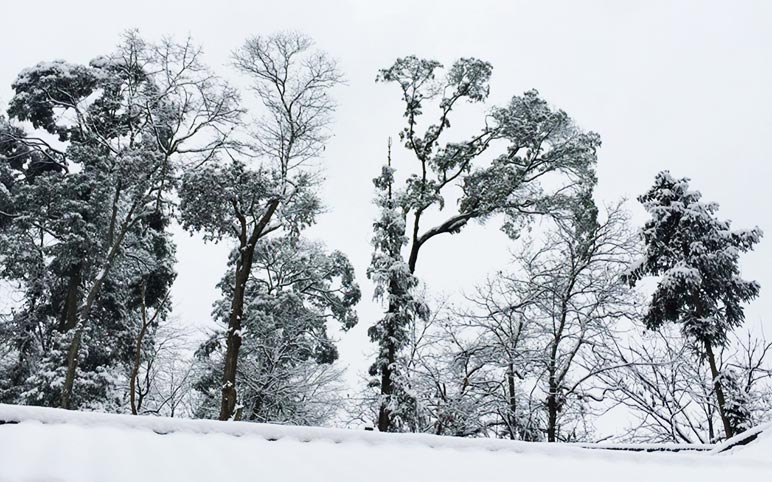 Snow-capped Fairyland World
Arrival to Mount Qingcheng
It took us half an hour to Qingchengshan town by bullet train from Chengdu City, then 10-minute shuttle bus from the train station to the foot of the mountain. It was so cold that I even didn't want to take off the gloves to take a picture lol.
Hike & Cable Car Up the Mountain
Anyway, we finally start our climb. After only 10-minute hike, the Yucheng Lake came into view, it was as beautiful as a jade. To see the whole view of the lake, I didn't take the cruise. But it must be very special experience in the middle of the lake.
After the lake, we took a cable car. I am afraid of heights, but it wasn't a hard time for me because I was completely attracted by the amazing scenery. It was like another pure and write world.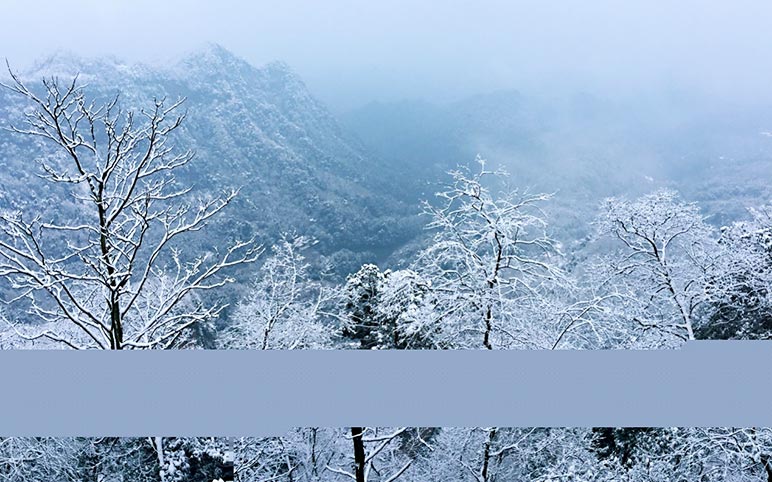 Whole Mountain View Taken from Cable Car
After the cable car, we started the hiking. I am a good hiker, so it was not difficult to me lol. Along the white snow ladder, we arrived Shangqing Temple where I made a little cute snow baby. We can barely see snows in Chengdu even during the coldest time, so you can imagine how excited I was when I got an eyeful of snow!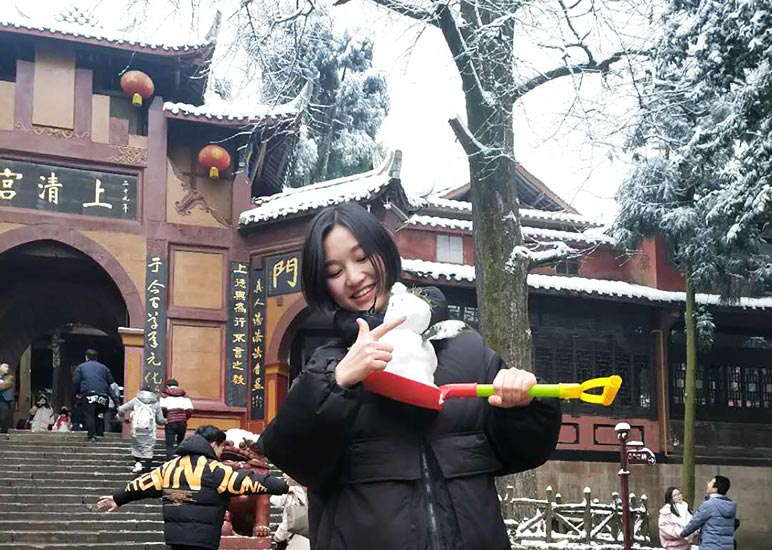 See how cute the snow baby was!!
After a quick stop at Shangqing Temple, we headed to the top of the Mountain - Laojun Pavilion. We have saw so many kinds of temples in China, so we just had a quick look there.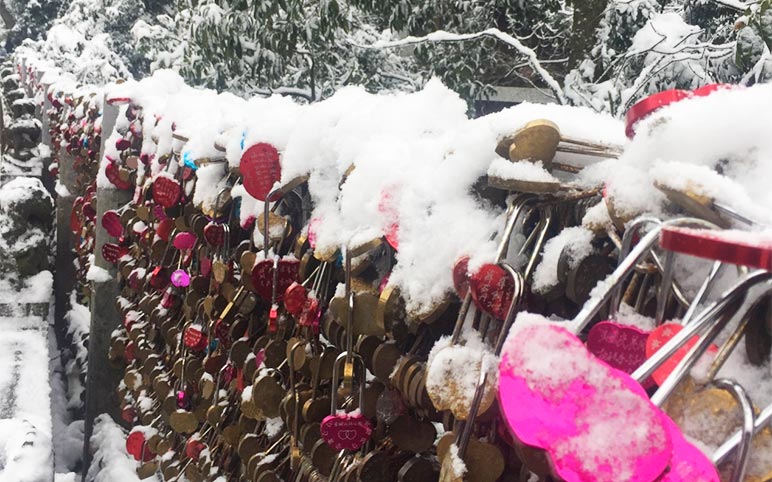 Passing by some love locks, best wishes to these couples.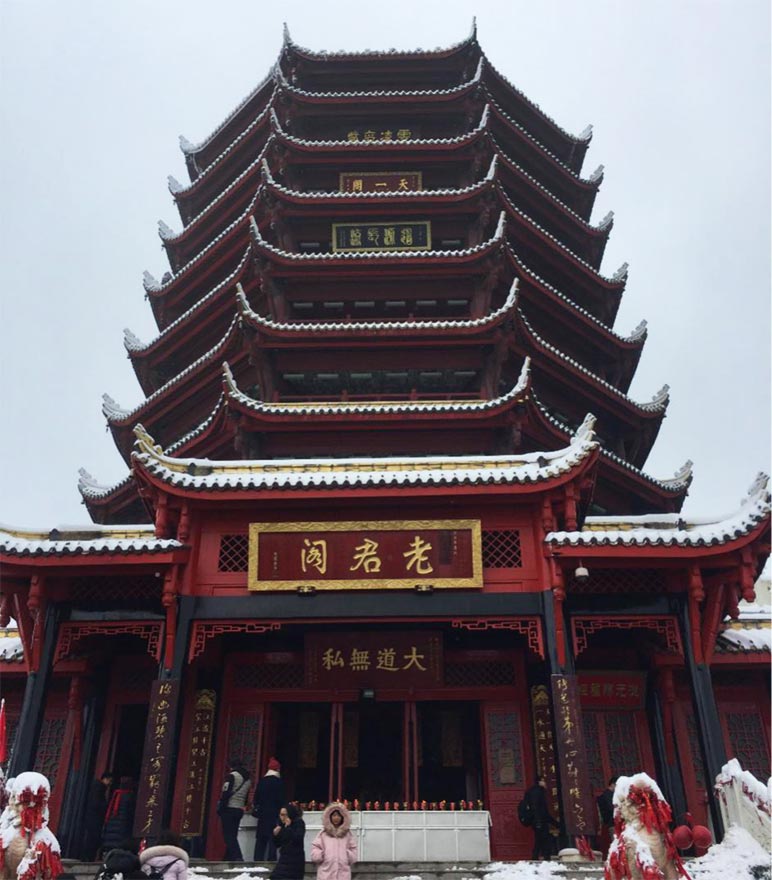 Here we got Laojun Pavilion, looks great in snow.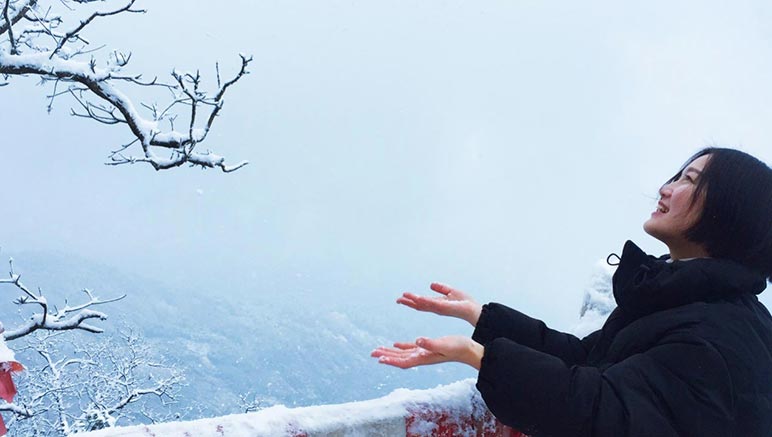 I had a chance to overview the whole mountain there.
Get Down the Mountain by Hiking
It was nippy, we start going down the mountain after took some pictures. It took me around 2.5 hours down the mountain without cable car. On the way down the mountain, I felt like I've been a part of the mountain, I can feel the birds, the trees and snows, like I was one of them.
Related Recommended Trips:
>> 1 Day Dujiangyan & Mount Qingcheng Tour
>> 1 Day Panda Tour with Mount Qingcheng
Day 2 Panda Volunteer at Dujiangyan Panda Base
As we have to start our work at 8:30am, we got up early and took a taxi to the Dujiangyan Panda Base. It seems like we were so excited that arrived at 8 am. We have to wait outside, the cold wind didn't take my passion away.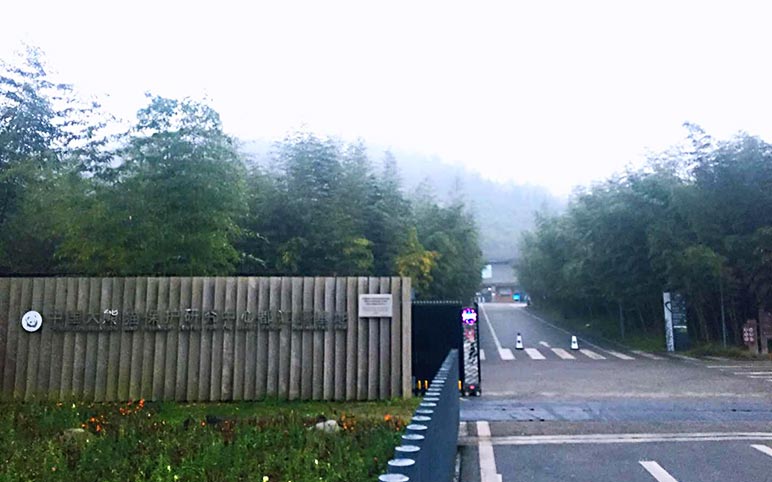 We walked around for a while, Feel the breeze and fresh air of the morning.
The ticket office began to work at around 8:40am, people were waiting in a long line to buy tickets. Fortunately we made an appointment in advance so we could skip the line and guided by a panda keeper to their office directly to do some preparation work of today. After learning the safety announcement and signing the security agreement, we got our volunteer pass card and were asked to put on the work clothes and gloves, since then our lifetime panda volunteer experience started.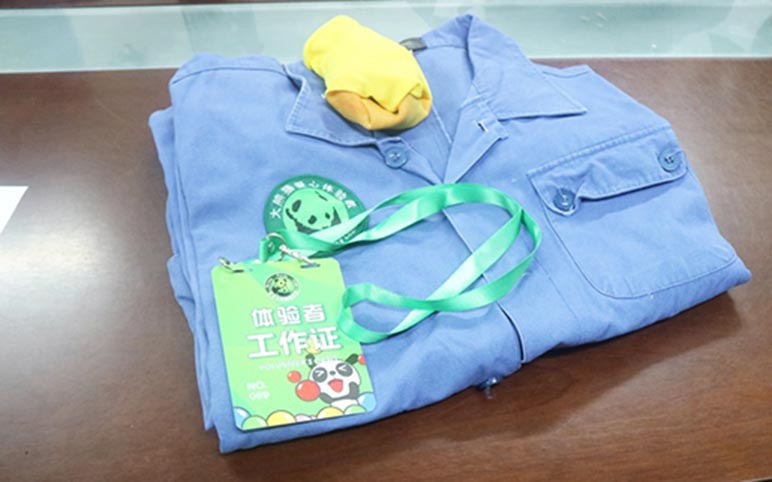 Volunteers' Work Suites, Card and Gloves
Pan Pan Garden to Do Volunteer Program
We were sent to Pan Pan Garden by a shuttle where was our working place on that day. The panda breeder introduced us today's protagonist Tarzan.
Tarzan is a handsome boy born in Washington, DC in 2005 who returned to China in 2010. This little poor thing didn't even understand Chinese when he came back.I was more than excited and can't wait to meet him!
Finally here we are! Tarzan has gotten with the back facing us like a child who is mad at us because of the late breakfast.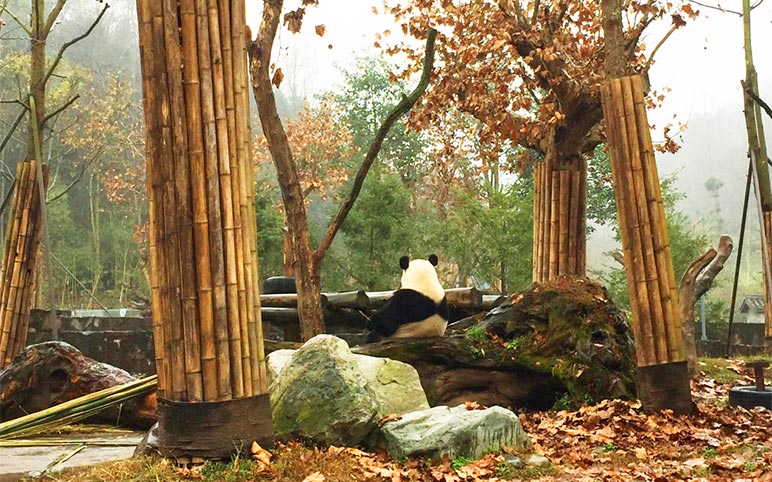 Tarzan is eating outside
Do Cleaning Work First
The breeder called Tairzan back to the room from the garden and locked the door. So we could get in the garden and do some cleaning. We carried out old bamboos, picked up droppings, cleaned up panda enclosure. After the cleaning work, we started preparing breakfast for Tarzan. To make it easier to eat we broke big bamboo into pieces and carried in fresh bamboos leaves and shoots. After all the work, the breeder opened the door of the room, Tarzan got back to the garden and enjoyed the delicious breakfast. Look, how happy he was.
Related Links:
Dujiangyan Panda Volunteer Program | Dujiangyan Panda Volunteer Photos | Dujiangyan Panda Photos
Tarzan is enjoying his breakfast
Pay In-depth Visit to the Panda Base
While Tarzan was enjoying the meal, we got some free time to visit to other panda enclosures in Shuangnan Garden, Diequan Garden and Linze Garden, walked around the panda base for more giant pandas and red pandas. Our guide told us lots of stories of the different pandas. Like us human people they have different habits and personalities. Some of them are shy, some are active etc.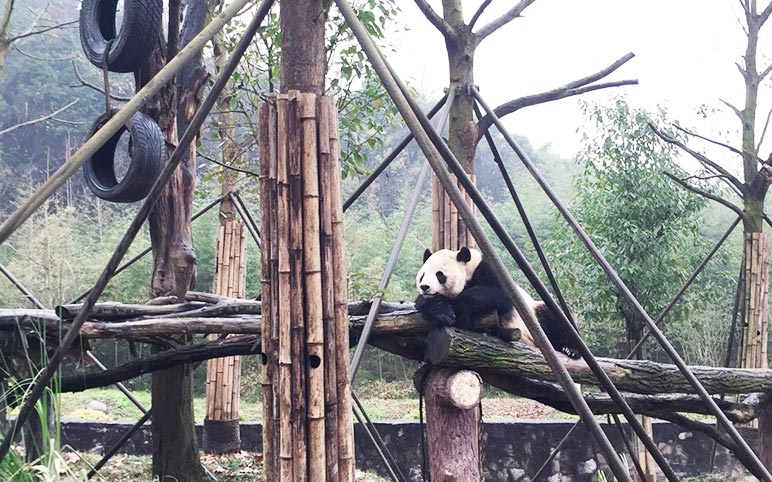 Take a walk around the panda base and see more pandas
Feed the Pandas - The Most Exciting Thing
Following is the most excited part, feeding pandas! Carrots, bread and honey are good for their digestive system.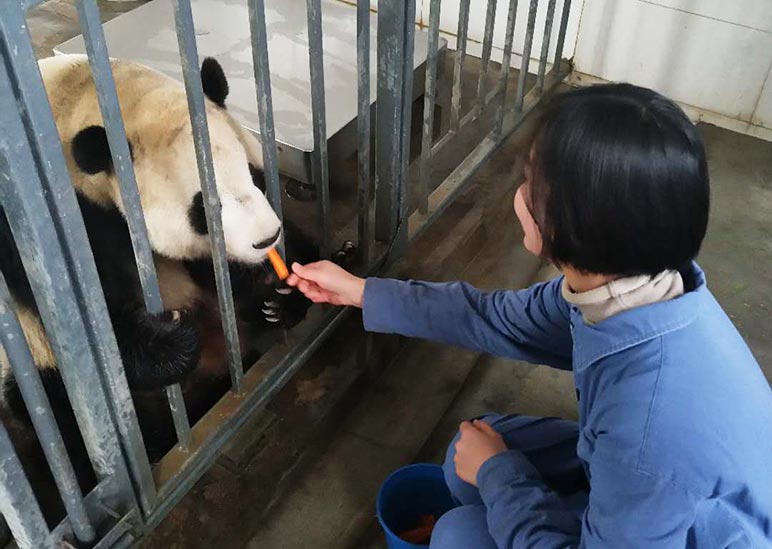 I have got the chance to feed panda in close distance.
Enjoy Simple Lunch at Staff Cafeteria
Now, also lunch time for us! We garbed a lunch at the staff cafeteria together with the breeders. It was a simple lunch though but I still enjoyed very well. Maybe like a couple of water in the desert, it as a reward for the hard work of the morning.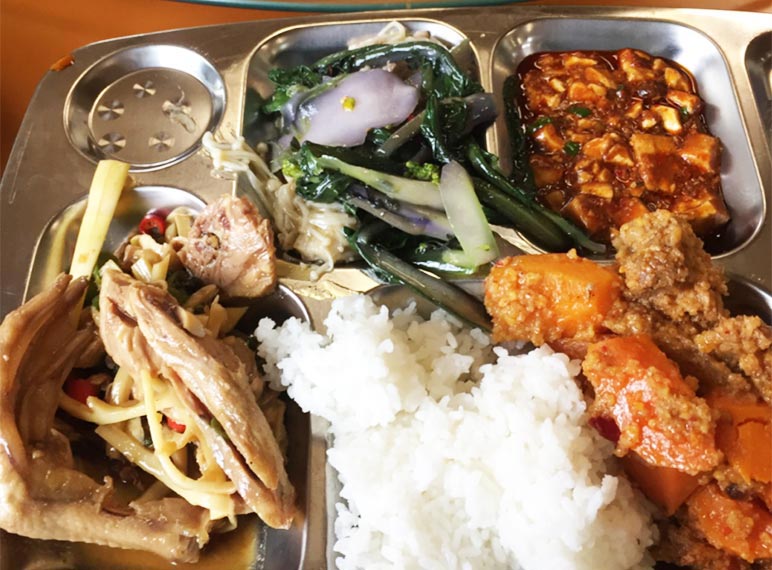 Enjoyed the lunch served at Dujiangyan Panda Base
We had a 1.5-hour lunch break in the workstation and watched a Panda Documentary and know that how's a baby panda to be a mature one, we know so much of the panda from the documentary and are very proud of we have the chance to have this one day work.
Seize the Time to Feed Panda Again
After documentary, we cleaned the panda enclosure and fed the panda again just like what we did in the morning time. Still enjoyed!
The last part was making Panda Cake! Panda cake made of corn, rice, eggs and soy, delicious and good for pandas. I knew it is delicious because I tasted a little bit LOL.
Till now, we've done the one-day volunteer work. The rest of the day we took a leisure walk around and say goodbye to these lovely pandas.