Even kids in China knows that the giant panda is Chinese national treasure. But people few know that not everywhere in China has Panda lives. Panda has critical standard to choose where to live and which kind of Bamboo to eat. Sichuan is their best choice and almost have all the pandas all over the world. As a Sichuanese, the closest touch with Panda was in the Chengdu Zoo from the glass window since I was 5 years old. Many years later, when I joined the bamboo tour and got the chance to experience the Panda volunteer program as travel consultant and knows I can get very close to it , even feed them. I was so exciting and thrilling , especially we went there at Jan,1st, 2019 which is the first day of new year made things more meaningful and deserve to remember.
Arrive in Dujiangyan One Day Ahead
On the first day of 2019 new year, I and Ashlee , we took a high-speed train to arrive Dujiangyan one day early and checked in the Zhongyan International Hotel. One of the 4 star hotel we usually recommend to our customers. The hotel look is fine, but the room and food is totally out of my expectation. Everywhere have bilingual descriptions, especially the dinner only charge RMB58 for 2 persons and it taste really nice. We especially love the soup there.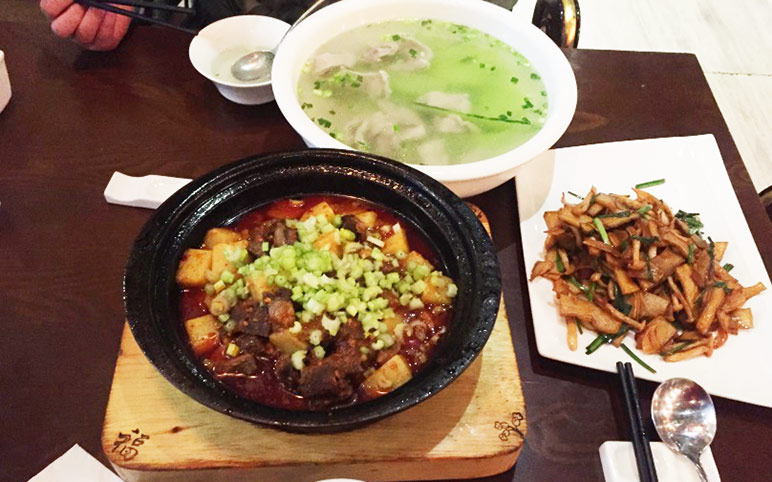 Dinner Package at Dujiangyan Zhongyan International Hotel
Transfer to Dujiangyan Panda Ark
In the next early morning we got up and took DiDi to the panda base. There are two panda bases in Dujiangyan, one is called Dujiangyan Panda Ark, and the other is called Dujiangyan Panda Valley. And we get confused once, but we still get there (Dujiangyan Panda Ark is the one for panda volunteer program) on time.
The whole tour started from 8:30 am. we did some preparations: store our own belongings and signed on a training paper which said we have to do as the trainee teachers said. We were excited and the wall around each panda baby is so low, which can let us see them so clearly.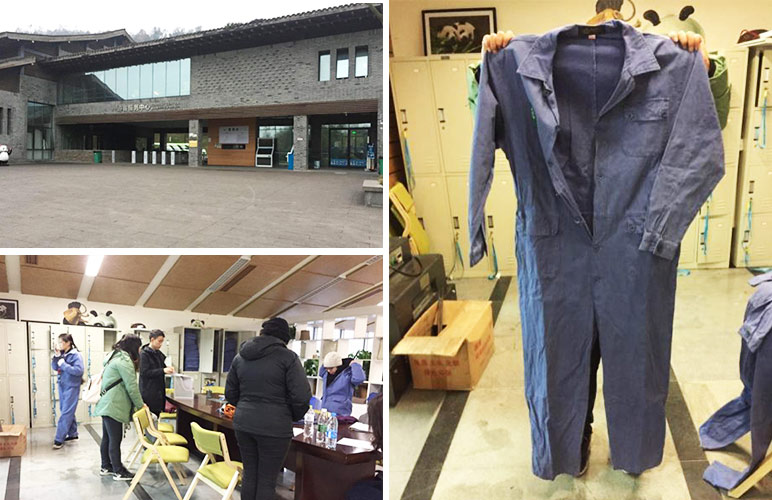 Dujiangyan Panda Base Volunteer Work Preparation
Do Clean Work First
Then we wear our gloves and started our cleaning job. The one me and Ashley helped is Yajing, she must eat a lot yesterday and poo pooped everywhere. On the Ground, grass and trees. Ashley take job to clean all the poo poo, me and other 3 students from Guangdong were take the responsibility to move the bamboo overnight there which means Yajing don't like there taste and sweep the ground. YaJing is secretly looking at us from the room window. Round eyes, round black circle and Chubby face. I do want to give her a hug if I can. She looks so smart and cute.
Walk around and See More Pandas
After around half hour work, the teacher take us to walk around the whole panda base and introduce each panda to us. Panpan is the Muse of 2008 Olympic symbol design, and every year, her fans from over the world will celebrate her birthday with her. They can have special made cake and all kinds of gifts. Such a happy life. When we walk around, you can see panda's napping and eating the bamboo like kid. They will use their paw to choose one bamboo from a pile of it and peel the bamboo like we eat anything with skin. So adorable.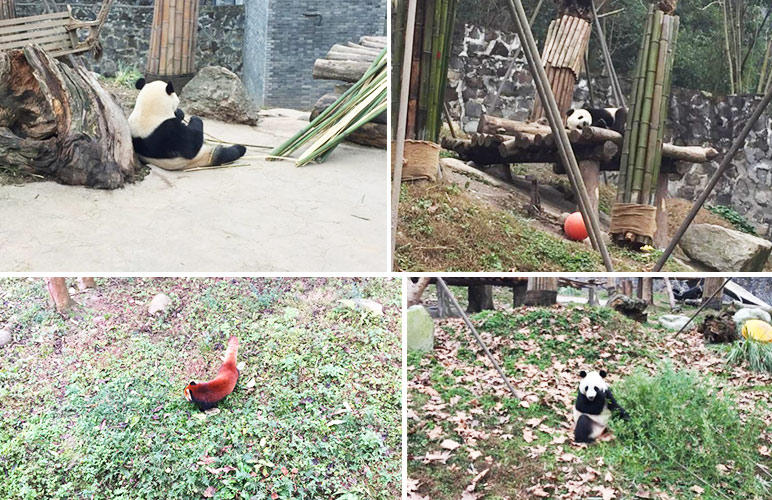 Lovely Pandas at Dujiangyan Panda Base
Feed the Panda
After the walking around, we meet the climax of today, feed the panda! The panda base will prepare some sweet apple, carrots and fresh bamboo shoots. The teacher will take photo for you when you feed her. Yajing is so focus on the food on my hand, I do want to take a sweet touch on her soft head, but don't forget panda is one kind of bear.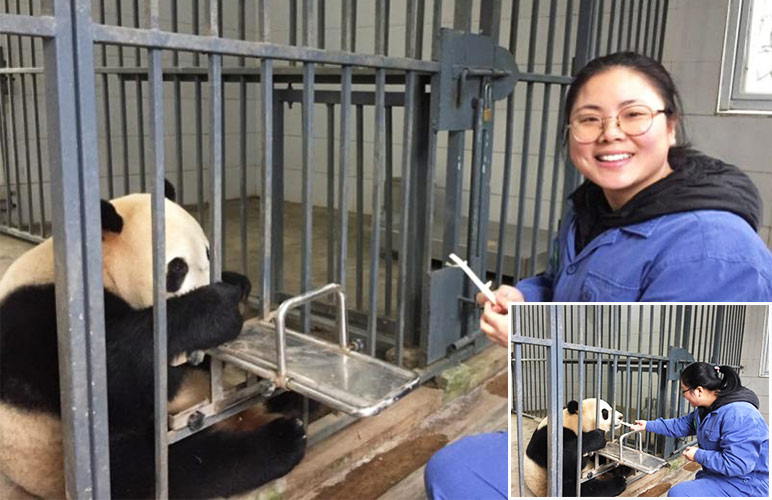 Feed the Panda at Dujiangyan Panda Base
Watch Panda Documentary to Learn about Pandas
After a simple lunch offered by panda base, we watched a documentary about how the panda gave birth to a baby and how to improve the baby survival rate by scientists. The baby is so hard to raise up. Then we learn from panda keeper how to smash bamboo, I was always thinking they eat it as a whole one. This is the most 'Dangerous 'job within in one day. Because you need to hold one top of the bamboo, lift it high then smash it on the ground hardly, the broken bamboo will leave some small cut marks on your gloves. Which I think would be also why the panda base don't allowed kid under 12 join this program and can only be booked through travel agency. One of our team members smashed it too much and teacher said panda will not like bamboo like that, haha, very funny. Then we feed the panda again, how my god, I have twice chance to feed the baby!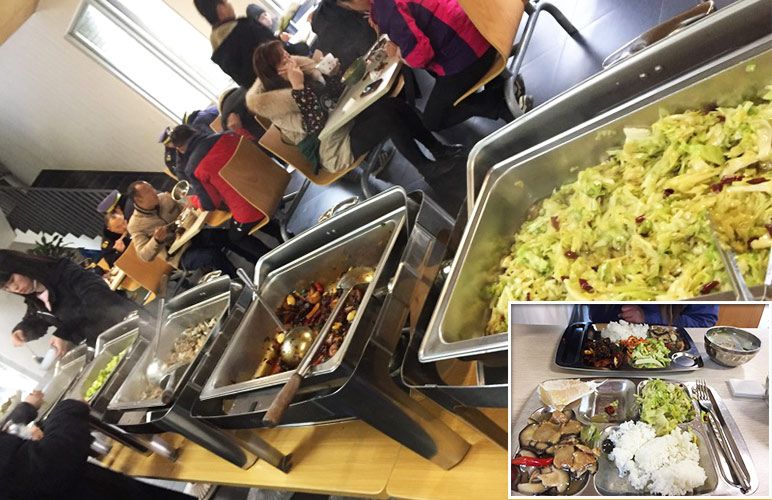 Lunch Served at Staff Cafeteria of Dujiangyan Panda Base
Make Panda Cake
Then we take the shuttle bus to the little kitchen to learn how to make their daily food "Wo Wo tou", which would steam for 3-4 hours every time. After this interesting making food part, we finished one day panda base tour and return all the suit and gloves back. Then get our own staff back to Chengdu.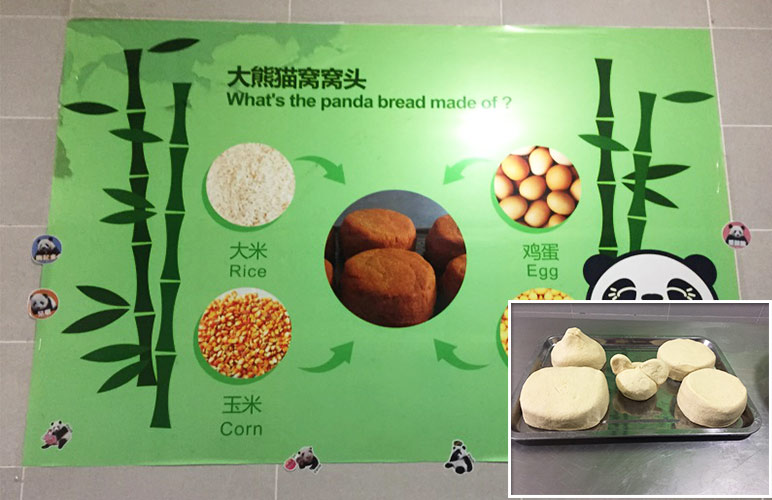 Make Panda Cake at Dujiangyan Panda Volunteer Program
It's a life time experience and I wish I can have a chance to bring my kid to there. Let her do what I did and see what I saw. Panda is adorable and I am very lucky to have this chance to take this tour.