Why Dujiangyan Panda Base to Do Volunteer Program?
Pandas, with its adorable and extinct images, is a famous travel card for Chengdu, Sichuan. I grow up in Chengdu, visiting pandas many times, but only watch them from a distance, I desired to get close to them.
Thanks to my company, I got a chance and ticked off this item on my bucket list. There are three panda bases (Dujiangyan Panda Base, Bifengxia Panda Base and Shenshuping Panda Base) available to being a panda volunteer. Dujiangyan Base, as the closest one, is the best choice for us on the last day of 2018. It happens to be New Year Holiday, we decided to go to Dujiangyan one day in advance to visit Mt.Qingcheng. Chengdu just witnessed a snow. With living in South of China, I was excited to watch snow for it is not much frequent for a snowfall. it is no less excited than visiting pandas.
Arrival to Qingcheng Town
Day 1, on 30, Dec, 2018, I meet my colleague at Xipu station, it is very convenient for the transportation between subway and bullet train at Xipu train station, where you can transfer to bullet train directly after subway. We don't even need to pick up our tickets since it allows people check in their train with their ID card. It is Convenient, is it? It takes about 0.5 hr from Xipu to Qingchengshan Station.
Visit Mount Qingcheng in Winter
After check in our hotel, we went to Mt. Qingcheng. When talking about travel to Mt. Qingcheng, What first comes to mind? Most travelers at home and abroad will probably respond with Taoism. As the saying goes, go to Dujiangyan to appreciate the water and go to the Mt. Qingcheng to worship the Taoism. Mt. Qingcheng is covered by verdant forests. Built against Mountain, there are many palaces and pavilions. They applied its philosophical tradition to it for they combined nature and buildings in some ways. Taoism worship the naturalness and harmony. Get close to tranquil forests offers a better environment to keep practice.
Apart from Taoism, natural scenery of Mt. Qingcheng is also worth to visiting. Different from summer, the whole mountain is shrouded in a mantle of white after a snowfall in winter. Mt. Qingcheng can be divided into two parts, Front Mountain and Rear Mountain. Front Mountain covers most of the sightseeing site. Get a tickets, hike from the foot of the mountain. Although it is holiday, there are less people in winter compared with summer, which makes the mountain more tranquil. Walking among the trees, listening to the birds singing, throw yourself into a real serene forests.
Occasionally, ice snow would fall from the trees due to breeze, slipping off your warm neck to back, which makes you scream and awake you up from a tranquility. Hope to share the pleasure to you, but it can't be shot by camera and described by words. Only do you have a personal experience on your own, you can understand the joy.
The whole mountain is shrouded in a mantle of white after a snowfall in winter, which is really peaceful and tranquil.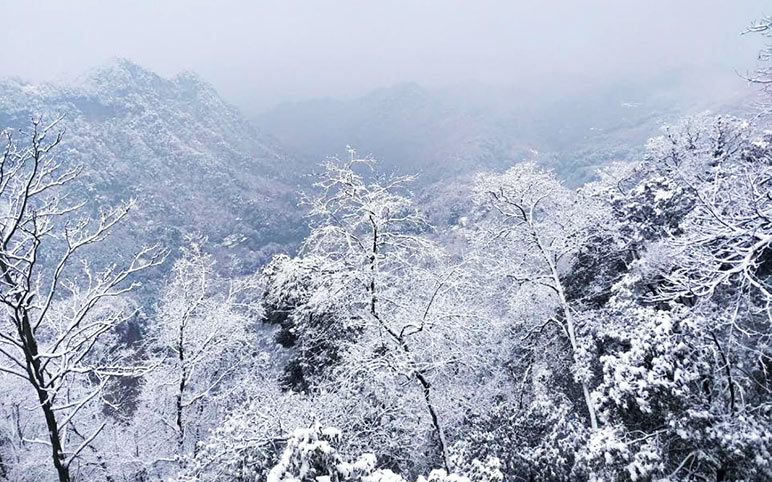 Snow-capped Mount Qingcheng
Hike from the foot, you will walk through the Yuecheng Lake. A ship goes by on the lake. Shadow of the ship reflect on the smooth surface of the lake. If you are interested in it, take a chance to board the ship, enjoying another view from the ship.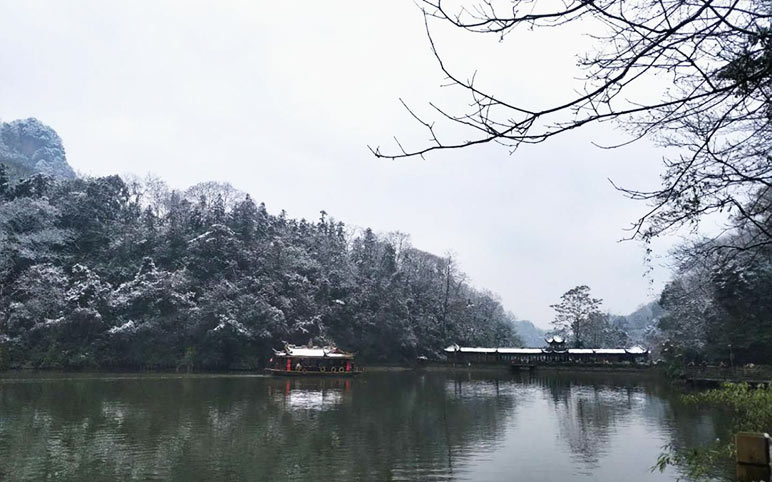 Peaceful Yuecheng Lake at Front Mountain of Mt. Qingcheng
Along the roads, many stores sell Chinese traditional bacon and sausage. Trying one might bring a tasty surprise.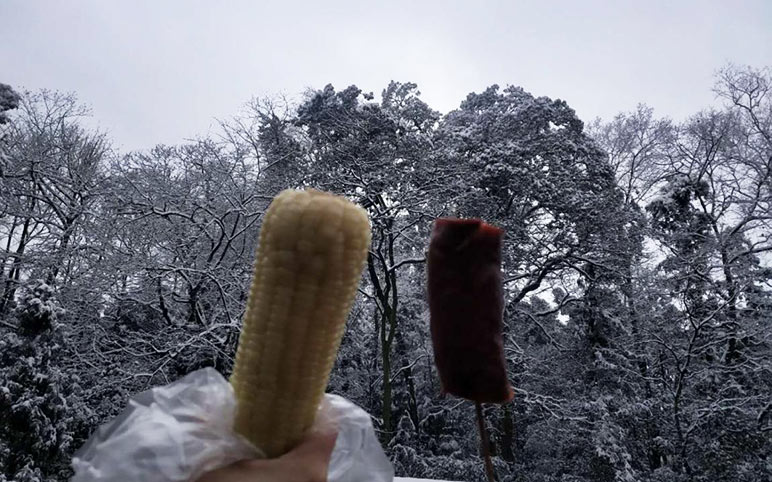 Enjoy Some Snack When Hiking Up
Snowfall made Mt.Qingcheng look like a splendid Chinese brush painting.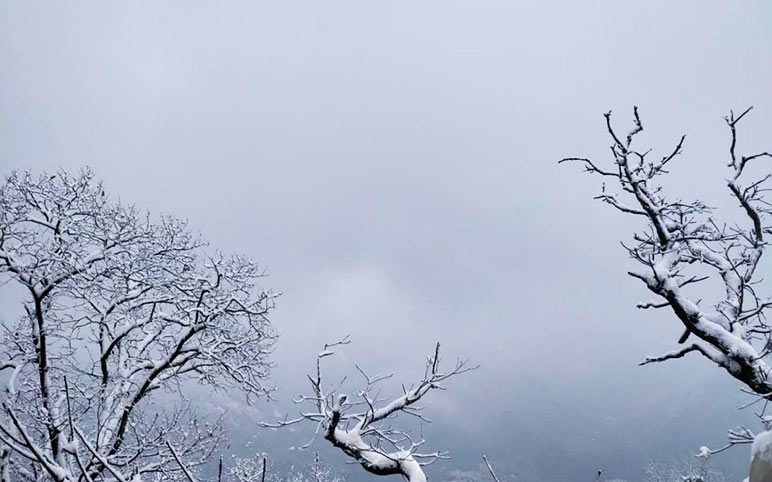 A Snow World in Mount Qingcheng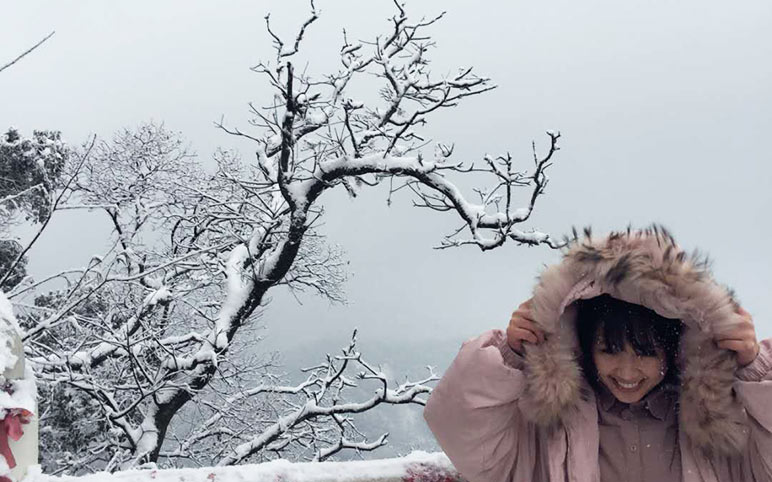 Snow and travel always make me laugh.
Full Day Dujiangyan Panda Volunteer
After a good rest at our hotel, I recovered from fatigue. With curiosity and expectation, we came to Dujiangyan Panda Base. We would start our adventure at 8:30AM. So excited! We arrived at the Base at 8:00AM. Dujiangyan Panda Base is the closet one from Chengdu, which provides panda volunteer program. If you have limited time and you desire to get close to pandas, Dujiangyan Panda Base is the best choice.
Related Links: Dujiangyan Panda Photos | Dujiangyan Panda Volunteer Photos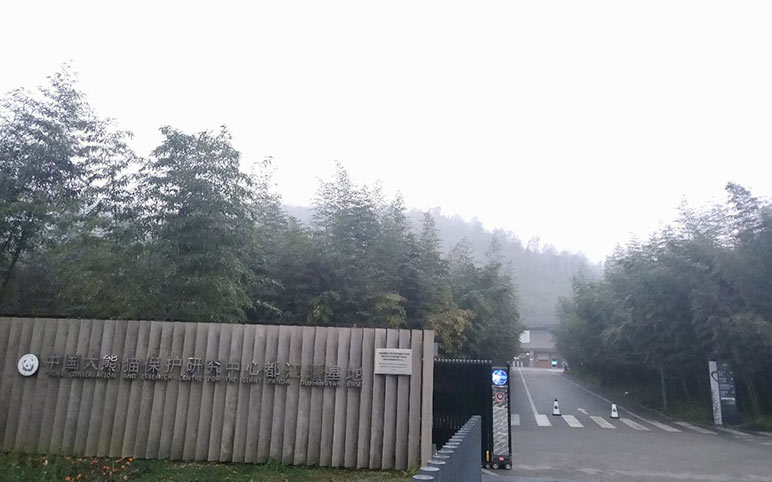 Go straight up this road, you will see the check-in reception.
At around 8:30am, we get dressed with coverall, signed a Security Agreement, deposit bags. I can hardly wait for it. We are divided into 2 groups by staffs. Guided by a staff, we walked to our working place - Pan Pan Garden. Tarzan is a famous panda who was born in Washington, also the panda we would take care of today.
Today I am a "professional" panda keeper, I am so proud of this. When Tarzan saw us come to him, he came to greet us along the rail. I guess it's time for breakfast. Guided by a specific staff, we get ready to work. Firstly, stuff locked him in the house to protect us from attacking when we were working. Don't be fooled by his adorable appearance, pandas are considered as fierce animals. They thought they are playing with people, but we can hardly bear it. So be careful all the time. Then we carried out old bamboos from his garden, cleaned his soil, and carried in fresh bamboos leaves and shoots. It takes us 1 hr to do this. Now Tarzan can enjoy his breakfast.
During his breakfast time, we take this time to walk around. Others are enjoying their breakfast either.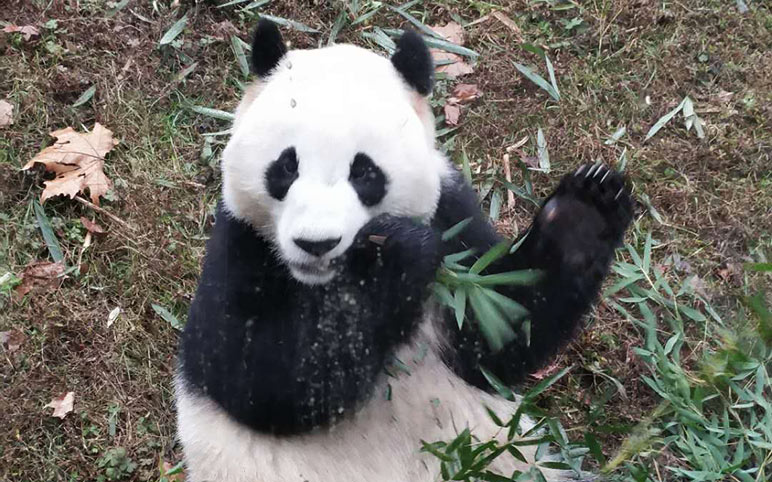 Saying Hello to us when he is eating.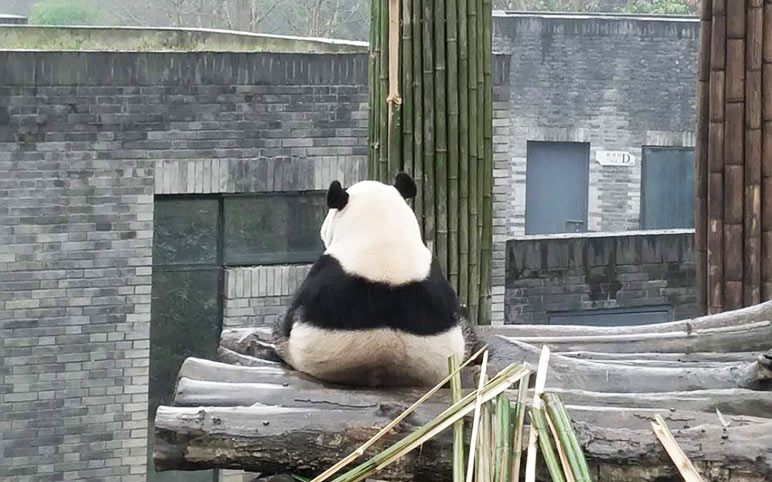 Back towards me, do you know what he is doing? Eating. Maybe he think he should be elegant with eating secretly.
Feed the Panda
At around 11:00, we stepped into the most exciting part. We gonna feed panda! Staffs get prepared this food one day in advance. You see? carrot and cakes.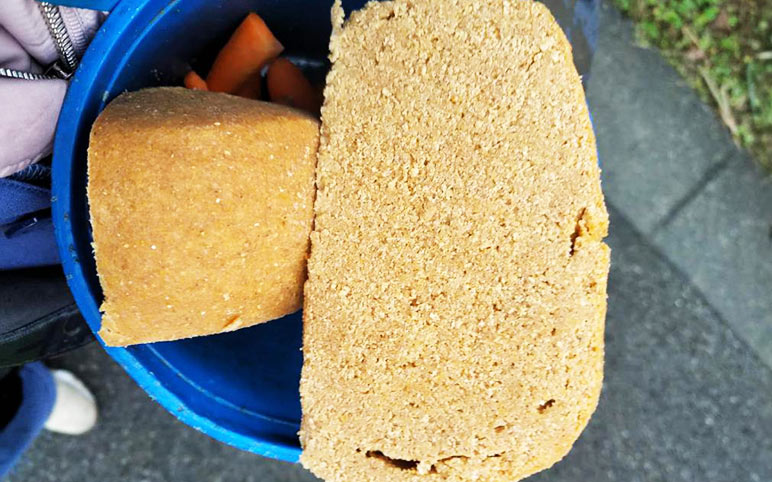 Pandas' Favorite Cake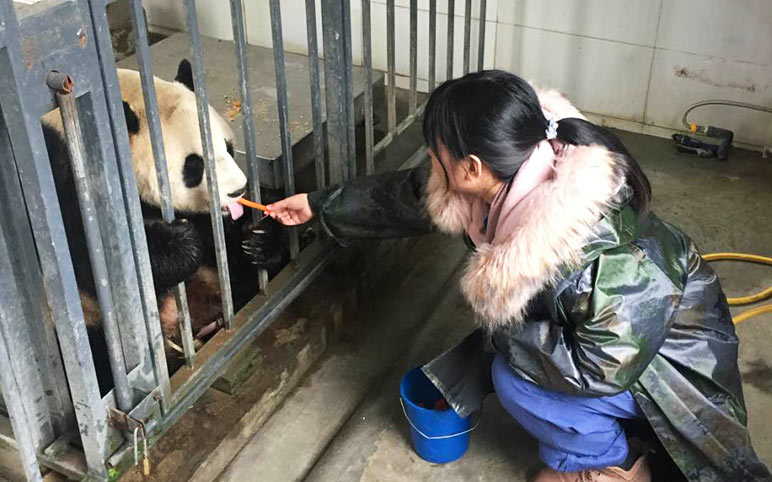 Crouch down in front of him, look at them at eye level, which show your friendly to them, and let them know they you are innocent.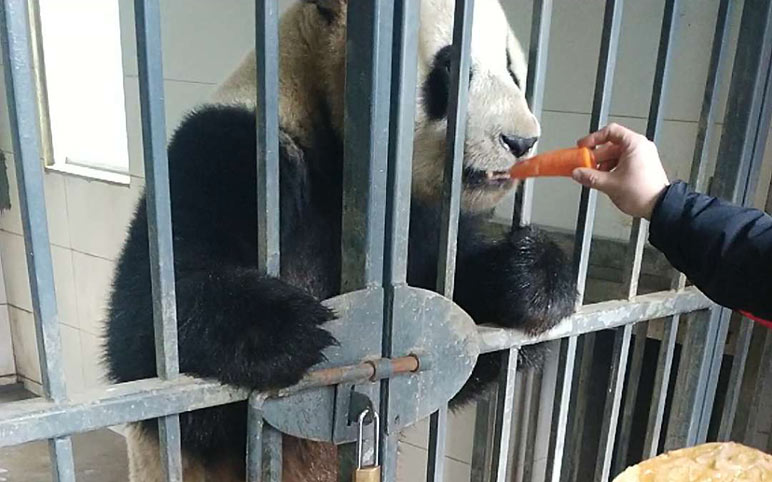 Cute boy, he stood for the delicious food.
Simple Lunch with the Staff
After that part, it is time for lunch. we had lunch with staffs in their restaurant. And feel free to walk around.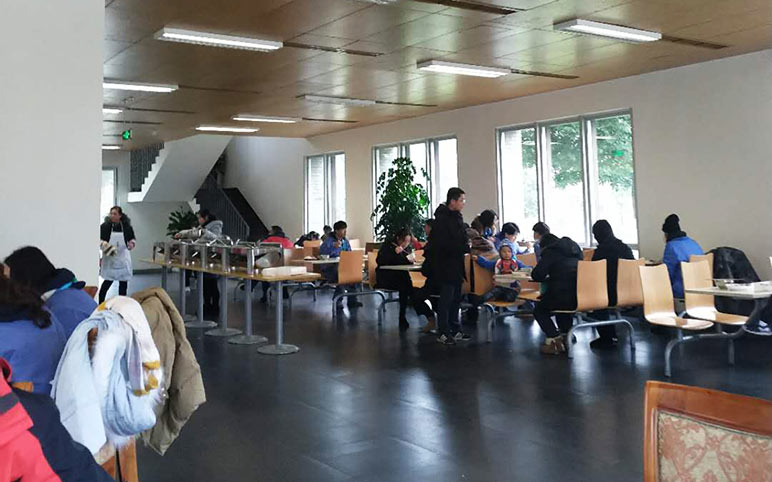 Enjoy Lunch with the Staff at the Restaurant
Restaurant at Dujiangyan Panda Base. If you are a vegetarian, Don't worry, you can find delicious vegetables there.
Watch Panda Documentary & Feed Them Again
After a break, we continued our activities. We watched documentary, knowing many scientific facts about the endangered species. It is necessary to say thanks to those people who devoted themselves to protect those cute bears. We should live in harmony not only with pandas, but also with our earth.
Then again, we have chances to feed them. Falling for those cute bear again. oh~.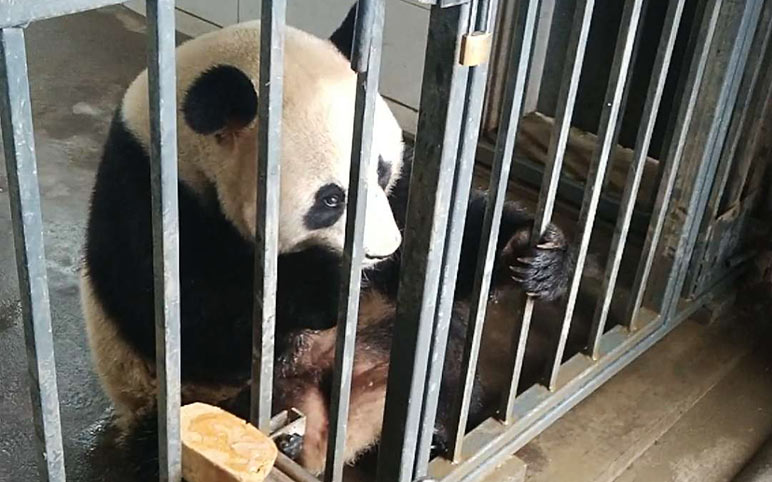 The Second Time to Feed the Panda
Make Cakes for Pandas
At around 14:50, we came to the kitchen for the pandas. At there, we learnt to do the cakes for them. Try every shapes you like, it is time to engage in your originality.
After a day panda keeper experience, we are about to end our tour. Such a spectacular tour today. Words cannot express my delights. I've been thinking about all the wonderful experience at Dujiangyan Panda Base.
It is worth exploring on your own!