How to Get from Chengdu to Zhangjiajie 2023/2024
Zhangjiajie "Avatar Mountains" are so incredible for admiration in person at least once in your lifetime to feel the amazing mysterious world dressed in mists and fog. Meanwhile, Chengdu in the very close Sichuan Province preserves the really adorable giant pandas and the ideal leisure life with rich ancient state culture and history for an unbeatable savory! Combining Zhangjiajie and Chengdu, two appealing tourist destinations, together is also made by a large portion of visitors in China. However, since Chengdu and Zhangjiajie is about 640 kilometers away from each other and usually takes about 11 and more hours by car driving, it is not suggested for foreign travelers to do so. Here, China Discovery will tell you the 6 ways about how to get from Chengdu to Zhangjiajie via flights, trains, and car, among which we recommend the 1.5 hours' direct flights between Chengdu and Zhangjiajie Hehua Airport most. Please check each way as following.
Transportation Map of Chengdu to Zhangjiajie
1. Chengdu to Zhangjiajie Flights (Most Recommended & Convenient)
There are flights operating between Chengdu Shuangliu International Airport and Zhangjiajie Hehua Airport. The only one daily direct flight by Air China is only available on Tuesdays (afternoon), Thursdays (morning) and Saturdays (morning), and that usually needs about 1.5 hours for your most convenient transfer from Chengdu to Zhangjiajie.
Besides, actually, there are a few flights between the two destinations every day with a 2-4 hours' layover in Changsha, Nanjing, etc. If you fail to book the direct flight from Chengdu to Zhangjiajie, you can also check the updated information of other flights.
Popular Chengdu and Zhangjiajie Tour Packages: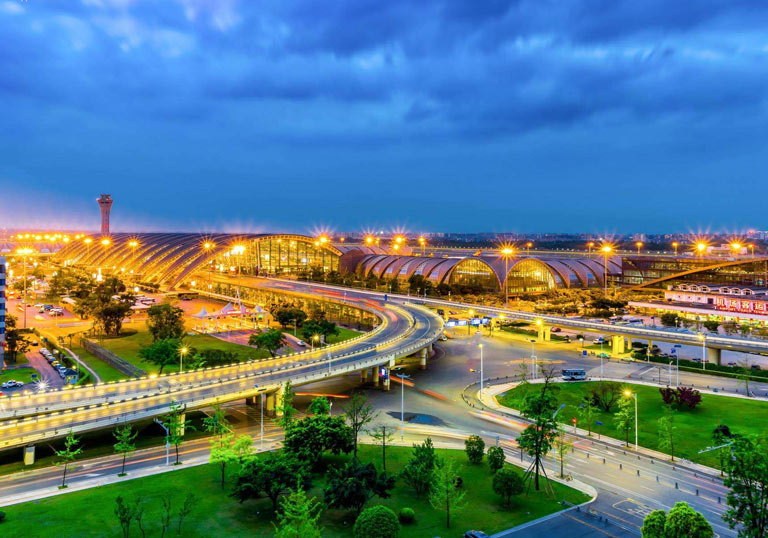 Chengdu Shuangliu International Airport
2. Chengdu to Zhangjiajie Train - Good Alternative Option
So far, you can also ride a bullet train to Zhangjiajie from Chengdu. The train ride takes about 7.5 hours. Every day, there is one bullet train available. Please get the real-time schedule and timetable of Chengdu to Zhangjiajie Train >>.
3. Chengdu to Zhangjiajie via Changsha (Flights & Trains)
Since Changsha is the provincial capital city of Hunan (including Zhangjiajie City), there are many daily direct flights and bullet trains with Chengdu. So, you are recommended leave from Chengdu to Changsha either by flight or train and then transfer to Zhangjiajie by another normal train.
Option 1: Chengdu to Changsha Flight - Changsha to Zhanjiajie Train
Chengdu to Changsha Flights:
Chengdu Shuangliu Airport has about 6 daily direct flights to Changsha Huanghua International Airport from early morning till late night, and usually need no more than 2 hours. If you plan no intermediate stay in Changsha City, you can choose the earliest flight at around 07:10 from Chengdu and arrive in Changsha at around 09:00 in the morning.
Changsha Airport to Train Station:
Upon your arriving, you can transfer to Changsha Railway Station by local taxi (about 0.5 hour) or Maglev & Metro Line 2 (about 1 hour) or Airport Shuttle Express (1 hour & 20 minutes) to catch the train to Zhangjiajie.
Changsha to Zhangjiajie Trains:
Usually, there are more than 15 pairs of high speed train running daily between Changsha Railway Station and Zhangjiajie West Railway Station from morning to night. The train takes only about 2.5-3.5 hours for arrival. And it usually takes 30 minutes from Changsha South Staiton to Changsha Railway Station by local metro Line 2 or taxi.
Popular Changsha Tour Package:
3 Days Best Changsha Tour with Chairman Mao's Hometown Visit
Option 2: Chengdu Changsha Train & Changsha Zhangjiajie Train
Chengdu to Changsha Trains:
Although, there are about 4 high speed G trains running from Chengdu East Railway Station to Changsha South Railway Station, which takes about 7-7.5 hours to cover the whole railway. It is highly suggested to choose the train departing in the morning from Chengdu to make sure you can catch the 2.5-3.5 hours' bullet train from Changsha to Zhangjiajie in the afernoon.
Please check more about:
Chengdu to Changsha Train Schedule & Ticket Prices >>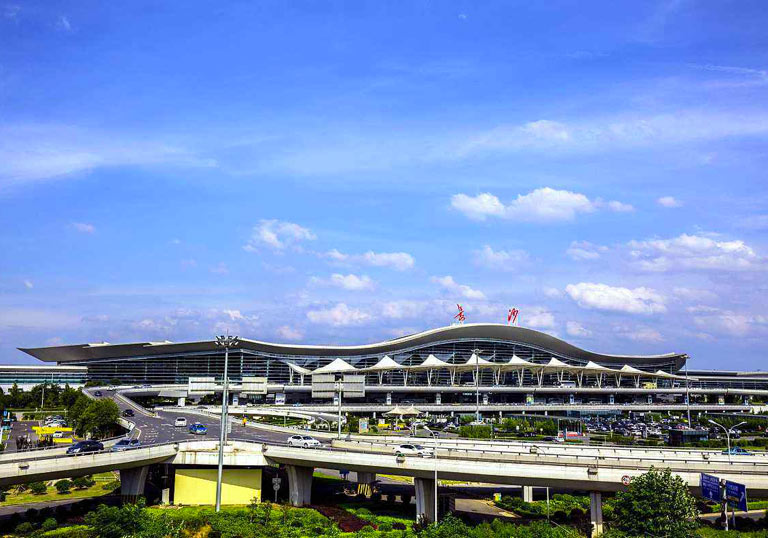 Changsha Huanghua International Airport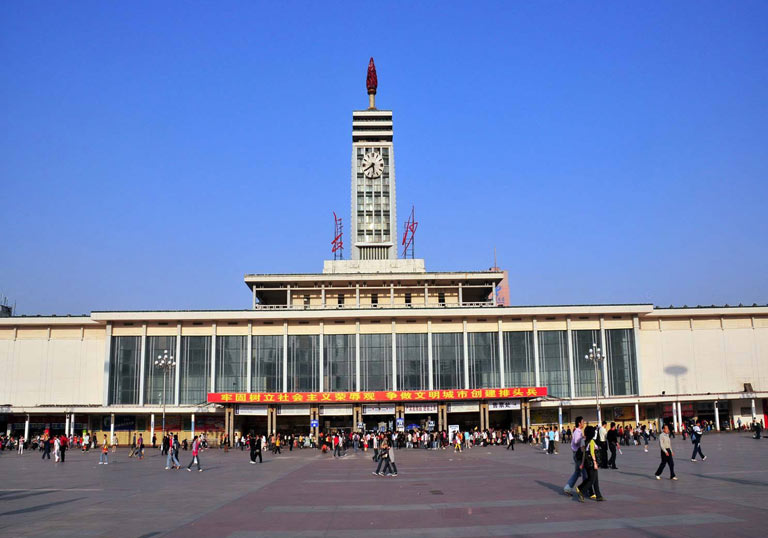 Changsha Railway Station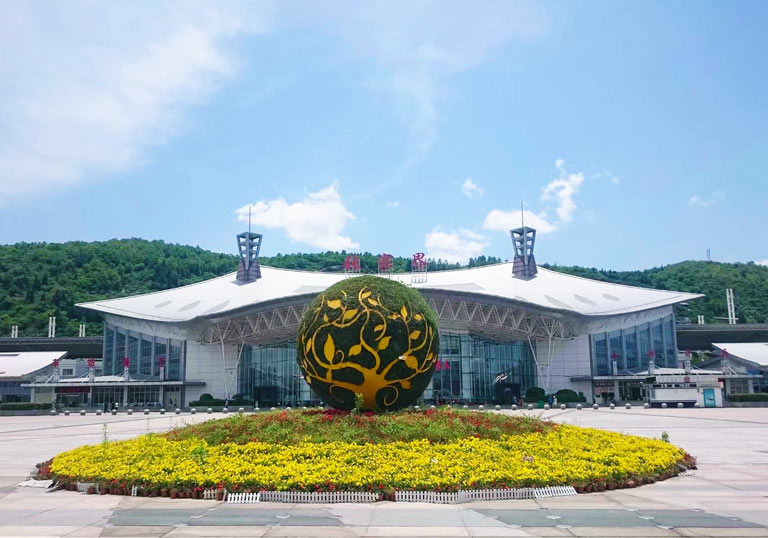 Zhangjiajie Railway Station
4. Chengdu to Zhangjiajie via Huaihua (Bullet Train & Normal Train)
You can also transfer to Huaihua City to get to Zhangjiajie from Chengdu by the bullet trains and normal trains.
Chengdu to Huaihua Bullet Trains & Overnight Trains:
From Chengdu to Huaihua, there are about 4 daily high speed G trains and 3 normal trains from Chengdu. The G trains depart in the early morning and afternoon from Chengdu East Railway Station to Huaihua South Railway Station with a total riding of about 5.5-6 hours. While the normal trains depart from both Chengdu East Station and Chengdu Railway Station in the afternoon and arrive in Huaihua Railway Station in early morning on the next day for about 13-15 hours.
Huaihua to Zhangjiajie Trains:
Every day, about 12 normal trains serve from Huaihua Railway Station to Zhangjiajie Railway Station. The K trains and T trains from early morning till the middle of afternoon, up to ten in the morning, and need about 3.5-6 hours for arrival.
For your comfortable transfer, we suggest you choose the morning train G1755 or G1983 from Chengdu to Huaihua South and transfer by local taxi or bus to catch the train K1374 from Huaihua to Zhangjiajie in the afternoon.
Chengdu to Huaihua
Huaihua to Zhangjiajie
Train NO.
Departure - Arrival Station
Departure - Arrival Time
Train NO.
Departure - Arrival Station
Departure - Arrival Time
G1755
Chengdu East - Huaihua
07:30-13:16
K1374
Huaihua - Zhangjiajie
15:08-18:46
G1933
08:15-14:05
Furthermore, if you want to save more, you can also consider the overnight train (K488, K588 and K578) from Chengdu/Chengdu East to Huaihua, which will also make enough time for your train selection for Huaihua to Zhangjiajie.
Please check more about:
Chengdu to Huaihua Train Schedule & Ticket Prices >>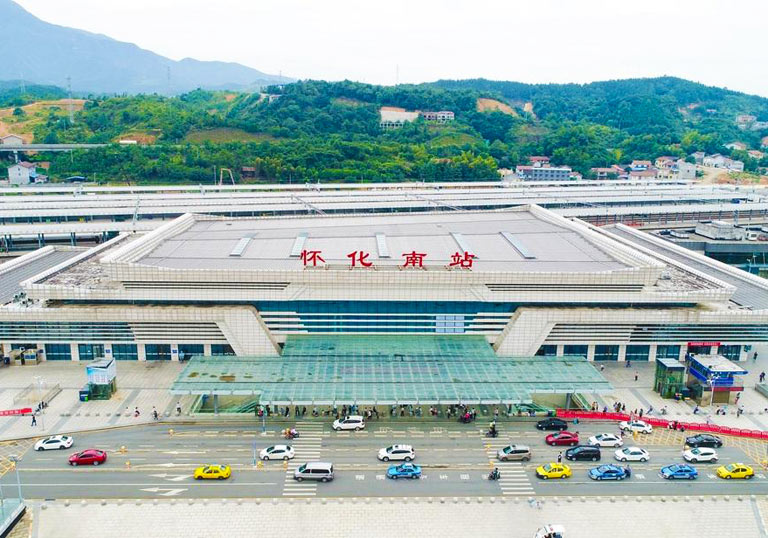 Huaihua South Railway Station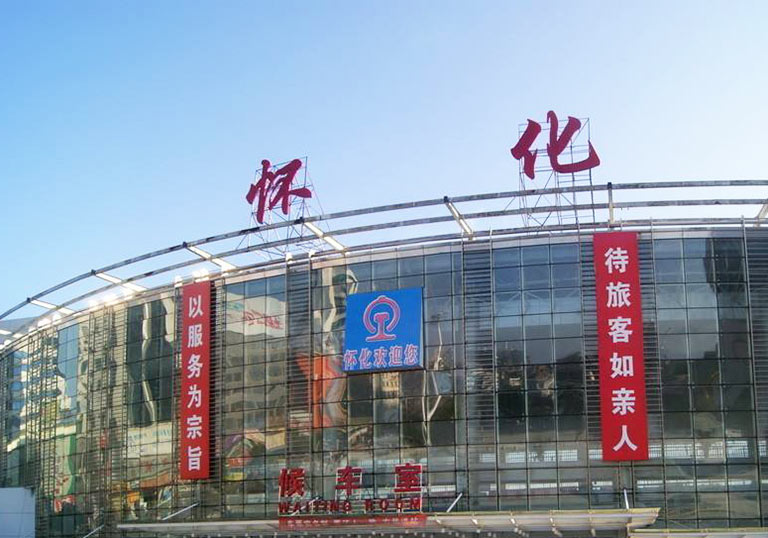 Huaihua Railway Station
5. Chengdu to Zhangjiajie via Tongren (Overnight Train with Lower Budget)
Tongren may be less famous for you, but you must know the Fanjing Mountain that is widely concerned by global media for its fantastic scenery. Apart from the good train selections, the natural beauty is also appealing enough for you to make a stop in Tongren. About 2 daily overnight trains are under service from Chengdu to Tongren Railway Station with a total riding for about 11-11.5 hours. And from Tongren to Zhangjiajie, there is only 1 daily K train, which departs at around 12:00 in the noon and arrives in Zhangjiajie before 17:00 in the afternoon, for about 5 hours. To make the value of your trip to the most, you are also recommended to enjoy the natural surprises before be wowed at Zhangjiajie's natural wonders.
Recommended Train Selections:
Chengdu to Tongren
Tongren to Zhangjiajie
Train NO.
Departure - Arrival Station
Departure - Arrival Time
Train NO.
Departure - Arrival Station
Departure - Arrival Time
K578
Chengdu - Tongren
19:00-06:35
K9063
Tongren - Zhangjiajie
12:00-16:55
Please note: the information of train schedule, time and station may be adjusted according to practical situation. Please contact us for the real-time train information!
Please check more about:
Chengdu to Tongren Train Schedule & Ticket Prices >>
Tongren to Zhangjiajie Train Schedule & Ticket Prices >>
Popular Zhangjiajie Tongren Fanjingshan Tour Package: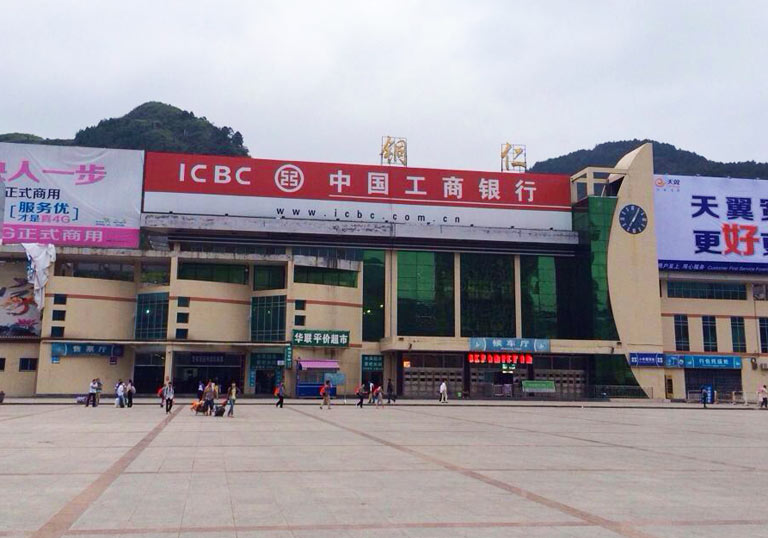 Tongren Railway Station
6. Chengdu to Zhangjiajie via Yichang (Need a Layover & Not Suggested)
There are direct flights and trains between Chengdu and Yichang and also trains between Yichang and Zhangjaijie, however, because of the unconnecting schedules of flights and trains in the three places, you cannot catch the train from Yichang to Zhangjaijie no matter you arrive in Yichang by a train or a flight from Chengdu. So, it is not advised travel from Chengdu to Zhangjaijie via Yichang, especially if you have nothing planned in Yichang City.
How to Plan a Chengdu Zhangjiajie Tour
Chengdu and Zhangjiajie are both favored travel destinations in China, to encounter with the chubby pandas and stunning sightseeing, and feel the interesting ancient culture and history as well as the famous leisure life to calm mind down.
For Chengdu, people usually spend 2-3 days to meet giant panda at the panda base, visit Renmin Park to see local's life and relaxation, Wenshu Monastery to feel the peaceful religion in bustling downtown, travel to the past at Jinli Old Street, learn the story and Chinese poems at Dufu Thatched Cottage, discover the mysterious Shu Kingdom 2900 - 3200 years ago, taste the mouth-watering hotpot and Sichuan Cuisine, etc. Moreover, you are also recommended to spend 1 day to be the giant panda volunteer. If you have more time, we also suggest you extend another 2 days to see Leshan Giant Buddha and Mount Emei, and another 2 days to Jiuzhaigou Valley and Huanglong National Park.
For Zhangjiajie, most people enjoy 2-3 days to appreciate the real "Avatar Mountains", Tianmen Mountain, Huangshi Village, Golden Whip Brook with lovely stream, Tianzi Mountain, Zhangjiajie Grand Canyon with the world largest and highest glass bridge, and more spectacular natural sceneries of sea of clouds, sunrise, sunset, mists, fogs, etc. to be totally immersed in such a paradise. Apart from that, many people also enrich their trip to the nearby Fenghuang Ancient Town to see the featured western Hunan ethnic minority and their antique wooden tilted houses and river view, or to Fanjingshan Mountain to see the mushroom stone and odd mountains.
Best Popular Chengdu and Zhangjiajie Tour Packages:
3 Days Chengdu Highlights Tour
2 Days Chengdu & Lifetime Panda Volunteer Tour
5 Days Chengdu, Leshan & Mount Emei Tour
7 Days Sichuan Discovery Tour (Chengdu / Leshan / Emei / Chengdu / Jiuzhaigou)
4 Days Zhangjiajie Tour to Yuanjiajie & Tianmen Mountain National Park
4 Days Zhangjiajie Classic Discovery Tour
4 Days Zhangjiajie Exciting Adventure with Glass Bridge
5 Days Classic Zhangjiajie & Fenghuang Tour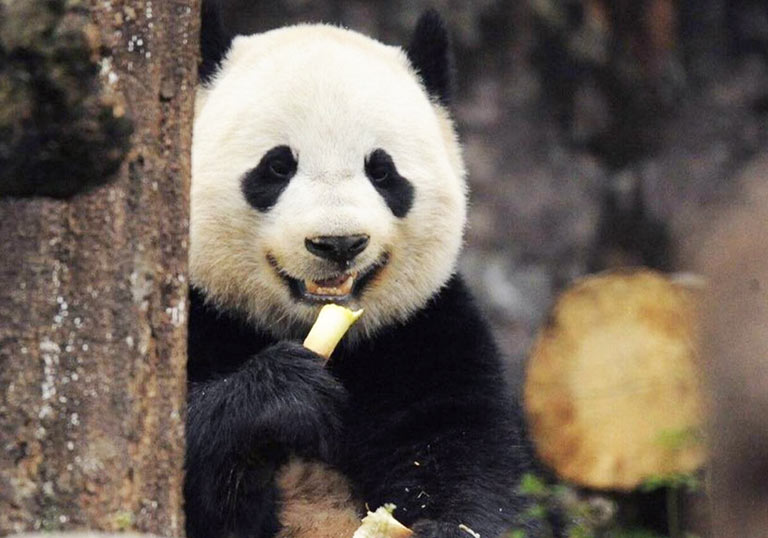 Adorable Giant Panda in Chengdu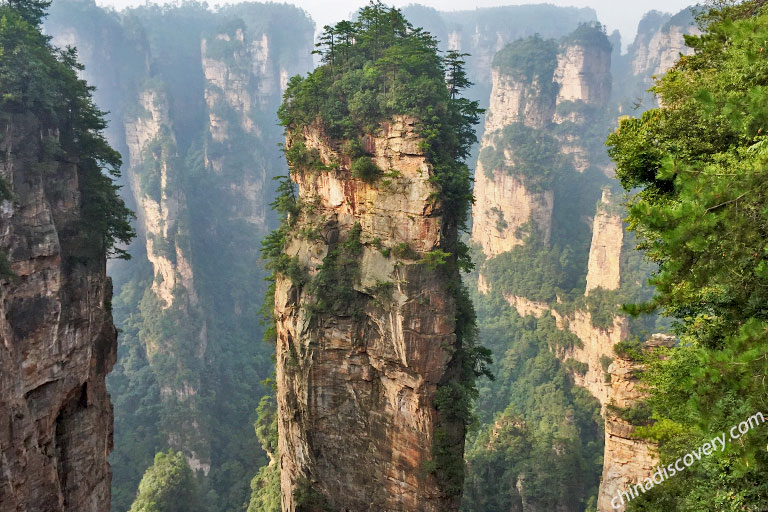 Real "Avatar Mountains" in Zhangjiajie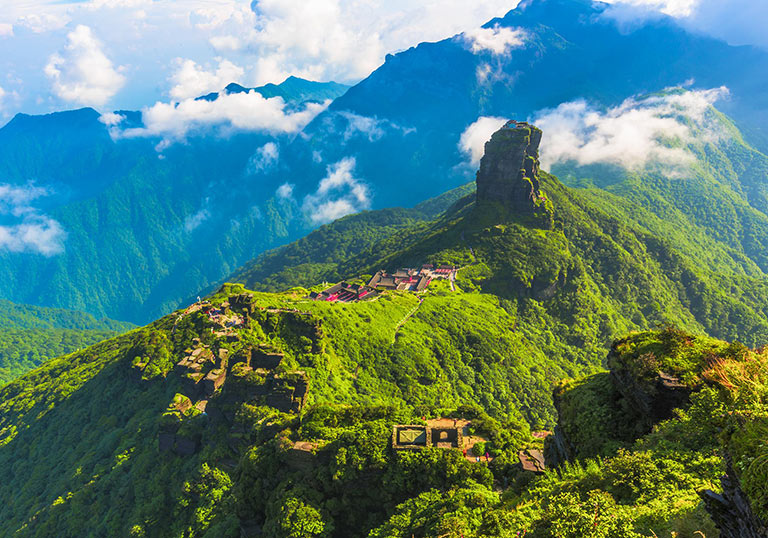 Fanjingshan Mountain in Tongren
Travel Zhangjiajie with China Discovery
To help you enjoy a worry-free trip to Zhangjiajie and the whole China, we suggest you travel with China Discovery. Our experienced travel expert will help you arrange the transportation and everything well to let you spend all your effort and time on the sightseeing. If you have any other ideas or questions about your Zhangjiajie tour, please feel free to contact us. We are specialized in tailor-made tours that fit you best according to your own interests, requirement, traveling time, etc.
Read More about Zhangjiajie Transportation
Useful Zhangjiajie Travel Articles
Keep Readings on Zhangjiajie Tours
Recommended Zhangjiajie Tours
Top 3 Zhangjiajie tours chosen by most customers to explore Zhangjiajie in the best way. Check the detailed itinerary, or tailor your own trip now with us.
5 Days Amazing Zhangjiajie & Fenghuang Ancient Town Tour

Zhangjiajie / Fenghuang / Zhangjiajie
Start planning your tailor-made holiday to China by contacting one of our specialists. Once inquired, you'll get a response within 0.5~23.5 hours.
Customize a Trip
Have a question? Get answers from our travel experts or guests
Your Question:

Your Name:

Your Email: