Gulangyu Island Map: Map of Gulangyu, Xiamen, Fujian, China
Gulangyu Island, also known as Kulangsu, is a popular tourist island scenic area in Xiamen, Fujian, China! It is small. However, it is never an easy thing to navigate it, especially for the first-timers! To help you know better about Gulangyu Island, this Gulangyu Island Map Guide will introduce you everything about it by map, including its location, tourist attractions and transportation, etc.
Gulangyu Location Maps - Where is Gulangyu Island in Xiamen, Fujian, China?
Gulangyu Island is a small tourist island located in the southwest part of Xiamen City of China's Fujian Province. From a China map, you will find it on the southeast coast. You can get a better understanding of its location of the Gulangyu Island Xiamen Map, Gulangyu Island Fujian Map and Gulangyu Island China Map below.
Gulangyu Tourist Maps - Tourist Attraction on Gulangyu Island
Gulangyu Island enjoys reputations of "Garden on the Sea" and "World Architecture Expo". It is mostly famous for its natural beauty, colonial style architectures and a myriad of interesting museums. Major highlights of Gulangyu Island include Sunlight Rock, Shuzhuang Garden, Piano Museum, Organ Museum, Haoyue Garden and so on. Please check the Gulangyu Island Tourist Map below to take a glimpse of its main attractions.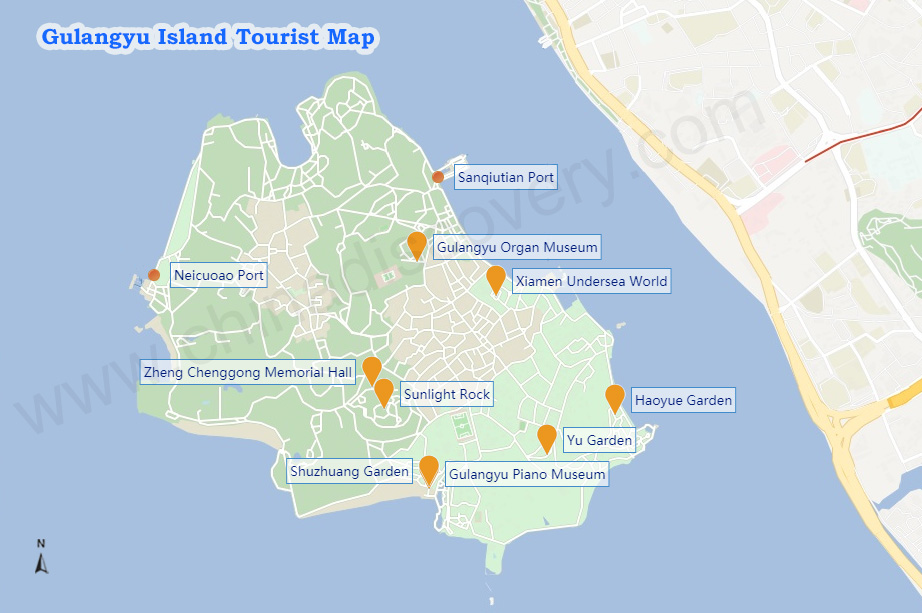 Gulangyu Island Tourist Map
Gulangyu Transportation Maps - Xiamen Gulangyu Island Ferry Map
Gulangyu Island is surrounded by the sea on its all sides, without any bridge reaching there. At present, the only way to get to Gulangyu is taking a ferry from the land of Xiamen. The ferry journey takes only for about 7~20 minutes. There are altogether 7 ferry lines to get there, including 4 lines for the tourists and 3 other lines for locals only. The following Xiamen Gulangyu Island Ferry Map will show you all the 4 Tourist Ferry Lines between Xiamen and Gulangyu Island.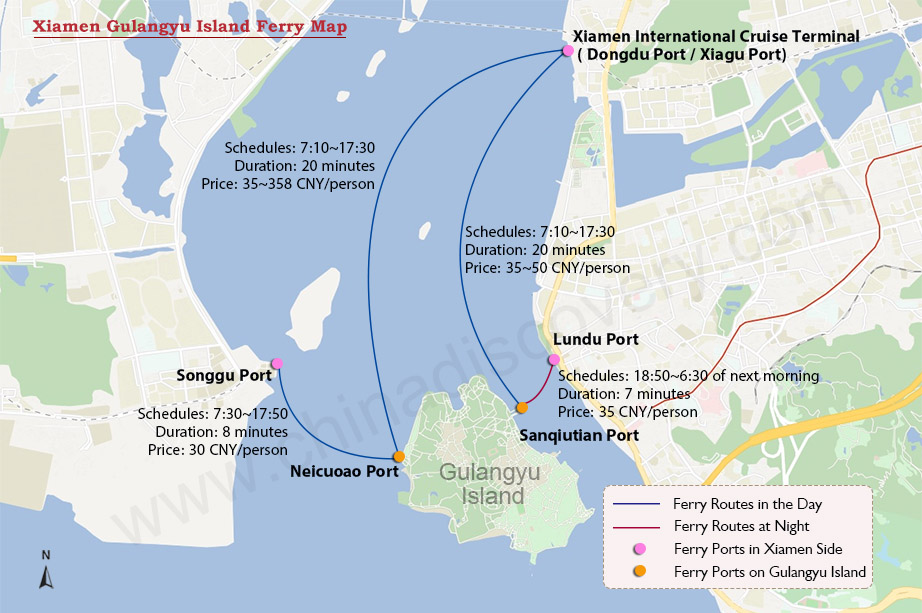 Gulangyu Island Ferry Map
How to Plan a Gulangyu Island Tour
Usually, half-day or so is enough for a Gulangyu Island Tour. Tourists normally visit it during the day hours and then travel back to Xiamen downtown for the night stay. Since there is still enough time left, they also prefer to visit Nanputuo Temple on the same day. For the visitors looking for some nightlife in Xiamen, they also head to Zhongshan Road Pedestrian Street after night falls. Such a Xiamen Gulangyu tour needs only 1~2 days.
2 Days Xiamen City Tour with Gulangyu Island
If you have 1~2 days more in Xiamen, you are highly suggested to extend your Xiamen tour to Fujian Tulou clusters, the unique earthen buildings of this region and sacred World Cultural Heritage that really worth your close visit.
Besides the Tulou Cluster, there is another wonderful site waiting for your visit in Fujian Province - the beautiful Wuyishan (Wuyi Mountain). Its amazing natural beauty and Dahongpao tea will be great gifts for your tour.
5 Days Xiamen, Nanjing Tulou & Mount Wuyi Discovery Tour
Photography enthusiasts? You should never miss the stunning Xiapu Mudflat, the real paradise for photographers of any level. 2~4 days more is recommended for a Xiapu tour!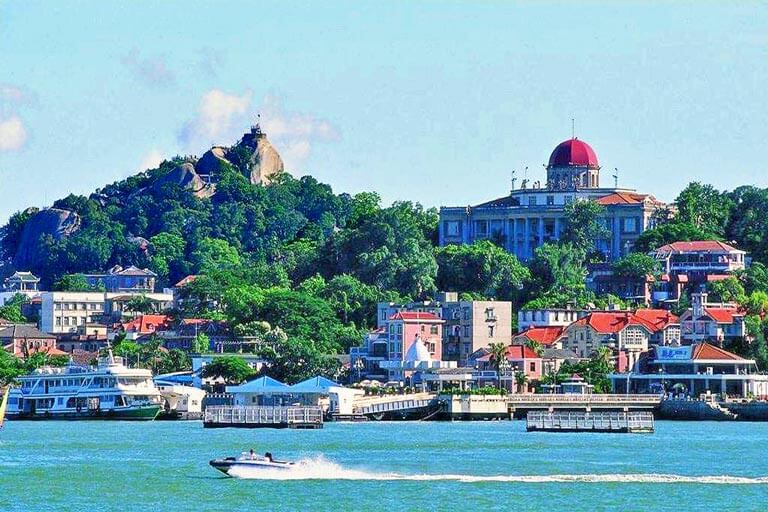 Overlook Gulangyu Island from Ferries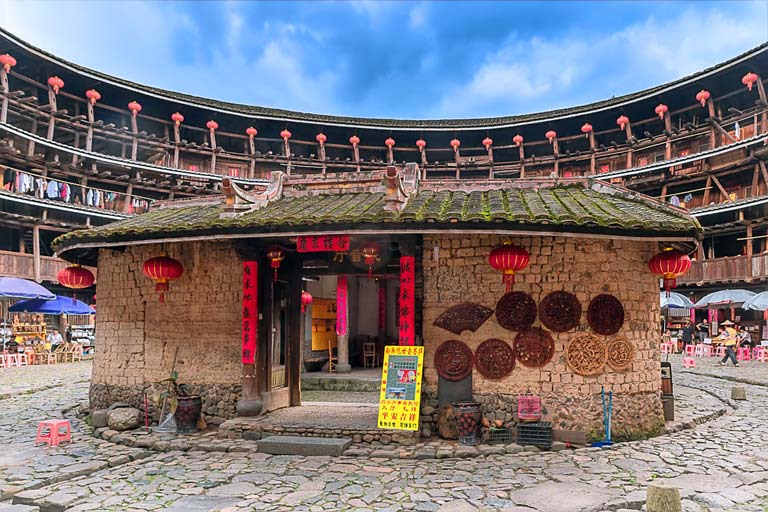 Yuchang Tower in Nanjing Tulou
Travel Gulangyu Island with China Discovery
Now that you have already known all the basic information of Gulangyu Island, it's time to plan your own Gulangyu tour now! Feel trouble about your hotel, flight, and ferry selecting? Looking for the most hassle-free Gulangyu tour? Why not travel with us China Discovery and let our experienced local guide and drive help you? We know very well about Gulangyu and Xiamen, and we can always get the first-hand knowledge! If you travel with us, we will take care of everything, and introduce the interesting history and culture of this region!
The tour can be tailor-made according to your interests, time, group size, budget and every special need. If you are interested, please feel free to contact us to customize your tour!
More about Fujian Travel Guide
Recommended Xiamen Tours
Top 3 Xiamen tours chosen by most customers to explore Xiamen in the best way. Check the detailed itinerary,or tailor your own trip now with us.
5 Days Xiamen, Fujian Tulou & Mount Wuyi Discovery Tour

Xiamen / Nanjing Tulou / Yongding Tulou / Xiamen / Wuyishan
3 Days Classic Xiamen and Fujian Tulou Tour

Xiamen / Nanjing Tulou / Yongding Tulou / Xiamen
5 Days Xiamen & Fujian Tulou Highlights Tour

Xiamen / Nanjing Tulou / Yongding Tulou / Xiamen