Top 8 Xiamen Activities 2023: Sightseeing, Cycling, Cruising, Food, Golf...
"The city is on the sea, the sea is in the city", Xiamen is a graceful "Sea Garden". The islands, reefs, rocks, temples, flowers, trees set each other off in harmony. The charms of overseas Chinese hometown, customs of Fujian and Taiwan, coastal delicacy and foreign architecture are integrated with each other. The year-round spring-like climate adds more charms to the city. With beautiful scenery and pleasant climate, Xiamen is one of the cities with the best environment in the country. Surrounded by sea, sandy beach and genial sunshine, the ecological environment and air quality are quite good in Xiamen. It attracts thousands and millions of egrets living on this island. And because the outline of Xiamen is like an egret, people also call it the "Egret Island".
There are so many activities waiting for you to try in Xiamen, such as cycling, cruising, architecture hiking, Minnan food exploring, playing golf, visiting Tulou, Quanzhou and so on. Here are TOP 8 Activities in Xiamen, please continue to read the following passages and plan your own Xiamen Tours in 2023!
Top 1: Browse the International Architecture on Gulangyu Island
Hai Tian Tang Gou Mansion (Hi Heaven)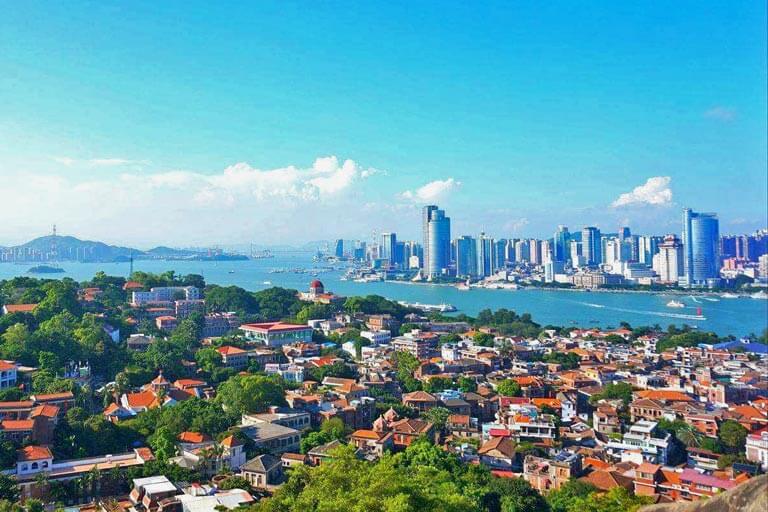 Gulangyu Island Architecture View from Sunlight Rock
Type: Architectures
Recommended Length: 0.5-1 day
Best Places to Visit: Sunlight Rock, Shuzhuang Garden, Xiamen Piano Museum, Hai Tian Tang Gou, Organ Museum...
For nearly a hundred years after the Opium War, people from western countries continued to pour in. Churches, schools, mansions, businesses and consulates crowded on Gulangyu Island, which covers less than 2 square kilometers. Arch corridors, Ancient Greek pillars, Gothic spires, Islamic domes, etc. overwhelmed the local Minnan architecture, the imported culture once became the mainstream. Architecture Styles of Fujian and Western countries intermingle on Gulangyu Island, the Baroque architecture matched the peak of the Xieshan roof, red brick buildings decorated with European shutters. Luxury villas occupy downtown or are built along the coast. but also there are also low-key houses lying in deep valleys waiting for you to explore.
If you want to enjoy the panoramic view of "the Sea Garden" - Gulangyu Island, the Sunlight Rock is the perfect place. When you climb to the top of Sunlighte Rock, you can see diverse roofs of all nations spread out under your feet. On the other side is Xiamen Island. All of a sudden, you will realize why locals say something like "He who does not climb Sunlight Rock has never traveled to Xiamen.".
★ Recommended Xiamen Gulangyu Tours:
✔ 2 Days Xiamen Essence Tour with Nanjing Tulou
✔ 3 Days Classic Xiamen and Fujian Tulou Tour
Top 2: Visit the Mysterious UNESCO World Heritage site Hakka Tulou
Tianluokeng Tulou Cluster in Nanjing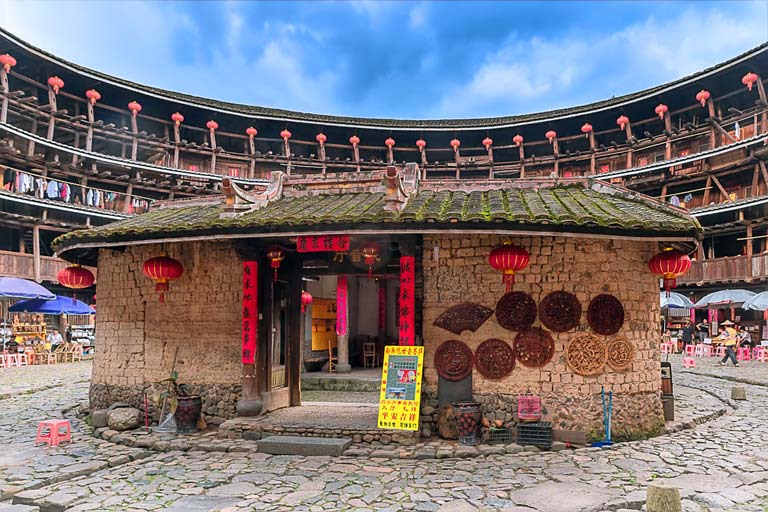 Yuchang Tower in Nanjing
Type: Culture, Architecture
Recommended Length: 1-2 days
Best Places to Visit: Nanjing Tulou, Yongding Tulou, Dadi Tulou...
Distance from Xiamen to Nanjing/Yongding: about 76km from Nanjing and 190km from Yongding
The lush Bopingling Mountain range in Central Fujian is dotted with tall, yellow-walled earthen buildings with lividity tiles. Some Tulou looks like quadrangle dwellings which are being paddled. The hall falls like five phoenixes spreading their wings; Some are square, like huge lunchboxes; Others are round or oval in shape like flying saucers that had fallen from the sky. There are also some ruins of Tulou like the Summer Palace, residual walls and broken pillars capture the imagination of tourists.
Tulou are often built along mountains and rivers, so besides enjoying the extraordinary architecture, visitors can also immerse in the romantic street view of the Gangnam or hike to the nearby stunning terraced fields to feel the rurality. Even they look like alien spaceships from the sky, but for generations, tulou uses their bolar body to guard local families. Bullet trains and passenger transport can take you to the well-establish Yongding Tulou (永定土楼), Nanjing Tulou (南靖土楼) and Dadi Tulou (大地土楼). If you are looking for an authentic and uncommercialized Tulou - drive to Nanxi to see the "Tulou Great Wall".
★ Recommended Xiamen Tulou Tours:
✔ 2 Days Best Nanjing Tulou Tour with Tianluokeng Tulou Cluster
✔ 3 Days In-depth Fujian Tulou Tour with Hakka Cultural Experience
Top 3: Cycle along Huandao Road and Enjoy Coastal Scenery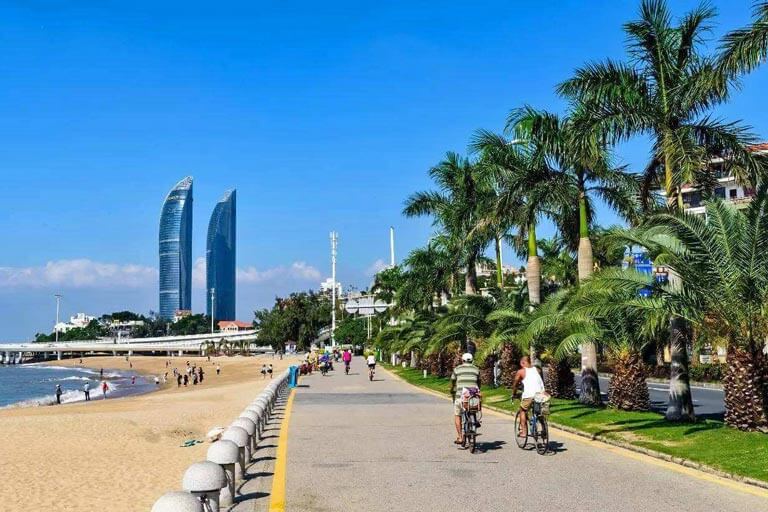 Huandao Road in Xiamen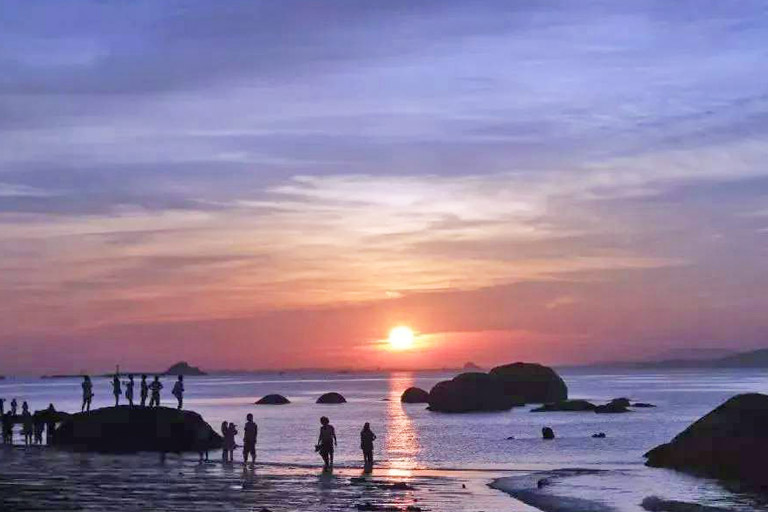 Huangcuo Beach along Huandao Road
Type: Nature, Cycling
Recommended Length: 1-3 hours
Best Places to Visit: Huandao Road, Baicheng Beach, Hulishan Fortress, Zengcuoan, Huangcuo Beach...
Huandao Road has become a symbol of the southern scenery in Xiamen. You can enjoy the exquisite coastal scenery in any way you want - buses, sightseeing buses, wooden walkways and well-equipped bike paths. However, in order to fully appreciate its charm, cycling is top recommended. When the slightly salty sea wind breezes on the face, the blooming flowers pop their head out against the green background, the fatigue and trouble of the journey seems to have gone with the wind. Here are two most famous cycling routes for your reference.
The first cycling route (takes about 2 - 3 hours): usually starts at Baicheng Beach, passes by Hulishan Fortress, the Pearl Bay, Zeng Cuo An, Baishi Fort, Huangcuo Beach and ends at Xiamen Former Convention and Exhibition Center.
The second route (takes about 1 - 1.5 hours): usually starts at Xiamen Former Convention and Exhibition Center, passes by Guanyin Mountain, Wutong Beacon, Wuyuan Bridge and ends at Wuyuan Beach.
★ Recommended Xiamen Cycling Tours:
✔ 3 Days Joyous Xiamen & Tulou Tour with Huandao Road Cycling
Top 4: Cruise around Xiamen and Overlook Islands from Different Perspectives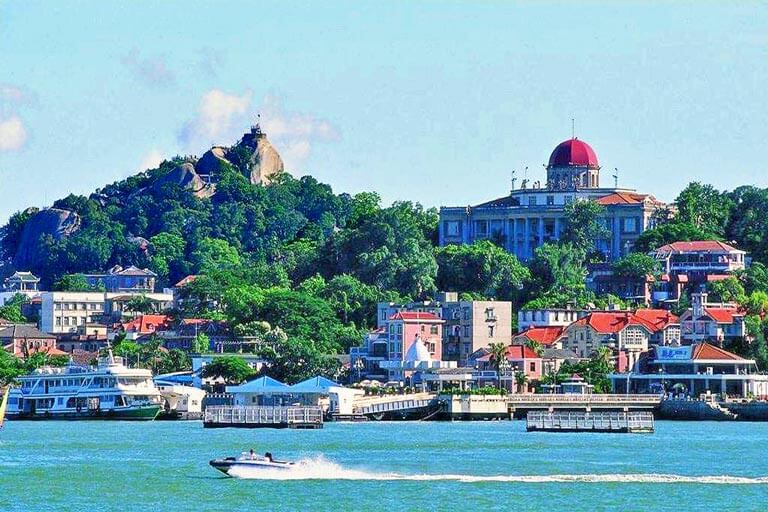 Overlook Gulangyu Island from Ferries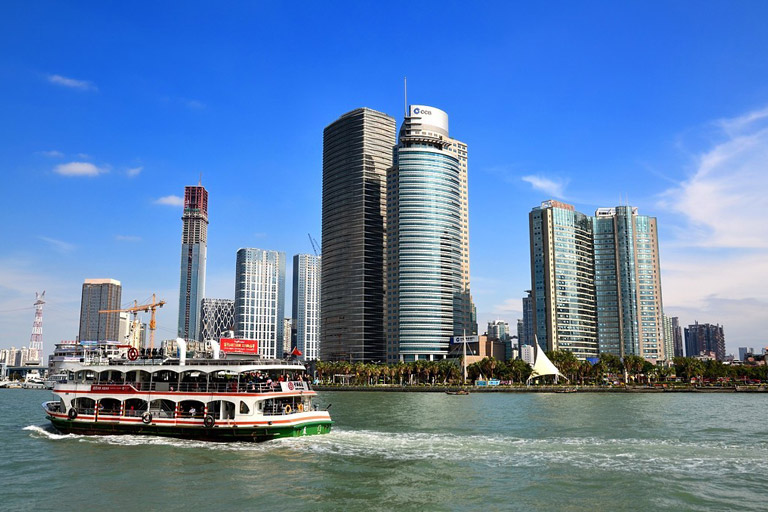 Xiamen to Gulangyu Ferry
Type: Sightseeing, Cruise
Recommended Length: 1-2 hours
Hottest Cruise Routes: Lujiang Night Tour Cruise; Xiamen Island to Gulangyu Island; Xiamen to Jinmen Island
Xiamen is a coastal city with a long history of sea transportation. Taking a cruise around Xiamen is one of the best ways to appreciate this beautiful & elegant coastal city. There are 2 famous tourism cruise routes, Lujiang Night Tour Cruise and Xiamen-Jinmen Cruise. Besides, sea travel is also an indispensable transportation means in Xiamen. Sea Travel is the only way to get to Gulangyu Island.
1) Xiamen Island to Gulangyu Island Ferry Boat: ships head to Gulangyu Island every 10 minutes from 7 am to 7 pm. The trip to the island is free of charge, and the return boat ticket is around 8 CNY/person. The journey only takes 5-10 minutes.
2) Lujiang Night Tour Cruise: ships run service at 19:40 and 20:10 every day. It takes about 100 minutes, passes Gulangyu Island, Yanwu Bridge, Sea Pearl Tower, Huoshao Islet and Haicang Bridge . During the cruise, you can fully enjoy the dazzling Xiamen night view. Kung fu tea and pastry are also provided in the archaistic cabin, performances and interactive games are arranged. It's absolutely one of the most popular experience activities in Xiamen.
3) Xiamen to Jinmen Cruise: ships run service at 08:30 – 15:30 every day. It takes about 100 minutes, unveil the mysterious Jinmen Island for you.
If you are interested in any other cruise routes, just feel free to contact our travel consultants, they are more than willing to help!
★ Recommended Xiamen City Tour:
Top 5: Seek Minnan Cuisines and Enjoy Seafood at Alleys in Xiamen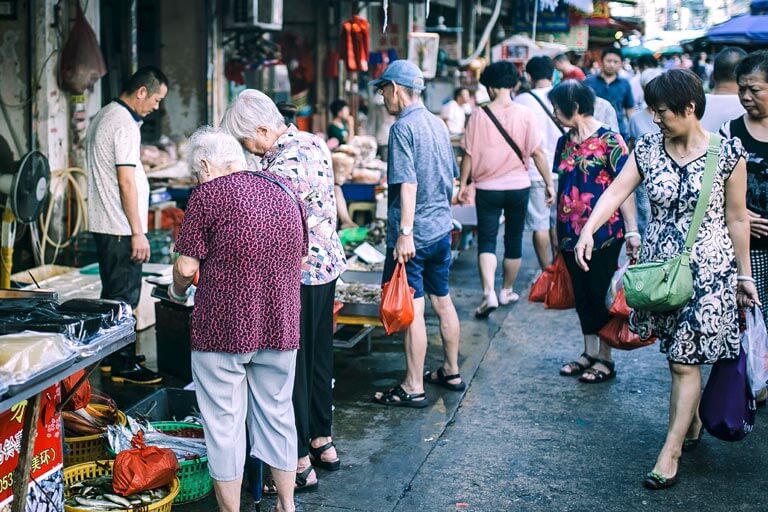 The Eighth Seafood Market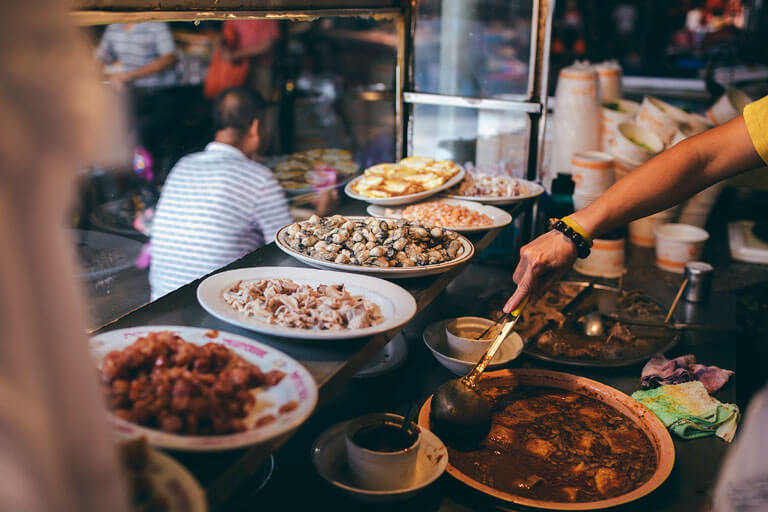 Xiamen Delicacy
Type: Food
Recommended Length: 0.5 day
Best Places to Visit: Zhongshan Road; The Eighth Seafood Market; Zengcuoan...
Start your trip by waking up early in the morning and feeling the most authentic local life. The Eighth Seafood Market has already started running before 7 am in the morning. You may experience the original market life of locals and enjoy the freshest seafood. Wake up your taste buds with some authentic snacks that the locals love. Then walk to the nearby Zhongshan Road. It's the area where many local snacks and famous time-honored brands gather. Don't cram yourself at only one gourmet shop, eat less at each treats and explore more shops would be a more wise choice for gastronomes. Satay noodles, oyster omelette and paste noodles and more traditional flavored snacks are delicacy you can't miss in Xiamen. After after satisfying yourself with the food, you can enjoy the beautiful arcades and old buildings at nearby blocks before tourists swarm in.
★ Recommended Xiamen Food Tours:
✔ 3 Days Joyous Xiamen & Tulou Tour with Huandao Road Cycling
Top 6: Play Golf Against the Mountain and Overlook the Sea in Xiamen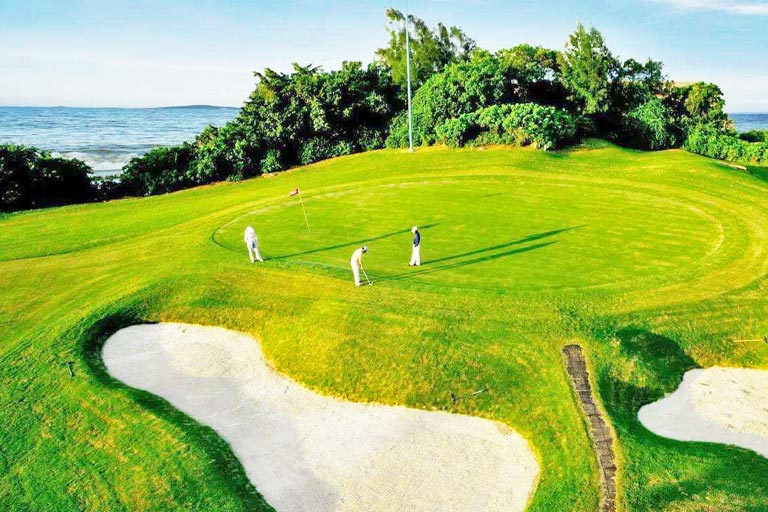 Playing Golf in Xiamen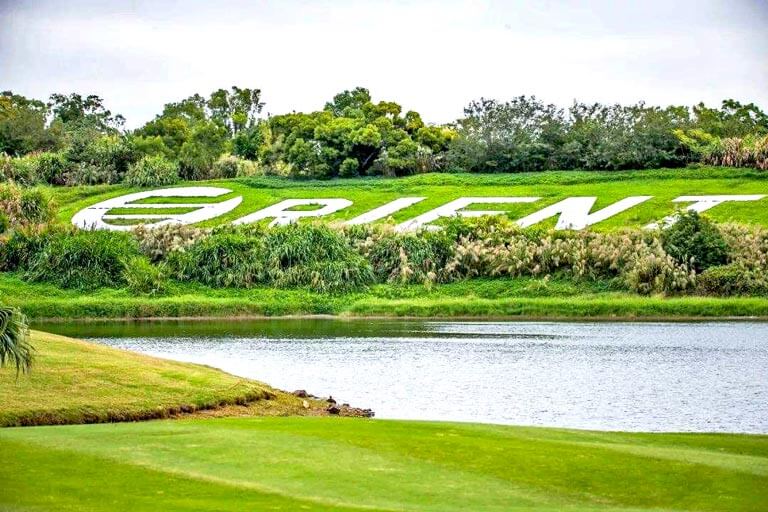 GXiamen Oriental Country Golf Club
Type: Entertainment, Sports
Recommended Length: 0.5-1 Day
Best Places to Visit: Xiamen Oriental Country Golf Club; Xiamen Kaikou Golf Club
With a pleasant and moderate weather all year around, playing golf in Xiamen will be a wonderful and unique experience for Ximan. Most of high-end Golf Clubs in Xiamen has superior locations, they built faces the sea and by the mountain and easy to reach. While having fun with the sports, you may also appreciate the extraordinarily island scenery, overlook Xiamen Island, Gulangyu Island and Jinmen in a distance, you will be amazed by the exquisite design of golf courses by those famous world-class golf masters. The most popular Xiamen golf courses are Xiamen Oriental Country Golf Club and Xiamen Haikou Golf Club.
1) Xiamen Oriental Country Golf Club: Lying aside the sea and near the mountains, the golf club has an area of 609.5 acres. It has the international standardized 27 holes contest ground, 108 pars, measuring 7,105 yards, composed of the gentle slope, vast falling-ball area and the stunning seaside scenery.
2) Xiamen Kaikou Golf Club: Covering an area of 642.5 acres, the club is encircled by a 10-kilometer (6.2 acres) long enclosure wall, which was built like the Great Wall. There are 36 fairways of international standard that measures 13,990 yards. Two 18-hole golf courses with different styles are there for golfers.
★ Recommended Xiamen Golf Tour:
Top 7: Appreciate Typical School Buildings Combine Chinese and Western Styles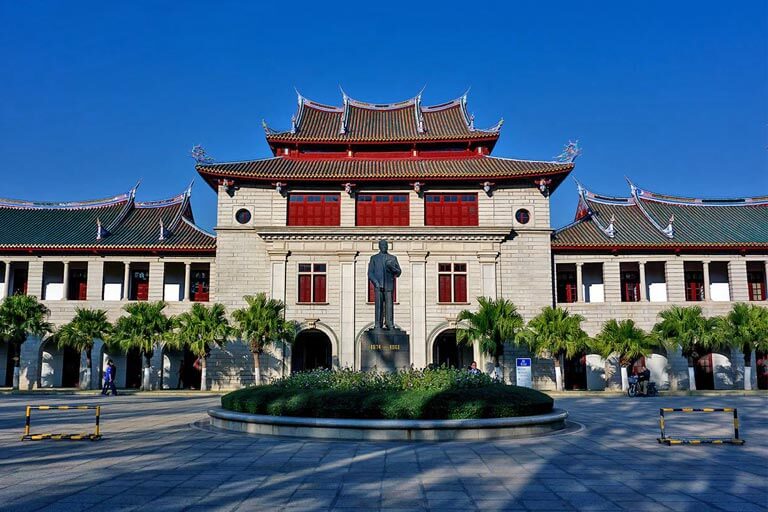 Xiamen University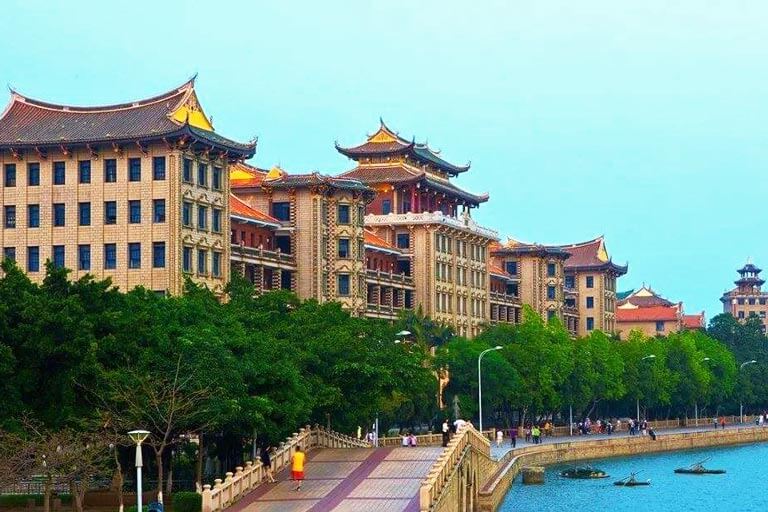 Jimei School Village
Type: Architectures
Recommended Length: 1-2 hours
Best Places to Visit: Xiamen University, Jimei School Village
Glazed tiles covering dragon ridges and phoenix eaves, red bricks and black stones built corridor arches. Tan Kah-kee architecture, a combination of Chinese and Western architecture, is one of the most unique cultural resources in Xiamen. The exquisite architecture not only records the arduous process of Chinese overseas running new schools, but also witnesses the times in old Xiamen. Wandering around the most beautiful Chinese University - Xiamen University and strolling through the tree-lined lanes at Jimei School Village is a must-do for many tourists visiting Xiamen. While admiring the Architecture of Jiageng Style, the grape ivies which are clinging to the old school building, the young lovers who are strolling along the beach paths hand in hand, may drag you back to your school time. Try to keep your voice down and remember to speak low, don't bother students in classes.
★ Recommended Xiamen Architecture Tours:
Top 8: Be a Young Artists and Enjoy the Bourgeois Lifestyle of Xiamen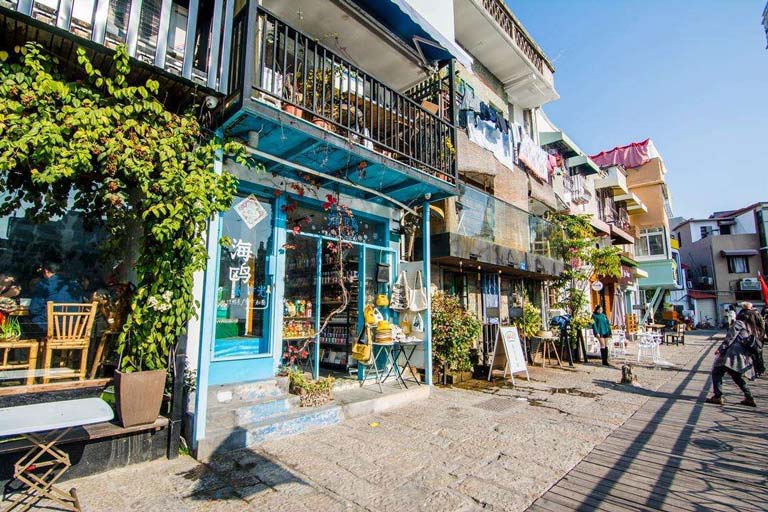 Xiamen Zengcuoan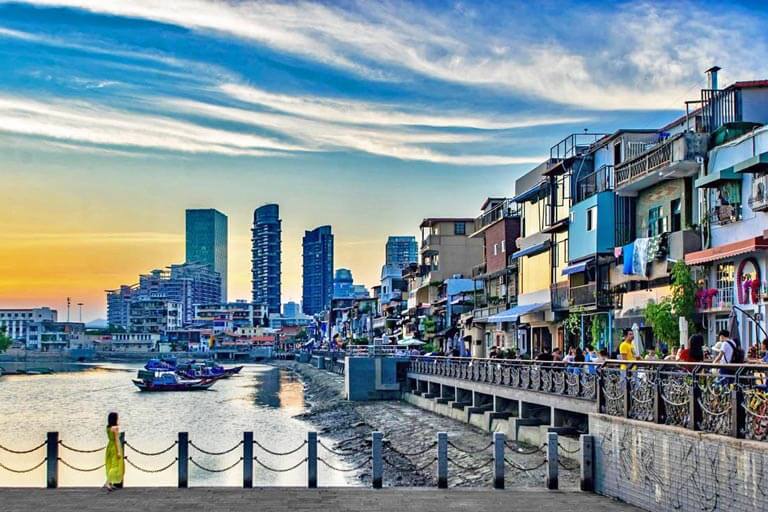 Shapowei in Xiamen
Type: Entertainment, Shopping
Recommended Length: 0.5 day
Best Places to Visit: Gulangyu Island, Xiamen University, Sha Po Wei (沙坡尾), Zeng Cuo An (曾厝垵)...
Cultural and Creative districts boast, bookshops and cafes dot the streets... Do not know when to start, art and literature seem to become characteristics of Xiamen. To enjoy a precious leisure time, tourists can let book aroma at independent book stores, fragrance of pour-over coffee from coffee shops and elegant taste of Minnan tea embellish your afternoon. Around Huaxin Road (华新路), Shapowei (沙坡尾) and Xiamen University (厦门大学) and Gulangyu, there are many stylized shops with tiling floors or pure white minimalism style. Besides the fragrance of books, tea and coffee, there are also some small exhibitions or lectures occasionally, which are the best choice to experience the life of "literary youth".
★ Recommended Xiamen Leisure Tour:
✔ 3 Days Joyous Xiamen & Tulou Tour with Huandao Road Cycling
How to Plan a Xiamen Tour?
Xiamen Island is a small island. You can take 1-2 days to have a quick tour around the city, feel the history changes and color rural life of today in Xiamen. You can spend 1 day on Xiamen Island, go to Zhongshan Road and try local cuisine and snacks, visit Xiamen University and climb Wulao Peak, cycle along Huandao Road, enjoy seafood at Zengcuoan and meet the sandbeach at Huangcuo Beach. Then wake up early on the second day, take the cruise and pay a visit to the "Garden of Sea" - Gulangyu Island. Shuzhuang Garden, Sunlight Rock and various architecture from different counties are highlights of the Island.
If you have 1-2 days more, you can extend your trip to Quanzhou to visit the Light City in Macro Polo's Heart. Or you can head west to meet the splendid and featured earthen building - Tulou in Nanjing or Yongding County.
► 3 Days Xiamen City Leisure Tour with Fujian Tulou
► 5 Days Xiamen & Fujian Tulou Highlights Tour
For tourists who are more interested in natural scenery, they can take high speed trains to go to the World Natural and Cultural Heritage site - Wuyi Mountain. If you are a photography addict, don't miss the magnificent pictures made of light, shadow and shallow flats in Xiapu. Fuzhou, as the capital of Fujian, can use 1-2 days to travel around!
► 5 Days Xiamen, Nanjing Tulou & Mount Wuyi Discovery Tour
► 4 Days Fujian Xiapu Mudflat Photography Tour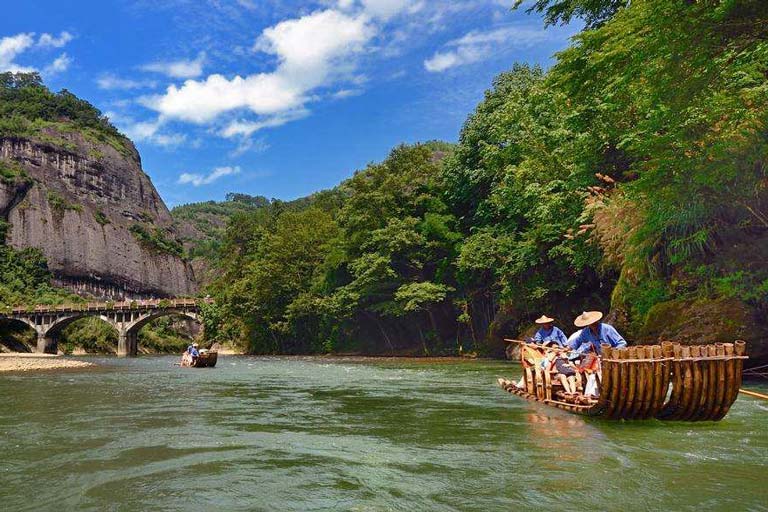 Wuyi Mountain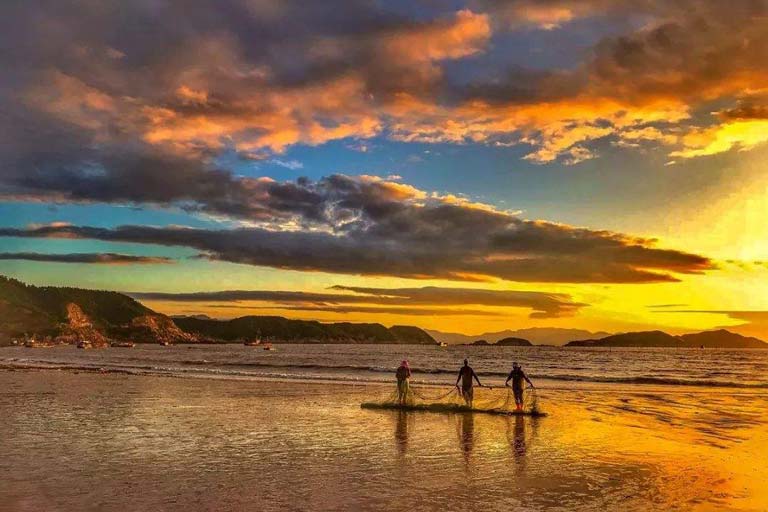 Xiapu Mudflat
Travel Xiamen with China Discovery
Feel trouble about your China Xiamen Tour planning? Why not travel with us China Discovery and let our professional Travel Consultants help you? And then you will get a worry-free trip and focus all your energy to sock in the highlights during the tour! Our experienced travel expert will help arrange your accommodation and plan your trip sincerely. And our English-speaking tour guide will accompany you all the way, show you the best travelling route, share interesting stories and introduce all highlights to you. Our local experienced drivers will escort you to the attractions with comfortable car directly with speed and safety.
The tour can be tailor-made according to your group size, time, physical condition, plan, interest, budget and every special need. Please feel free to ontact us if you need any help!
More about Fujian Travel Guide
Recommended Xiamen Tours
Top 3 Xiamen tours chosen by most customers to explore Xiamen in the best way. Check the detailed itinerary, or tailor your own trip now with us.
3 Days Classic Xiamen and Fujian Tulou Tour

Xiamen / Nanjing Tulou / Yongding Tulou / Xiamen
3 Days Joyous Xiamen & Tulou Tour with Huandao Road Cycling

Xiamen - Nanjing - Xiamen
5 Days Xiamen Golf Tour

Xiamen
Start planning your tailor-made holiday to China by contacting one of our specialists. Once inquired, you'll get a response within 0.5~23.5 hours.
Customize a Trip
Have a question? Get answers from our travel experts or guests
Your Question:

Your Name:

Your Email: