Wutaishan Hotels & Hostels - Where to Stay in Mount Wutai 2023
Located in the northern part of Shanxi Province, Mount Wutai is a world-renown Buddhist mountain. Because of its beautiful natural scenery and profound Buddhist culture, it attracts numerous tourists and Buddhists there, and it usually takes about 2 days to visit the mountain and temples. Many tourists will choose to stay at or around Wutai Mountain scenic area. The accommodation site and many temples are mainly in Taihuai Town, where there are several bus lines and the traffic is very convenient. Although you can not expect to have the same accommodation facilities like many other Chinese cities, like Beijing, Xian, and Taiyuan, most of them can meet the basic needs of tourists and offer you a cozy stay.
There are three accommodation choices in Mount Wutai: 
1. Hotels (comfortable three-star to five-star hotels): the hotel rate is usually between CNY 200 and CNY 1000.
2. Homestays (the house built by local residents): the price is usually cheaper than the hotel's, but there are boutique B & B with fancy decoration and higher price. 
3. Temples: many hikers and Buddhists would choose to stay in temples on/around Mount Wutai. However, the accommodation of most temples is relatively simple and shabby, and the price is very low, even some have no charge.
Surrounded by mountains, the overall climate of Mount Wutai scenic area is very humid and cold. In winter, there are fewer people going to Mount Wutai. Therefore, many homestays are closed. Some temples are open, but the rooms are very cold. Therefore, it is recommended to stay in a nice hotel in winter. Accommodation in Mount Wutai will also be adjusted along with the off-season, peak season, different Buddhas' birthdays, Buddhist events, and celebrations, and it will be difficult to find a room on certain days. Therefore, you are recommended to arrange your accommodation in advance on Mount Wutai.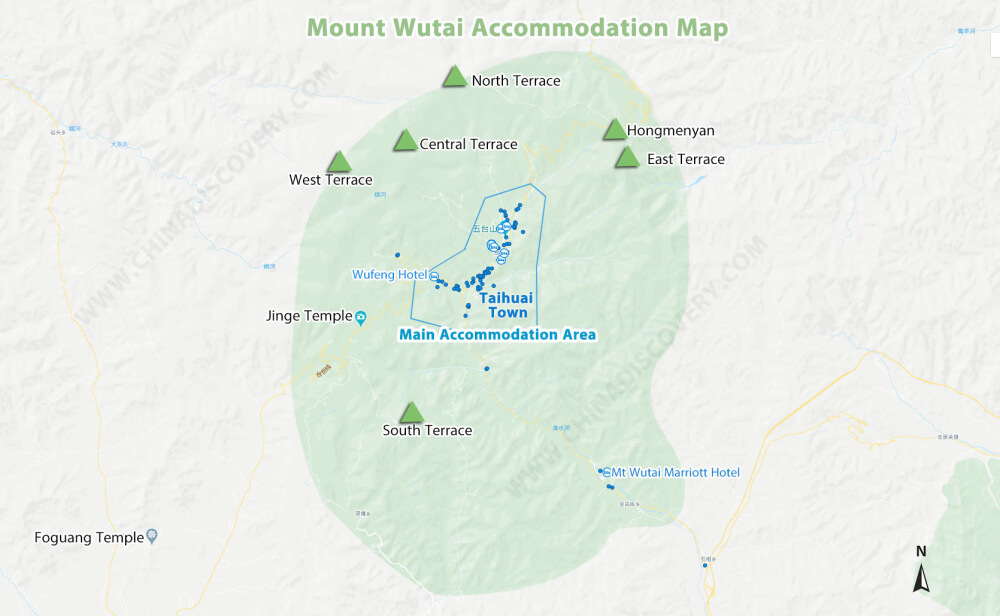 Mount Wutai Accommodation Map (Click to Enlarge)
Option 1: Luxury Hotels in Mount Wutai
The number of luxury hotels in Wutai Mountain is very limited. At present, there are two main luxury hotels: Marriott Hotel and Wufeng hotel. Most people would like to stay at Taihuai Town (台怀镇) where most hotels, homestays, and restaurants are situated. 
Marriott Hotel is the best five-star hotel in Wutai Mountain scenic area. It is located in the southeast corner of the Wutai Mountain Scenic Area and near the South Gate of Mount Wutai Tourist Center. It is a little far away from the core scenic spot, about 10km away from Taihuai Town.
Wutai Mountain Marriott Hotel 五台山万豪酒店 ★★★★★
Address: No.300 Daganhe Village 1st Alley, Jin'gangku Town, Wutai Mountain Jingangku Township, Wutai County, Shanxi 山西省五台山金岗库乡大甘河村一巷300号
Service: Nestled near the south gate of the famous Wutai Mountain, Wutai Mountain Marriott Hotel offers spacious accommodations with lake view. Free WiFi is provided throughout the property. Free public parking is also possible. Jinxiu Feng is a 15-minute drive from Wutai Mountain Marriott Hotel. Fomu Cave is a 20-minute drive away. Guests can enjoy the use of the sauna or relax with leisurely swims in the indoor pool. Buffet style breakfast is served at the hotel. The on-site restaurant offers an a la carte menu of authentic Chinese and international cuisine.
Mount Wutai Wufeng Hotel 五台山五峰宾馆 ★★★★★
Address: Near Long Quan Temple, Taihuai, Taihuai, Wutai County, Shanxi 山西省五台山台怀镇龙泉寺旁
Service: Built in 1995, Wufeng Hotel is a traditional Chinese 5-star hotel with 500 guest rooms, though the facilities might be a little old. With its location just 5.0 km from the scenic center, it attracts numerous travelers each year. With its convenient location, the hotel offers easy access to the must-see attractions. The services provided by Wufeng Hotel ensure a pleasant stay for guests, including 24-hour room service, facilities for disabled guests, car park, room service, restaurant.
• Popular Mt. Wutai Tour: ✔ 3 Days Mount Wutai Buddhism Tour from Taiyuan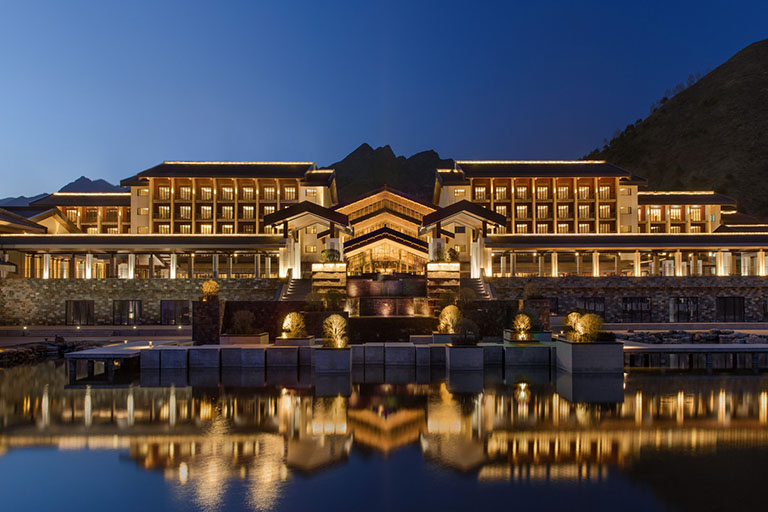 Wutai Mountain Marriott Hotel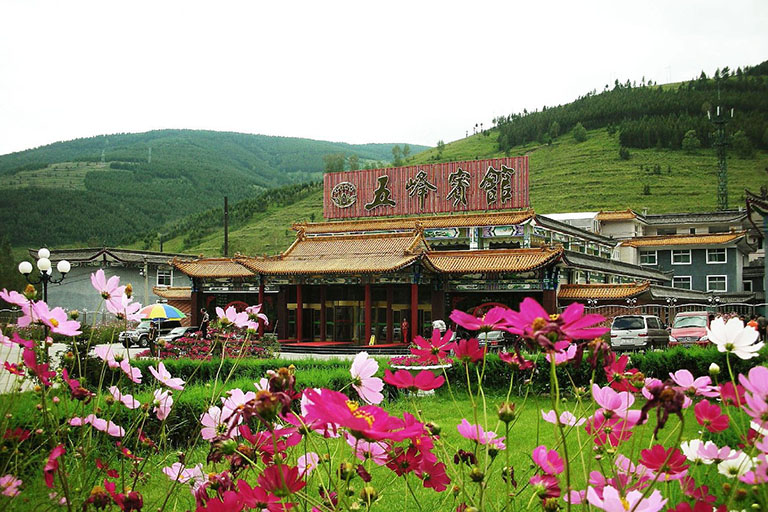 Mount Wutai Wufeng Hotel
Option 2: Comfortable Hotels & Homestays in Mount Wutai
Taihuai town (台怀镇) is the geographical center and major accommodation site of Mount Wutai Scenic Area. There are not many high-end hotels in the town, mainly medium and affordable hotels and homestays, most of which are opened by local people. These hostels, homestays have TV, bathroom, free wifi, slippers, etc. The Nanshan Temple area is located about 2.5 kilometers south of Taihuai town. There are many hotels in this area, and the facilities of some hotels are much better than those in Taihuai town, and the price is also higher, especially during the peak season, and you may need to book your room in advance.
Note: when winter comes and it goes to the off-season of tourism, a lot of homestays and hostels in Taihuai town will generally be closed, but most hotels above three-star will be open.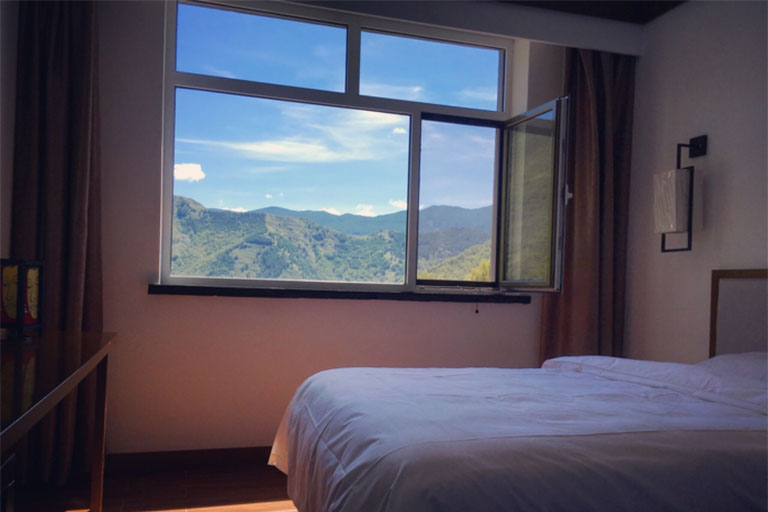 Typical Homestay Room at Taihuai Town
Recommended Hotels in Taihuai Town
Jinxiu Mountain Villa 锦绣山庄 ★★★★★Address: Dachegou, Taihuai Town, Wutai County, Shaxi 山西省五台山台怀镇大车沟
Yuelong Mountain Villa 悦龙山庄 ★★★★★Address: No. 9 Taihuai Village Taihuai Town Wutaishan Scenic Spot, Wutai County, Wutai County, Shaxi 山西省五台山景区台怀镇台怀村9号
Huahui Hotel 花卉山庄 ★★★★Address: Dachegou, Taihuai Town, Wutai County, Shaxi 山西省五台山风景区台怀镇大车沟
Friendship Hotel 五台山友谊宾馆 ★★★★Address: Youyi Road, Yangbaiyu, Wutaishan Tourism Resort, Wutai County, Shaxi 山西省五台山风景名胜区杨柏峪灵峰寺旁友谊路口
Jindu Shanzhuang Hotel 五台山金都山庄 ★★★★Address: Dachegou, Taihuai Town, Wutai County, Shaxi 山西省五台山台怀镇大车沟
Foshan Hotel 五台山佛山宾馆 ★★★Address: No. 6 Shanzui, Taihuai Town, Wutaishan Tourism Scenic Region, Wutai County, Shaxi 山西省五台山台怀镇山咀路6号
Lingfeng Mountain Villa 五台山灵峰山庄 ★★★Address: Near Wutai Mountain Park, Taihuai Town, Wutaishan Scenic Resort, Wutai County, Shaxi 山西省五台县五台山风景名胜区山咀
• Popular Mt. Wutai Tour: ✔ 3 Days Mount Wutai Trekking Tour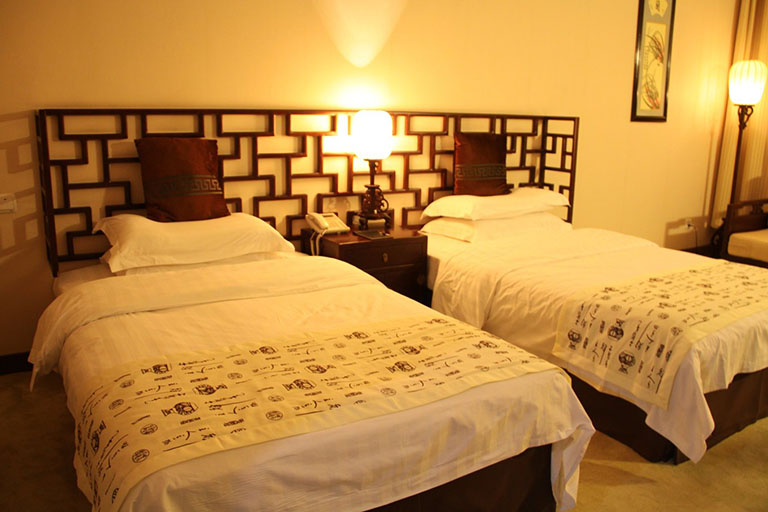 Standard Room of Huahui Hotel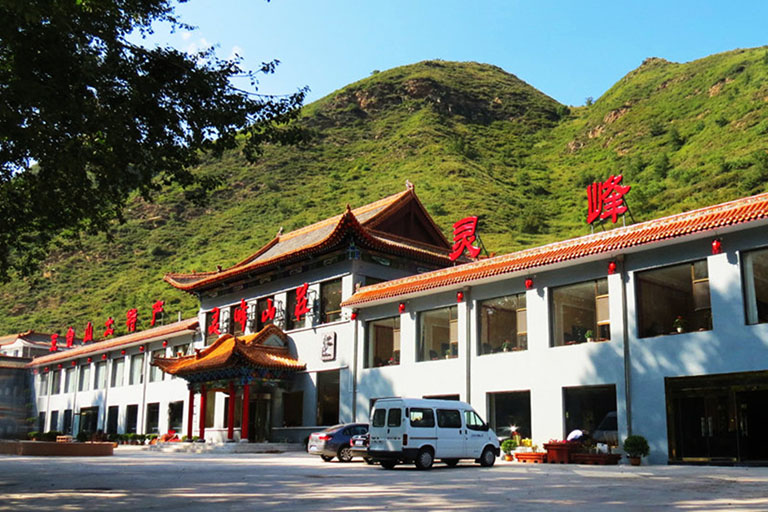 Lingfeng Mountain Villa
Option 3: Accommodation at Temples of Mount Wutai
Mount Wutai, as a holy site for Buddhists, has many temples opening for pilgrims, hikers, tourists, and monks. The cost of accommodation in the temple is also relatively cheap, about 50 yuan per person per night. Some temples even offer free accommodation for tourists and Buddhists. Staying in a temple can be a special experience to learn about the monk's lifestyle and Buddhism culture. However, the general facilities in the temple are relatively simple, and many people separated by gender would share one large "bed", and you shall follow their rules. For example, it is necessary to keep quiet and not to eat meat dishes in the temple. A small number of temples require dwellers to return to the temple before 17 o'clock and get up early in the morning.
Temples Opening for Accommodation
Taihuai Town: Puhua temple (普化寺), Xiantong temple (显通寺), Tayuan temple (塔院寺), Bodhisattva Monastery (菩萨顶), Yuanzhao temple (圆照寺), Santa temple (三塔寺), Shifangtang (十方堂), Shuxiang temple (殊像寺), Shancai cave (善财洞);
Five Terraced Peaks: Falei temple (法雷寺) of West Peak; Zhongtai Yanjiao temple (演教寺) of Central Peak;
Inside Terraced Peaks: Qifo temple (七佛寺), Baiyun temple (白云寺), Jinge temple (金阁寺), Longquan Temple (龙泉寺), Nanshan Temple (南山寺), Bishan temple (碧山寺), Fenglin temple (枫林寺), Dabao temple (大宝寺), Mingyuechi temple (明月池), Zhulin temple (竹林寺);
Outside Five Terraced Peaks: Shuangquan temple (双泉寺), Qingliang temple (清凉寺), Zunsheng temple (尊胜寺), Ximing temple (西明寺), Taihe temple (泰和寺), Puji temple (普济寺), Bixia temple (碧霞寺), Baofeng temple (宝峰寺), Donggang temple (东岗寺), Gufo temple (古佛寺), Dabao temple (大宝寺), Guandi temple (关帝庙), etc.
Note: Mount Wutai, named after its five terraced Peaks, namely North Peak, South Peak, East Peak, West Peak, Central Peak, can be divided as Tainei (台内 inside five peaks), and Taiwai (台外 outside five peaks) with the central site - Taihuai Town (台怀镇).
• Popular Mt. Wutai Tour: ✔ 5 Days Datong & Wutaishan Discovery Tour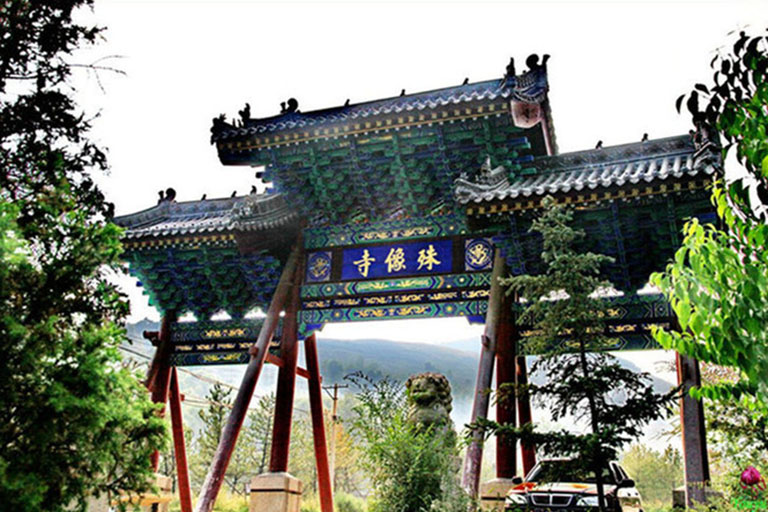 Shuxiang Temple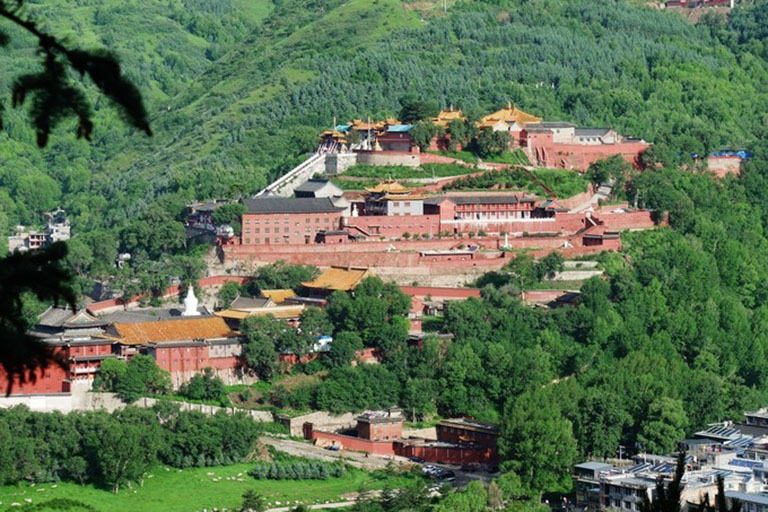 Tayuan Temple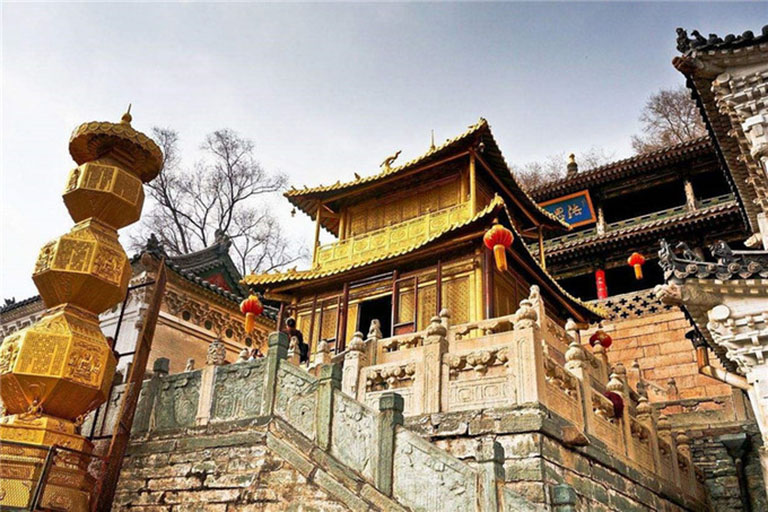 Xiantong Temple
Tips for Visiting Temples in Mount Wutai
Please dress up properly. Do not smoke, make noise.
Having Meat and alcohol are not allowed in the temple.
If you want to greet the monk, you should put palms together, slightly bow your head. Do not hug, shake hands, or even touch the head of the monk.
The threshold in the middle of each temple can't be trampled on. It can only be stepped over for the threshold represents the shoulder of Buddha, otherwise, it is disrespectful.
When you enter the hall, you are not allowed to point at the Buddha with a single finger or take photos directly. To worship the Buddha, you should take off your hat, bag, and sunglasses.
How to Plan Your Mount Wutai Tour
How to Get to Mount Wutai: You can get there by flights from Shanghai (2.5hrs), Chengdu (2.5hrs), Hangzhou (2hrs), etc. or travel to Mount Wutai from Datong, Pingyao, and Taiyuan by driving.
Best Time to Visit Mount Wutai - May to September: Bring your extra layers and umbrella/raincoat always.
A classic Mount Wutai tour usually starts from Taihuai Town, the tourist center of the entire scenic area, then takes a day to visit the most important temples of Mount Wutai, such as Xiantong Temple, Pusa Ding Temple, Tayuan Temple, etc. which are conveniently located around Taihuai Town. If you are Buddhists, you can take the Xiao Chaotai (Small Kora) to Dailuo Ding Temple if you are short on time, or go to the high-altitude Five Terraces to worship Manjusri Bodhisattvas on the five peaks of Mount Wutai – East Terrace, North Terrace, Central Terrace, West Terrace and South Terrace, which usually costs two full days. If you prefer a hiking tour, you can find some amazing high plateau hiking trails among the Five Terraces. Below are most recommended Mount Wutai tours:
☛ 3 Days Mount Wutai Trekking Tour
☛ 3 Days Mount Wutai Buddhism Tour from Taiyuan
Mount Wutai is usually visited with other famous destinations in Shanxi Province, such as Pingyao Ancient City and Wang's Family Compound in Pingyao, Yungang Grottoes and Hanging Temple in Datong, Jinci Temple in Taiyuan and Hukou Waterfall in southern Shanxi. Below are the most recommended Shanxi tours:
☛ 5 Days Datong & Wutaishan Discovery Tour
☛ 6 Days Essence of Shanxi Tour
If your time allows, it's strongly recommended to visit Mount Wutai with other sacred Buddhist sites in China, such as Mount Emei, Mount Putuo, Shaolin Temple, etc. If you want to explore more Chinese culture, you can also extend your tour to Xian, Beijing, Luoyang, Chengdu, etc. Below are some recommended China tours for you: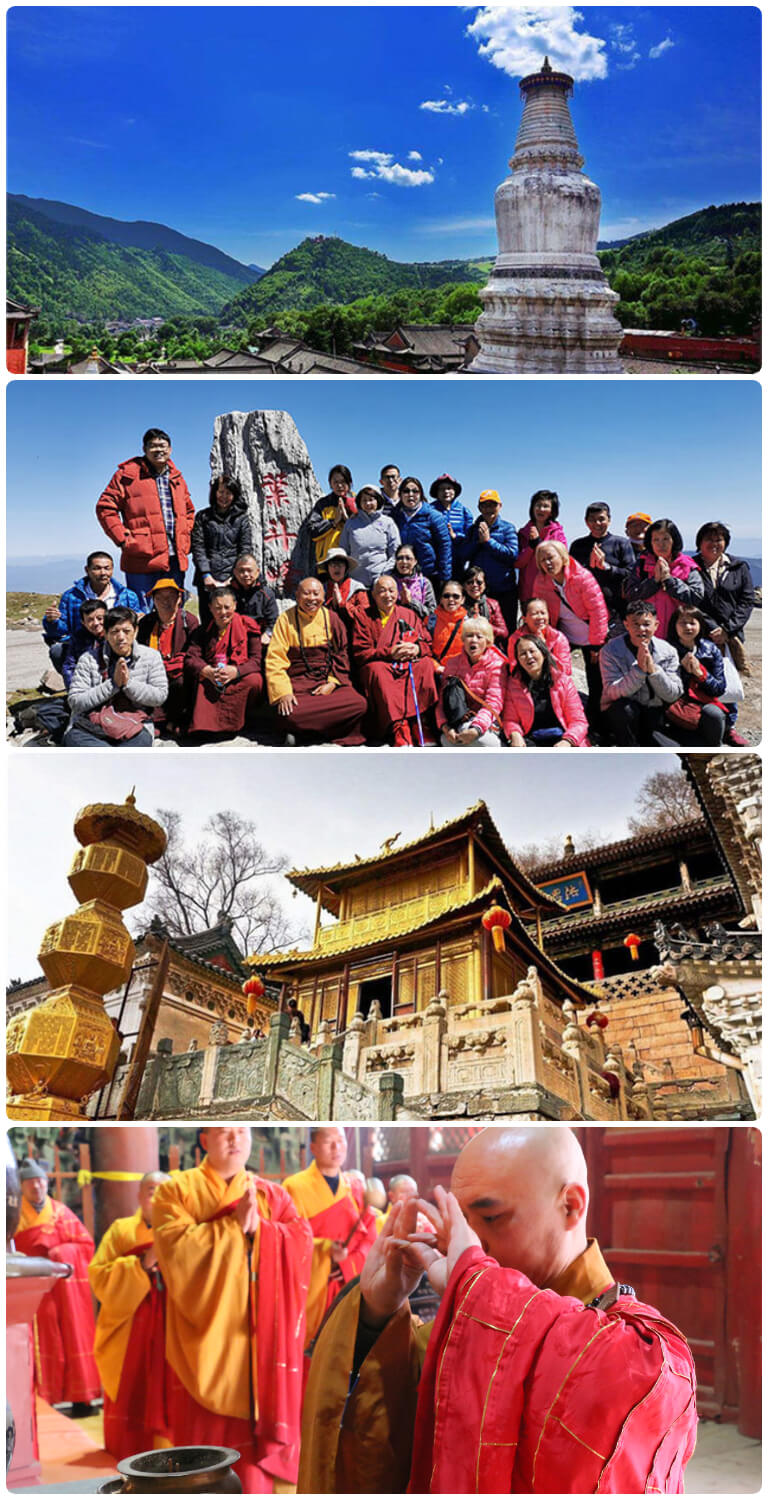 Mount Wutai, Nourished by Profound Buddhist Culture
Top Mount Wutai (Wutaishan) Tours
Helpful Mount Wutai Travel Guide
Recommended Mount Wutai Tours
Top 3 Mount Wutai tours chosen by most customers to explore Mount Wutai in the best way. Check the detailed itinerary, or tailor your own trip now with us.
3 Days Mount Wutai Trekking Tour (Suspended)

Mount Wutai
4 Days Datong Wutaishan Discovery Tour

Datong / Wutaishan
Start planning your tailor-made holiday to China by contacting one of our specialists. Once inquired, you'll get a response within 0.5~23.5 hours.
Customize a Trip
Have a question? Get answers from our travel experts or guests
Your Question:

Your Name:

Your Email: