Taiyuan Maps 2023: Updated, Detailed and Downloadable
Taiyuan is not a popular travel destination compared with its attractive neighbors – like Pingyao Ancient City and Wutai Mountain. However, it offers some worth-going places as well. Besides, as the provincial capital city, it owns Shanxi's only international airport, making it be reached by some international flights and many domestic flights easily. It is a wonderful gateway city to Shanxi's other popular destinations – Datong, Pingyao, Wutaishan and Hukou Waterfall. No matter you want to discover the unique features of Taiyuan, or extend to other destinations, China Discovery has something to offer on the maps of Taiyuan. Check Taiyuan Location Maps, Taiyuan Transfer Maps and Taiyuan Tourist Maps, etc. All the Taiyuan maps are overall, detailed and downloadable. Feel free to use them when planning your Taiyuan China trip!
Taiyuan Location Map – Where is Taiyuan
Taiyuan is located in the central part of Shanxi Province, bordering Xinzhou to north, Yangquan to east, Jinzhong to southeast and Changliang to west and southwest, while Shanxi province is the part of North China, bordering Hebei to the east, Henan to south, Shaanxi to west and Inner Mongolia to the north.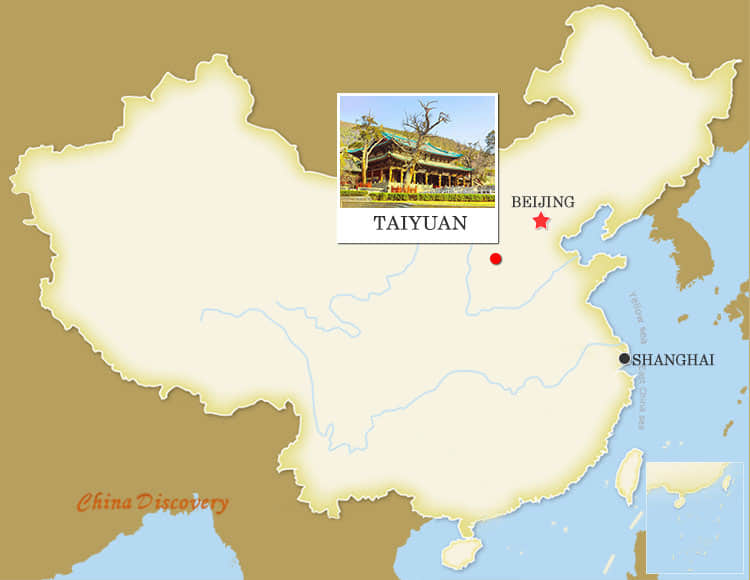 Taiyuan Location Map
Taiyuan Transportation Maps – Get to/around Map
Taking a flight is the most efficient way to get to Taiyuan. There are some international flights to Taiyuan, including St Petersburg (Russia), Bangkok (Thailand), Osaka (Japan), Nagoya (Japan) and Chicago (USA). Almost all China's provincial capital cities and some big cities operate flights to Taiyuan, such as Beijing, Shanghai, Guilin, Chengdu, Chongqing, Hangzhou, Kunming, Xiamen, Xining, Lhasa, Dalian, etc. In fact, if you travel Taiyuan from some domestic cities, high speed train is more recommended. Taiyuan can be reached by high speed trains from Beijing, Xian, Datong, Pingyao, Shengyang, Changchun, etc. Check details at How to Get to/around Taiyuan>
Taiyuan High Speed Rail Map
Taiyuan Tourist Maps – How to Travel Taiyuan
Taiyuan's most attractions (like Shanxi Museum, Yingze Park, Chongshan Temple, etc.) are located in the city area and you can visit them by walk easily. But some attractions (like Jinci Temple and Mengshan Giant Buddha) are located in the suburb and you need to take a bus or call taxi to reach there. Traveling Taiyuan, what you can't miss is Jinci Temple - earliest royal ancestral temple garden building complex in China.
How to Plan a Taiyuan Tour
Best time to visit Taiyuan: April ~ October when the weather is agreeable with comfortable temperature and not much rain.
How to get to Taiyuan: High speed train from Beijing (3 hrs), Xian (3-4 hrs), Pingyao (40min), etc. and flights from Beijing (1.5h), Shanghai (2.5h), Chongqing (2h), Chengdu (2h10min), Wuhan (2h), etc.
It usually needs 1-2 days to cover the highlights of Taiyuan. Most attractions in Taiyuan are cultural and historical sites such as Jinci Temple - earliest royal ancestral temple garden building complex in China, Chongshan Temple - Buddhist temple with precious original sutras, Twin Pagoda Temple - symbol of Taiyuan, Shanxi Museum - rich collections telling the history and achievements of Shanxi in the past thousands of years, and The Coal Museum of China - the only national coal museum showing you the development of Chinese coal industry and culture. Apart from Jinci Temple which is about 26 km to downtown, the other attractions are in city center with convenient transportation.
☛ 2 Days Cultural Exploration in Taiyuan
As an important transfer hub in central Shanxi, Taiyuan is always travelled with other tourist destinations in Shanxi such as Datong (Yungang Grottoes, Hanging Temple), world heritage site Pingyao Ancient City, sacred Buddhist mountain Mount Wutai, and magnificent Hukou Waterfall.
☛ 3 Days Mount Wutai Buddhism Tour from Taiyuan
☛ 3 Days Taiyuan Pingyao Brief Tour
☛ 6 Day Datong Pingyao Tour Plus Wutaishan Visit
If you have more days and want to travel outside Shanxi, it is highly recommended to extend your tour to capital Beijing (Great Wall, Forbidden City), time-honored Xi'an (Terracotta Warriors), and modern metropolis Shanghai (the Bund).
☛ 8 Days Ancient Beijing & Shanxi Culture Tour
☛ 12 Days Historical China Tour with Train Experience
If you have more questions or ideas about a Taiyuan Tour, please feel free to contact us, we are specialized in tailor-made tours according to your interests, budget, itinerary, etc. Just tell us your needs and all your problems will be solved!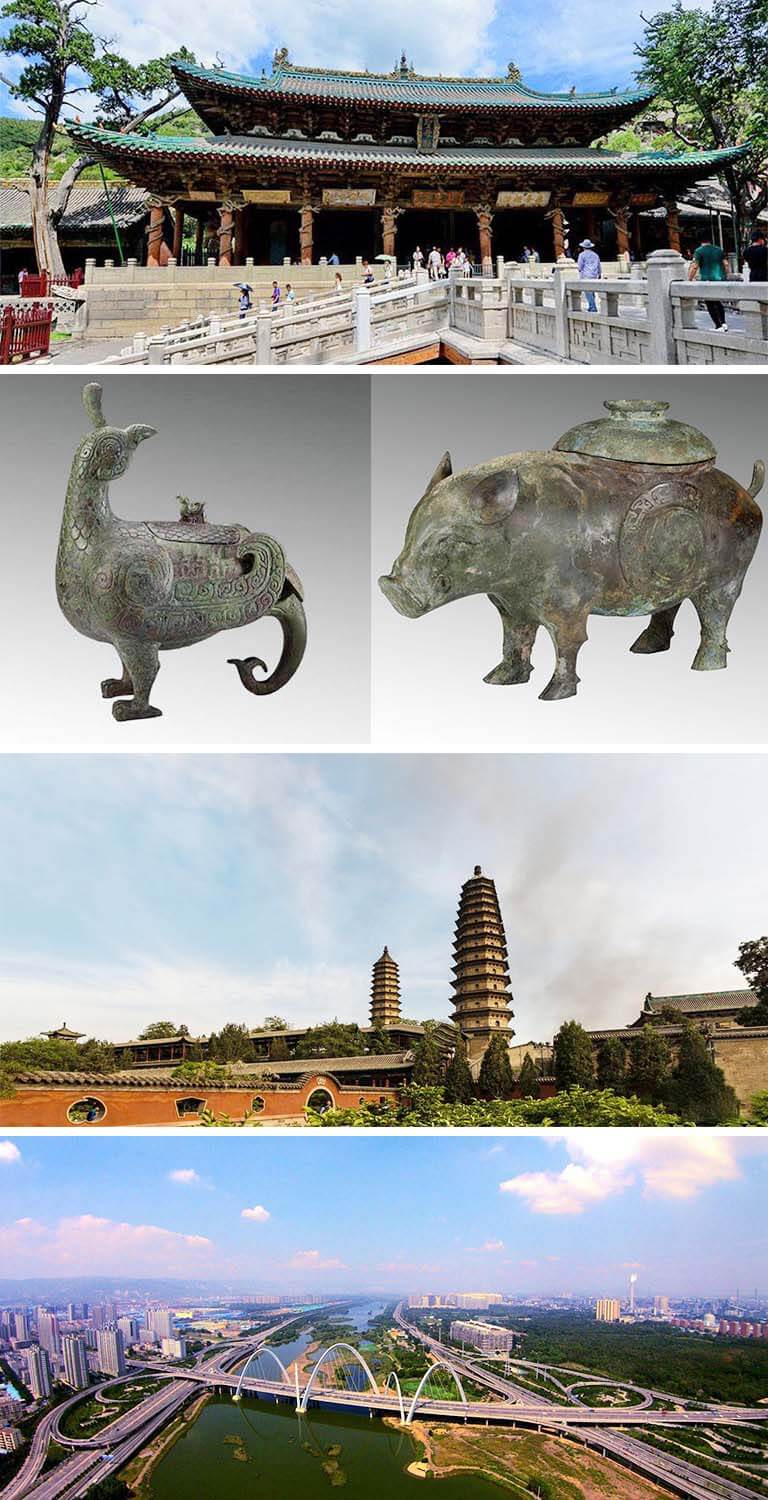 Jinci Temple, Shanxi Museum, Twin Pagoda Temple and Taiyuan City Scenery
More about Taiyuan Travel Guide
Keep Reading about Shanxi Travel Guide
Recommended Taiyuan Tours
Top 3 Taiyuan tours chosen by most customers to explore Taiyuan in the best way. Check the detailed itinerary,or tailor your own trip now with us.
6 Day Datong Pingyao Tour Plus Wutaishan Visit

Datong / Wutaishan / Taiyuan / Pingyao
3 Days Taiyuan Pingyao Brief Tour

Taiyuan / Pingyao