Taiyuan, located roughly in the center of Shanxi, is not the top tourist destination because it is overshadowed by the glories of the nearby UNESCO World Heritage sites, including Datong Yungang Grottoes, Pingyao Ancient City and Mount Wutai as well as awe-inspiring National Heritage site Hanging Temple in Datong. However, it is well worthwhile to spend 1 or 2 days exploring Taiyuan city. With a history of over 2,500 years, Taiyuan was a significant political, military, economic and cultural center in ancient China. Currently, it is also the largest city and the capital of Shanxi. Undoubtedly, you will have lots of cultural and modern attractions to admire in your Taiyuan trip.
Why visit this city:
Informative museums - Local museum is sometimes regarded as the best place to learn about a city's history and culture. There are various museums in Taiyuan, including Shanxi Museum, the Coal Museum of China, Dong Shouping Art Museum, Taiyuan Liberation Museum, Museum of Geology and Mineral Resources, etc. which all tell the charm of Shanxi. Among them, Shanxi Museum and Coal Museum of China are the first-rate ones to help you get a better understanding of Taiyuan and even Shanxi's history and development.
Different kinds of notable temples - Thanks to its long history, Taiyuan nurtured a whole wealth of cultural sites, such as Jinci Temple, Twin Pagoda Temple, Chongshan Temple… As the earliest classical ancestral temple garden building complex in China, Jinci Temple is the biggest highlight of Taiyuan. The pagodas in Twin Pagoda Temple made by bricks are gorgeous as well.
Gateway to other destinations of Shanxi - Owoing Shanxi's only international airport, Taiyuan can be reached by several international flights and many domestic flights. Besides, it is well connected with many cities by high speed rails. Therefore, Taiyuan is a good start point of Shanxi. After your travel in Taiyuan, you can easily reached Shanxi's other tourist destination, like Datong, Pingyao, Xinzhou (Mount Wutai) and Linfen (Hukou Waterfall).
What to See in Taiyuan
From the classic must-see historical sites to local haunts, there are many places to visit. Visiting museums and temples allow you to probe into Taiyuan's history and culture while the local parks are good places to experience the daily life of local people. Read more about Top Attractions in Taiyuan to find more attractions in Taiyuan & around.
Jinci Temple
Jinci Temple is a combination of ancestral temple sacrificial architecture and natural landscape. You can admire many valuable halls, pavilions, exquisite murals and sculptures dating back to hundreds of years ago.
Shanxi Museum
Shanxi Museum, collecting over 500,000 pieces of cultural relics in its 12 basic exhibits and 3 special exhibits, perfectly show the history of achievement of Shanxi through thousands of year. Special exhibits focus on Buddhism, opera, architecture, etc.
The Coal Museum of China
Shanxi is well known for producing coal. In The Coal Museum of China, you can enjoy the scenes of coal production and learn development of Chinese coal industry and culture. Do not miss the science exhibition of "A Tour to the Coal Sea".
Twin Pagoda Temple
Twin Pagoda Temple is famous for its two brick pagodas which were erected during Ming Dynasty (1368~1644). The stone sculptures in the temple makes it an ideal place to appreciate Chinese calligraphy as well.
Chongshan Temple
Firstly built in 1381 during Ming Dynasty, Chongshan Temple is a Buddhist temple housing the headquarters of Shanxi Buddhist Association. Many treasures, like Buddhist sutras and sublime statues are cherished.
Yingze Park
Yingze Park, located in the city center of Taiyuan, is a wonderful place to join the local people and explore the real local city life of Taiyuan. Interesting activities in the park include boating, arcade games, skating, golf, etc.
What to Do in Taiyuan
Apart from the top attractions to see in Taiyuan, you are also available to get some interesting things to do. You are strongly recommended attend Shanxi Taiyuan Folk Art Festival or taste the various kinds of wheaten food inn Taiyuan. Read more about Activities in Taiyuan to find more things to do in Pingyao.
Attend Shanxi Taiyuan Folk Art Festival
If you travel Taiyuan during Shanxi Taiyuan Folk Art Festival, you can be immersed in the happy atmosphere and enjoy the splendid shows, including light show, dragon dance, circus performances, etc.
Taste Local Food and Snacks
Taiyuan wheaten food is the most famous one in Shanxi, with various kinds, long history and respective cooking methods. You could taste sliced noodles, pulled noodles, Mao Erduo, Bo Yu, Jiu Pian and many other types.
Taiyuan Weather and Best Time to Visit
Taiyuan enjoys a continental monsoon climate, with dry spring, warm summer, cool winter and cold winter. The annual average temperature is 9.3°C (48.7°F). Its highest average temperature takes place in July and the lowest average temperature take place in January usually.
Generally speaking, Taiyuan is suitable to travel all the year around because its cultural charm won't be affected by weather. However, if you want to travel in the most comfortable days, the best time is April to October. It is rather cold in winter, especially in January. But if you want to avoid the crowds, winter is a nice choice.
How to Get to Taiyuan
As the capital city, Taiyuan is the busiest transfer hub of Shanxi province. It can be reached from most China's provincial cities easily and offers quick access to the nearby tourist destinations conveniently.
Flights to Taiyuan: Taiyuan Wusu International Airport can be reached by several international flights, including St Petersburg (Russia), Bangkok (Thailand), Osaka (Japan), Nagoya (Japan) and Chicago (USA), and many domestic flights from Beijing, Shanghai, Guilin, Chengdu, Chongqing, Kunming, Xiamen, Hanghzou, Xining, Lhasa, etc.
High Speed Trains to Taiyuan: It is also available to take a high speed train to Taiyuan from Beijing (2.5~3.5 hrs), Xian (3~4 hrs), Datong (2~2.5 hrs), Pingyao (about 0.5 hr), Shengyang (about 7.5 hrs), Hangzhou (about 8.5 hrs) and many other cities.
Where to Stay in Taiyuan
There are enough hotels and hostels in Taiyuan. No matter you want luxury accommodation or budget or comfortable stay, you can find some hotels available. It is strongly recommended to accommodate in downtown area, which offers quick access to the tourist attractions, airport, train stations and shopping areas.
Recommended hotels include World Trade Hotel Shanxi - the first 5-star business hotel in Shanxi with great view rooms, Taiyuan Wanda Vista Hotel – another 5-star hotel featured with excellent facilities and superb service and InterContinental Taiyuan – top rated 5-star hotels at TripAdvisor.
Most-updated and Downloadable Taiyuan Maps
Before your Taiyuan tour, getting a visualized understanding of Taiyuan's geographic location, transfer means and travel routes will make full of your holiday. Here are our updated Taiyuan Maps and download them freely. If you want to get more Taiyuan Location Maps, Taiyuan Transfer Maps and Taiyuan Tourist Maps, check more at All Taiyuan Maps. Check more Taiyuan Maps>
Other Destinations Near Taiyuan
If Taiyuan is the preface of your Shanxi tour, congratulations! Because more cultural splendors and natural beauty of Shanxi await your discovery. You can unveil the mystery of Hanging Temple and admire the ancient grottoes art in Datong, walk into the world over 2,000 years across time and space in Pingyao, pay a homage to Mount Wutai – the first one of China's Five Sacred Buddhist Mountain and get astonished by the world's largest yellow waterfall in Linfen.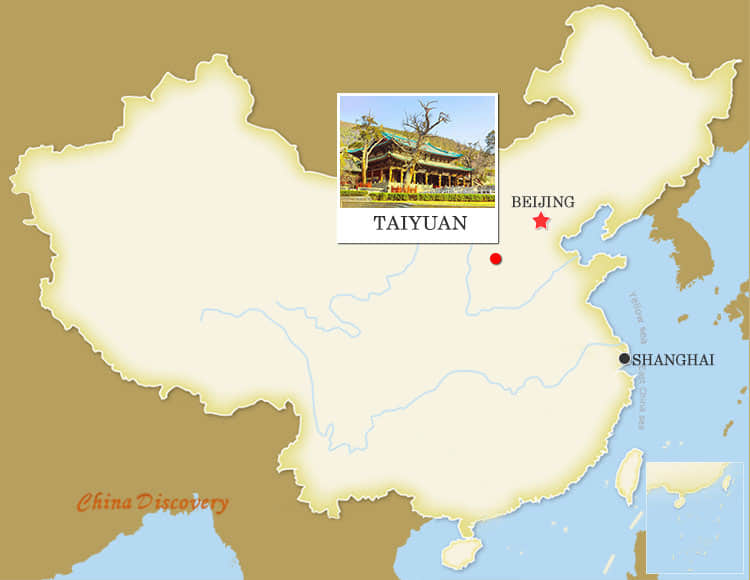 Plan Your Taiyuan Tour
1 ~ 2 days are enough to explore the highlights of Taiyuan, like Jinci Temple, Twin Pagoda Temple, Shanxi Museum, etc. If you want to have an in-depth exploration, you can spend one more day appreciating the cultural charm and local life of Taiyuan. After your Taiyuan journey, we strongly suggest you extend your tour to Pingyao, Datong, Mount Wutai and Hukou Waterfall. Usually 6 ~ 8 days are needed to see all highlights of Shanxi.
Travel with China Discovery
We have helped many global travelers enjoy their memorable wonderful trips to Shanxi for the past few years. Among them, a sweet couple from the UK traveled with us and spent 21 Happy Days in Datong, Pingyao, Mount Wutai, Xi'an and 5 Other Cities in Northern China, and shared us their special travel story!
Moreover, we got more than 1,570+ good reviews on TripAdvisor.com, and over 3,220+ China travel reviews from our customers. Travel with China Discovery to create your great China trip memories!
Recommended Tours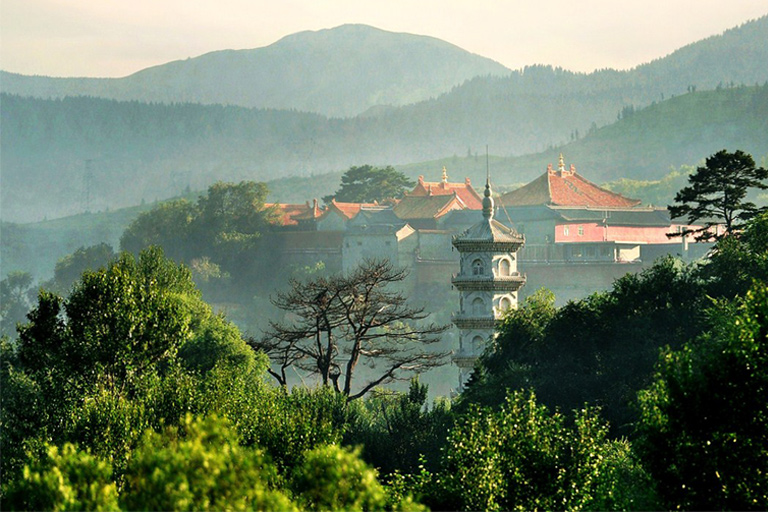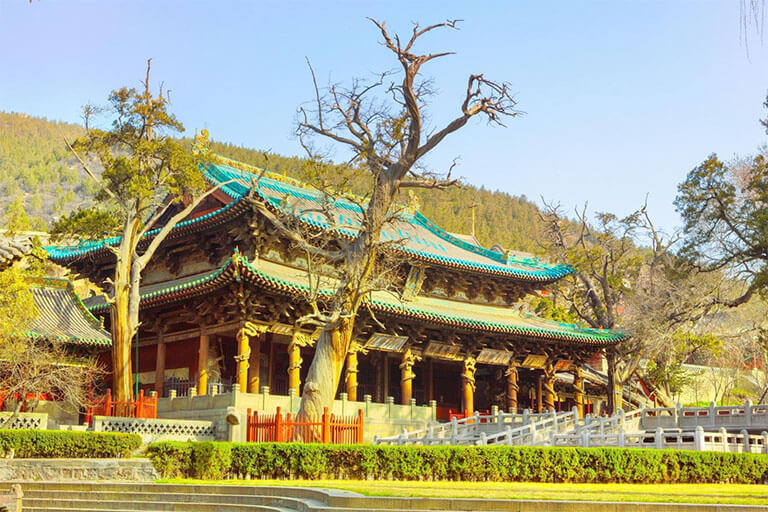 MORE