Recommended 3-Star Hotels & Hostels in Suzhou
Suzhou has always enjoyed the reputation of being a "Heavenly City on Earth". It is worthwhile to spend a couple of days appreciating the gardens, visiting nearby water towns and finding out how the exquisite silk is made.
Searching for the best hotels with good location and reasonable price in Suzhou? Below are listed three kinds of hotels: the luxury 5-star (Pan Pacific Suzhou, Aster Hotel, Tonino Lamborghini Suzhou), the comfortable 4-star (Holiday Inn Youlian Suzhou, Suzhou Central Hotel) and the budget 3-star (Suzhou Garden Hotel, Traveler Inn Gusu Hotel). No matter which hotel you choose, we guarantee you a comfortable stay in Suzhou.
Besides, it is just 2 hours' drive (30 minutes' high-speed train) between Suzhou and Shanghai, if you want a better accommodation, you could accommodate in Shanghai and feel the charm of this modern city.
▶Helpful Link: Where to Stay in Suzhou
Suzhou Accommodation
Suzhou Garden Hotel

Breakfast: Western & Chinese

Add: No.477 Liuyuan Road, Jinchang District, Suzhou, China

Surrounding: Tiger Hill, Lingering Garden, Shantang Street

The main draw of Suzhou Garden Hotel is its location to the Lingering Garden and within walking distance to Hanshan Temple, Maple Bridge and West Garden. The hotel consists of low rise buildings around garden courtyards with rooms arranged around attractive pond and garden areas. The rooms are spotlessly clean with very comfortable beds and pillows and there is a good size bathroom with shower over the bath and large vanity top to place vanity bag and personal items. Free WiFi works perfectly in your room.

"Great location, nice size, very quiet and with an air of peace and comfort," that's the impression left by visitors on tripadvisor.
Traveler Inn Gusu Hotel

Breakfast: Chinese

Add: No.133 Xiangwang Road, Shiquan Street, Canglang District, Suzhou, China

Surrounding: Master of the Nets Garden, Suzhou No. 1 Silk Factory, Suzhou Ancient Grand Canal

Traveler Inn Gusu Hotel is a 3-star budget hotel with 30 years' history. Situated in the charming city of Suzhou, this hotel has pretty good location and transportation. Long stretch of shops and Master of the Nets Garden are within walking distance. And just ten minutes from the Suzhou Railway Station by taxi.

Gusu Hotel has 129 beautifully appointed guestrooms, include four executive suites, sixty standard rooms with twin bed, twenty-nine normal standard rooms with bath and thirty-five business rooms with queen size bed etc. Wi-Fi, air conditioner, laundry service, and 24-hour hot water, etc. are all well prepared for your stay. Much of the original character listed in the building has been retained to present a healthy, relaxing, green, and comfortable environment, making it a good stay in this hotel.
How to Plan Your Travel in Suzhou
How to Get to Suzhou: You can easily get to Suzhou by high speed train from Shanghai (about 0.5 hour), Hangzhou (about 1.5 hours), Nanjing (about 1 hour), Beijing (about 4.5 hours), etc.
Best Time to Visit Suzhou: April to October, especially April and May in spring and September and October in autumn
Generally, a classic Suzhou tour takes about 1~2 days. Visiting Suzhou, you can't miss elegant Suzhou gardens, like Humble Administrator's Garden, Lingering Garden, Master of the Nets Garden, etc. You can choose one or two of them for a great garden delight. Other must-be-visited sights in Suzhou City include Suzhou No.1 Silk Factory from which you can watch the process of silk making from silkworms to elegant products, Tiger Hill which is known as the first sight in Suzhou, Suzhou Museum which is designed by I. M. Pei and Suzhou's old canalside roads (like Pingjaing Road and Shantang Street), etc. If you like Jiangnan watertowns, you can visit Tongli, Zhouzhuang or Luzhi to have a wonderful time.
☛ 1 Day Suzhou City Highlights Tour
☛ 1 Day Suzhou Zhouzhuang Tour
☛ 2 Days Best Suzhou & Tongli Water Village Tour
If you want to explore more about Jiangsu Province, you can travel to Nanjing - the old capital city of 6 ancient dynasties, Wuxi - a beautiful lakeshore city, Yangzhou - old culture center of southern China, etc. Check more about Jiangsu Tours>
☛ 5 Days Jiangsu Tour (Suzhou, Wuxi & Nanjing)
In fact, most people travel Suzhou with Shanghai - the best gateway city to Suzhou, and Hangzhou which has long been on a par with Suzhou since ancient times. Generally, it needs 2~3 days enjoying Shanghai's highlights and another 2~3 days appreciating the poetic beauty. Check more about Shanghai Suzhou Hangzhou Tours>
☛ 3 Days Hangzhou & Suzhou Beauty Tour by High Speed Train
☛ 4 Days Shanghai Suzhou Excellent Tour
☛ 5 Days Shanghai Hangzhou Suzhou Highlights Tour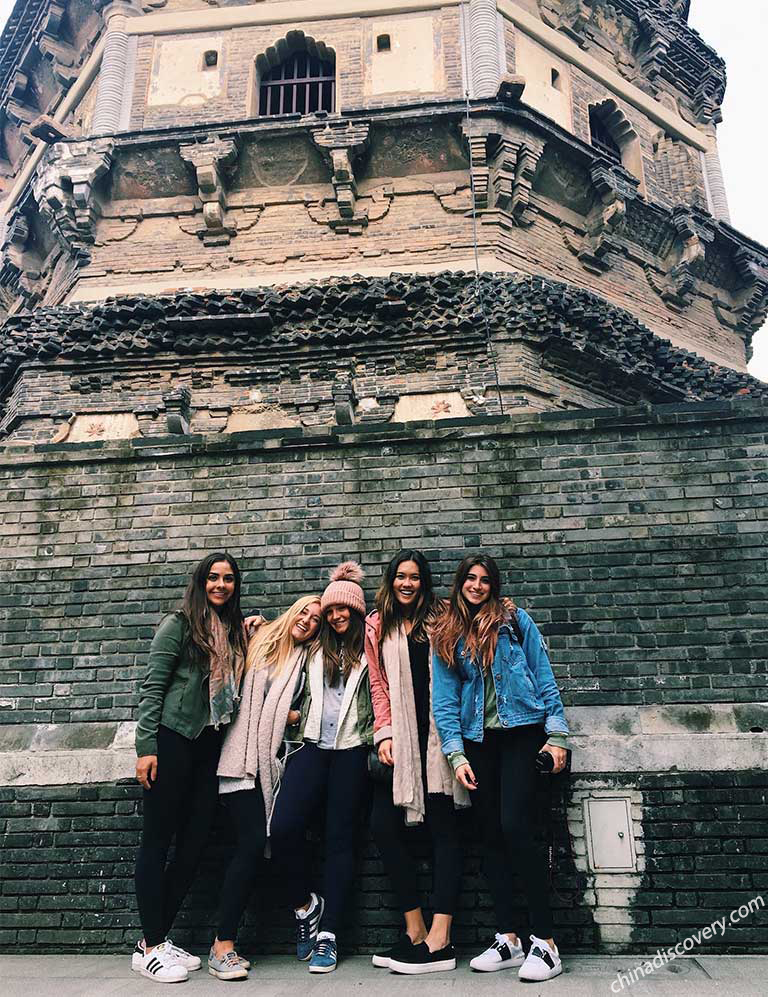 Our Customers visited Tiger Hill, Suzhou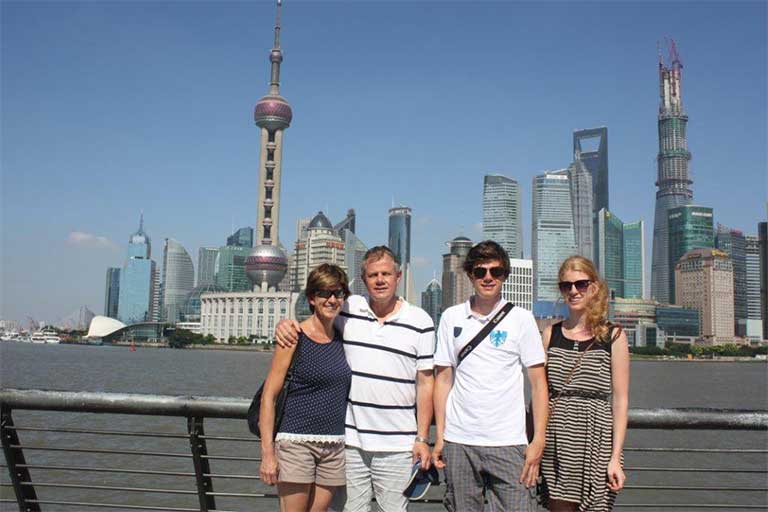 Our Customers visited the Bund, Shanghai
Get Inspired by Real Travel Stories of Our Customers
Since 2012, we have helped numerous customers visit Suzhou and surroundings. With our fully-inclusive private tour packages, all of our customers enjoyed their trips to the exquisite gardens, peaceful watertowns, informative silk factory or museum, old Suzhou streets, etc. Some of them kindly shared their precious photos and stories about their Suzhou journey, just get inspired now.
"We were lucky for being able to watch Chinese dancers at the Lingering Garden at the time of visit…" - shared by Nguyen (Check her The Pursuit of Natural Beauty with the Beloved one - 14 Days Beautiful China Exploring Tour>)
"Suzhou was the real treat at the end of the trip! Everything about Suzhou was perfect…" - shared by Elizabeth from Britain (Check her Long-lasting Memory brought by First Trip to China - 16 Days well-Organized and Wonderful First Visit to China>
Besides the wonderful travel stories, many customers who visited Suzhou with China Discovery also send us their first-hand feedbacks about their trip, feel free to read the Suzhou Reviews and learn what they say about their experience. If you want to start your Suzhou tour now, don't hesitate to contact us.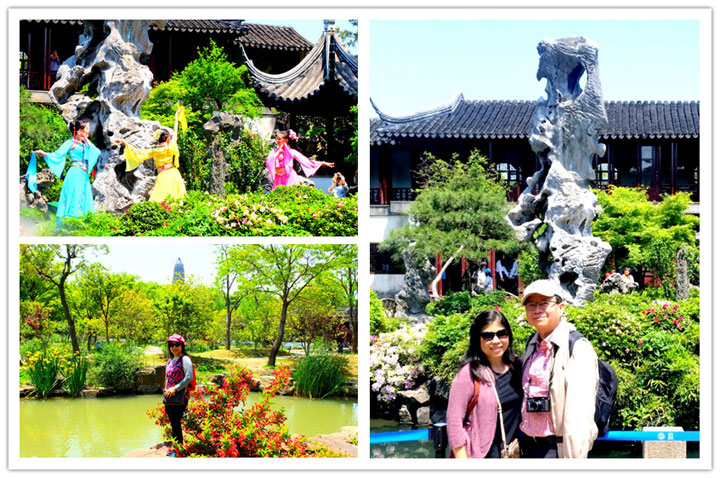 Our Customers Mrs. Nguyen and her husband from Canada visited Suzhou, customized by Wonder Wang
Recommended Suzhou Tours
Top 3 Suzhou tours chosen by most customers to explore Suzhou in the best way. Check the detailed itinerary, or tailor your own trip now with us.
2 Days Relaxing Suzhou Vacation with Tongli Water Town

Suzhou / Tongli Water Town
5 Days Shanghai Hangzhou Suzhou Highlights Tour

Shanghai / Hangzhou / Suzhou / Shanghai