Most Famous Taoist Mountains & Temples in Sichuan
Before Buddhism was introduced into China, Taoism (or called Daoism) played an influential role as a local religion of China with the highest belif of being immortal. You may have heard the famous Taoist master - Zhang Sanfeng and well-known Tai Chi of Taoism. But, do you know that, Sichuan is the birthplace of Chinese Taoism, and Mount Heming in Dayi, Sichuan is where Taoism was officially established. Interested in Chinese traditional Taoism culture? Curious about when Taoism started and who was the famous Taoist master and where Taoism practiced in Sichuan? To get more deeper knowledge and plan your Taoist culture exploration in Sichuan better, please check the following top famous Taoist mountains and Taoist temples in Sichuan. If you are interested in visiting one of them, please feel free to tell us.
Top Taoist Mountains & Temples to Visit in Sichuan
Most mountains in China previously are Taoist shrines before Buddhism was spread in and took place. As the origin of Taoism, Sichuan nowdays still preserves lots of Taoist sites to catch a glimpse of Taoism culture, including Mount Heming in Dayi, Mount Qingcheng in Dujiangyan, Laojun Mountain in Xinjin, Chengdu, Zhenwu Mountain in Yibin, Qingyang Palace and Erxian Temple in Chengdu, Erwang Temple in Dujiangyan, Yuntai Palace in Mianyang, Jinhuashan Palace in Shehong County.
1. Mount Heming - the Birthplace of Taoism
Mount Heming (鹤鸣山), the origin of Chinese Taoism, is in Dayi County, about 70 kilometers from downtown Chengdu and as well as 30 kilometers from Mount Qingcheng. Heming Mountain looks like a crane with its wings unfolded and marveled at the naming of Mount Heming, as He means "crane" in Chinese. Mount Heming is worldwide well-known holy land of Taoism and regarded as "Fairyland of Taoism" and " Birthplace of Taoism ". In Eastern Han Dynasty during the reign of Emperor Shundi (AD 126~144), Zhao Daoling founded the Tradition of the Mighty Commonwealth of Orthodox Oneness, also called Way of the Celestial Masters sect of Taoism which is also known as the way of the Five Pecks of Rice. This school is regarded Laozi as the hierarch and Tao Te Ching as the main classics which marked the foundation of Taoism in Mount Heming. Nowadays, Mount Heming has many historical sites related with Taoism, including Sangong Temple, Wenchang Palace, Taiqing Palace, Xieyuan Pavilion, Eight Diagram Pavilion, Yingxian Pavilion, etc.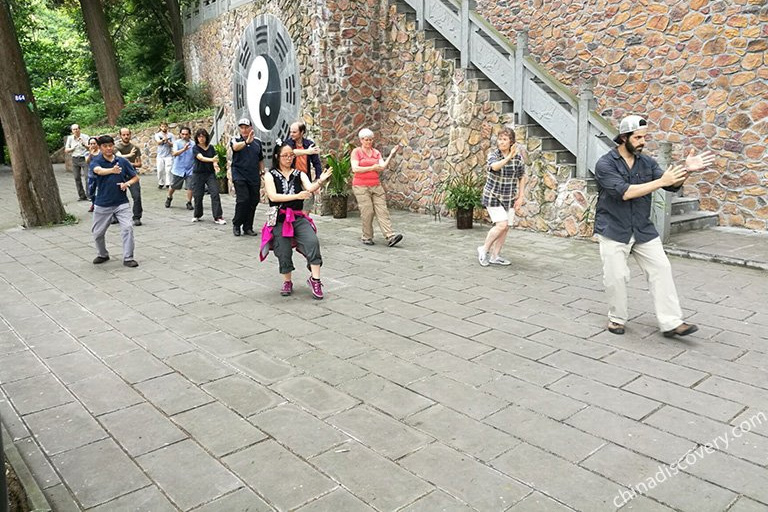 Celestial Master Palace on Mount Heming
Recommended Visiting Route for Taoism Exploration:
Enter into the Arch of Mount Heming which means you are into a land of Taoism. Walk and pass through Yingxian Pavilion which had great relationship with Zhang Sanfeng, the founder of Wudang Sect who came to Mount Heming practice Tao; follow your step to Yanxiang Temple surrounded with old trees and inscriptions, and reach Doulao Palace and Palace of Three Saints which has statues of the Supreme God of Taoism (Tao Te Tianzun), Lu Tungpin, Taichi Master Zhang Sanfeng; visit Celestial Master Palace with the statue of Zhang Daoling inside, explore Shangqing Palace with the statue of the Supreme God of Taoism and lots of inscriptions. If you have more time, have a further exploration to Wenchang Palace, Tiangu Cave. The whole visit takes about half day.
Recommended Taoism Tour with Mount Heming:
√ 3 Days Chengdu, Mt Qingcheng Taoism Tour with Mount Heming
2. Mount Qingcheng - One of the Top Four Taoism Mountains in China
Mount Qingcheng, located in Dujiangyan, about 68 kilometers from Chengdu, is one of the Top Four Taoism Mountains in China, as well as the shrine of Quanzhen Taoism. This mountain regarded as the one of the birthplace of Taoism has a long history over 2000 years. In Eastern Han Dynasty in the year of 143, the Celestial Master Zhao Daoling came to Mount Qingcheng and chose the tranquil place to preach Tao. Hence, Mount Qingcheng became the birthplace of Taoism and listed as "the Fifth Taoist Fairyland". Now, there are about ten Taoist temples well preserved, including Tianshi Cave, Jianfu Palace, Shangqing Palace, Zushi Palace, Yuanming Palace, Laojun Pavilion, Yuqing Palace, Chaoyang Temple, etc.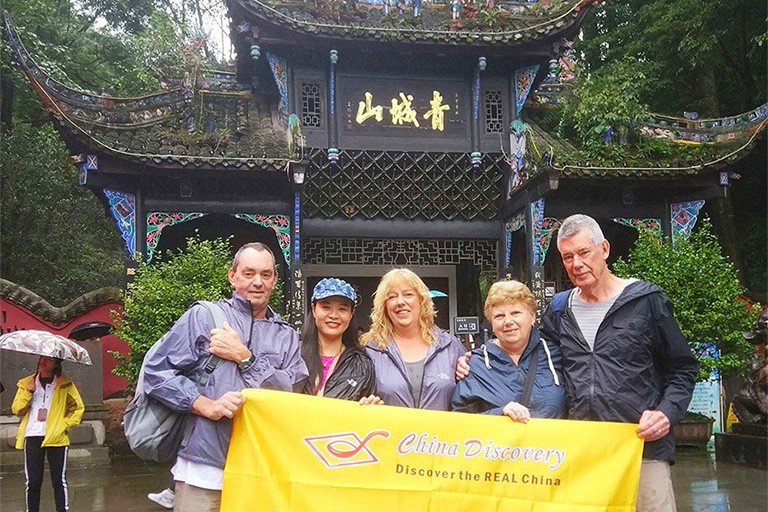 Tourist Entrance of Mount Qingcheng
Recommended Visiting Route for Taoism Exploration:
Stepping into the Arch of Mount Qingcheng, you'll begin your Taoism exploration. If you are a good hiker, you can choose to hike up and take cable car down. If you are lack of physical, you can choose cableway for both up and down. Here are the two different recommended hiking routes for travelers in either Front Mountain or Back Mountain, both needs around half a day separately.
Option 1:Hike Front Mountain with Lots of Taoist Sites
Start from Jianfu Palace and then walk your way up and pass through Rain Pavilion, Celestial Hall of Mount Qingcheng, Nature's Pavilion, Buxu Corridor, Happiness Pavilion, Nature's Painting, Quanzhen Temple, Five Heavenly Caves, Tainshi Celestial Cave, Heat-Appeasing Pavilion, Zushi Temple, Qingxu Pavilion, Chaoyang Ancient Temple. Continue your walking and passing through Donghua Hall and visit Laojun Pavilion at the top of mountain. This is the highest point of Mount Qingcheng. Relax and fresh yourselves for a moment and continue to get down. To save energy and time, travelers can choose to take cableway down. On the way back, you'll visit Sun-viewing Pavilion, Shangqing Palace and Cuiyun Pavilion. Take the cableway at upper station of Buyun Cableway and relax yourselves and absorb the beautiful and peaceful natural scenery all the way till getting down the cable car. Take a relaxing boat across Yuecheng Lake and walk through Stalagmite Peak Hall and Jianfu Palace. This route offers a chance to explore deeply about Taoism and visit many Taoist temples.
Option 2: Enjoy Tranquil Scenery on Back Mountain
Back Mountain has less cultural site but more serene natural sights. Your hiking begins from Taian Ancient Town, and then get to halfway up the hill by a cable car, walk to Youyicun Village and summit. It only takes about half a day for whole trip.
To know more travel information about Mount Qingcheng, like how to get there, best time to visit and travel tips, you can go ahead to our Mount Qingcheng Travel Guide.
Recommended Taoism Tour with Mount Qingcheng:
√ 1 Day Dujiangyan & Mount Qingcheng World Heritage Tour
√ 1 Day Panda Tour with Mount Qingcheng
√ 2 Days Panda Volunteer Tour with Dujiangyan Highlights
√ 3 Days Dujiangyan Tour with Panda Volunteer & Six Arts Experience
3. Qingyang Palace - No.1 Taoist Temple in West China
Qingyang Palace, reputed as the No.1 Taoist Temple in West China, is one of the famous Taoist temples in China. According to the legend, Laozi asked the governor Yinxi (who asked Laozi to write Tao Te Ching) to meet him at Qingyang Palace and preach Tao. Qingyang Palace was first built in Zhou Dynasty (1046~246 BC) and the remained architecture today are from Qing Dynasty. Qingyang Palace has orderly complex which can be divided into sixfold architectures, from Lingzu Palace, Hunyuan Palace, Eight Diagram Pavilion, Sanqing Palace, Doumu Palace to Three Platforms. By visiting the typical Taoist architecture, travelers can have basic understanding about the immortals, like Three Purities – Yuanshi Tianzun, Lingbao Tianzun, Tao Te Tianzun (the Supreme God of Taoism), Doumu Yuanjun, and the Supreme Deity of Taoism…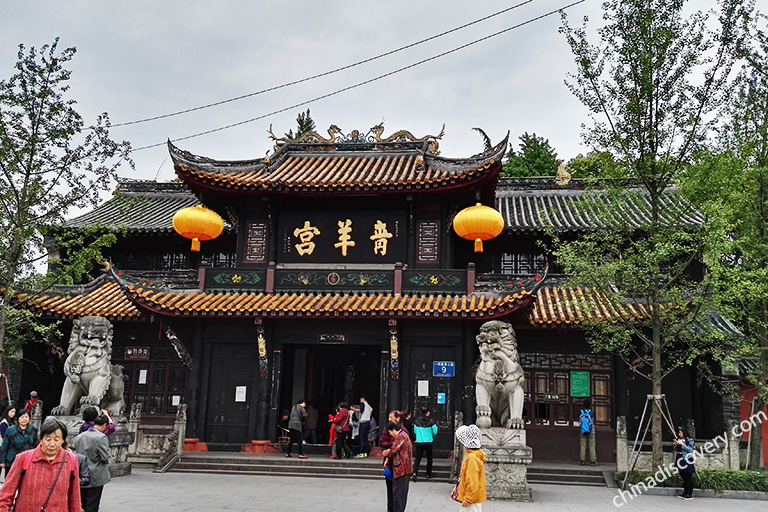 Autumn Scenery of Qingyang Palace Chengdu
The two famous bronze goats are squatted in front of Sanqing Palace which makes the symbol of Qingyang Palace. The goat with single horn contains twelve Chinese zodiac signs – mouse ears, ox body, tiger paw, rabbit back, dragon horn, horse mouth, goat mustache, monkey head, cock eyes, dog belly and pig hip. What's more, Qingyang Palace has collected the precious cultural object "Dao Cang Ji Yao" which is the most complete version in the world, making it the precious material for Taoism study.
To know more travel information about Qingyang Palace, like architecture details, how to get there and travel tips, you can go ahead to our Qingyang Palace Travel Guide.
Recommended Taoism Tour with Qingyang Palace:
√ 3 Days Chengdu Tour with Dujiangyan Highlights
4. Erwang Temple - Taoist Temple as Part of Dujiangyan Irrigation System
Erwang Temple or Two Kings Temple is located at the foot of Yulei Mountain which is part of World Heritage Site of Dujiangyan Irrigation System and Mount Qingcheng. It was first Wangdi Temple built in honor of an ancient Shu king who was relocated and so locals renamed the temple here in memory of Li Bing and his legendary son whom they has posthumously promoted to kings.
The present architecture belongs to the Republic of China (1925) and it has three main folds and 16 folds side halls, including – Two King Hall (contains a modern statue of the god Erlang Shen who was allegedly Li Bing's son), Old King Hall (contains the statues of the couple of Li Bing) and Laojun Palace (contains the statue of Laozi), Chenghuang Hall, Tudi Hall, Yunhuang Hall, Niangniang Hall, Qizi Hall, Dinggong Ancestral Temple, Shengmu Hall, Kuixing Pavilion and Dragon God Hall, etc.
Erwang Temple can be visited after your Dujiangyan Irrigation System tour which helps you know more about Taoism as well as the creators of the irrigation infrastructure built in 256 BC during the Warring States period of China. Find more Popular Dujiangyan Tours >>
5. Erxian Temple - Famous Taoist Temple for Quanzhen Taoism
Erxian Temple or Two Immortals Temple is situated in the east of Qingyang Palace on the north bank of Baihuatan Park, Chengdu. Erxian Temple is a famous Taoist temple which was built in the reign of Kangxi in Qing Dynasty (1662~1722). It belongs to one of the top 10 Taoist temples of Quanzhen Taoism, as well as the birthplace of Bidong Sect of Quanzhen Longmen Taoism. The famous Taoist Chen Jueqing was the first master of Longmen School.
The main architectures of Erxian Temple include Arch, Sanguan Hall, Drum Tower and Bell Tower, Luzu Hall, Two Immortals Hall, Yuhuang Hall, Doumu Hall, Sanhuang Hall, Baishen Hall, Depository of Taoist Texts, guest room, etc. And the most important hall is Luzu Hall which has the statue of Chunyang Master Lu Tungpin, one of the most widely known of the group of deities known as the Eight Immortals.
How to Plan Your Taoism Tour in Sichuan
Depending on your time and travel plan, you can decide to visit one of the above mentioned Taoist mountains or temples, or visit some of them together to get contrast and further understanding of Chinese Taoism. Mount Qingcheng with stunning scenery and many historical Taoist palaces are most recommended to visit. During your Chengdu city sightseeing, it only takes a few hours to tour Qingyang Palace and nearby Erxian Temple. Besides, it's very popular to make a hiking trip on Mount Qingcheng to Front Mountain for about half a day and visit Dujiangyan Irrigation System to learn ancient wisdom. 1 full day is needed to volunteer as a Giant Panda Base in Dujiangyan. If you want to visit Heming Mountain, you can visit Xining Snow Mountain with it for about 1-2 days.
√ 3 Days Chengdu, Mount Qingcheng & Dujiangyan Tour
√ 4 Days Chengdu, Dujiangyan All Bests with Panda Volunteer Tour
Travel Sichuan with China Discovery
China Discovery is an experienced, professional and considerate travel companion based in Chengdu. Travel with us, you can enjoy well-organized tour services in the most convenient way, including the pick-up, local tour guide and drive, thoughtful accommodation, dining and worry-free transportation between each site and the ticket booking, etc. With our help, you can fully focus on the sightseeing journey using the minimum cost of time and energy. According to your itinerary and hobbies, you may choose from our best-selling 3 Days Chengdu & Mount Qingcheng Taoism Tour with Mount Heming or contact us to customize a special one based on your time schedule, budget and personal hobbies.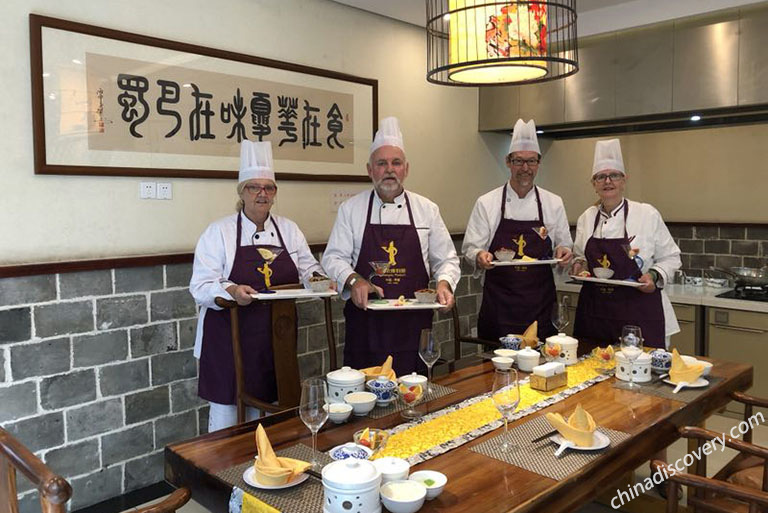 Our Tourists Joined Cooking Class in Sichuan Cuisine Museum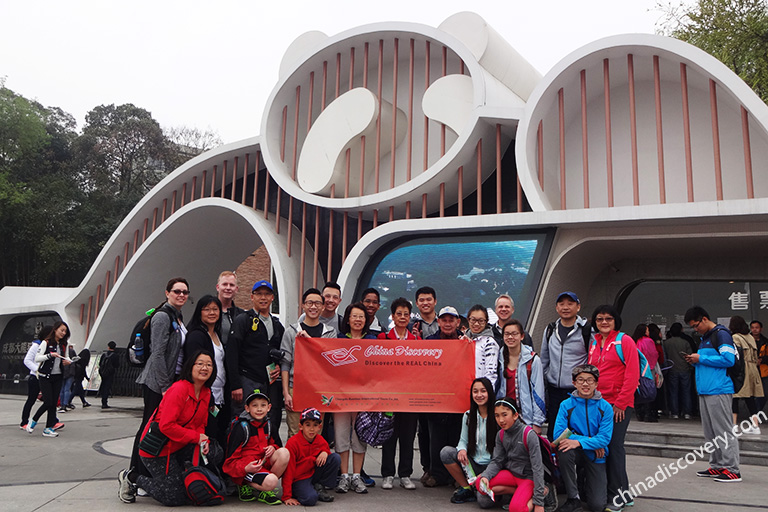 China Discovery Customzied Private Tour to Chengdu Panda Base
Useful Sichuan Travel Guide
Popular Sichuan Tours by Categories
Top City Tours in Sichuan
Recommended Tours
Top 3 tours chosen by most customers to explore in the best way. Check the detailed itinerary, or tailor your own trip now with us.
1 Day Dujiangyan & Mount Qingcheng World Heritage Tour

Chengdu / Dujiangyan / Chengdu
3 Days Chengdu & Mt. Qingcheng Taoism Tour with Mount Heming

Chengdu / Qingchengshan / Dujiangyan / Dayi / Chengdu
3 Days Chengdu, Mount Qingcheng & Dujiangyan Tour

Chengdu / Dujiangyan / Chengdu
Start planning your tailor-made holiday to China by contacting one of our specialists. Once inquired, you'll get a response within 0.5~23.5 hours.
Customize a Trip
Have a question? Get answers from our travel experts or guests
Your Question:

Your Name:

Your Email: