Brief Introduction about Sichuan Museum
Sichuan Museum is a first-class national museum for exhibiting the cultural and historic relics of the profound Sichuan history from more than 5,000 years ago to the Qing Dynasty and the Republic of China. Quantities of precious historical relics are on exhibition in the 15 halls in Sichuan Museum, among which the bronze wares in Ba-Shu era (巴蜀时期), works of the famous national painter Zhang Daqian, portrait bricks and pottery sculptures in Han Dynasty are the most distinguished. Walking on the floor to appreciate these treasures left from ancient period, you will not only praise their beauty of the appearance, but also feel the long history and splendid culture of Sichuan. Located in the "Huanhuaxi Historical and Cultural Scenic Reserve", Sichuan Museum enjoys the best natural sightseeing in the central Chengdu city.
Display in Sichuan Museum
1. The First Floor
Here you can visit the Gallery of Pottery Art in Han Dynasty among the 5 exhibition halls to see the over 200 pieces of cultural relics about the multiple shapes of portrait bricks and pottery sculptures in ancient Han Dynasty.
Gallery of Pottery Art in Han Dynasty
China was in the glorious age in Han Dynasty (202 BC-220 AD), which formed the fertile environment for the development of potteries. At that time, it was prevailing to put the pottery articles into the list of luxuriant burial objects, as a result, we now can admire such kind of historical remains of rich Chinese national colors in Sichuan Museum.
When you step in, you can strongly feel the historical feature of Han Dynasty. The dark spotlights lighting on the potteries and bricks of different shapes, you can clearly see the vivid patterns, like the portrait sculpture, the scene of sowing seeds and harvest, Zigong people getting brine from the salt mine, etc. All the potteries here express people's hope and love for life.
2. The Second Floor
This floor consists of Gallery of Bronze Ware, Zhang Daqian' s Art Gallery, Chinese Painting and Calligraphy gallery, and Gallery of Ceramics.
Gallery of Bronze Ware
Bronze is the alloy of copper and stannum or plumbum, and it is one of the most important parts of Chinese history. Tremendous numbers of valuable bronze wares that are now being exhibiting in Sichuan Museum were found by archaeologists in Sichuan and Chongqing in 1950s, which demonstrates that Ba people and Shu people have reached the highest peak of culture in Ba-Shu era in Sichuan Basin 3,000 or 4,000 years ago.
Gallery of Bronze Ware is divided into five parts to show the 271 units of bronze wares from West Zhou Dynasty to the Warring States period, like various kinds of arms, small models of human beings, vessels, etc. Particularly, a set of chimes with exquisite gold inlaid decoration excavated from Chongqing has a long history of more than 2000 years and still can makes sound now. Also, the representative bronze mask unearthed from the Jinsha Site Museum is one of the "worth-seeing" wares in Sichuan Museum.
Zhang Daqian' s Art Gallery
This is specially designed for exhibiting the precious painting and calligraphic works of the world-renowned painter, Mr. Zhang Daqian. In 1950s, he traveled around the world and has exchanged the experience of painting with the famous abstractionist, Picasso. Endowed with the super talent in Chinese painting, Zhang was bestowed the title of the "Oriental Brush".
Mr. Zhang Daqian is very skilled at landscape, figures, flowers, feathers, birds, fishes, beasts, etc., but he is most excellent in splash-ink and splash-color painting that was invented by him. You can find that his works of these kinds were all in good arrangement and the ink diverse in several distinct levels. Moreover, his paintings of lotus are ingenuous in different styles, like the splash-ink, golden gilt-edged, the boneless, and so on. All lotuses were painted vividly with his own features. Besides, Zhang Daqian is admired for his portraits of ladies. Every lady of different ages is in clear outline elegant clothes and vigorous like a modern woman.
Sichuan Museum is the one that stores most works of Mr. Zhang in China with more than 180 pieces of works of him. Wandering in this hall, you will be fascinated by his facsimile works of the Dunhuang Frescoes in Mogao Caves, like various types of Bodhisattvas in beautiful colors, figure paintings in traditional Chinese costumes, etc. Besides, you can admire the elegant wash painting of young ladies and madams. At the corner of the hall, there is a vivid wax statue of Zhang Daqian who is facsimileing the Frescoes in Mogao Caves with an oil lamp held by his servant.
Front Gate of Sichuan Museum
Portrait bricks in Sichuan Museum
Bronze Chimes in Sichuan Museum
Wax Statue of Zhang Daqian
A Painting of Zhang Daqian
Chinese Painting and Calligraphy Gallery
There are about 120 units of painting and calligraphic works exhibiting in Sichuan Museum, so you can admire the excellent works from Tang Dynasty to recent modern times, including the "Calyx Canthus and Dual Birds" painting(《腊梅双禽图》) by Huizong Emperor in Song Dynasty, the "cool night in virtual pavilion" painting(《虚阁晚凉图》) by Tang Yin (Tang Bohu) in Song Dynasty, and so forth. Every piece of work can make you enjoy the rich and brilliance of Chinese art culture.
Gallery of Ceramics
The world known china was created by our ancestors over 15,000 years ago. This decorative and useful item has acted as the symbol of China to show our glorious culture to the whole world.
The Gallery of Ceramics is themed with the "Art of Clay and Fire" by the organizers in Sichuan Museum. China wares here are classified from the Neolithic period to Qing Dynasty, to show the diverse types of ceramics in each period. Along the gallery, you can see the three-colored figure statues in Tang and Song Dynasty, Blue and White Porcelains, containers, like cups, bowls, plates, in multiple colors, with exquisite patterns on it. The luster on these colorful wares surely makes you amazed at the great skill of Chinese china creation.
3. The Third Floor
Arriving at the third floor, you can visit: Gallery of Tibetan Buddhism, Gallery of Buddha Statues from Wanfo Temple, Gallery of Sichuan Crafts, Gallery of Sichuan Ethnic Culture and Sichuan History Gallery.
Gallery of Tibetan Buddhism
This gallery shows the long history and rich culture of Tibetan Buddhism. Buddhism has been introduced into China for a long time, and as time goes by, Tibetan Buddhism has formed its own style. With the special geographic location, Sichuan is the second largest Tibetan region in China, so abundant Buddhist cultural relics are exhibiting here in Sichuan Museum. All sorts of Buddha statues of standing, sitting, high, short, big, small, thousand-hand, etc. and other precious items are placed here. Walking in this gallery, you can not only feel the development of Buddhism in Tibetan and Sichuan, but appreciate the beauty of these relics as well.
Gallery of Buddha Statues from Wanfo Temple
Wanfo Temple is a famous ancient temple, first built in East Han Dynasty (158AD-167AD) and thriving for over 1,000 years, but destroyed in late Ming Dynasty for the turmoil of war.
Sichuan Museum collected most of the statues that were unearthed in Qing Dynasty later. In this gallery, you can see the statues of delicately carved Buddha and Bodhisattva, heads of Buddha, statue tablets and other building components.
Gallery of Sichuan Crafts
Sichuan Museum selects about 250 pieces of cultural relics to exhibit in this gallery, containing 11 classes of Chinese arts and crafts from Shang Dynasty to Qing Dynasty, like the jade wares, gold and silver wares, bamboo and wood wares, lacquer wares, shadow puppets, Sichuan embroideries, Chinese zithers, etc. Wandering in this gallery, you will find some interesting items, like the duck-shaped candle holder, the grey jade "Ruyi", the lotus- shaped golden bowl, the loom for making embroideries, snuff bottles that are like small medicine bottles, etc.
Gallery of Sichuan Ethnic Culture
In this gallery that is specially arranged for the introduction of national minorities in Sichuan, has more than 200 items on exhibition selected from the storing over 7,000 items in Sichuan Museum. Here you can find the distinctive costumes and ornaments of the straightforward Tibetan people, the plain Qiang people, the simple Miao people, and other 11 minorities living in Sichuan region. Moreover, you can see their instruments, daily necessities, arts and crafts, tools, etc. in their own styles. Through the colorful exhibition of these minorities, you can feel the respectable characteristic of each one, and will be marbled at the diversity and inclusiveness of cultures in Sichuan.
Sichuan History Gallery
Sichuan Museum reproduces the striving history of the recent 100 year of Sichuan people by exhibiting 300 photos, more than 200 historical relics, and material words.
According to the historical facts, the gallery is divided into three parts. You can see the old newspaper and reports presenting the major events within the recent 100 years, like the Railway Project Crisis, the Red Army's Long March, and so on. Besides, you can find the portraits of famous people in that period, like Sun Zhongshan, the founder of Republic of China, Zhan Tianyou who is the great leader for the construction of Jingzhang railway, etc. Every part tells the painstaking process in Sichuan and shows the fortitude of Chinese people.
A Painting of Birds in Sichuan Museum
Beautiful Ceramics in Sichuan Museum
A Buddha statue in Sichuan Museum
Embroidery in Sichuan Museum
Ethnic Cotumes in Sichuan Museum
Recommended Route to Visit Sichuan Museum
Enter the gate of Sichuan Museum on the second floor and go down to the first floor to visit the Gallery of Pottery Art in Han Dynasty. Then, take the escalator up to the second floor and enter the Gallery of Ceramics to appreciate the exquisite ceramic wares. Go into the Zhang Daqian' s Art Gallery to admire the wax statue and the super talent of paintings of Mr. Zhang. Next, enter the Gallery of Bronze Ware to see those precious bronze wares of long history. And then, go to Chinese Painting and Calligraphy Gallery to enjoy the traditional skillful painting and calligraphic works of famous people. Take the escalator to the third floor to see the golden Buddha statues in Gallery of Tibetan Buddhism and stone inscriptions of Buddha in Gallery of Buddha Statues from Wanfo Temple. Then, appreciate the beautiful works in Gallery of Sichuan Crafts and the special costumes and other items of 14 minorities in Gallery of Sichuan Ethnic Culture. Finally go to Sichuan History Gallery to feel the recent 100-year history of Sichuan. (For about 2-3 hours)
>> 4 Days Chengdu History & Culture Tour with Panda Base
Available Service in Sichuan Museum
Parking Lot: parking places are provided on the ground of Sichuan Museum, for fee.
Cloak-room: digital cloak-rooms are provided near the gate on the second floor, so visitors can store their personal belongings for free if they do not want to bring in, especially for the large belongings.
Explanatory guide: Sichuan Museum provides the service of tour description in English, French, German, Italian, Japanese, Korean, etc.
Voice guide: input the relevant numbers in front of the main relics into the guide machine, you can get the guidance.
Rent-for-free service: Sichuan Museum provides the service for visitors to rent baby trolleys, wheelchairs and umbrellas.
Barrier-free facilities: there are the slopes suitable for wheelchairs on one side of the stairway, and 4 elevators in Sichuan Museum.
How to Get to Sichuan Museum
Sichuan Museum is located about 5km west of Tianfu Square, so it's quite easy and convenient to get to the museum from downtown area. You can use public transportation to get there, such as take a city bus, a taxi or the subway.
By Subway: Take Chengdu Metro Line 2, or Line 4, or Line 5, get off at Chengdu University of TCM & Sichuan Provincial People's Hospital Station (中医大省医院站), walk about 20 minutes (1.5km) to Sichuan Museum.
Get to Sichuan Museum by Private Tour (Top Recommended)
If you want to get rid of hustle of public transportation and troublesome navigation, you can book a private tour package from China Discovery which covers sightseeing, dining and transfer from us. Our local tour guide and driver will escort you to Sichuan Museum and other tourist attractions with speed and convenience, and take care of all the details. You just need to focus on sightseeing.
Click to Enlarge the Map of Sichuan Museum
Attractions Near Sichuan Museum
Sichuan Museum is a good cultural site to learn the culture and history about Sichuan. To catch more essence of Chengdu, there are popular spots nearby you can visit together.
● Dufu Thatched Cottage: It is the former residence of China's great poet - Du Fu, who wrote lots of famous poems during Tang Dynasty. Visiting the cottage helps you know more about Chinese poetry and past story about the poet and enjoy a quiet ambient with the old-style buildings. (about 700m/10 minutes by walk)
● Jinsha Site Museum: Jinsha Site Museum is a national first-class museum with huge collection of relics. It has close ties with the Sanxingdui civilization still unsolved. (about 5km/15 minutes by car)
● Qingyang Palace: It's a famous Taoist temple in China and Sichuan, where you can see delicated featured architectures, Taoist daily life. Also there are valuable Taoist literature kept inside the temple. Drop by if you are interested in Chinese Taoism. Better hire a tour guide. (about 1km/15 minutes by walk)
Dufu Thatched Cottage
Qingyang Palace
Useful Tips for Visiting Sichuan Museum
You need to bring your valid identification, such as your passport to get the free admission.
Food and drinks are not allowed to bring in.
Pets are not allowed to bring in.
Most exhibits are noted in Chinese, very few in English. You can rent headphone English guide from the tourist center.
After visiting Sichuan Museum, it is recommended to go to Qingyang Palace, Shu Brocade and Embroidery Museum, Dufu Thatched Cottage, Jinsha Site Museum and other landmarks of Chengdu. Of course, the cute pandas in Chengdu Research Base of Giant Panda Breeding is the top 1 must-go for all visitors.
How to Plan a Chengdu Trip with Sichuan Museum
Chengdu is most known as "the Land of Abundance" in China, with three most representative brands: Giant Panda, leisure life and delicious food. Actually, there are more charm hidden in and around Chengdu, including the "Three Kingdom Culture", Sanxingdui civilization, brilliant UNESCO World Herigates. Once you come to Chengdu, you don't want to leave after you really into it.
During your Chengdu city tour, you can visit the Chengdu Panda Base in the morning to see the cute pandas, and visit other attractions in downtown, such as Renmin Park, Jinli Old Street, Kuanzhai Alley, Jinsha Site Museum, Chunxi Road, etc. Like local experience? Try a afternoon tea time in Renmin Park, or watch a Sichuan Opera Show in Shufeng Yayun Opera House, enjoy a cooking class in Sichuan Cuisine Museum. Your Chengdu tour can be interesting and relaxing.
★ Recommended Chengdu Tours :
With more time, travel beyond the city center to nearby Leshan to wacth Leshan Giant Buddha and hike the Mount Emei, even you can go further to northwestern Sichuan to Jiuzhaigou Valley and western Sichuan for less-tourist but amazing beautiful scenery. China is vast and rich land, which offers a great variety of great destinations to travel with Chengdu. Therefore, you can expand your trip to Beijing - capital of China, Shanghai - modern metropolis, and Xian - time-honored ancient capital to have a deeper understanding of China.
★ Recommended Tours including Chengdu:
√ 7 Days Sichuan Discovery Tour (Chengdu / Leshan / Emei / Chengdu / Jiuzhaigou)
√ 7 Days Ancient China Tour with Panda (Beijing / Xian / Chengdu)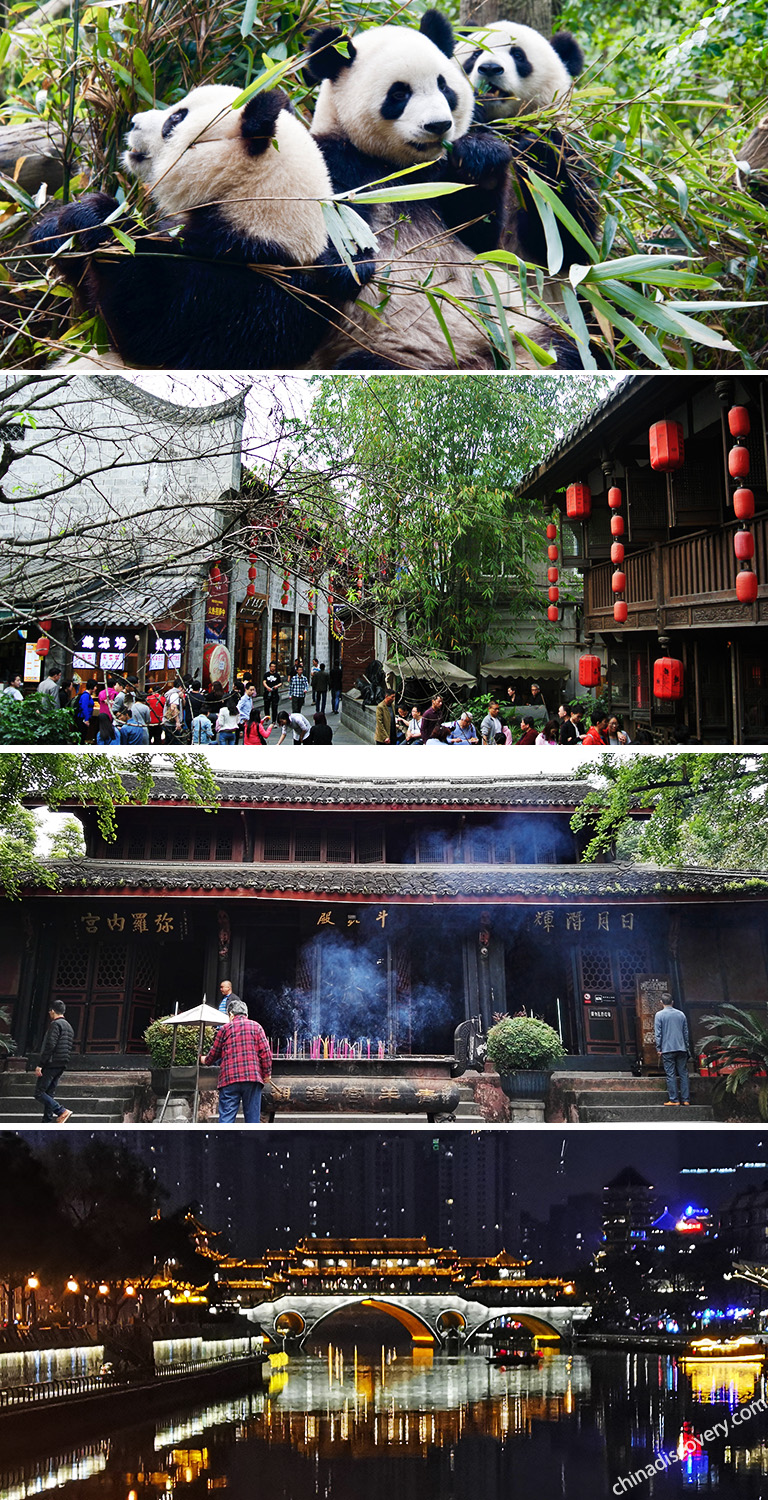 Chengdu Attractions
Top Attractions in Chengdu
Useful Chengdu Travel Guide
Recommended Chengdu Tours
Top 3 Chengdu tours chosen by most customers to explore Chengdu in the best way. Check the detailed itinerary, or tailor your own trip now with us.
2 Days Leisure Chengdu Private Tour with Panda Visit

Chengdu: Jinli Street, Giant Panda Base, Wenshu Temple
3 Days Chengdu Highlights Tour plus Leshan Giant Buddha

Chengdu: Chengdu Panda Base, Leshan Giant Buddha, Jinli Street
Start planning your tailor-made holiday to China by contacting one of our specialists. Once inquired, you'll get a response within 0.5~23.5 hours.
Customize a Trip
Have a question? Get answers from our travel experts or guests
Your Question:

Your Name:

Your Email: