Mount Siguniang Maps, Maps of Siguniangshan
Mount Siguniang (or called Siguniangshan or Four Sisters Mountain) Scenic Area, as its name implies, is a tourist destination with four mountains. With reputations of "Oriental Alps" and "China's closest beautiful snow mountains to big cities", these four scared mountains have driven domestic and overseas tourists crazy! Trekking enthusiasts are crazy about its summits, while nature lovers are drawn into its fantastic beauty without any man-made polish.
To help global visitors better navigate the amazing Mount Siguniang, here we offer useful English maps, including location maps, tourist attractions maps, trekking maps, Chengdu to Mount Siguniang map, etc. Browse and download these latest helpful maps to better plan your Mount Siguniang tour!
Mount Siguniang Location Maps - Where is Mount Siguniang on Map?
These four sublime mountains of Mount Siguniang standing side by side are located in southwest China's Aba Tibetan Autonomous Prefecture of Sichuan Province, within 205km driving distance from Sichuan's capital city Chengdu.
You can get more location info of Mount Siguniang by checking the following Mount Siguniang China Map, Mount Siguniang Sichuan Map and Mount Siguniang Western Sichuan Map.
Mount Siguniang Tourist Maps - Attractions in & around Mount Siguniang
The Siguniangshan Scenic Area consists of four sacred mountains and three picturesque valleys. Tourists to Mount Siguniang are mainly for the unbeatable snow mountain climbing experience it can provide and the splendid natural views of pure highland lakes, peaks and forests there.
Four Mountains of Mount Siguniang:
Da Feng (or known as Big Peak or 1st peak) - the lowest of the 4 peaks, with an altitude for about 5,355m.
Er Feng (or known as 2nd peak) - higher than Dafeng but lower than San Feng and Yaomei Feng among the 4 peaks, with an altitude of about 5,454m.
San Feng (or known as 3rd Peak) - higher than Erfeng and Dafeng but lower than Yaomei Feng among the 4 peaks, with an altitude of about 5,664m.
Yaomei Feng (or known as 4th Peak or queen of Sichuan's mountains) - the highest of the 4 peaks, with an altitude for about 6,250m.
Three Valleys of Mount Siguniang:
Shuangqiao Valley (or known as Two-bridges Valley or Shuangqiaogou) - the only valley in Mount Siguniang that can be visited with the help of sightseeing buses all the time.
Changping Valley (or known as Changpinggou) - most popular hiking paradise in Mount Siguniang.
Haizi Valley (or known as Haizigou) - mostly famed for the beautiful highland lakes and its standout location on the way to hike up to the summits of Dafeng and Erfeng.

Check the latest tourist maps below to know the attractions, trekking routes and campsites in Mount Siguniang, including Mount Siguniang Tourist Map, Mount Siguniang Trekking Map, etc.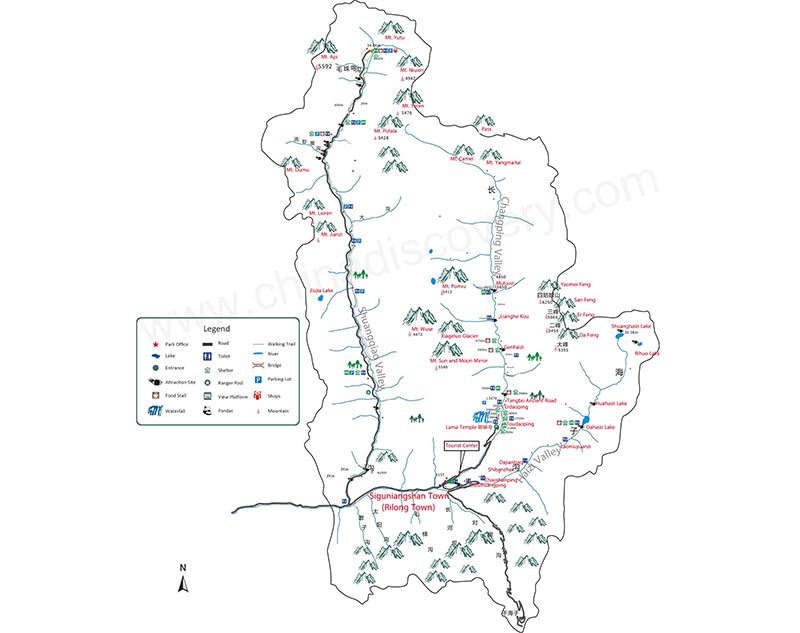 Click to Enlarge Mount Siguniang Tourist Map
Mount Siguniang Transportation Map - How to Get to & around Mount Siguniang
Since Mount Siguniang sits far from any high-speed rail or air route, tourists to travel Mount Siguniang usually choose to visit the capital city of this area - Chengdu first, and then getting from Chengdu to Mount Siguniang by private car or long distance coach.
Get more detailed transportation info of Mount Siguniang from the Chengdu to Mount Siguniang Map below.
Click to Enlarge Chengdu to Mount Siguniang Map
How to Plan a Mount Siguniang Tour?
Before planning a tour to Mount Siguniang, you are suggested to ask yourself what drive you to visit it first. Is its amazing natural beauty or challenging snow mountain trekking experience? The itinerary arrangement and time needed of a Mount Siguniang Tour vary a lot for visitor with different interests.
If you are attracted by its stunning natural surroundings and are going to have a nature exploring tour in Mount Siguniang, you are suggested to spend 2~3 days there to feast your eyes. Shuangqiao Valley is the best advice for a leisure nature tour!
And for visitors who are knee on hiking and snow mountain climbing, at least 3 days are needed! Challenging yourself on one of the various trekking routes in Mount Siguniang according to your physical fitness and interest, and that will be your once-in-a-lifetime exciting experience.
>> 4 Days Mount Siguniang Classic Hiking Tour
>> 4 Days Mount Siguniang In-depth Tour with Wolong Panda Visiting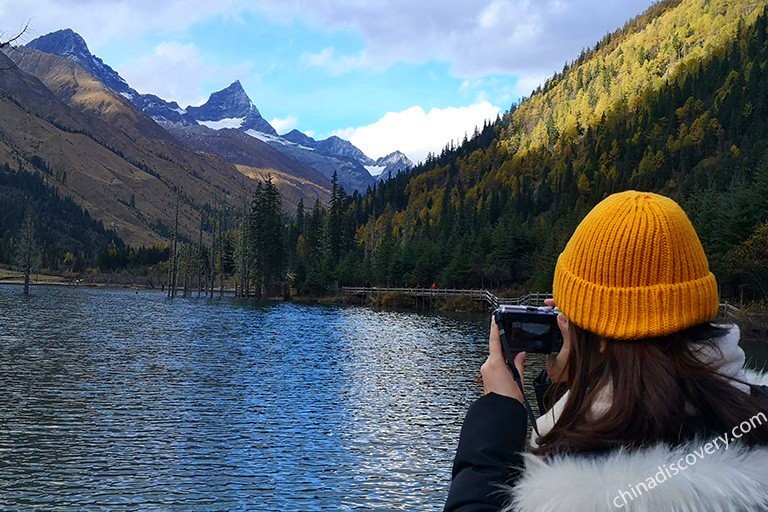 A Corner of Shuangqiao Valley
Travel Mount Siguniang with China Discovery
Looking for the best transportation, trekking route, hotel and English-speaking guide for your Mount Siguniang tour? Travel with China Discovery, and then you can get rid of all the hassles! Our experienced travel consultants can take care of everything for you. Besides the trip planning and hotel selecting, your guide can also give you professional help of how to avoid or alleviate altitude sickness!
The tour can be tailor-made according to your group size, interests, physical condition, time, plan, budget and every special need. Please feel free to contact us if you need any help!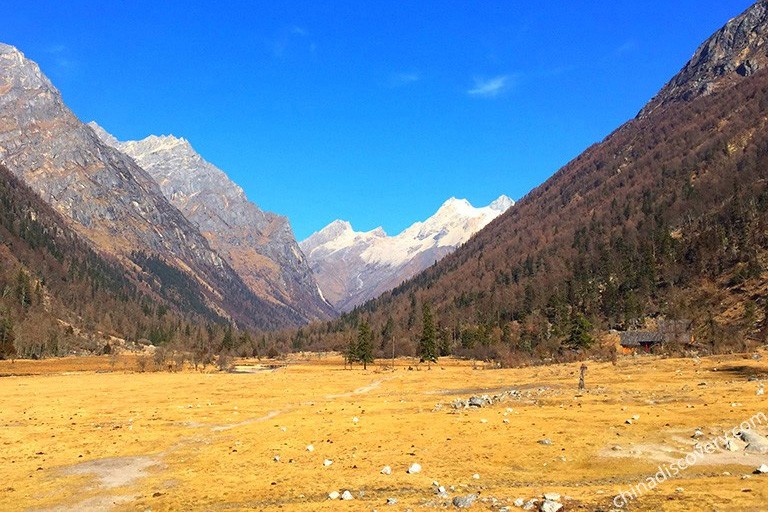 Changping Valley Trekking
Keep Reading on Mount Siguniang
Read More about Western Sichuan Small Tourist Loop
Other Useful Sichuan Travel Articles
Recommended Mount Siguniang Tours
Top 3 Mount Siguniang tours chosen by most customers to explore Mount Siguniang in the best way. Check the detailed itinerary,or tailor your own trip now with us.
4 Days Mount Siguniang Classic Hiking Tour

Chengdu / Dujiangyan / Siguniangshan / Chengdu
7 Days Western Sichuan Small Loop Tour

Chengdu / Dujiangyan / Mount Siguniang / Danba / Tagong / Xinduqiao / Hailuogou / Chengdu
6 Days Western Sichuan Autumn Sightseeing Tour

Chengdu / Wolong / Mount Siguniang / Danba / Tagong / Xinduqiao / Kangding / Chengdu