How to Get from Shanghai to Great Wall of China 2023
The Great Wall is the most iconic tourist attraction of China, which includes numerous different sections scattered in 16 provinces, cities, and autonomous regions, and most of these sections are located in the north of China, such as Beijing, Hebei, Shandong, and Tianjin, while Shanghai is in the southeast of China with no great wall sections around and there is no Great Walls in and around Shanghai. Among all the different great wall sections, the great walls in the suburban Beijing are the most representative and best-preserved ones, such as Mutianyu Great Wall, Badaling Great Wall, Juyongguan Great Wall, Simatai Great Wall, Jinshanling Great Wall, etc. To see the Great Walls of China, travelers need to get to Beijing first and transfer to the suburban areas from Beijing downtown.
Step 1: Get from Shanghai to Beijing
About 1200km away from Beijing, Shanghai lies on the east coast of China, while the capital Beijing is situated in northern China. Due to the long distance between the two cities, travelers can get from Shanghai to Beijing by air and high-speed train.
Shanghai to Beijing by Air
As the busiest metropolises and top tourist destinations in China, Beijing and Shanghai operate more than 50 flights every day. With the duration of about 2.5 hours for most direct flights, these flights to Beijing usually depart from Shanghai Pudong International Airport and land at Beijing Daxing International Airport / Beijing Capital International Airport. 
♦ Read More: Real-Time Flights Schedules from Shanghai to Beijing
Shanghai Pudong International Airport (上海浦东国际机场)
• Location: No. 6000, Yinbing Road, Pudong New Area, Shanghai (上海市浦东新区迎宾大道6000号)
Shanghai Hongqiao International Airport (上海虹桥国际机场)
• Location: No. 2250, Hongqiao Road, Changning District, Shanghai ( 上海市长宁区虹桥路2550号)
Beijing Daxing International Airport (北京大兴国际机场)
• Location: Daxing District, Beijing & Guangyang District, Langfang City, Hebei (北京市大兴区礼贤镇、榆垡镇及廊坊 市广阳区交汇处)
Beijing Capital International Airport (北京首都国际机场)
• Location: Jichang West Rd, Chaoyang District, Beijing (北京朝阳区机场西路)
Shanghai Beijing Transfer Map
Shanghai to Beijing by High Speed Bullet Train
So far (2021), Shanghai operates over 40 bullet trains from Shanghai Hongqiao Railway Station to Beijing South Railway Station with a duration of 4.5-6.5 hours. Every day, the first high-speed train usually departs at around 6:30 am and the last train leaves at around 7:00 pm. Besides high-speed bullet trains, there are also few normal trains. Since the normal trains take about 15 hours ~ 16 hours to travel from Shanghai to Beijing, they are less recommended.
Shanghai Beijing High Speed Rail Map
Step 2: Get from Beijing to Great Walls
The Great Wall that opens to the public mainly refers to the Great Wall built in the Ming Dynasty (1368AD - 1644 AD), which is divided into different sections and named according to its location. The most frequently visited Great Wall sections include the most popular Mutianyu Great Wall, the most famous Badaling Great Wall, and the most romantic Simatai Great Wall, the longest Jinshanling Great Wall, the steepest Jiankou Great Wall, and the Lakeside Huanghuacheng Great Wall, etc.
Most of the Great Wall sections mentioned are located in the northern suburban area of Beijing and far away from the downtown area. For example, the Mutianyu Great Wall is 74km (about 2 hours by car) from Beijing City Center (Tiananmen Square), and the Jinshanling Great Wall is about 154km (about 3 hours by car) away from Beijing central area. Except for the popular great wall sections like Badaling Great Wall and Mutianyu Great Wall, other great walls have No regular and direct public transportation lines to access. Though they are hard to reach, with fewer tourists, these Great Walls are the true essence of the Great Wall in China with their natural wildness and magnificence. To reach these Great Walls, the best way is to take a taxi (might be expensive) or charter a private car.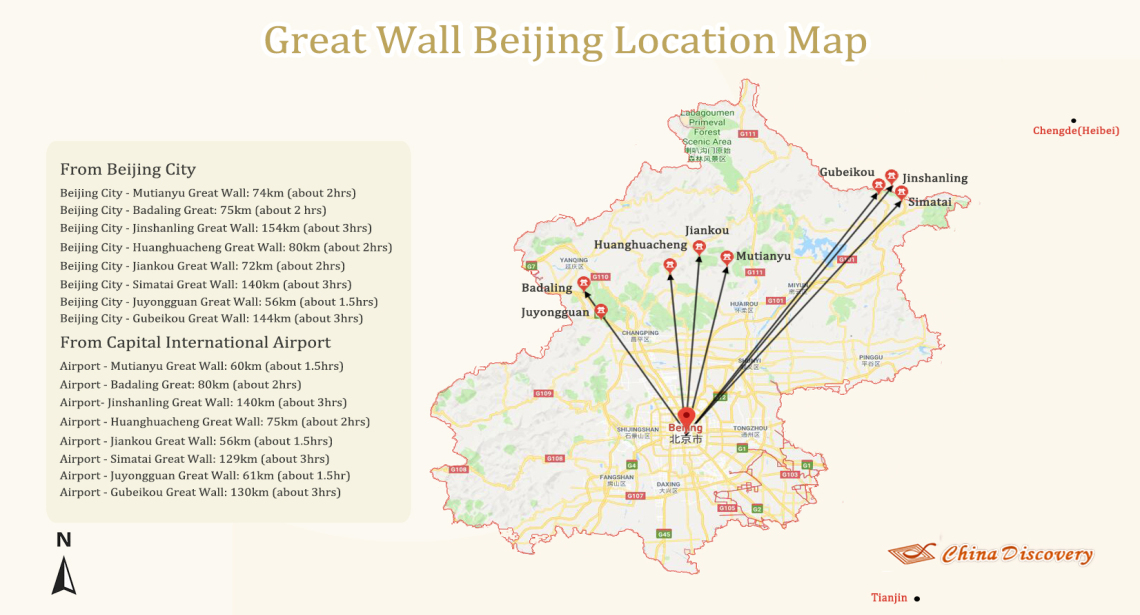 Great Wall Beijing Location Map
For independent travelers who have the capability of using Mandarin Chinese, you can either charter a car to the great wall or take a bus there. Most of the great wall sections are connected by tourist bus departing from Dongzhimen Wai Bus Station, and Dongzhimen Wai bus station is located in the city center area and easily accessible by taxi and bus. However, please note some certain tourist bus lines to the great wall might be shut down during the cold off-season. Also, please be careful about your safety issues for visitors hiking on the steep and wild sections. Once an emergency happens, it might be hard for the rescue team to reach you.
♦ Useful Link: Which Section of Great Wall to Visit?
How to Plan a Great Wall Tour from Shanghai
Known as an important gateway city to China, Shanghai is a top tourist destination in China. Usually, you can spend 2 to 3 days sightseeing in Shanghai, including the Bund, Shanghai Museum, Shanghai World Financial Center, Yu Garden, Nanjing Road, Tianzifang, Zhujiajiao Water Town, and a popular site for family and kids - Shanghai Disneyland.
✔ 2 Days Classic Shanghai City Tour
✔ 3 Days Shanghai Past and Present Contrast Tour
✔ 3 Days Shanghai Highlights & Zhujiajiao Water Town Tour
Travel from Shanghai to Beijing
Taking a bullet train or flight, you can easily get from Shanghai to Beijing, the best city to see great walls. There are many great walls in suburban Beijing and its surroundings offering you marvelous views, including Jinshanling Great Wall, Mutianyu Great Wall, Jiankou Great Wall, Badaling Great Wall, and Simatai Great Wall. Roaming on the romantic Simatai Great Wall by Gubei Water Town, trekking on the steep mountain ridge of the wild Jiankou Great and the near section of the well-preserved Mutianyu Great Wall, admiring the famous and renovated Badaling Great Wall, going further to the most magnificent and longest section - Jinshanling Great Wall, you can encounter different highlights of each section and commemorate the man-made wonder. In about 2 to 3 days, you can fully experience the famous great walls. If you have more days, you are also recommended to explore other must-visit attractions in Beijing, such as the Forbidden City, Summer Palace, the Temple of Heaven, and More!
✔ 4 Days Classic Beijing Tour Package (Mutianyu Great Wall)
✔ 4 Days Beijing Essence Tour with Simatai Great Wall Night Sightseeing
✔ 6 Days Classic Beijing Tour with In-depth Great Wall Experience (Jinshanling & Simatai Great Wall)
✔ 7 Days Shanghai Beijing Essence Tour (By High Speed Train)
✔ 6 Days Shanghai Beijing In-depth Tour (by Flight)
Travel Beijing, Shanghai, Xian & More China Destinations
Travel with China Discovery
As a leading travel agency in China, China Discovery has helped thousands of travelers enjoy their trips to Shanghai, Beijing, Xian, etc., in China. Travel with us, you can enjoy worry-free tour services as well as well-organized itineraries, assistance on Chinese Visa application, convenient airport/train station pick-up & drop-off and transfer between all scenic spots, knowledgeable tour guide, safe & licensed private vehicle, satisfactory accommodation, and dining and so on. You are free to choose from our most popular Beijing Shanghai tour packages or contact us to design a memorable holiday in China.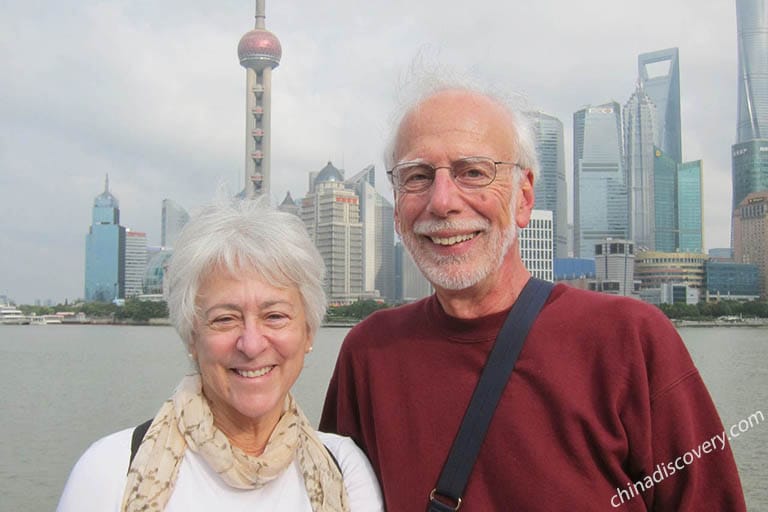 Paul & His Wife Visited the Bund
Our Tailor-made Group Tour to Mutianyu Great Wall, Beijing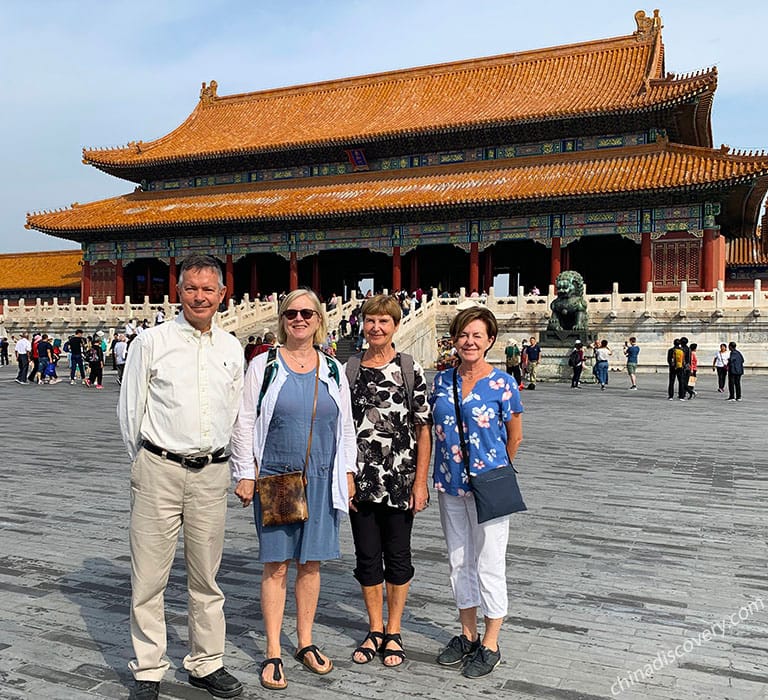 Clients from USA Visited Forbidden City
Top Sections of Great Wall
Great Wall of China Guide
Recommended China Great Wall Tours
Top 3 China Great Wall tours chosen by most customers to explore China Great Wall in the best way. Check the detailed itinerary, or tailor your own trip now with us.
6 Days Shanghai Beijing Tour by Flight

Shanghai / Beijing
7 Days Shanghai Suzhou Beijing Contrast Tour by High Speed Train

Shanghai / Tongli / Suzhou / Beijing
Start planning your tailor-made holiday to China by contacting one of our specialists. Once inquired, you'll get a response within 0.5~23.5 hours.
Customize a Trip
Have a question? Get answers from our travel experts or guests
Your Question:

Your Name:

Your Email: