Guide for Terracotta Warriors Tickets: When and How to Buy, Price and Tips
The Terracotta Warriors in Xian is a hot attraction in both home and abroad, especially during public holidays and summer vacations. Each visitor has to hold a ticket for entry. Because the museum sales tickets at a maximum of 65,000 everyday, and limits the capacity no more than 13,700 at a time, getting a ticket successfully will ensure your trip to discover the mysterious army and the First Qin Emperor going as planed. This article introduces most concerned ticket booking details for your Terracotta Warriors tour in China.
How Much are the Tickets to Terracotta Army?
Ticket Price: CNY 120 per person
Ticket Office Opening Hours: 8:30~17:00 (March 16 to November 15) & 8:30~16:30 (November 16 to March 15)
Ticket Check-in Time: 8:30~18:00 (March 16 to November 15) & 8:30~17:30 (November 16 to March 15)
How to Book the Terracotta Army (Warriors) Tickets?
There are two main ways to buy the Terracotta Warriors tickets: booking online and buying offline at the ticket office of the museum.
● Book Ticket Online
Specifically, there are 3 different channels for Terracotta Warriors tickets online booking. All require you to have a Chinese phone number to register accounts. Please note that, foreigner tourist have to change a paper ticket even though already reserved ticket online in advance.
One is using your computer or phone, visit the useum official website: http://order.bmy.com.cn:88/ticket/index.htm and choose a proposed visiting time, number of tickets, input information required (Chinese name of the person who pick up ticket, ID number)and make payment via bank card, wechat or Alipay. The second method is doing same procedure via the official wechat account (http://order.bmy.com.cn:88/weixin/index.htm). However, the above two ways currently are not applicable for foreigner passport holders.
The third choice is booking tickets online by authorized OTA agents, like Ctrip, etc. Fill in your surname, given name and passport number, choose a visiting day and make payment. After sucessfully booking, you will receive a messages notifying related details.On the day of travel,you have to exchange paper tickets at the E-ticket exchange counter nearby the Ticket Office.
● Buy Ticket at the Ticket Office
Location of Ticket Office: on the right hand of the north entrance, opposite the Tourist Center.
After arrival, you can take passport or other valid identity document to buy ticket from ticket windows or self-service ticket machines at the ticket office. During Chinese public holidays (such as Labor Day and National Holiday week) and summer vacations (late July to late August), you may queue up and wait for a longer time than usual.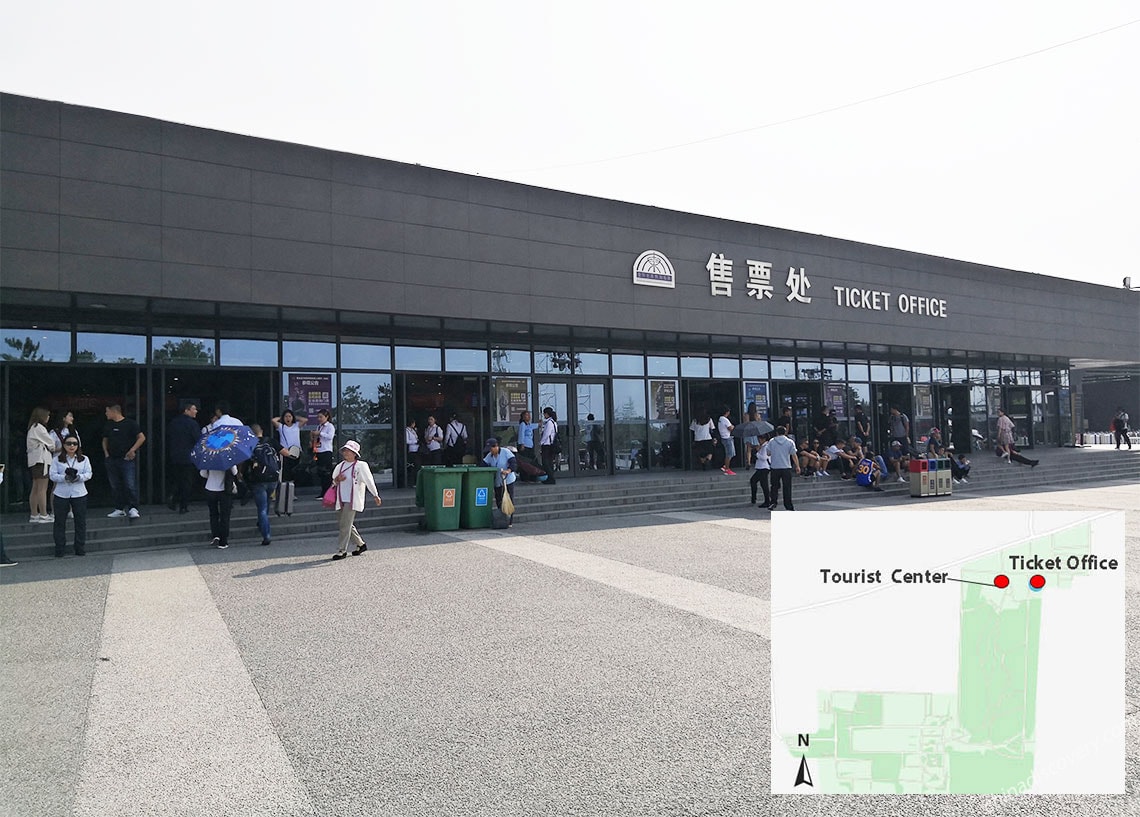 Ticket Office at the North Gate
When to Book the Terracotta Warriors Tickets?
In order to save your time lining up and guarantee your tour on the arrival day, we suggest independent travelers book the ticket beforehand, as most tourists did. Tourists traveling with China Discovery will enjoy worry-free ticket booking service and detailed and interesting introduction by our local tour guide.
◆ Independent travelers booking ticket online through OTA like Ctrip can buy ticket 7 days in advance. After arriving at the museum, you need to use passport and reservation message to exchange a paper ticket from the specialized E-ticket Exchange Area, 20m east of the Ticket Office.
◆ It's also doable to bring passport, buy same-day or second-day ticket from Ticket Office on the arrival day. Pay attention to the ticket selling time in different seasons: 8:30~17:00 from March 16 to November 15, and 8:30~16:30 during November 16 to March 15 of next year.
More Useful Tips of Terracotta Warriors Tickets
1. Foreign passport holders can buy tickets from ticket counter or automatic service machines in the Ticket Office. And present valid passport and ticket to enter the museum.
2.The museum will stop selling tickets online and offline if it has received visitors more than 13,700 instantaneously. Under such special circumstance, tourists failing in buying tickets for Terracotta Warriors can visit one of the two major parts in the museum freely - Lishan Park (including the Tomb of First Qin Emperor and two special figures pits).
3.Please keep the barcode on the ticket clean and leave the ticket after entry, because there may be ticket checking in other spots inside.
4.The tickets is only valid on the day of issue (your proposed visiting day). All tickets sold are not refundable.
5.Holding the ticket, you can take free shuttle bus between the Terracotta Warriors Museum and the Lishan Park (Mausoleum of Qin Shihuang).
6. You can pay and take a battery cart from North Gate to museum entrance (distance: 800m, price: 5RMB /per person/one way).
North Gate of Qin Shihuang's Mausoleum Site Museum
Travel Terracotta Warriors with China Discovery
China Discovery is an experienced, professional and considerate travel companion. Travel with us, you can enjoy well-organized Terracotta Warriors tour in the most convenient way, from the pick-up service, local tour guide and drive, thoughtful accommodation, dining and worry-free transportation between each site, to the ticket booking service. With our help, you can fully focus on the sightseeing journey and enter using the minimum cost of time and energy. According to your itinerary and hobbies, you may choose from our top Xian Terracotta Warriors Tours or contact us to customize a special one.
Recommended Terracotta Warriors Tours
Top 3 Terracotta Warriors tours chosen by most customers to explore Terracotta Warriors in the best way. Check the detailed itinerary, or tailor your own trip now with us.
2 Days Terracotta Warriors Tour with Mount Hua Hiking

Xian / Huashan / Xian
Start planning your tailor-made holiday to China by contacting one of our specialists. Once inquired, you'll get a response within 0.5~23.5 hours.
Customize a Trip
Have a question? Get answers from our travel experts or guests
Your Question:

Your Name:

Your Email: