As China's national treasure, and even the treasure of the world, people's love for pandas has not decreased, so I am.
Knowing that I can have this opportunity to "serve" the pandas, I am filled with excitement and expectations. It turns out that this experience is unforgettable and very meaningful for my whole life.
Round Trip for Dujiangyan Panda Volunteer
At five o'clock in the morning, I got out of bed, then took a taxi to the train station and took the early morning bullet train to Qingchengshan Station with my colleague Vivien. Then take the bus to the Dujiangyan Panda Base which belongs to the closest panda base to do panda volunteer program. The other two are Bifengxia Panda Base in Ya'an and Shenshuping Panda Base in Wolong County, which need around 2~3 hours' driving and a little bit far away from Chengdu downtown area.
In the morning, the air looked very fresh, and the sun rose slowly, very dazzling. A good day is about to begin.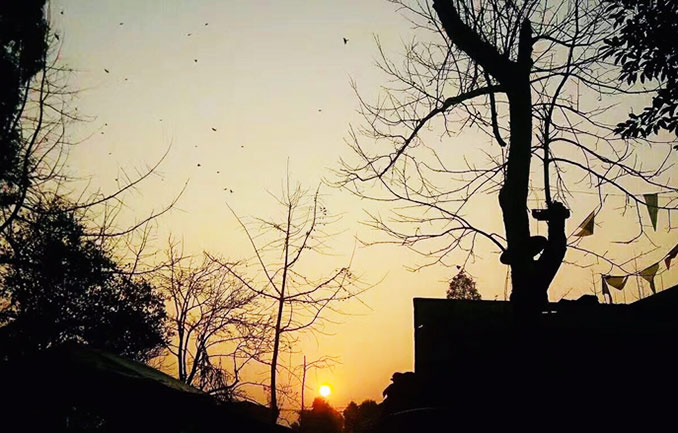 Taking advantage of my free time before labor, I took photos at the door.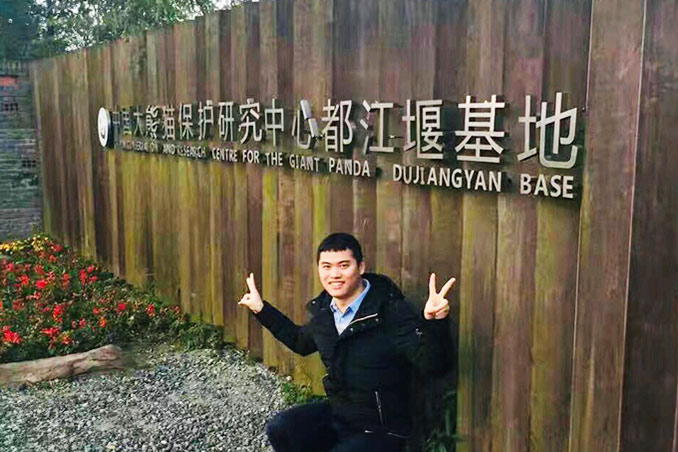 China Discovery's Panda Expert Wonder at Dujiangyan Panda Base
Do Volunteer Work First
As with the process we learned before, we started the day's work. If you don't know much about the volunteer's service, you may feel that this is a very leisure trip, but it turns out that this is a matter of physical strength and love.
Volunteers involve in panda volunteer work, including carrying out old bamboos, picking up droppings, cleaning up panda enclosures, carrying in fresh bamboos leaves and shoots, etc.
Just like I have done in the below photo. It's tired, but I'm also very proud of it.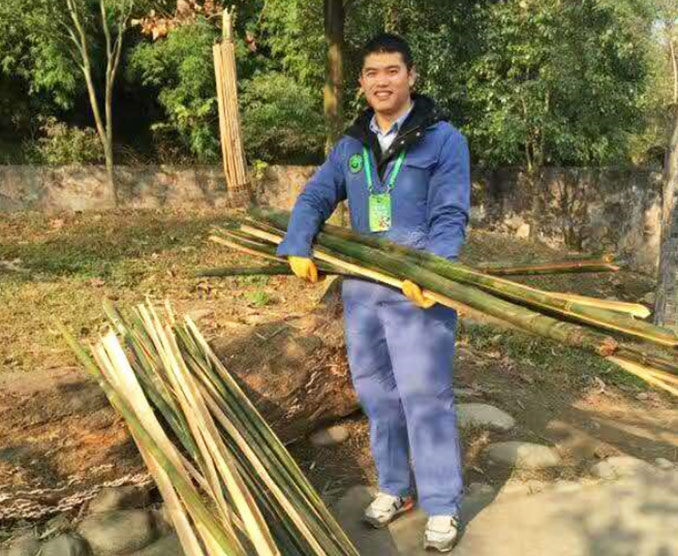 Break Bamboo and Prepare for Food
After carrying out old bamboos, picking up droppings, cleaning up panda enclosures, take the chance to take a picture to remember this special time. When we're at work, the pandas will be closed in the cages in case of any dangerous will happen.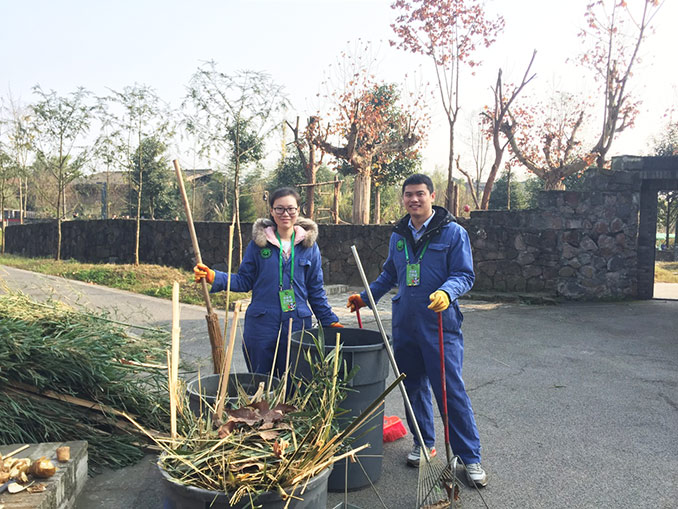 Carry out Old Bamboos and Sweep the Ground
Panda Feeding Time
After the hard work, the most exciting moment finally arrived. That is feeding our national treasure panda with carrot, bamboo shoot and apple. This time our main character is Daili. He was been rescued on the day Feb 27th 2001 in the afternoon by two miners, that day he was falling off the cliff after heavy hurt by a wild beast. Very sad, he lost his left leg although veterinarians and panda protectors try best for him.
Wonder is Feeding the Panda - Daili
Make Panda Cake
Another interesting thing is to make the panda cake. Though making the panda cake is very simple, you will learn what the pandas eat in the usual days and also you will know what ingredient it is inside the cakes.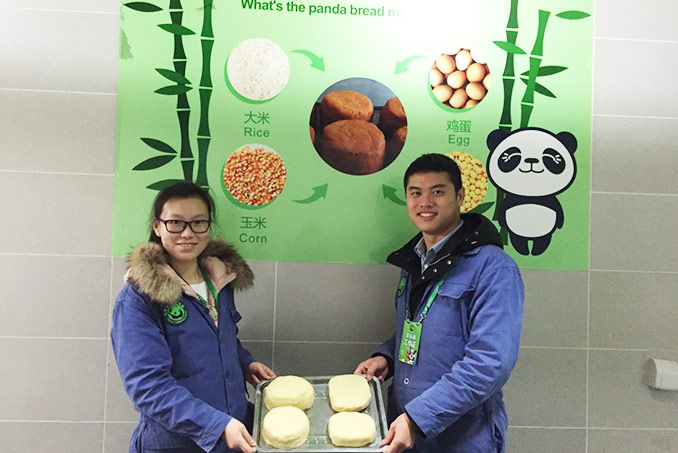 Make Panda Cake with Vivien
Explore Panda Base and See More Pandas
During this tour, you will also have time to explore this Panda Base. They have Four Gardens there. They're PanPan Garden, Shuangnan Garden, Diequan Garden and Linze Garden. PanPan Garden is where we worked. You will find many interesting thing & stories about the pandas if you have a tour guide. Our guide is very knowledgeable about every panda in the garden.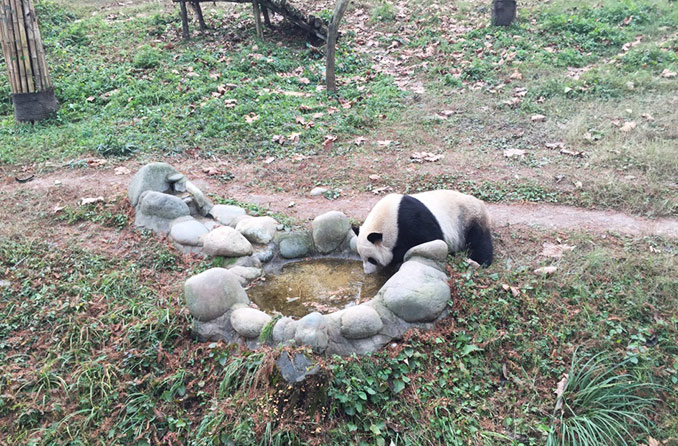 Giant Pandas at Dujiangyan Panda Base
After the full day's panda volunteer experience, you'll get the panda volunteer certificate and souvenirs. I have to say, if you're a panda fan, doing the volunteer work is a must.