Dujiangyan Panda Holding: Hold Panda at Dujiangyan Panda Base
Recent News for Panda Holding: Since 2018, the panda holding program had been suspended in all panda bases to well protect these cuddly but vulnerable creatures, while panda volunteer program is still available in three panda bases, including Dujiangyan Panda Base, Wolong Shenshuping Panda Base and Ya'an Bifengxia Panda Base.
Holding an adorable panda in your arms, of course, will be a lifetime fantastic experience! However, those iconic lovely "white-and-black bears" may get unpredicted diseases affected by such a close contact. To avoid such a bad thing happen, the Panda Holding Program (Panda Hug Program) has been suspended since 2018. What bad news for panda fans!
Luckily, there is still a chance for panda lovers to have a touching eye-contact with beautiful brown eyes of pandas in only one step away! Join in the panda volunteer program, and then you will have a sweet date with pandas sitting in front of you and grabbing carrots out of your hands! Such an up-close visit will be guided and accompanied by real panda keepers and won't take any bad influence on these cuddly creatures!
Dujiangyan Panda Base, or called Dujiangyan Panda Ark, is the hottest pick of places to do panda volunteer program. Besides, it is also the nearest and most accessible one from Chengdu, the capital city of Sichuan province that well-linked by both air routes and high speed rail lines.
Being a volunteer of Dujiangyan Panda Volunteer Program, you will be a one-day keeper of pandas there, learning how to clean up their rooms, how to prepare bamboo trees, how to make panda cakes, etc. Surprises never end there, at the end of the day you will get your personal certificate and souvenirs to keep the sweet hours forever!
Check our most popular 1 Day Dujiangyan Panda Volunteer Tour for more info of requirements and what included in a Dujiangyan Panda Volunteer Program.
Rachel enjoyed her Dujiangyan Panda Volunteer Program Experience
If you are interested, you can also know more details of hour-by-hour itinerary of Dujiangyan Panda Volunteer Program here!
Travel Chengdu and Dujiangyan Panda Base in One Go
Most visitors heading to be a panda volunteer in Dujiangyan also leave themselves 1~2 days more to explore the wonderful tourist city Chengdu. Since you are already on this land, you are also highly suggested to do so and Chengdu will never let you down! With the reputation of "Land of Abundance", Chengdu offers you almost everything you are dreaming for. Whether you are culture lovers, foodies or nature and photography enthusiasts, Chengdu will bring what you want in front of you.
>> 4 Days Ultimate PANDA Tour for Panda Fans
If you want an in-depth visit of the surroundings of Dujiangyan Panda Base, you can add Dujiangyan Irrigation System and Mount Qingcheng into your tour!
>> 4 Days Dujiangyan Panda Tour with Chengdu
Besides, in the cities near Chengdu there also exists a huge amount of treasures waiting for your visit, such as the mostly standout Leshan Giant Buddha, Mount Emei, and Jiuzhai Valley.
Mount Qingcheng
Enjoy Dujiangyan Panda Base Volunteer Program with China Discovery
We China Discovery based in Chengdu have helped thousands and hundreds of panda fans realized their panda dreams since 2012! If you want be part of the amazing group of volunteers, please feel free to let us know! We will help you with not only the Dujiangyan Panda Base Volunteer Program but also your tour in Chengdu and any other city in China!
Contact us and let our experienced travel consultants arrange a date with pandas right now! The tour can be tailor-made according to your group size, time, physical condition, plan, interest, budget and every special need!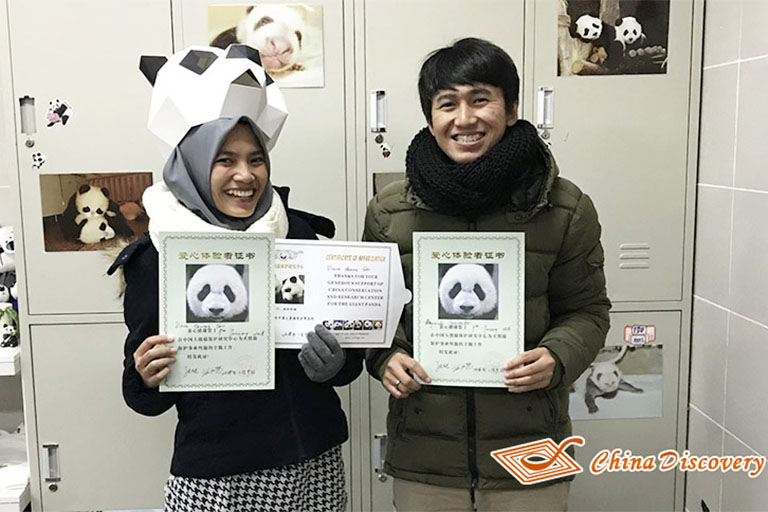 Volunteer Certificate
Panda Bases & Volunteer Experience
Useful Articles to Plan Panda Tours
Recommended Tours
Top 3 tours chosen by most customers to explore in the best way. Check the detailed itinerary, or tailor your own trip now with us.
2 Days Panda Volunteer Tour with Dujiangyan Highlights

Dujiangyang Panda Base, Mount Qingcheng, Dujiangyan Irrigation System
6 Days Leshan, Mount Emei & Panda Volunteer Tour

Chengdu / Leshan / Emei / Chengdu / Dujiangyan / Chengdu
4 Days Ultimate PANDA Tour for Panda Fans

Chengdu / Dujiangyan Panda Base / Chengdu
Start planning your tailor-made holiday to China by contacting one of our specialists. Once inquired, you'll get a response within 0.5~23.5 hours.
Customize a Trip
Have a question? Get answers from our travel experts or guests
Your Question:

Your Name:

Your Email: