Nanjing Accommodation: Recommended Hotels & Hostels
Though Nanjing is an ancient capital, there is no need to worry about where to stay in Nanjing. In fact, Nanjing has established abundant good hotels from the 5-star luxurious hotels, moderate hotels, to 3-star budget ones.
1) Stay in Qinhuai River District, you are close to the tourist sites Confucius Temple, Qinhuai River where you could appreciate the fantastic nightview;
2) Live in city center (around Xinjiekou Square), easy to transfer to anywhere in Nanjing;
3) Accommodate in Xuanwu Disctrict, adjacent to Xuanwu Lake, railway station, Hunan Food Street.
No matter which hotel you choose, the most comfortable environment will surely make a relaxing stay!
Nanjing Accommodation
Central Hotel Nanjing

Breakfast: Western & Chinese

Add: No. 75 Zhongshan Road, Nanjing 210005, China

Surrounding: Confucius Temple, Mochou Lake, Taiping Heavenly Kingdom History Museum

Distance to Downtown: 0.2 km

Distance to Nanjing Railway Station: 6 km

Distance to Nanjing South Railway Station: 10 km

Central Hotel Nanjing, located at the bustling commercial center of Nanjing, is an elegantly-decorated and fully-equipped 5-star luxury hotel. Opened in 1993 and refurbished in 2009, it is one of the high-star-rated hotels in Nanjing.

This hotel features an airy 25-meter high atrium lobby, attentive service staff and 354 guestrooms that come with all the standard amenities. Meals feasts on Chinese food or they can check out the hotel's Western restaurant. The on-site coffee shop is a nice place to relax with a book. Besides, there are eight meeting rooms for smaller social or other occasions. Staying in Central Hotel Nanjing, you'll enjoy great convenience to tourist attractions and the highest comfort.
Jinling Hotel

Breakfast: Western & Chinese

Add: No. 2 Hanzhong Road, Xinjiekou, Nanjing, China

Surrounding: Presidential Palace, Mochou Lake, Xuanwu Lake, Confucius Temple

Distance to Nanjing Railway Station: 6.6 km

Distance to Nanjing South Railway Station: 10 km

Nanjing located in Xinjiekou is once the best five-star hotel in China. Set up in 1983, Nanjing Hotel is very professional to provide hospitable services of international standards, 585 rooms of exquisite decorations, etc. there are more than 10 restaurants serving Chinese and international food and beverages, entertainment places like swimming pool, gym center, massage, etc. for fun. Besides, Jinling Hotel has the China's first revolving restaurant on the top floor, so you can enjoy the fantastic food and terrific view of Nanjing city at the same moment. You will find it very convenient to go to other places of you stay in Jinling Hotel, especially by metro.
Hilton Nanjing Riverside Hotel

Breakfast: Western & Chinese

Add: No. 1, Huaibing Road, Gulou District, Nanjing, China

Surrounding: Qinhuai River, Nanjing Yangtze River Bridge, Memorial Hall to the Victims in the Nanjing Massacre

Distance to Nanjing Railway Station: 8.5 km

Distance to Nanjing South Railway Station: 17 km

Hilton Nanjing Riverside Hotel off the Yangtze River is about 20 min's driving to the business center of Nanjing. The 411 rooms are designed with typical modern beauty with spacious bathroom. Most rooms even enjoy private balconies, where you can appreciate the splendid sightseeing of the Yangtze. You can savor the tasteful dishes, desserts and drinks in the three diversified restaurants, dessert house, and bar, relax your body in the SPA center, stretch fully in the inner swimming pool and gym, and have more fun and ease in the places in Hilton Nanjing Riverside.
How to Plan Your Travel in Nanjing
How to Get to Nanjing: You can easily get to Nanjing by high speed train from Beijing (about 3-5h), Shanghai (about 1-2.5h), Hangzhou (about 1.5-5.5h), Suzhou (about 45min-2.5h), etc. and flight from Beijing (2h), Guangzhou (2h15min), Chengdu (2.5h), Xian (2h), etc.
Best Time to Visit Nanjing: March to June and September to November, especially in late October and early November.
Generally, to explore the cultural and natural highlights of Nanjing, 2 ~ 3 days are needed. You can pay a visit to Sun Yat-sen Mausoleum (the tomb of Dr. Sun Yat-sen, the Father of Modern China), take a walk in Confucius Temple Area along the Qinhuai River, climb up the ancient City Wall, and know a part of heavy history and cherish peace in the Memorial Hall of the Victims in Nanjing Massacre.
☛ 2 Days Ancient Nanjing Tour
☛ 3 Days Best of Nanjing Highlights Tour
If you want to explore more about Jiangsu Province, you can travel to Suzhou - the city of classical gardens and silk, Wuxi - a beautiful lakeshore city, Yangzhou - old culture center of southern China, etc. Check more about Jiangsu Tours>
☛ 5 Days Jiangsu Tour (Suzhou, Wuxi & Nanjing)
If you have more days, you can expand your Nanjing trip to Shanghai - modernest metropolis in China, Hangzhou - home to picturesque West Lake, and Huangshan - magnificent Yellow Mountain and Hui-style ancient villages. Or you can contact us to customize a trip according to your own itinerary and interests. Just tell us your needs and we will take care of everything, you just need to focus on sightseeing!
☛ 5 Days Shanghai & Nanjing Highlights Tour
☛ 8 Days East China Tour by High-speed Train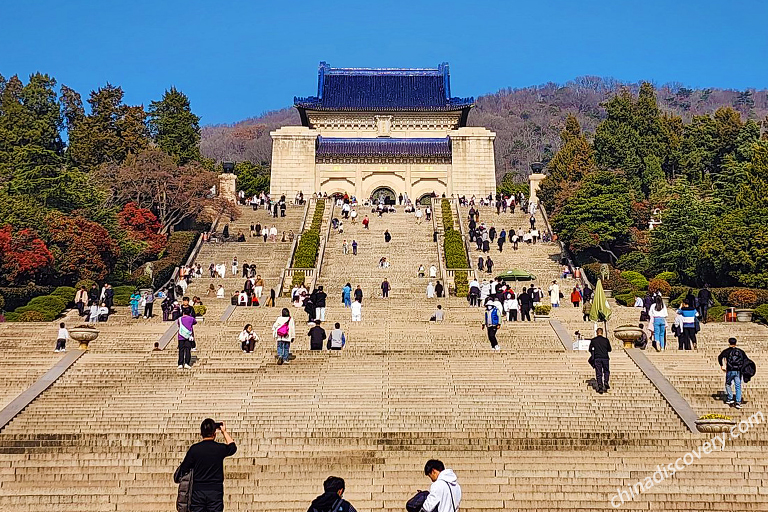 Sun Yat-sen Mausoleum in Nanjing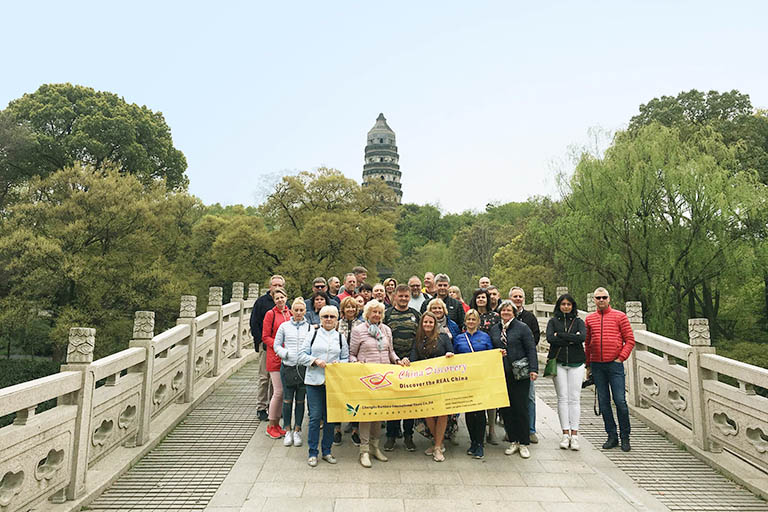 Our Customers visited Tiger Hill in Suzhou
Get Inspired by Real Travel Stories of Our Customers
Since 2012, we have helped numerous customers visit Nanjing and surroundings. With our fully-inclusive private tour packages, all of our customers enjoyed their trips to the ancient city wall, beautiful Purple Mountain, informative Nanjing Museum, charming Qinhuai River, etc. Some of them kindly shared their precious photos and stories about their Nanjing journey, just get inspired now.
"This is my second time to ask China Discovery to organize a private tour for a group of 12 people to visit Huangshan, Hangzhou, Nanjing, Suzhou, Shanghai and other cities close-by…" - shared by Mr. Ban (Check his Travel China with Family and Friends for 3 Consecutive Years - Mr. Ban's Group Traveled Different Parts of China from the North to Southwest and Southeast)
Besides the wonderful travel stories, many customers who visited Nanjing with China Discovery also send us their first-hand feedbacks about their trip, feel free to read the Customer Reviews and learn what they say about their experience. If you want to start your Nanjing tour now, don't hesitate to contact us.
Our Customers Mr. Ban and his group from the USA visited Shanghai, Nanjing, etc. customized by Vivien
Recommended Nanjing Tours
Top 3 Nanjing tours chosen by most customers to explore Nanjing in the best way. Check the detailed itinerary, or tailor your own trip now with us.