Nanjing Maps 2023: Nanjing Tourist Map, Nanjing Metro Map, Nanjing Google Map
Nanjing, the old capital of six imperial dynasties, is a famous historical city to explore. Apart from its long history and rich culture, there are also beautiful mountains and lakes allowing travelers to appreciate its natural beauty. In order to make sure that you could have an efficient Nanjing tour, you are advised to learn its location, transfer means and attractions distribution in advance. Here we collect the most helpful maps for you, including Nanjing China Map, Nanjing Transfer Maps (Flights & High Speed Trains), Nanjing Tourist Maps, etc. Be free to download and print these maps and enjoy a better Nanjing Tour.
☞ 2 Days Ancient Nanjing Tour
☞ 3 Days Best of Nanjing Tour
Nanjing Location Maps – Where is Nanjing
Located in eastern China and in the Yangtze River Delta region, Nanjing is bordering Chuzhou (Anhui) in the north and the east, Xuancheng (Anhui)in the south, Yangzhou (Jiangsu), Zhenjiang (Jiangsu) and Changzhou (Jiangsu) in east, and Maanshan (Anhui) in the west. Check its detailed location maps here:
Nanjing Transfer Maps – How to Get to/around Nanjing
As the present capital city of Jiangsu Province, Nanjing can be easily reached if you take a flight or a high speed train from the major domestic cities, like Beijing, Shanghai, Xian, Guilin, Chengdu, Chengdu, Chongqing, Guangzhou, Kunming, etc. There are also international flights flying to Nanjing Lukou International Airport from some foreign cities, such as Frankfurt (German), Varese (Italy), Helsinki (Finland), Vancouver (Canada), Los Angeles (USA), Singapore (Singapore), Seoul (Korea), Tokyo (Japan), etc.
Nanjing Tourist Maps – How to Travel Nanjing
There are heaps of attractions available to visit in Nanjing. If you are interested in history, you can explore Zhonghua Gate, Nanjing City Wall, Jiming Temple, Presidential Palace, Memorial Hall to the Victims in the Nanjing Massacre, etc. If you like natural beauty, you can visit Purple Mountain, Xuanwu Lake, Zhongshan Scenic Area, etc. Of course, you can also immerse yourself in the charming nightlife of Qinhuai River. Check the detailed Nanjing tourist maps here:
Travel with China Discovery
In order to get a Nanjing tour, traveling with China Discovery is top recommended. Our local travel guide and driver will pick you up at the airport or train station as you arrive with an air-conditioned and non-smoking vehicle, and then escort you to your hotel or every attraction listed in your itinerary. Great freedom will be given to you whenever you need to stop for sightseeing and photograph. You are sure to enjoy a comfortable, safe and efficient experience.
Far more than that, China Discovery is professional to provide high-quality customizable tour. Before your tour, our travel expert will communicate with you one to one and make an itinerary according your own interest, need and budget. Every detail – transfer, hotels, attractions, etc. will be arranged well for you and you just need to focus on sightseeing. Feel free to contact us to start your worry-free private tour now!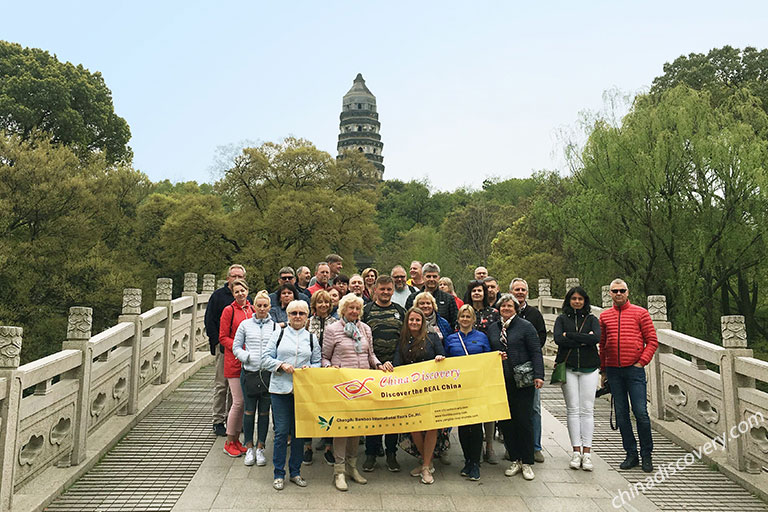 Our Customers in Tiger Hill, Suzhou
How to Plan Your Travel in Nanjing
How to Get to Nanjing: You can easily get to Nanjing by high speed train from Beijing (about 3-5h), Shanghai (about 1-2.5h), Hangzhou (about 1.5-5.5h), Suzhou (about 45min-2.5h), etc. and flight from Beijing (2h), Guangzhou (2h15min), Chengdu (2.5h), Xian (2h), etc.
Best Time to Visit Nanjing: March to June and September to November, especially in late October and early November.
Generally, to explore the cultural and natural highlights of Nanjing, 2 ~ 3 days are needed. You can pay a visit to Sun Yat-sen Mausoleum (the tomb of Dr. Sun Yat-sen, the Father of Modern China), take a walk in Confucius Temple Area along the Qinhuai River, climb up the ancient City Wall, and know a part of heavy history and cherish peace in the Memorial Hall of the Victims in Nanjing Massacre.
☛ 2 Days Ancient Nanjing Tour
☛ 3 Days Best of Nanjing Highlights Tour
If you want to explore more about Jiangsu Province, you can travel to Suzhou - the city of classical gardens and silk, Wuxi - a beautiful lakeshore city, Yangzhou - old culture center of southern China, etc. Check more about Jiangsu Tours>
☛ 5 Days Jiangsu Tour (Suzhou, Wuxi & Nanjing)
If you have more days, you can expand your Nanjing trip to Shanghai - modernest metropolis in China, Hangzhou - home to picturesque West Lake, and Huangshan - magnificent Yellow Mountain and Hui-style ancient villages. Or you can contact us to customize a trip according to your own itinerary and interests. Just tell us your needs and we will take care of everything, you just need to focus on sightseeing!
☛ 5 Days Shanghai & Nanjing Highlights Tour
☛ 8 Days East China Tour by High-speed Train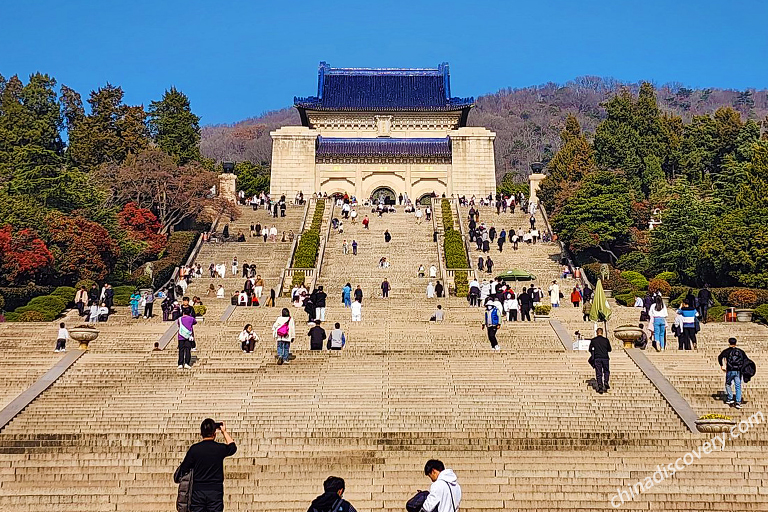 Sun Yat-sen Mausoleum in Nanjing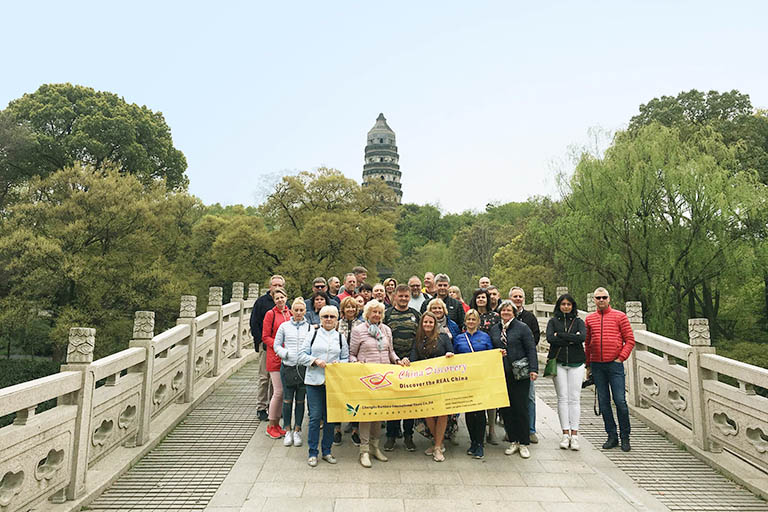 Our Customers visited Tiger Hill in Suzhou
Get Inspired by Real Travel Stories of Our Customers
Since 2012, we have helped numerous customers visit Nanjing and surroundings. With our fully-inclusive private tour packages, all of our customers enjoyed their trips to the ancient city wall, beautiful Purple Mountain, informative Nanjing Museum, charming Qinhuai River, etc. Some of them kindly shared their precious photos and stories about their Nanjing journey, just get inspired now.
"This is my second time to ask China Discovery to organize a private tour for a group of 12 people to visit Huangshan, Hangzhou, Nanjing, Suzhou, Shanghai and other cities close-by…" - shared by Mr. Ban (Check his Travel China with Family and Friends for 3 Consecutive Years - Mr. Ban's Group Traveled Different Parts of China from the North to Southwest and Southeast)
Besides the wonderful travel stories, many customers who visited Nanjing with China Discovery also send us their first-hand feedbacks about their trip, feel free to read the Customer Reviews and learn what they say about their experience. If you want to start your Nanjing tour now, don't hesitate to contact us.
Our Customers Mr. Ban and his group from the USA visited Shanghai, Nanjing, etc. customized by Vivien
Recommended Nanjing Tours
Top 3 Nanjing tours chosen by most customers to explore Nanjing in the best way. Check the detailed itinerary,or tailor your own trip now with us.