Brief Introduction of Luoyang Beijiao Airport 洛阳北郊机场
Luoyang Beijiao Airport is built in 1985 and put into operation in 1987, covering an area of 14800 ㎡. As the only airport in Luoyang, it plays a significant role in connecting Luoyang with other cities in China and is an important alternate airport for Zhengzhou Xinzheng Internation Airport, Jinan Yaoqiang International Airport, Taiyuan Wusu International Airport, etc.
Please be noted that the boarding gate closes 30 minutes before the departure time, so you are advised to arrive at the airport at least 1.5h ahead of time to make sure you have plenty of time for security check and boarding.
Recommended Luoyang Tour: ✔ 2 Days Luoyang Longmen Grottoes Tour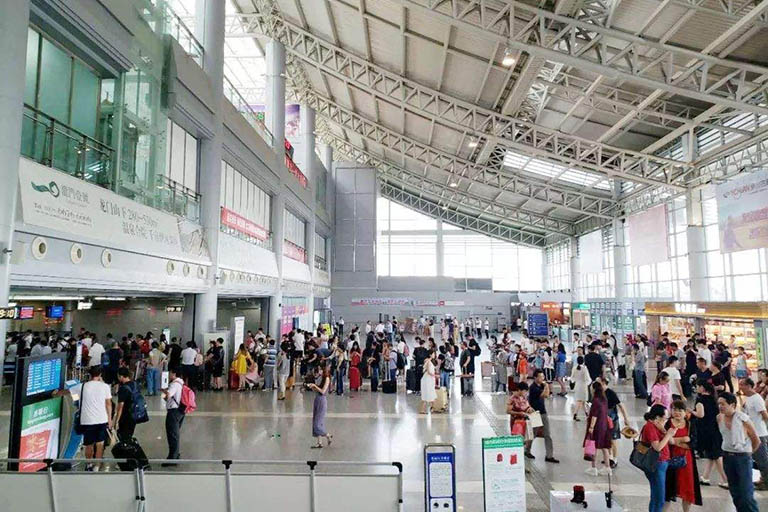 Inside Luoyang Beijiao Airport
Flights to Luoyang Beijiao Airport
As of April, 2020, Luoyang Beijiao Airport has opened 17 airlines connecting 24 cities in China such as Beijing, Shanghai, Guangzhou, Chengdu, Hangzhou, Chongqing, and Qingdao. Most of the cities have 1-3 daily flights to Luoyang and the flight duration is no more than 3 hours. It is a good choice for a long distance trip when traveling by train or car takes a long time.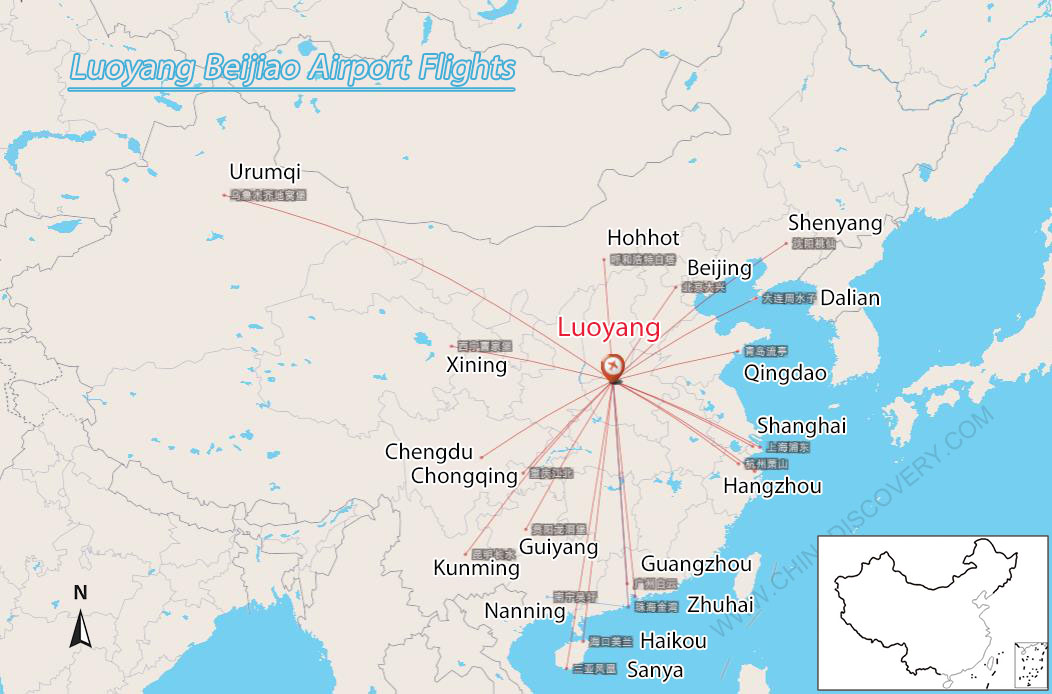 Luoyang Beijiao Airport Flights
Detailed Flight Information between Luoyang and Major Cities in China:
*The flight schedules change from time to time and they are only provided for your reference, please do not hesitate to contact us for the updated info!
Luoyang Beijiao Airport Location & Transfer
Luoyang Beijiao Airport is located in Mangshan, Laocheng District, Luoyang City (河南省洛阳市老城区邙山), in the northern suburb of Luoyang. Bus NO. 1, 98, 27, d1, etc. can get you there directly and taxies are easy to find both in the city and at the airport.
To Luoyang downtown (Wangcheng Park): about 12 km (30 minutes' drive); taking a bus will need about 1 hour.
To Longmen Grottoes: about 26 km, 45 minutes' by car, 2h10min by bus.
To Luoyang Longmen Railway Station: about 21 km, 40 minutes' by car, 1h45min by bus.
To Shaolin Temple: about 72 km, 2 hours by car. Public transportation is rather time-consuming. You need to get to Luoyang Coach Station (in Luoyang downtown) first, and then take a coach (about 2.5h) to Shaolin Temple.
Travel with China Discovery - Worry-Free Transfer
If you don't want to wait for the bus or worry about the language barrier with taxi drivers, you can choose the private tour service provided by us. We at China Discovery provide comfortable and efficient transfer service for our clients who have booked one of our tour packages. No matter when your flight/train arrives, our friendly tour guide and driver will welcome you at the airport/train station, then escort you to your hotel or any location you want to visit with an air-conditioned and non-smoking vehicle. All the matters such as transportation, meal, accommodation, and ticket will be taken care of, an the itinerary is quite flexible, all you need to do is just enjoy your trip. >>Contact us now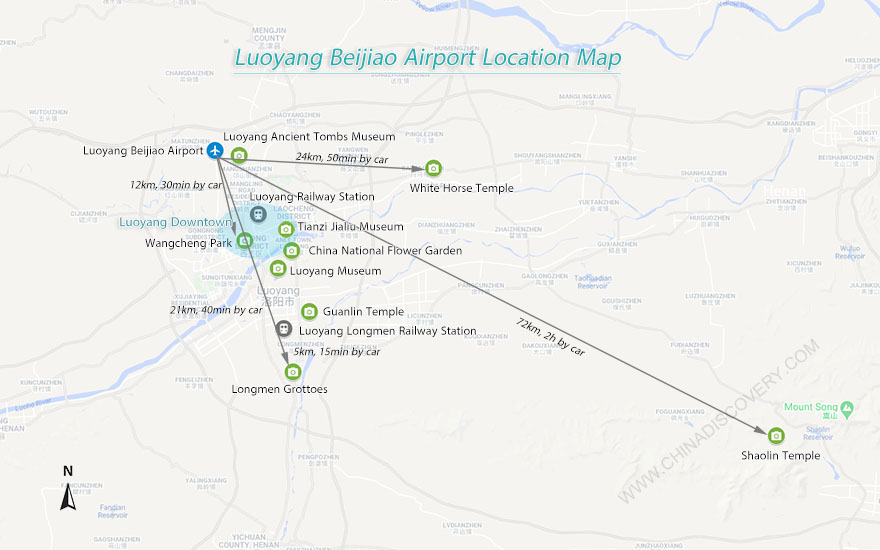 Click to Enlarge Luoyang Beijiao Airport Location Map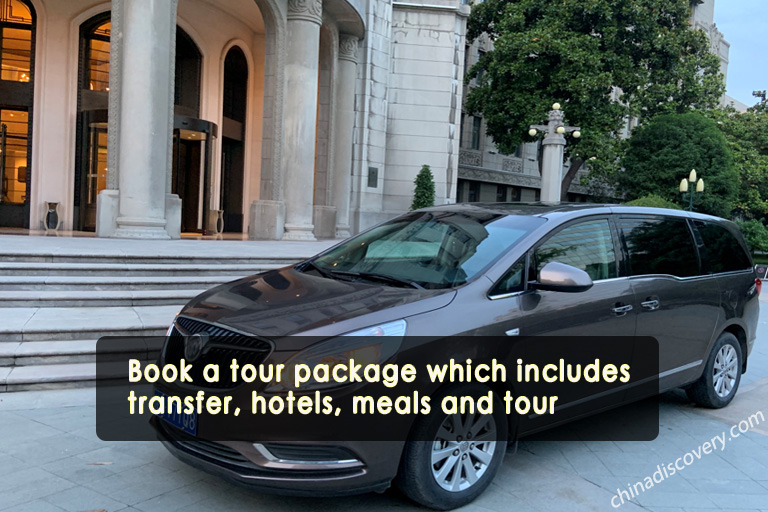 China Discovery Private Transfer
How to Plan Your Travel in Luoyang
Usually, it takes 2 ~ 3 days to have a Luoyang tour. The highlights of Luoyang include Longmen Grottoes which is known as the finest examples of Chinese Buddhist art, 1900-year-old White Horse Temple (also China's first Buddhist temple), 2000-year-old burial site - Tianzi Jialiu Museum and beautiful Luoyang Museum with a lot of history to tell. Of course, you can't miss a Kung Fu exploration in Shaolin Temple (in Dengfeng city) if you visit Luoyang. It is only 55 km (about 1.5 hours' drive) away from Luoyang City.
√ 2 Days Luoyang Longmen Grottoes Tour
√ 3 Days Luoyang Kung Fu Tour

It's strongly recommended to extend your Luoyang tour to its attractive neighbors. After Shaolin Temple visit, you can spend 1 day exploring Zhengzhou or Kaifeng. If you are fond of nature, Mount Yuntai, Guoliang Village and Xiaolangdi Reservoir on Yellow River are recommended.
However, the best way to extend your Luoyang trip is starting a Xian Tour. Owning world-class treasures, Xian offers a lot to see and do. Taking a 1.5~2 hours high speed train, you can unveil an incredible experience of two old capital cities. It is quite popular to travel Beijing and Xian with Luoyang, because Luoyang is just located between them. Get inspired from our Xian Luoyang Tours now!
√ 6 Days Ancient Xian & Henan Tour (Xian / Luoyang / Dengfeng / Zhengzhou)
√ 8 Days China Ancient Capitals Tour (Beijing / Luoyang / Xian)
√ 10 Days China Culture Tour Plus Shaolin Kung Fu Experience (Beijing / Xian / Luoyang / Dengfeng / Zhengzhou / Shanghai)
Our Customers visited Luoyang Longmen Grottoes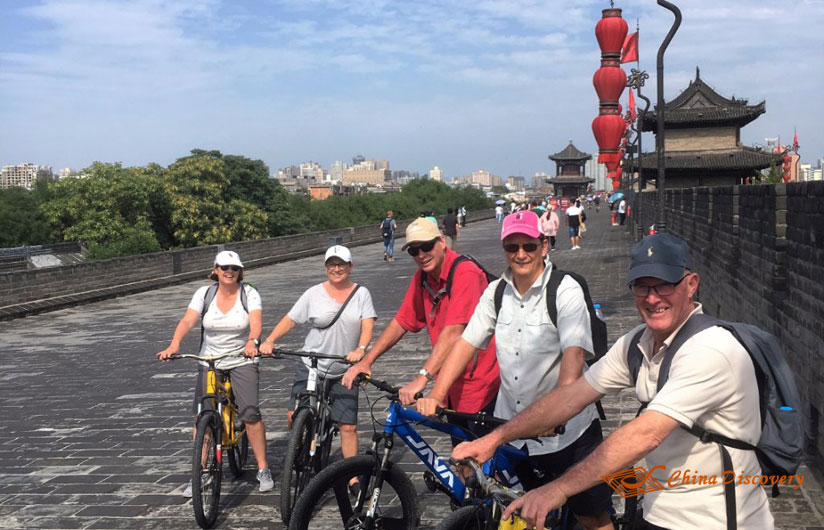 Our Customers visited Xian Ancient City Wall
Get Inspired by Real Travel Stories of Our Customers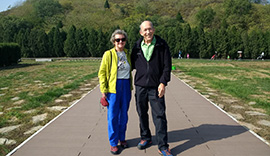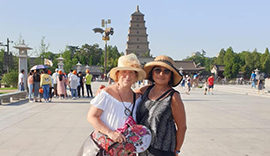 Our Delighted Customers
Top Luoyang Tour Packages
More Luoyang Transportation
Helpful Luoyang Travel Guide
Recommended Luoyang Tours
Top 3 Luoyang tours chosen by most customers to explore Luoyang in the best way. Check the detailed itinerary, or tailor your own trip now with us.
3 Days Essence of Luoyang Tour

Luoyang / Dengfeng / Zhengzhou
2 Days Luoyang Longmen Grottoes Tour

Luoyang / Dengfeng / Luoyang
8 Days China Ancient Capitals Tour

Beijing / Luoyang / Xian
Start planning your tailor-made holiday to China by contacting one of our specialists. Once inquired, you'll get a response within 0.5~23.5 hours.
Customize a Trip
Have a question? Get answers from our travel experts or guests
Your Question:

Your Name:

Your Email: