Why Niushoushan Is Important
Niushoushan, or Niushou Mountain, with an altitude of 243m, is an emerging attraction in Jiangning District in the southern suburb of Nanjing city. Niushoushan is also known as "Ox Head Mountain" because its East Peak and West Peak face each other in the shape of the two horns of an ox. Niushoushan has long been forgotten by people until Oct 27, 2015 when the world's only parietal relic of Buddha was put there. A grandiose Buddhism-themed palace was built to place the relic of Buddha. Since then, there have been more and more visitors coming to Niushoushan to worship the Buddha, experience Buddhism culture and marvel at its magnificent architecture. It is a place where both Buddhists and regular tourists can enjoy. If you are planning a trip to Nanjing, you shouldn't miss it.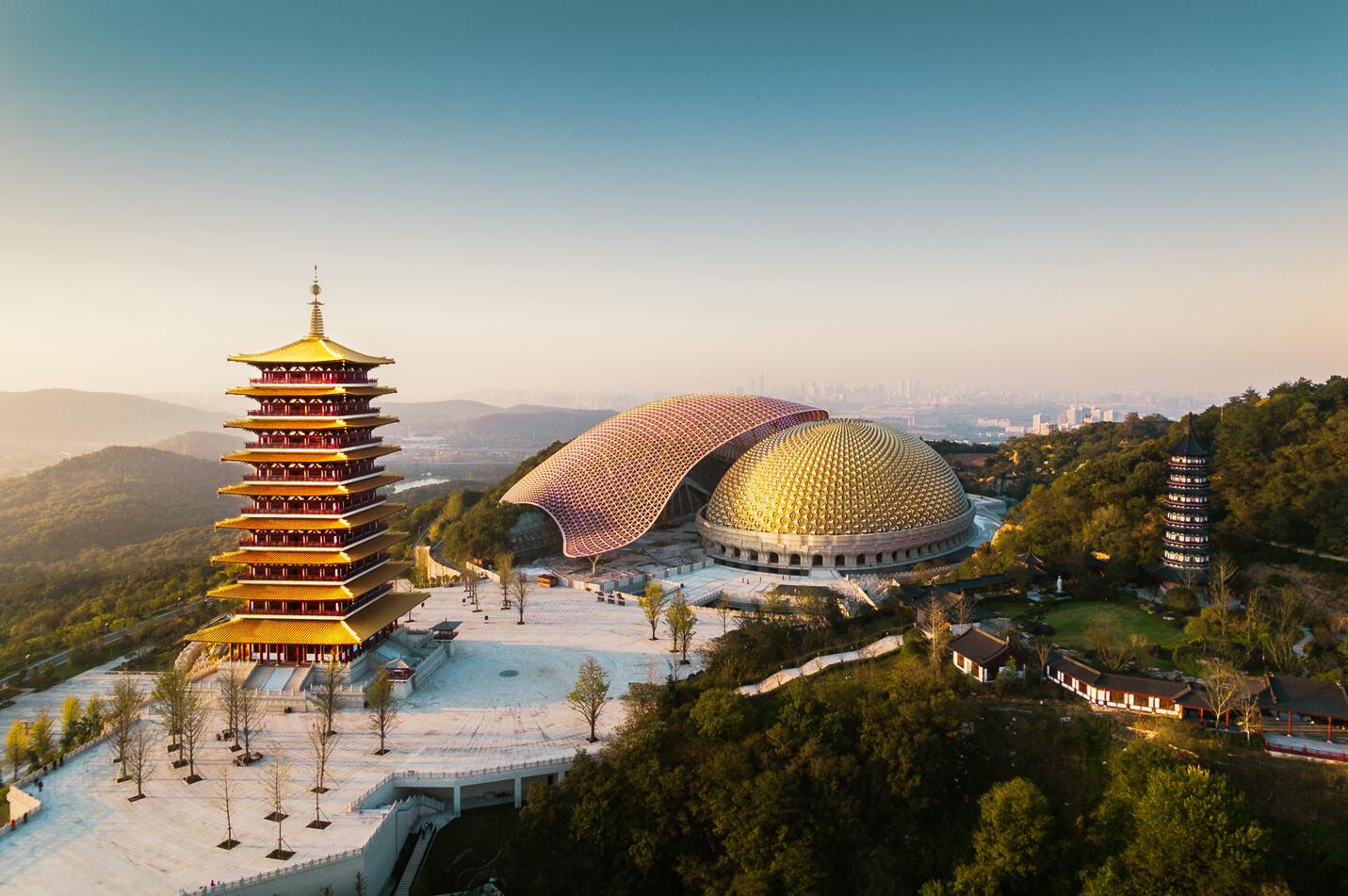 Foding Temple (left) and Usnisa Palace (right)
Niushoushan's Treasure – The Buddha's Parietal Relic
Niushoushan is one of the famous Buddhist mountains in China, and is the birthplace of Niutou Zen Buddhism, an important sect of Chinese Zen Buddhism. The world's only Buddha's Parietal Relic, the skull of Shakyamuni, is enshrined here. It is a complete skull with a circumference of 35 cm, a diameter of 10 cm, yellow-and-black. Clear hair holes are widely distributed throughout the bone.
The Buddha's Parietal Relic was unearthed in the Ashoka Pagoda in the underground palace of Bao'en Temple (former Changgan Temple in Song Dynasty) in Qinhuai District, Nanjing. It is the only surviving Buddha's true parietal relic in the world.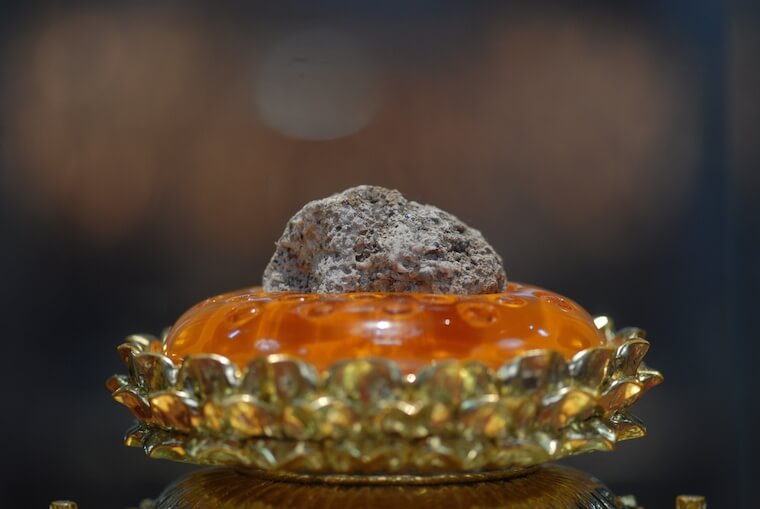 The Buddha's Parietal Relic
Why did the Buddha's Parietal Relic appear in Nanjing?
Why did the Buddha's Parietal Relic appear in Nanjing? Ye Nanke, the dean of the Nanjing Academy of Social Sciences, told reporters that the ins and outs of the Buddha's Parietal Relic were sorted out by integrating Buddhist records, historical literature research, and archeological excavations. The Buddha's Parietal Relic was donated in Northern Song Dynasty by Shi Hu who was a Buddhist master from northern India to spread Buddhism in China. It used to be enshrined in the Ashoka Pagoda of Tianxi Temple (former Changgan Temple, current Bao'en Temple) .
According to Ye Nanke, first of all, it is recorded in many Buddhist classics and historical documents that, after teaching Buddhism for 45 year, Shakyamuni passed away in BC 486. There were a lot of relics remained from the ashes of cremation, including some unburned remains, such as teeth, phalanx and parietal bones, and many colorful luminous solid seeds and white beads. At that time, eight kingdoms of ancient India competed for the Buddha's relics, and each received a share of the relics. They brought the Buddha's relics back to their country and built pagodas to place and worship the Buddha Relics. Around 100 years after Shakyamuni's Nirvana, the great King Asoka united India and declared Buddhism as national religion. In order to promote Buddhism, he took out the relics from the original eight Buddhist stupas and redistributed them to be placed in 84,000 pagodas around the world. From then on, the Buddha relics became precious items to spread Buddhism.
During the archaeological excavation of Changgan Temple, a large stone stele was unearthed from the underground palace, which was engraved with a long inscription titled "Storing Buddha Relic in Jinling Changgan Temple", and details the "10 Ganying relics and Buddha's Parietal Relic being stored in golden coffin, overlaid by silver coffin and placed in Ashoka Pagoda…"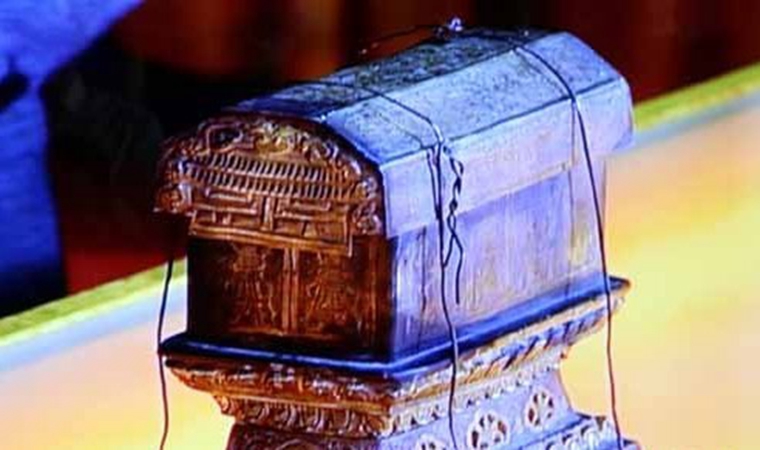 Buddha's Parietal Relic Was Stored in the Golden Coffin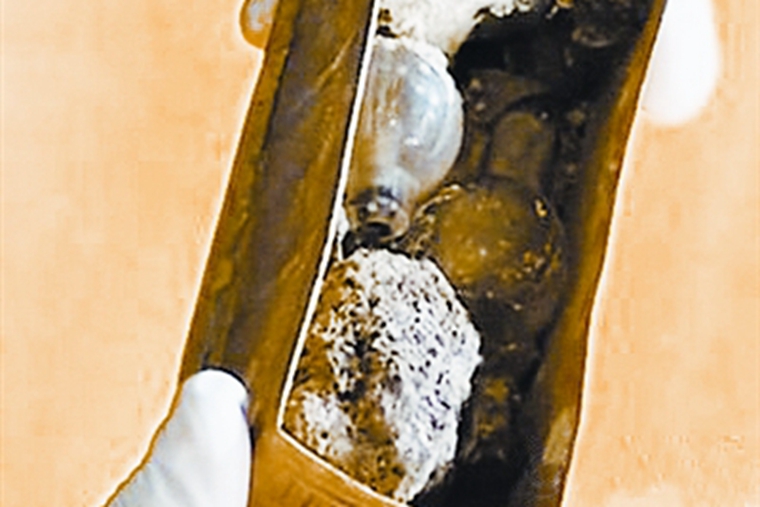 Buddha's Parietal Relic
Usnisa Palace – Where the Buddha's Parietal Relic Is Preserved
The Usnisa Palace or Foding Palace is a deep pit building, the long-term worship place of the Buddha's Parietal Relic, with a length of 220 meters, a width of 160 meters, an overall height of 89.3 meters, and an area about 136,000 square meters. The Palace is not only the main place for preserving Buddha's Parietal Relic and Buddhists worshipping, but also a cultural exhibition venue where the relic culture and world Buddhist culture are presented in various artistic techniques.
The external space is divided into three parts: the large dome, the small dome and the Buddha Grottoes. The large dome is 120 meters in length and is shaped like a Buddha's cassock, covering the small dome palace, symbolizing the boundless blessings of the Buddha. The small dome as a whole is like the Buddha's hair bun with thousands of small units, which means that thousands of believers make offerings to the Buddha. The base of the small dome is in the shape of a lotus throne which is composed of 56 flying Bodhi gates, which symbolize Buddha's infinite wisdom, and 56 cloud gate wishful pillars, which symbolize good luck and good fortune.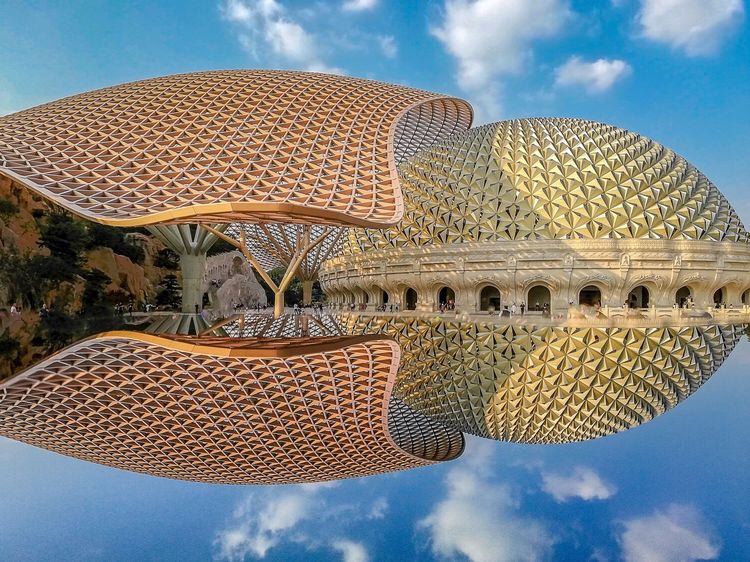 Usnisa Palace (Foding Palace)
What to See in the Usnisa Palace
The internal space has nine floors, three above ground and six underground. It consists of three major spaces: the Zen Grand View, the Relic Hall and the Relic Palace.
Relic Hall
The Relic Hall consists of Thousands Buddhas Hall and Ten Thousands Buddha Corridor. The Thousand Buddhas Hall is colored by red, yellow and dark gold and vault-shaped. It is laid out in accordance with the Hua Zang Buddhist World, presenting the sacred scene of the Buddhist Tantric Mandala. The most eye-catching thing is the Relic Pagoda in the center of the Thousand Buddhas Hall which is 21.8 meters high. It imitated the Ashoka Pagoda unearthed in Bao'en Temple where the Buddha's Parietal Relic was found. The Ten Thousands Buddha Corridor) consists of the 3rd, 4th, and 5th floors underground. The 3rd underground floor is themed by Chinese Buddhism culture. There are two corridors of scripture and sixteen silk-mounted meticulous paintings. The 4th underground floor shows seven-sided lacquer paintings representing stories of Indian Buddhist teachings. Enter the 5th underground floors, the theme of which is the Buddha's relic and relic culture, playing related videos and exhibiting porcelain paintings, ancient pagodas and some historical relics.
Relic Palace
The Relic Palace is also known as the Buddha's Treasure Palace. It is decorated with dark colors, creating a solemn and mysterious atmosphere. This is not only a sacred place to house Buddha's Parietal Relic, but also a mysterious space for Buddhists to worship Buddha and meditate. In the middle of the main hall is the Relic Treasure Pagoda, which is 7 meters high with exquisite golden decoration. Inside the pagoda is a hexagonal and exquisite lotus stupa. And inside the stupa has a sealed glass box to place the Buddha's Parietal Relic, which is fireproof and explosion-proof. The bottom is equipped with a constant temperature and humidity system to ensure the best environment for the Buddha's Parietal Relic. Surrounding the relic pagoda are eight unparalleled marble mosaics, which are made up of natural marble textures, showing the life of the Buddha.
Zen Grand View
The Zen Grand View is 112 meters long from north to south and 62 meters wide from east to west. The total height of the building is 46.5 meters, the internal clear height is about 38 (41.2) meters, and the space area exceeds 6000 square meters, which is oval. The core of the Zen Grand View is Zen culture, which is composed of three parts – Buddha's Birth, Buddha's Enlightenment and the Lotus Theater in the middle, representing the life story of the Buddha.
Lotus Buddha Theatre – Not-to-miss Visual Feast
Every day from 10:00 to 11:30 in the morning and from 13:30 to 15:00 in the afternoon, a 30-minute "Song of the Lotus Buddha" Zen Buddhism culture ceremony and stage multimedia show is held in hall of The Zen Grand View. It is a visual feast of ceremonial performance combined with burning lamps, praying, offering flowers to the Buddha, large-scale dancing, etc. When there is a performance, the Sleeping Buddha slowly descends from the air while the stage, actors, and 16-meter-high lotus petals slowly rising from the ground with music, lights, and water mist. The Sleeping Buddha is a statue of Sakyamuni casted in copper, with a total length of 7.5 meters and a surface made of white marble. It can slowly rotate 360 ​​degrees, expressing the Buddha's peaceful moment of Nirvana.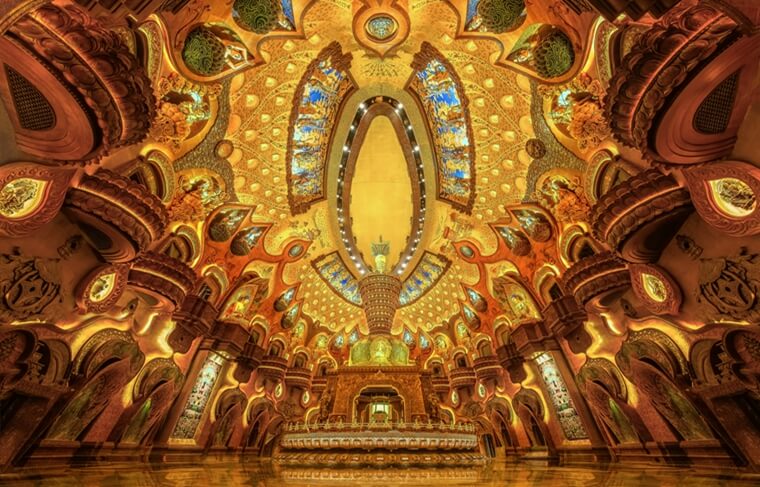 Relic Hall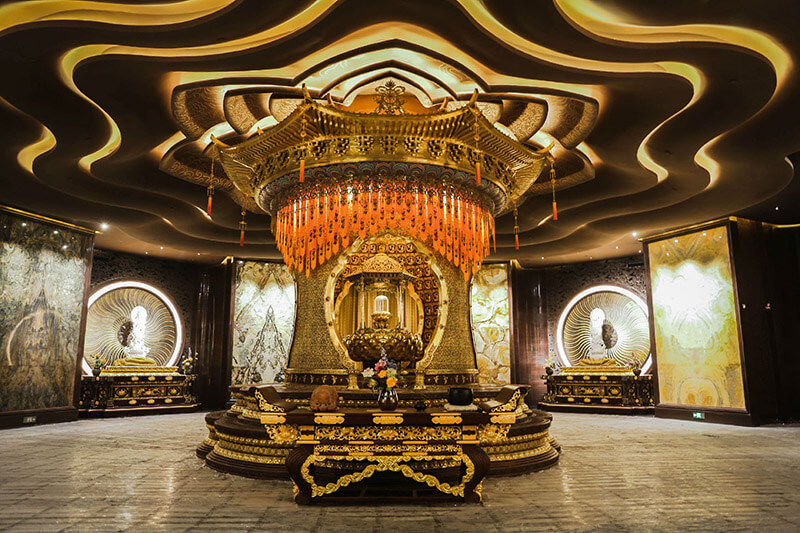 Relic Palace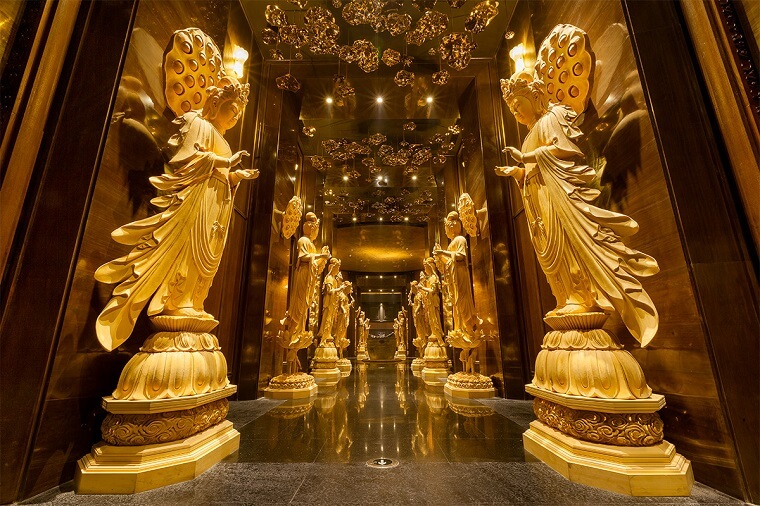 Corridor of the Relic Palace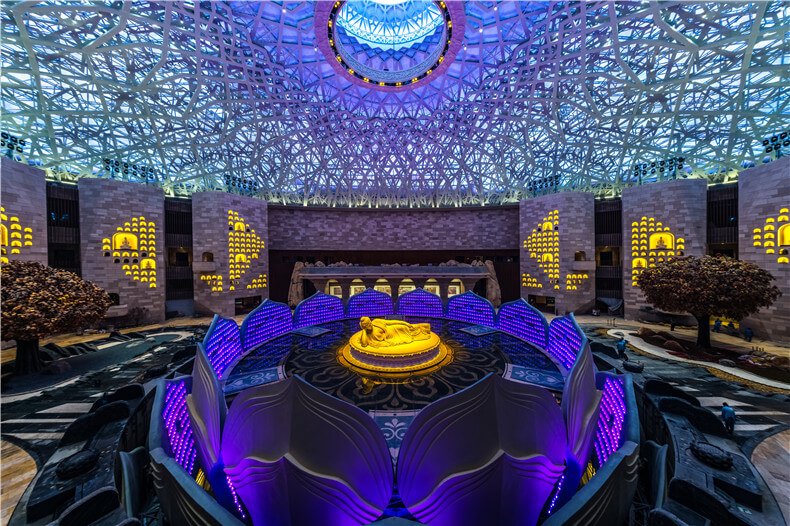 Zen Grand View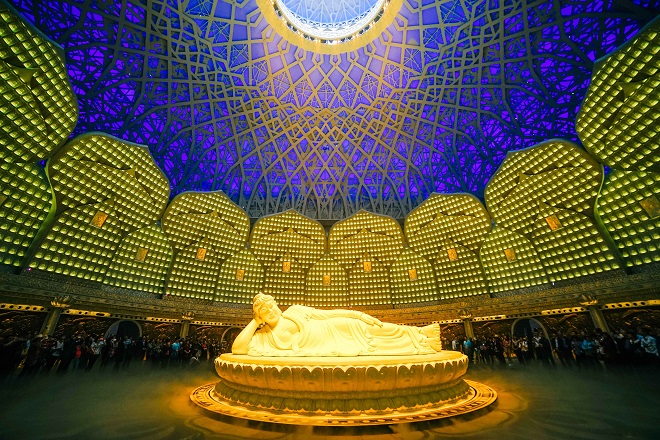 Lotus Buddha Theatre
Other Buddhist Sites to Explore in Niushoushan
Visiting the Usnisa usually costs only about 1.5 hours. If your time allows, you can find some extra places to explore. Foding Pagoda and Foding Temple are worth a short visit. They are newly-built but beautifully designed and decorated, with many cultural exhibitions. If you want to find something survived from the ancient time, go to take a look at Hongjue Pagoda in Niutou Zen Buddhism Cultural Park. It is partly restored with many original features.
The Hongjue Temple Pagoda was built in the Tang Dynasty (774) and was later destroyed in the war. The existing tower was rebuilt in the early Ming Dynasty. The Pagoda has seven storeys, which is 25 meters high and made of bricks. Each storey has a door and two windows, carved with delicate wood carvings. The Hongjue Temple Pagoda is the most majestic ancient pavilion-style, brick-made, wooden architecture existing in Nanjing.
Foding Pagoda
How to Get to & round Niushoushan
Miushoushan is located in southern suburb of Nanjing where you can get to only by car and bus. It is only about 13km from Nanjing downtown, 10km from Nanjing South (high speed train) Railway Station, 30km from Nanjing Lukou Airport. Nearest international arrival hugs are Shanghai and Hangzhou all of which are over 300km from Niushoushan. To visit Niushoushan, you can take a flight or train to Nanjing first, then take a car or public bus to get there.
Private Tour with China Discovery (Top Recommended)
If you want to get rid of the hustle of public transportation and troublesome navigation, you can book a private tour package which covers sightseeing, dining, accommodation and transfer from us. Our local tour guide and driver will escort you to Niushoushan with speed and convenience, and our English-speaking guide will take care of all the details and accompany you the whole journey. You just need to focus on sightseeing. Feel free to contact us if you need any help!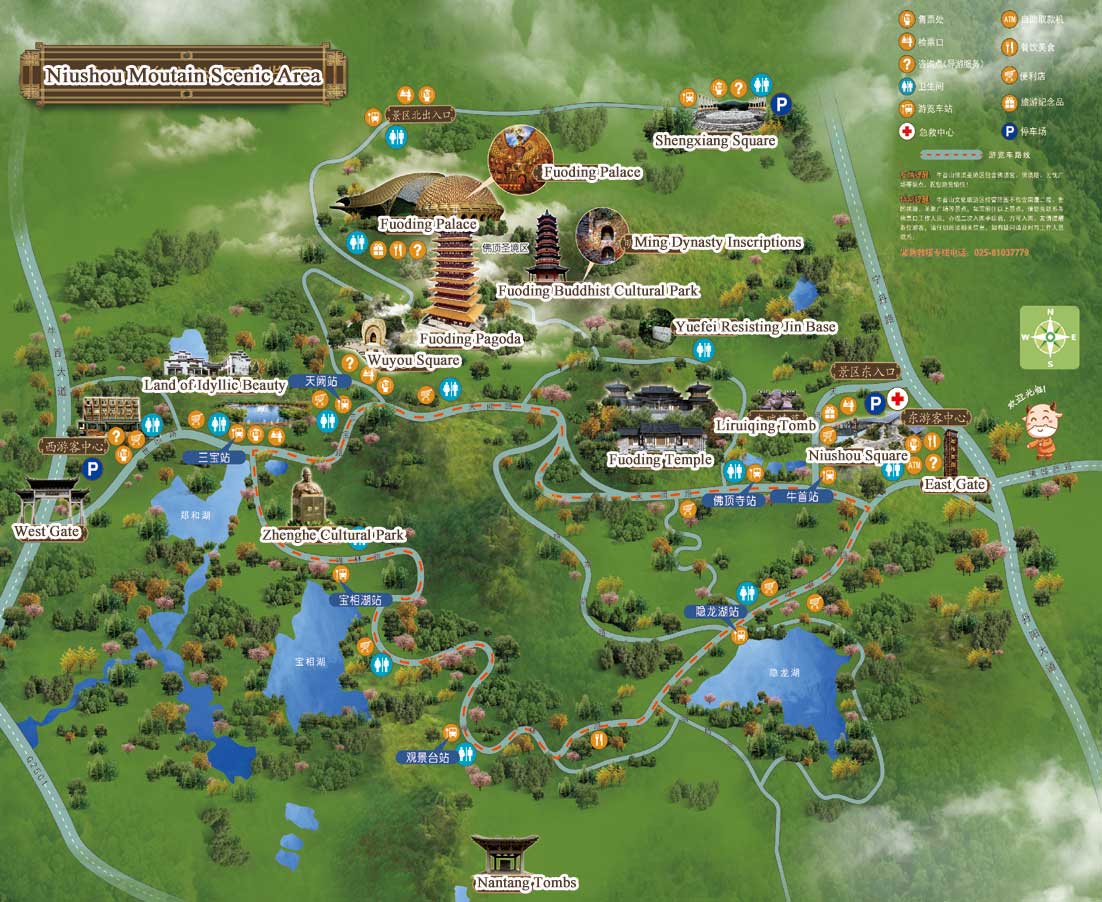 Niushoushan Tourist Map
How to Plan Your Travel in Nanjing
How to Get to Nanjing: You can easily get to Nanjing by high speed train from Beijing (about 3-5h), Shanghai (about 1-2.5h), Hangzhou (about 1.5-5.5h), Suzhou (about 45min-2.5h), etc. and flight from Beijing (2h), Guangzhou (2h15min), Chengdu (2.5h), Xian (2h), etc.
Best Time to Visit Nanjing: March to June and September to November, especially in late October and early November.
Generally, to explore the cultural and natural highlights of Nanjing, 2 ~ 3 days are needed. You can pay a visit to Sun Yat-sen Mausoleum (the tomb of Dr. Sun Yat-sen, the Father of Modern China), take a walk in Confucius Temple Area along the Qinhuai River, climb up the ancient City Wall, and know a part of heavy history and cherish peace in the Memorial Hall of the Victims in Nanjing Massacre.
☛ 2 Days Ancient Nanjing Tour
☛ 3 Days Best of Nanjing Highlights Tour
If you want to explore more about Jiangsu Province, you can travel to Suzhou - the city of classical gardens and silk, Wuxi - a beautiful lakeshore city, Yangzhou - old culture center of southern China, etc. Check more about Jiangsu Tours>
☛ 5 Days Jiangsu Tour (Suzhou, Wuxi & Nanjing)
If you have more days, you can expand your Nanjing trip to Shanghai - modernest metropolis in China, Hangzhou - home to picturesque West Lake, and Huangshan - magnificent Yellow Mountain and Hui-style ancient villages. Or you can contact us to customize a trip according to your own itinerary and interests. Just tell us your needs and we will take care of everything, you just need to focus on sightseeing!
☛ 5 Days Shanghai & Nanjing Highlights Tour
☛ 8 Days East China Tour by High-speed Train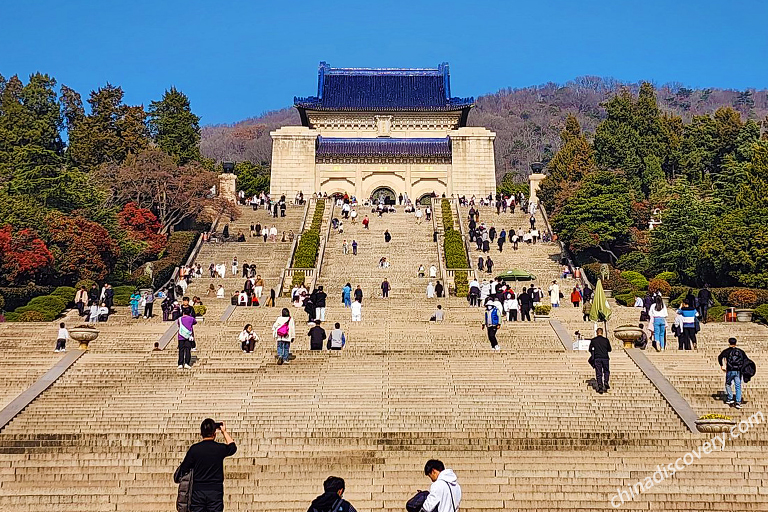 Sun Yat-sen Mausoleum in Nanjing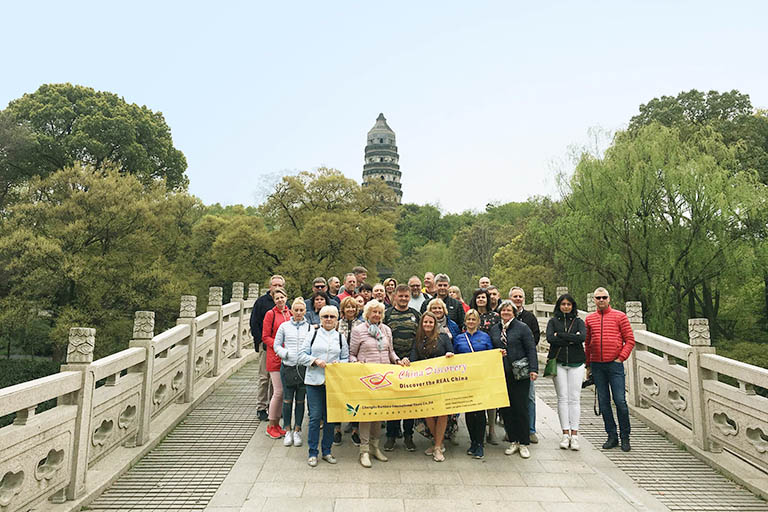 Our Customers visited Tiger Hill in Suzhou
Get Inspired by Real Travel Stories of Our Customers
Since 2012, we have helped numerous customers visit Nanjing and surroundings. With our fully-inclusive private tour packages, all of our customers enjoyed their trips to the ancient city wall, beautiful Purple Mountain, informative Nanjing Museum, charming Qinhuai River, etc. Some of them kindly shared their precious photos and stories about their Nanjing journey, just get inspired now.
"This is my second time to ask China Discovery to organize a private tour for a group of 12 people to visit Huangshan, Hangzhou, Nanjing, Suzhou, Shanghai and other cities close-by…" - shared by Mr. Ban (Check his Travel China with Family and Friends for 3 Consecutive Years - Mr. Ban's Group Traveled Different Parts of China from the North to Southwest and Southeast)
Besides the wonderful travel stories, many customers who visited Nanjing with China Discovery also send us their first-hand feedbacks about their trip, feel free to read the Customer Reviews and learn what they say about their experience. If you want to start your Nanjing tour now, don't hesitate to contact us.
Our Customers Mr. Ban and his group from the USA visited Shanghai, Nanjing, etc. customized by Vivien
Recommended Nanjing Tours
Top 3 Nanjing tours chosen by most customers to explore Nanjing in the best way. Check the detailed itinerary, or tailor your own trip now with us.
5 Days Shanghai Nanjing Highlights Tour

Shanghai / Nanjing
Start planning your tailor-made holiday to China by contacting one of our specialists. Once inquired, you'll get a response within 0.5~23.5 hours.
Customize a Trip
Have a question? Get answers from our travel experts or guests
Your Question:

Your Name:

Your Email: