Xilingol Map: Latest English Maps of Xilingol 2023
Xilingol League, or called Xilin Gol (Xilinguole) League, is located in the central area of Inner Mongolia. It borders Mongolia in the north, Ulanqab City in the west, Hebei Province in the south and Chifeng, Tongliao and Xing'an League in the east. This vast area has one of China's largest and most beautiful grassland - Xilingol Grassland. The Site of Xanadu, the only UNESCO World Heritage in Inner Mongolia, is also here. Besides, Xilingol is rich in volcanic geoparks, historical temples, valleys and so on. To help you know better about this vast area, here we list a collection of Xilingol Maps, including Xilingol Inner Mongolia Map, Xilingol Grassland Map, Xilingol Transportation Map, etc.
Xilingol Location Map - Where is Xilingol on Map?
Xilingol is located in the north of China. It is about 510 kilometers away from Beijing (8 hours around by car) and 710 KM (8 hours around by car) from Hohhot, the capital of Inner Mongolia. Check the Xilingol China Map and Xilingol Inner Mongolia Map below to know its location on map.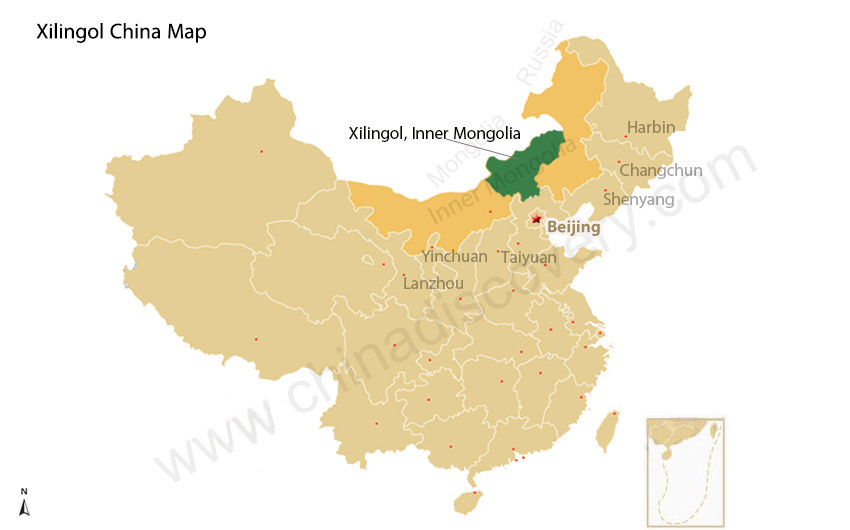 Xilingol China Map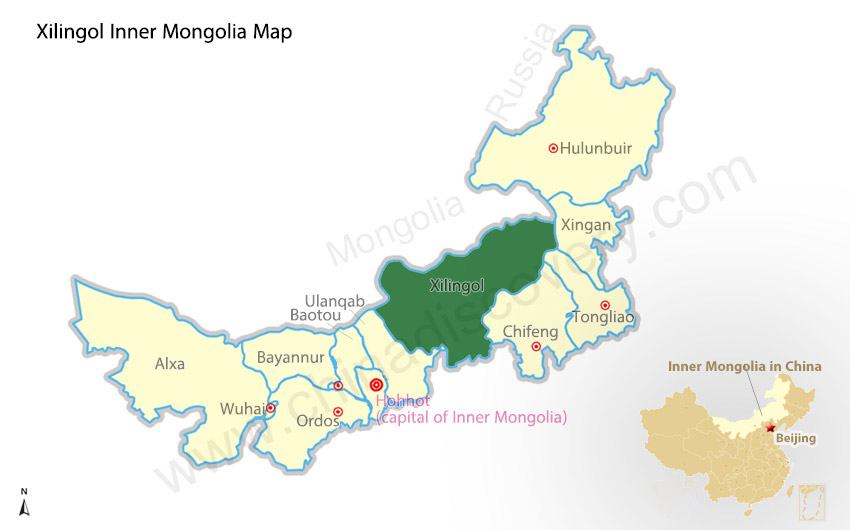 Xilingol Inner Mongolia Map
Xilingol Tourist Map - Xilingol Attractions on Map
The epic grassland is the major attraction in Xilingol. Xilingol Grassland is composed of several primitive grasslands, including Wulagai Grassland, West Ujumuqin Grassland, Xilingol Grassland Nature Reserve and Jinlianchuan Grassland. In addition to the grassland, the highlights include Pingdingshan Volcanic Geopark, The Mongol Khan City, Hunshadake Sandy Land, etc. Check the Xilingol Attractions Map and Xilingol Grassland Map below to get inspired.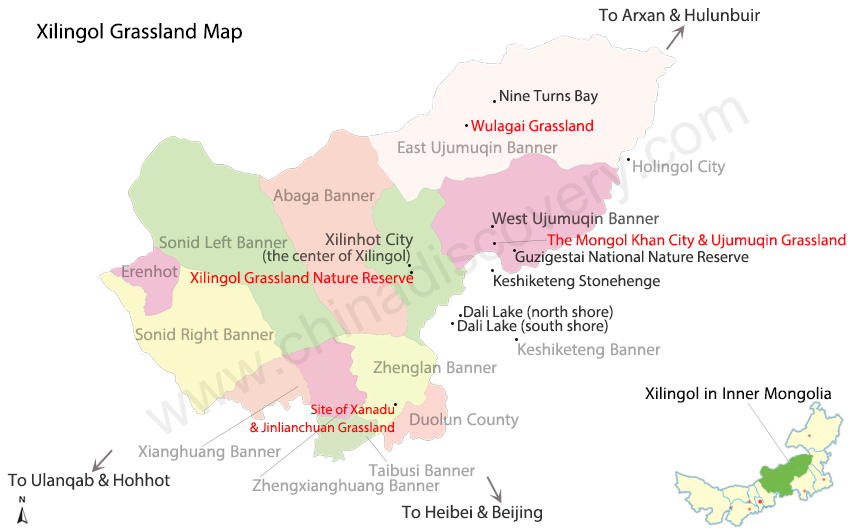 Xilingol Grassland Map
Xilingol Transportation Map - Travel Ways & Time
The best gateways to visit Xilingol are Beijing, Holingol and Hohhot. If you come to Xilingol by flight, Xilin Hot (the center area of the Xilingol region) and Holingol (the nearby city in Tongliao) are the best landing places. Beijing and Hohhot are the best picks of starting cities for self-driving tours to Xilingol. Check the Xilingol Transportation Map below to know how to get to and travel around Xilingol.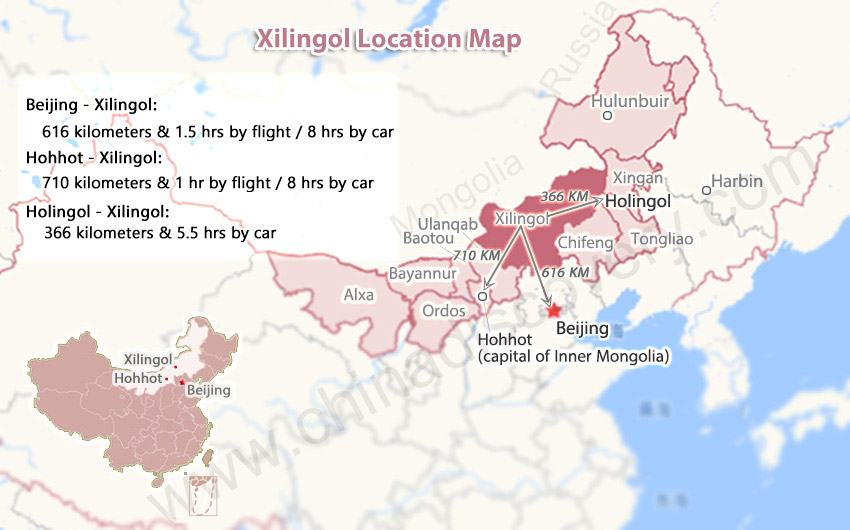 Xilingol Location Map
How to Plan a Xilingol Tour?
Usually, you can spend 4~7 days around to explore Xilingol. The tour usually starts from Xilin Hot, the league center of Xilingol. During the trip, you can spend 4~5 days to visit the highlights near Xilin Hot (like Xilingol Grassland Volcanic Geopark), in Left Ujumuqin Banner (like The Mongol Khan City and Ujumuqin Grassland), in East Ujumuqin Banner (Wulagai Grassland). Adding 1~2 days to visit Site of Xanadu - the UNESCO World Heritage Site and Jinlianchuan Grassland in Zhenglan Banner is also popular.
☛ 5 Days Primitive Inner Mongolia Tour to Xilingol (Xilingol)
If you have more days in Inner Mongolia, you can transfer to Hohhot, and spend 2~3 days visiting the amazing nearby deserts, Buddhist temples, museums and more essences around Baotou, Ulanqab and Ordos. Besides, you can spend 3~5 days in Chifeng visiting the splendid Hexigten Global Geopark and more wonderful lakes, prairies, etc.
☛ 5 Days Classic Inner Mongolia Tour (Hohhot / Huitengxile Grassland / Kubuqi Desert / Ordos)
☛ 6 Days Inner Mongolia Bests Discovery Tour (Hohhot / Ulanqab / Huitengxile Grassland / Baotou / Kubuqi Desert / Ordos)
☛ 6 Days Inner Mongolia Authentic Nature & Dynasties Culture Tour from Chengde (Xilingol - Chifeng)
Have more days and want more wonders? You can extend your trip to Hulunbuir, Arxan, Greater Khingan, Badain Jaran, Ejina, etc. Also, it is a great idea to travel to more popular destinations in China, such as Chengde, Beijing, Shanghai, Xian, Chengdu, Guilin, Silk Road, Tibet, Yangtze River, etc. You can contact us to customize a Xilingol tour with more personal experiences based on your interests, needs and budget!
☛ 5 Days Best Hulunbuir Tour with Grassland Exploration (Hulunbuir)
☛ 9 Days Hulunbuir In-depth Tour with Arxan UNESCO Global Geopark (Hailar - Ergun - Manzhouli - Arxan - Hailar)
☛ 5 Days Zhangye Danxia Badain Jaran Desert Geography Miracle Tour
Xilingol Grassland Horse Riding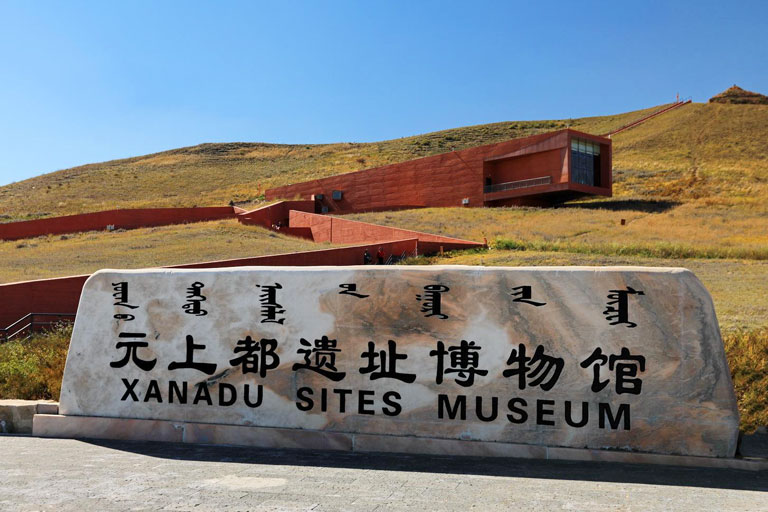 Site of Xanadu - The Only UNESCO World Heritage in Inner Mongolia
Travel Xilingol with China Discovery
Looking for a Xilingol tour but feel hard to arrange your day by day itinerary and site to site transportation? Travel with us China Discovery and let our experienced travel consultant help you. We know Xilingol and Xilingol Grassland much and we have helped numerous visitors to enjoy a tour there. If you go with us, we will customize an Xilingol Tour for you! Your guide will accompany you all the way and show you the best viewing and photography spots. And your driver will take you to cross the grassland along the driving road in the middle of the grassland.
The tour is tailor-made according to your interests, budget, group size and every special need! If you are interested, please feel free to contact us!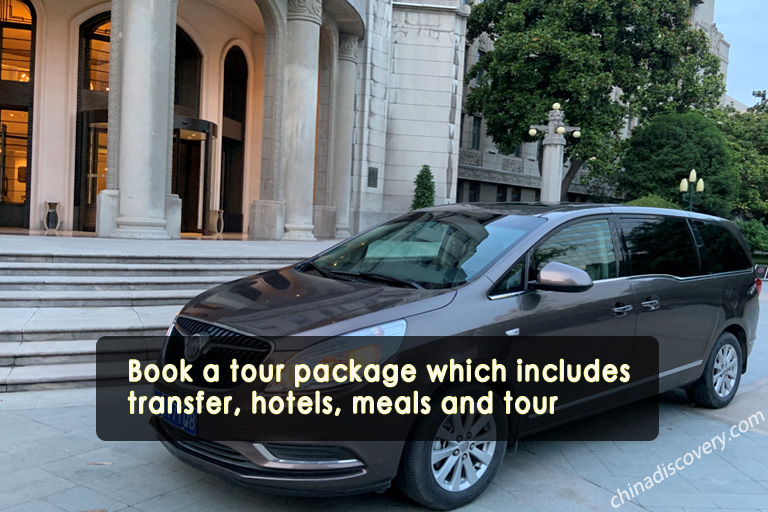 Local Private Transfer Service
Xilingol Travel Guide
More about Inner Mongolia Travel Guide
Recommended Xilingol Tours
Top 3 Xilingol tours chosen by most customers to explore Xilingol in the best way. Check the detailed itinerary,or tailor your own trip now with us.
5 Days Best Hulunbuir Tour with Grassland Exploration

Hulunbuir / Erguna / Manzhouli / Hulunbuir
6 Days Inner Mongolia Best Desert & Grassland Tour (Hohhot to Hulunbuir)

Hohhot / Baotou / Kubuqi Desert / Hulunbuir / Shiwei / Hulunbuir
6 Days Hulunbuir & Greater Khingan Highlights Tour

Hailar / Hulunbuir Grassland / Erguna / Greater Khingan Range/ Shiwei / Heishantou / Hailar