Xilingol Weather: Best Time to Visit Xilingol League 2023
Xilingol League in Inner Mongolia belongs to middle temperate zone arid and semi-arid continental monsoon climate. The annual temperate of most regions of Xilingol usually change between 0~3℃, while that of the northern region neighboring the China-Mongolia border is normally lower than 0℃. The daily minimum temperature of the whole year except July maybe sometimes lower 0℃. The annual rainfall in most areas in Xilingol is about 200~300mm, while that in the west slope of Great Khingan Mountains and in the north slope of Yinshan Mountains is above 400mm. The annual rainfall of the west part of Xilingol may be lower than 150mm. Most of the rains come in June, July and August. The abundant rains and sunshine of these months help the grasses to grow taller and taller, and thus usually you can meet the lushest Xilingol in July, August and September.
Best Time to Visit Xilingol, Inner Mongolia?
Most of the visitors are attracted to Xilingol by the epic grasslands of this region. Therefore, when it comes to the best months to visit Xilingol, it refers to the best time to meet with the most beautiful Xilingol Grassland, which is composed of Xilingol Grassland Nature Reserve, Jinlianchuan Grassland, East Ujumuqin Grassland, West Ujumuqin Grassland, Wulagai Grassland, etc. Normally, June to September is the best time to visit the grasslands. The grand Naadam Festival is also held during these months. Autumn is the most beautiful time of the white birth forests and lakes in the east region of Xilingol. Winter is also good if you ignore the cold air, because there will be grand winter Naadam Festival and beautiful snow, ice and rime.
Average Xilingol Temperature by Month
| Month | Recommended Rate | Max Temp. | Min Temp. |
| --- | --- | --- | --- |
| Jan. | | °C | °C |
| Feb. | | °C | °C |
| Mar. | | °C | °C |
| Apr. | | °C | °C |
| May. | | °C | °C |
| Jun. | | °C | °C |
| Jul. | | °C | °C |
| Aug. | | °C | °C |
| Sep. | | °C | °C |
| Oct. | | °C | °C |
| Nov. | | °C | °C |
| Dec. | | °C | °C |
Xilingol Seasons to Go
Xilingol has a windy and dry spring, rainy summer, pleasant autumn and long winter with ice and snow.
Xilingol Summer (June, July and August)
Summer is the best time to visit Xilingol, because the grasslands of this region are in beautiful lush view after months of rains. Beautiful wildflowers swaying in the wind make the scenery of the grasslands more appealing. The sheep, cattle and horse families come and graze leisurely in the grassland. The best prairie views open in front of your eyes. All kinds of prairie activities are available in this season, like horse riding, bok game, animal feeding and so forth.
What to Wear
Normal summer clothes like short pants, T-shirts, short sleeves and dresses would be good for the daytime in Xilingol. As there are strong and long period of sunshine, do bring some suncare products (sunscreens, hats, parasols and sun-protective clothing, etc.) to protect your skin from sunburn. Also, please remember to bring a coat or jacket since the temperature drops dramatically in the evening, especially in the grasslands and forests. Bring repellent with you if you are going to stay overnight in the Mongolian yurts in the grassland. Take your umbrella with you because you may encounter with occasional rains.
Xilingol Summer Activities
1. Do grassland tours and free yourself with abundant of grassland fun, like horse riding, prairie sightseeing and photography, animal feeding, grassland-crossing driving, etc.
2. Learn Mongolian culture while enjoying the exciting traditional Mongolian performances like bok, archery, horse racing, etc. The Mongol Khan City in the West Ujimqin Grassland is the best place to enjoy such shows.
3. Take part in Naadam Festival, the grandest fair in Xilingol and even the entire Inner Mongolia, to feel the charm of the brave spirit of the Mongol and enjoy their cheerful games and performances.
4. Visit Wulagai Grassland, the grassland on the sky's edge, to get close to the beautiful prairie and the filming spots of the famous Wolf Totem.
5. Have a basic desert fun at Hushadake Sandy Land. Enjoy the unique landscape with lush trees popping up here and there in the sand land and try desert activities like jeep sarifi, hiking, etc.
6. Pay a visit to Duolun Lake to appreciate amazing lake view by the side of forests and grasslands and watch the exciting biking game around the lake.
Xilingol Summer Tours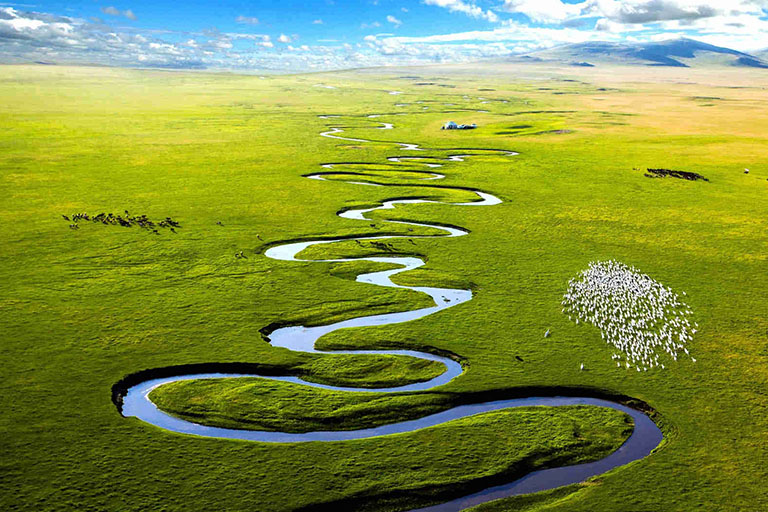 Xilingol Grassland in Summer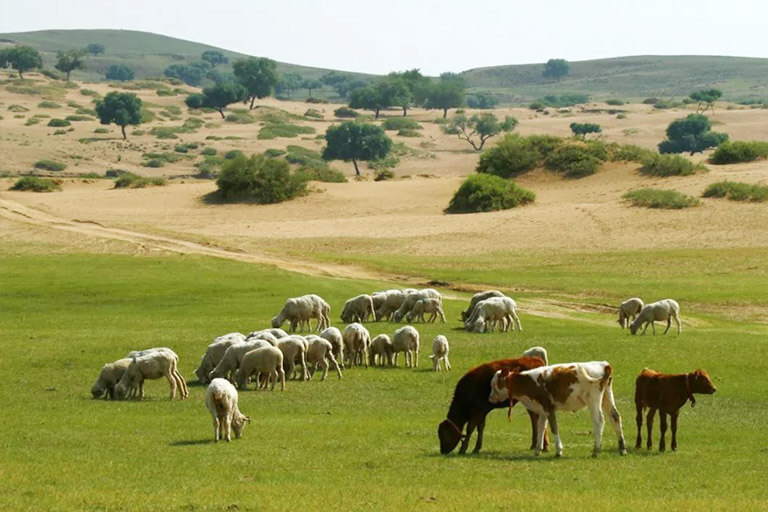 Hunshadake Sandy Land
Bok Performance at The Mongol Khan City
Xilingol Autumn (September, October, November)
Autumn is also good to visit Xilingol. Weather in this season is considered to the best and most pleasant. The temperature drops gradually, with the grasses in the prairie and the trees in some part of the grasslands, the nearby forests and sand land turns into amazing golden color. Sometimes there may be sandstorms, but never that frequent as in spring.
What to Wear
Shirts, sweaters, sunglasses, comfortable shoes, hat, wind-proof scarfs and overcoats are recommended.
Xilingol Autumn Activities
1. Try free driving across the vast prairie to find the peace in your heart and listen to the echo of the nature. The emerald grassland has gone but is followed by yellow prairie with lovely stacks of hay. On the way, you can also make stops at the temple, lake, sand land and volcanos to have fun.
2. Visit Duolun Lake to admire the beautiful autumn scenery, which is said no inferior of the landscape in the famous Jiuzhaigou Valley.
3. The Site of Xanadu always welcome the culture lovers. This glorious palace in the story of Marco Polo has a lot of the ancient history to tell.
Xilingol Autumn Tours
☛ 6 Days Inner Mongolia Authentic Nature & Dynasties Culture Tour from Chengde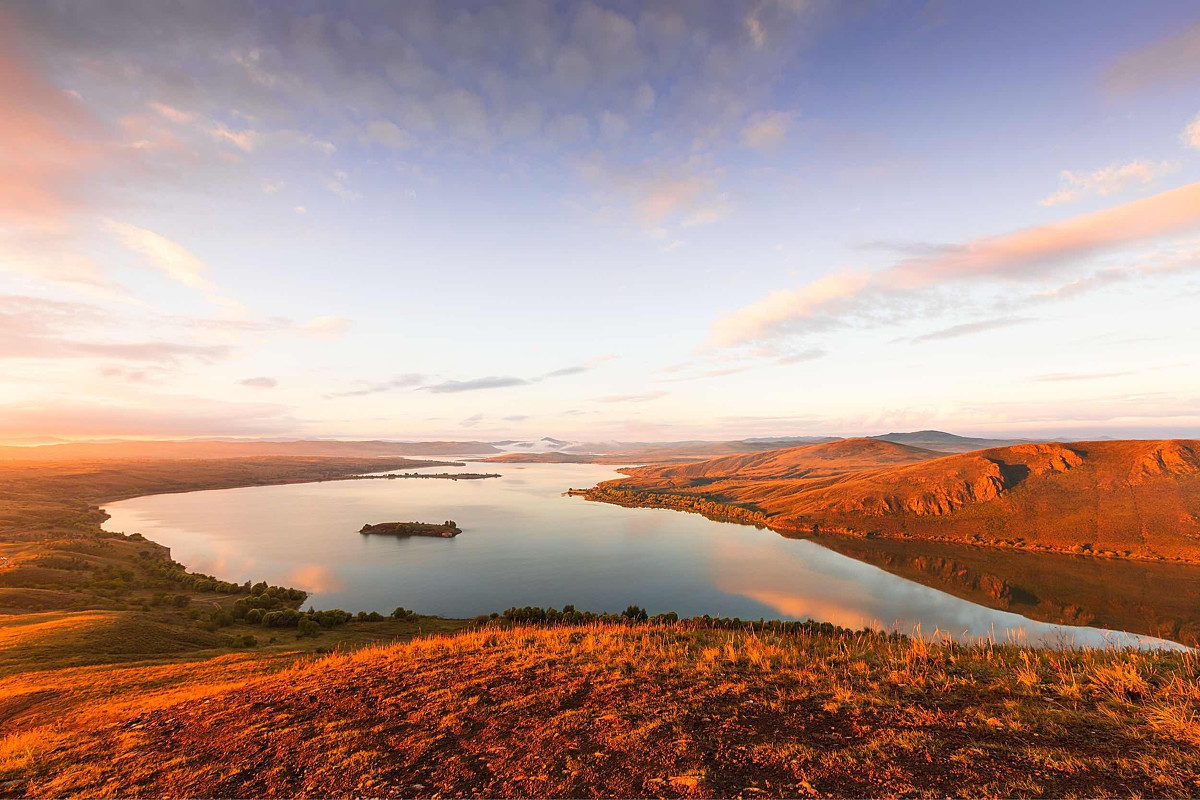 Duolun Lake in Autumn
Xilingol Spring (March, April, May)
The weather in spring is windy and dry without too much rain in Xilingol. The temperature rises rapidly, with snows in the grasslands are mostly melt and the grasses and flowers are going to blossom. However, Xilingol is easily attacked by sandstorms and even severe sandstorms. Therefore, if you are coming to visit it in this season, please check the weather forecast carefully or you may be stocked in your hotel during your trip.
What to Wear
Scarves, sunglasses, sweaters, thin jacket and comfortable shoes. You are suggested to wear multiple layers, because the temperature varies a lot in the day and at night. If you are coming in the early spring, you may need to wear your down jacket and pants, because Xilingol during then is still chilly and cold.
Xilingol Spring Activities
1. Get close to the Site of Xanadu, the UNESCO World Cultural Heritage in Zhenglan Banner of Xilingol League, to trace the ancient prosperity of the great Yuan Dynasty (1271-1368) - the kingdom with the largest territory in history.
2. Visit Pingdingshan Volcanic Geopark to admire the otherworldly volcanic landscapes full of large cluster of volcanos with flat head. The sunrise and sunset view above the volcanos are also highly recommended.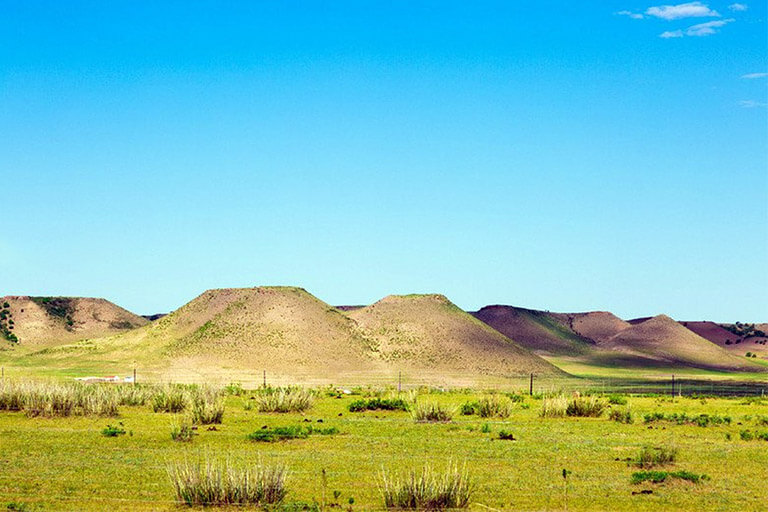 Pingdingshan Volcanic Geopark
Xilingol Winter (December, January, February)
Winter in Xilingol is a season with wind, snow, ice and rime. The temperature drops heavily, and the snow and ice gradually cover the prairie, forest, lake... On sunny days, the sunshine shines on the snow and ice, forming an amazing white wonderland. When the winter Naadam Festival comes, the running horses raise huge trails of snow in the air, which is extremely breathtaking.
What to Wear
All the winter items are necessary in Xilingol in winter, including the down coat and pants, thermal underwear, snow boots, wool caps or woolen hats, masks, groves, scarfs and so on.
Xilingol Spring Activities
1. Join in the Winter Naadam Festival and admire the exciting atmosphere of competition and get a glimpse of Mongolian life.
2. Savor delicious Mongolian-style foods and snacks.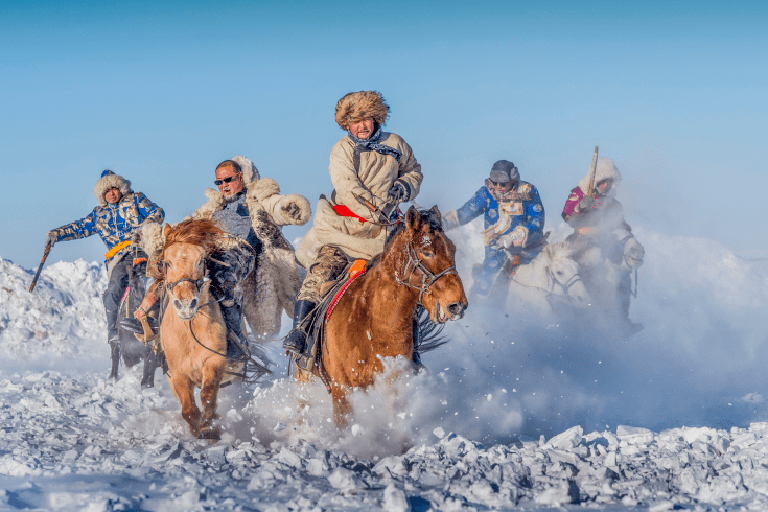 Winter Naadam Festival in Xilingol
How to Plan a Xilingol Tour?
Usually, you can spend 4~7 days around to explore Xilingol. The tour usually starts from Xilin Hot, the league center of Xilingol. During the trip, you can spend 4~5 days to visit the highlights near Xilin Hot (like Xilingol Grassland Volcanic Geopark), in Left Ujumuqin Banner (like The Mongol Khan City and Ujumuqin Grassland), in East Ujumuqin Banner (Wulagai Grassland). Adding 1~2 days to visit Site of Xanadu - the UNESCO World Heritage Site and Jinlianchuan Grassland in Zhenglan Banner is also popular.
☛ 5 Days Primitive Inner Mongolia Tour to Xilingol (Xilingol)
If you have more days in Inner Mongolia, you can transfer to Hohhot, and spend 2~3 days visiting the amazing nearby deserts, Buddhist temples, museums and more essences around Baotou, Ulanqab and Ordos. Besides, you can spend 3~5 days in Chifeng visiting the splendid Hexigten Global Geopark and more wonderful lakes, prairies, etc.
☛ 5 Days Classic Inner Mongolia Tour (Hohhot / Huitengxile Grassland / Kubuqi Desert / Ordos)
☛ 6 Days Inner Mongolia Bests Discovery Tour (Hohhot / Ulanqab / Huitengxile Grassland / Baotou / Kubuqi Desert / Ordos)
☛ 6 Days Inner Mongolia Authentic Nature & Dynasties Culture Tour from Chengde (Xilingol - Chifeng)
Have more days and want more wonders? You can extend your trip to Hulunbuir, Arxan, Greater Khingan, Badain Jaran, Ejina, etc. Also, it is a great idea to travel to more popular destinations in China, such as Chengde, Beijing, Shanghai, Xian, Chengdu, Guilin, Silk Road, Tibet, Yangtze River, etc. You can contact us to customize a Xilingol tour with more personal experiences based on your interests, needs and budget!
☛ 5 Days Best Hulunbuir Tour with Grassland Exploration (Hulunbuir)
☛ 9 Days Hulunbuir In-depth Tour with Arxan UNESCO Global Geopark (Hailar - Ergun - Manzhouli - Arxan - Hailar)
☛ 5 Days Zhangye Danxia Badain Jaran Desert Geography Miracle Tour
Travel Xilingol with China Discovery
Looking for a Xilingol tour but feel hard to arrange your day by day itinerary and site to site transportation? Travel with us China Discovery and let our experienced travel consultant help you. We know Xilingol and Xilingol Grassland much and we have helped numerous visitors to enjoy a tour there. If you go with us, we will customize an Xilingol Tour for you! Your guide will accompany you all the way and show you the best viewing and photography spots. And your driver will take you to cross the grassland along the driving road in the middle of the grassland.
The tour is tailor-made according to your interests, budget, group size and every special need! If you are interested, please feel free to contact us!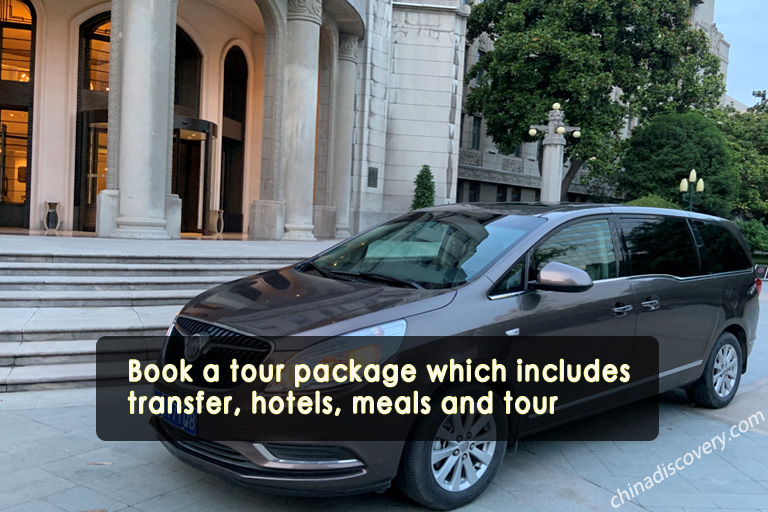 Local Private Transfer Service
Xilingol Tours
Xilingol Travel Guide
More about Inner Mongolia Travel Guide
Recommended Xilingol Tours
Top 3 Xilingol tours chosen by most customers to explore Xilingol in the best way. Check the detailed itinerary,or tailor your own trip now with us.
5 Days Classic Inner Mongolia Tour

Hohhot / Huitengxile Grassland / Yemingsha of Kubuqi Desert / Hohhot
5 Days Best Hulunbuir Tour with Grassland Exploration

Hulunbuir / Erguna / Manzhouli / Hulunbuir
6 Days Inner Mongolia Best Desert & Grassland Tour (Hohhot to Hulunbuir)

Hohhot / Baotou / Kubuqi Desert / Hulunbuir / Shiwei / Hulunbuir