How to Plan a Trip to Inner Mongolia | Inner Mongolia Trip Planning Guide 2023
Since the super large Inner Mongolia in northern China is advantageous for boasting a large amount of diverse and excellent idyllic grasslands, wild desert adventure, interesting Mongolian nomadic tribe and imperial historical culture, etc., how to plan a worry-free and memorable trip to Inner Mongolia to enjoy its highlights as many as possible? Here, our ultimate Inner Mongolia trip planning guide will help you know clearly about every aspect, like the best time to visit, how to travel to & around, where to discover, what to do, how many days to arrange, where to stay, and more useful travel information and tips. Check all them at below to start your planning of the Inner Mongolia tour 2023/2024!
Inner Mongolia Weather & Best Time to Go
How to Go to & Around Inner Mongolia
Travel to Inner Mongolia by Flight, Train & Car
How to get to Inner Mongolia from other places in China or other countries? Flights, high speed trains and driving are mostly used for reaching the major traffic hubs. And Hohhot is usually the most convenient gateway city accessible by air and railway. Hulunbuir is easily to get to by flights. While Badain Jaran and Ejina can be arrived by flight, car, etc. Click each destination for its detailed transportation info about how to get there and travel around.
Travel within Inner Mongolia Prefecture
Top Destinations to Go in Inner Mongolia
Though not listed into the top classic travel destinations in China, Inner Mongolia indeed nurtures a series of unique and fabulous places to attract numerous global visitors to have a personal exploration during their China trip. More than the most symbolic green grasslands, wild adventurous deserts, magnificent geological wonders, glorious imperial history, mysterious life of horseback Mongolian tribes, harmonious mixed ethnic flavors and so forth makes those places worthy your visit at least. Check the top must-visit destinations at below.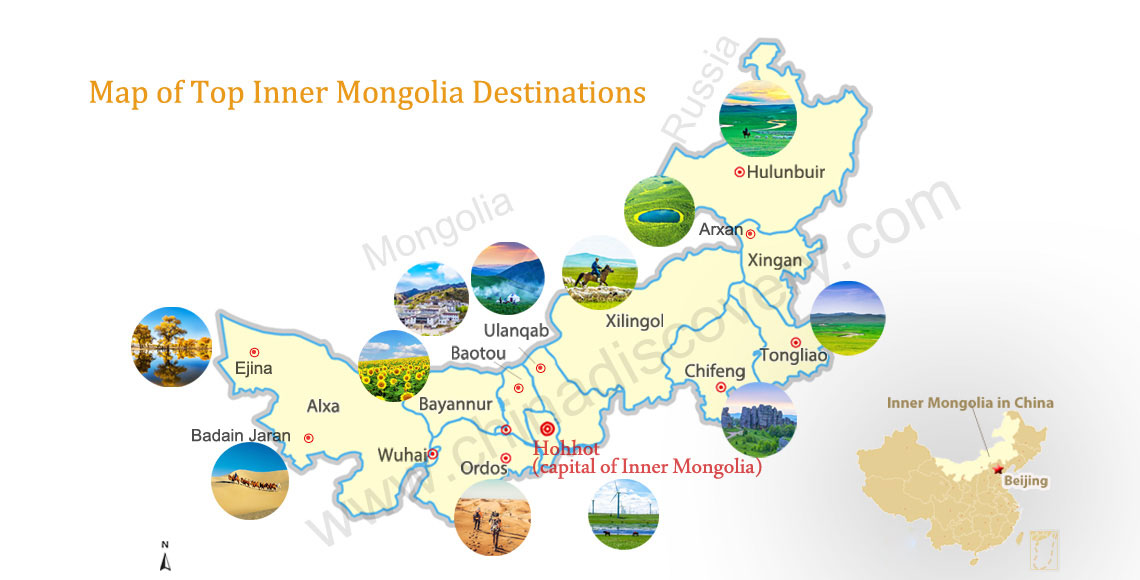 Inner Mongolia Destinations Map
Top 1: Hohhot
Top 2: Hulunbuir
Top 3: Badain Jaran
Top 4: Ordos
Top 5: Baotou
Top 6: Xilingol
Top 7: Ejina
Check more about Top Inner Mongolia Destinations to Visit
Where to Start or End Your Inner Mongolia Tour
How Many Days to Spend in Inner Mongolia & Itinerary Design
The trip length depends on the rough areas, travel time, interested highlights, etc. you want. Since Inner Mongolia is really large and the highlights are relatively scattered, it is hardly to discover all the bests in only one go. And it can be divided into three major areas you can go for 2-3 times and based on your interests, namely the middle, east and west Inner Mongolia.
● Brief Inner Mongolia - Hohhot & Around
● Classic Inner Mongolia - Central Area
● Authentic Inner Mongolia - East Area
● Wild Inner Mongolia Adventure - West Area
Extend Your Inner Mongolia Trip
Where to Stay in Inner Mongolia
Check more about Where to Stay in Inner Mongolia
Travel Inner Mongolia with China Discovery