Brief Introduction of Zhangjiajie Grand Canyon
Zhangjiajie Grand Canyon (张家界大峡谷) in Hunan province is a "National AAAA Tourist Attraction" with eye-pleasing natural sceneries. In this tourist spot, you can even try the longawaited world longest and highest glass bridge that is regarded as the "12 Most Spectacular Bridges in the World" by CNN to be a bold one and admire the panoramic view of Zhangjiajie Grand Canyon with green forests, waterfalls, streams, etc. Moreover, you will be dazzled with the multiple types of waters and lush plants that form a heaven on earth and will drive all your annoyance far away.
Highlights in Zhangjiajie Grand Canyon
To visit Zhangjiajie Grand Canyon, you can have a brand new experience on the Glass Bridge to look down of the verdant view on the transparent glass floor. Besides, the very long and steep walk way, super narrow way at Yixiantian, and other beautiful natural scenery will take you to tour in excitement, enjoyment, etc.
Zhangjiajie Glass Bridge (Boliqiao)
Zhangjiajie Glass Bridge (张家界玻璃桥), or Glass Bridge in Zhangjiajie, is the "world highest and longest glass bridge" with the full length of 430 m and a respectively height of about 400 m above the valley bottom, which has regarded as a model of international bridge construction with 10 WORLD MOST prizes. Also, for the great design of Haim Dotan from Israel and the long-term effort of the constructors, Zhangjiajie Glass Bridge has been regarded as the "12 Most Spectacular Bridges in the World" by CNN. As a result, a lot of tourists want to go to Zhangjiajie Grand Canyon to admire this magnificent bridge and walk on it. After strict tests and trials, Zhangjiajie Glass Bridge has finally been opened on August 1, 2016 and has gained another name of Yuntian Du (云天渡) to mean the way for people under heaven.
Standing on the Zhangjiajie Glass Bridge all paved with transparent glass, you would easily feel stressful and frightened, but be fearless to move on your step, since you would be touched by your big boldness and can have the fabulous view of the silver streams and green valley under 400 m. Besides, the azure sky as well as the milk white clouds reflecting on the glass bottom will add more magic and mysterious feeling into your walk, making you confused about whether walking on the clouds or above the lush plants in Zhangjiajie Grand Canyon.
What's more, at the middle of the bridge, you can enjoy the world highest Bungee Jump. Just imagine the so cool feel of flying in the luxuriant canyons and mists under the clear sky and soft clouds. You want to achieve your dream of flying like the Spider Man or other heroes? Just go to get the great chance to Zhangjiajie Grand Canyon.
Since this awestruck but charming glass bridge is so hot and has been long expected by numerous people from home and abroad, the Canyon officials stipulate that there are 8000 people per day and 600 per time at most to visit the Zhangjiajie Glass Bridge. And if you want to have this new try in Zhangjiajie Grand Canyon, it is recommended to book the ticket earlier for at least 3 days.
Note: travellers who want to only experience the Zhangjiajie Glass Bridge without sightseeing of the Zhangjiajie Grand Canyon are required to visit the bridge after 15:30.
Know more about Zhangjiajie Glass Bridge >>
▶ 4 Days Zhangjiajie Exciting Adventure with Glass Bridge
High Ladder Raised Walkway (Tianti Zhandao)
High Ladder Raised Walkway (天梯栈道) in Zhangjiajie Grand Canyon means the walkway up to the sky, because it was built with more than 1600 stone steps in an especially narrow and steep form. This man-made way looks very precipitous, but is safe enough to walk up. Climbing up to the highest spot, you will feel a little tired. However, the feeling of walking up to the sky is really special and will push you to continue.
Holy Spring Valley
Zhangjiajie Grand Canyon suddenly becomes narrower in the Holy Spring Valley or called Shenquanxia (神泉峡). This long valley has extremely beautiful sightseeing. You can walk on the stone way to admire the luxuriant view along and the clear jade-like water running with the soft mists, which is just like the abode of the immortals in China. Besides, there are multiple waterfalls coming done from the mountains in diverse shapes, which will cool you down and drive the urban stress away.
Nuokeli Slideway
Nuokeli Slideway (诺克里滑道) of about 600 m long is built between Yixiantian, Nanfang Hongqi Qu (南方红旗渠) and Gudi Zhandao (谷底栈道), divided into 2 parts. If you are tired to walk to the next attraction, you can choose this slideway or called toboggan of 45 cm deep and 50 cm wide to save energy and about 20 min for the following tour. Moreover, you can take it to admire the sightseeing of Zhangjiajie Grand Canyon while getting the exciting feeling of fast sliding down within 3 to 5 min.
People Walk on the Transparent Glass Bridge
Kids Get Fear on Zhangjiajie Glass Bridge
Stand on Zhangjiajie Glass Bridge with Fear
Tianti Zhandao - Long Way up like to the Sky
Shenquanxia - Like the Abode of the Immortals
Slide down on the Nuokeli Slideway
Recommended Route to Visit Zhangjiajie Grand Canyon
Exciting Route with Zhangjiajie Glass Bridge (Route B)
Start from the Tourist Center to Zhangjiajie Glass Bridge to walk on the world highest and longest glass bridge, and then walk up along the Glass Plank Walk (玻璃栈道) to feel walking to the sky. After that, take the cliff elevator upper section and middle section down to experience the Nuokeli Slideway (诺克里滑道) with much fun to the Rainbow Square (彩虹广场). After reaching the bottom of the valley, visit along Momo Cave (摸摸洞) and the Holy Spring Lake (神泉湖), and take the sightseeing boat dock and other beautiful attractions while appreciating the charming sightseeing of running waters, flying waterfalls, lush vegetation, etc. in Zhangjiajie Grand Canyon. (Usually 2.5 hours)
Route for only Zhangjiajie Glass Bridge (Route C)
Walk from the Entrance for about 10 minutes to directly visit Zhangjiajie Glass Bridge, and return by the same way. (Usually 0.5 hour)
Zhangjiajie Grand Canyon Sightseeing Route (Route A) (Not Recommended)
This route takes you to visit only the Grand Canyon sceneries, but excludes the more exciting Zhangjiajie Glass Bridge. It is not recommended for visitors from other domestic cities and other countries.
Click to Enlarge the Zhangjiajie Grand Canyon Tourist Map
Map & How to Go to Zhangjiajie Grand Canyon
Zhangjiajie Grand Canyon in Zhangjiajie city of Hunan province is about 300km and about 3.5 to 4 hours driving from Changsha. It is about 55km from Zhangjiajie downtown that needs about 75 min for driving, and about 16km from Wulingyuan Town downtown with 45 minutes' driving distance. You can easily get there by flight, train, coach, bus, etc.
Independent Travel:
By Flight
a. To Changsha:
Changsha Huanghua International Airport (长沙黄花国际机场) has opened over 130 airlines to and from more than 30 cities in Asia, Europe, America, Atlantic, etc.
b. To Zhangjiajie:
Zhangjiajie Hehua International Airport (张家界荷花国际机场) offers 20 lines from and to the countries and regions beyond border, like South Korea, Japan, Thailand, Hong Kong, Taiwan, etc. and about 60 lines between the cities in mainland China, such as Beijing, Shanghai, Guangzhou, Chengdu, etc. The airport is about 60 km from Zhangjiajie Grand Canyon, and you can arrive here for about 70 min by car or other vehicles.
Click to Enlarge the Location Map of Zhangjiajie Grand Canyon
By Train
There are many high speed trains from Changsha Railway Station to Zhangjiajie West Railway Station every day, which takes only about 2.5-3.5 hours for arrival. Besides, you can take a normal train to Zhangjiajie Railway station (张家界站) from other cities like Yichang (4.5-5 hours), Tongren (about 7 hours), Beijing, Shanghai, Hangzhou, Guangzhou, Kunming, Shenzhen, Guiyang, etc. After arrival, you can take a taxi to Zhangjiajie Grand Canyon for about 70 min (about 60 km) or by taking other vehicles.
By Coach
There are many coaches from Changsha to Zhangjiajie Central Bus Station (张家界中心客运站), which needs about 3.5 to 4 hours, and you can get to Zhangjiajie Grand Canyon by taxi. Besides, you can take a coach from Changsha to Zhangjiajie Wulingyuan Bus Station (张家界武陵源汽车站) for about 4 hours. And then, you can reach the tourist attraction by a tourist coach directly to Zhangjiajie Grand Canyon for about 40 min, or a coach to Cili County (慈利县) with a stop in the tourist attraction, or by taxi for about 0.5 hours (about 22 km).
Travel with China Discovery (Top Recommended):
If you want to get rid of the hustle of public transportation and troublesome navigation, you are recommended to travel with China Discovery and book a private tour package which covers sightseeing, dining, transfer, guide service, etc. Our local tour guide and driver will escort you to Zhangjiajie Grand Canyon with safety, speed and convenience by licensed private car from China Discovery, and take care of all the details. You just need to focus on sightseeing.
Fee in Zhangjiajie Grand Canyon
Zhangjiajie Glass Bridge: 125 RMB/person (only available for visiting during 16:30-17:20)
Zhangjiajie Grand Canyon + Zhangjaijie Glass Bridge: 219 RMB/person (only available for visiting during 08:00-15:20; insurance fee of CNY 3 is included)
Cliff Elevator Upper Section + Middle Section: 65 RMB/person
Nuokeli Slideway: 30 RMB/person
Note: 1). No full tickets for Zhangjaijie Grand Canyon scenic area are sold on site, all travelers need to book the tickets on the official website or through travel agencies. 2). Visitors need to have your ticket checking, to enter 30 minutes in advance, and to visit the area only during the visiting time printed on your ticket, which can be appointed when booking. 3). The above information is for your reference only, which may be slightly changed according to practical situation. for the detail fee information in Zhangjiajie Grand Canyon, please contact our Travel Consultant.
Accommodate at Zhangjiajie Grand Canyon
Zhangjiajie downtown and Wulingyuan District offer multiple hotels and hostels. They are about 36 kilometers and 18 kilometers from Zhangjiajie Grand Canyon respectively. You can choose your favorite one from the five-star resorts, luxury, comfort, economy, or themed hotels, inns and special hostels. Also, there are some good hotels and hostels in Cili County, which will save your time on the way to the tourist attraction. Learn more about Recommended Zhangjiajie Hotels | Recommended Wulingyuan Hotels | Where to Stay in Zhangjiajie >>.
Tips to Go to Zhangjiajie Grand Canyon
1. Wear comfortable shoes to visit Zhangjiajie Grand Canyon for there are many steep ways to walk and some places are slippery;
2. Zhangjiajie Glass Bridge may be closed during extremely bad weather days, like strong wind, heavy rain, snow, hailstone, etc. so it is suggested to get the recent information of weather forecast of Zhangjiajie if you want to try the bridge; You can check our updated Zhangjiajie Weather & Best Seasons | Zhangjiajie Temperature >>.
3. Belongings except for wallet and mobile phones are not allowed to take onto the glass bridge, and ladies do not wear high-heels;
4. People with heart disease, hypertension, acrophobia and other illness are not suitable to visit the glass bridge;
5. Follow the rule of the tourist attraction during your visit, especially when on the Glass Bridge, like do not run or throw stuffs, do not lean on the rail, etc. in case of accident;
6. Well protect your cameras and other belongs since there are some waters and flying waterfalls in Zhanjiajie Grand Canyon.
How to Plan a Trip to Zhangjiajie Grand Canyon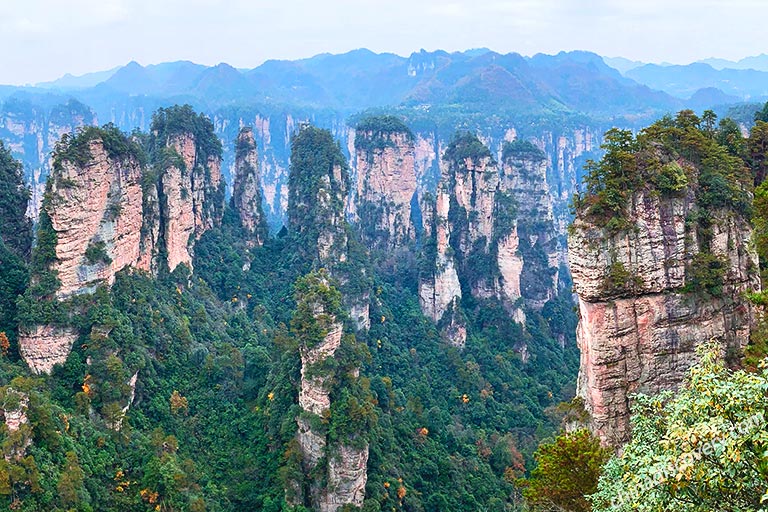 Zhangjiajie National Forest Park
Tianmen Mountain Cableway
Travel Zhangjiajie Grand Canyon with China Discovery
Are you planning a tour with Zhangjiajie Grand Canyon but do not want to arrange the complicated things like transportation, accommodation, tour guide, etc.? Travel with us China Discovery, and we will arrange local travel guide and driver who will escort you from your hotel to the attraction with comfortable licensed private vehicle by China Discovery, so you can pay more attention to the highlights on the way. Moreover, our guide will give professional and interesting introduction of all the highlights during your trip to ignite your travel experience. Furthermore, our travel expert will help you customize your own tour to visit more places in Zhangjiajie and other popular destinations in China, including Beijing, Shanghai, Xian, Hong Kong, Guilin, Chengdu, Guizhou, Huangshan, Suzhou, Hangzhou, Yunnan, Yangtze River, Lhasa, etc. with professional and helpful suggestions. If you are interested, please feel free to tell us directly.
We have helped many global travelers enjoy their memorable trips to Zhangjiajie for the past few years. Among them Mr. Elie & his wife from Belgium enjoyed 5 days in Zhangjiajie during their 69 days China trip customized with us and shared us their travel story. Travel with China Discovery to create your wonderful Zhangjiajie trip memories!
Recommended Zhangjiajie Tours
Top 3 Zhangjiajie tours chosen by most customers to explore Zhangjiajie in the best way. Check the detailed itinerary, or tailor your own trip now with us.
5 Days Amazing Zhangjiajie & Fenghuang Ancient Town Tour

Zhangjiajie / Fenghuang / Zhangjiajie
Start planning your tailor-made holiday to China by contacting one of our specialists. Once inquired, you'll get a response within 0.5~23.5 hours.
Customize a Trip
Questions & Discussions
Following are latest questions and answers from our webusers and customers. You can learn many useful information from the discussion and cases. You can also join in the discussions or ask your own question. Our experts will help you ASAP.
Have a question? Get answers from our travel experts or guests
Your Question:

Your Name:

Your Email: