Yellow Mountain Packing list - What to Pack for A Huangshan Hiking Tour
When the departure date comes near, you may be worry about your baggage for your dream tour to the Yellow Mountain. Normally, an international travel requires you bring lots of accessories, including proper clothes, shoes and daily items, not to mention you will have a hike on the Huangshan Mountain with lots of steps and even stay overnight on the mountain top.
What's the current weather and suitable dressing on Mt Huangshan? What useful staff I should take? Indeed, packing well always helps you have a pleasant and smooth travel. So, remember that, travel light and take useful items as much as possible is the most important principle of packing ideas for a Huangshan hiking tour. Read the following packing list to get clear about what you should pack before setting out.
What I Need to Take for Overnight Trip to Huangshan Mountain
The complete guide of packing checklist for Huangshan hiking travel below includes the very important essentials and flexible accessories based on your own visiting time, exact weather condition and personal schedule. Here is the user-friendly version - PDF you can download freely.
Suitcase & Backpack
Tourists can bring big baggage suitcases and travel bags when touring around in Huangshan City and store them in your hotels at the destination. However, your heavy, excessive, big baggage is highly recommended to store in the hotel or reliable places at the foot of Huangshan Mountain, because you will hike many stairs up and down the mountain. It would be a painful trial to carry those heavy burdens around. The best idea is take a light hiking backpack with necessities you will use during the overnight stay.
>> Where to Store Your Baggage before Huangshan Hiking
Clothing & Footwear
Weather on the Huangshan Mountain differs from the temperature at the foot of the mountain. Even it changes dramatically during a single day. Besides, there are over 200 foggy and misty days on the mountain top. You need to check the seasonal weather and make preparation for the various kinds of climate conditions before departure.
Clothes: Take weather-appropriate & quick-drying clothes and dress in layers. Wear long sleeves in moderate spring and autumn, T-shirt and shorts in hot summer, warm and thick clothes, hat and scarf in frozen winter. Better wear a lightweight jacket in the early morning and late evening for it's a bit of cold and windy.
Prepare extra underwear for change, because you will sweat in the day hiking.
Pack comfortable and clean pajamas or long underwear if you will stay overnight on the mountain.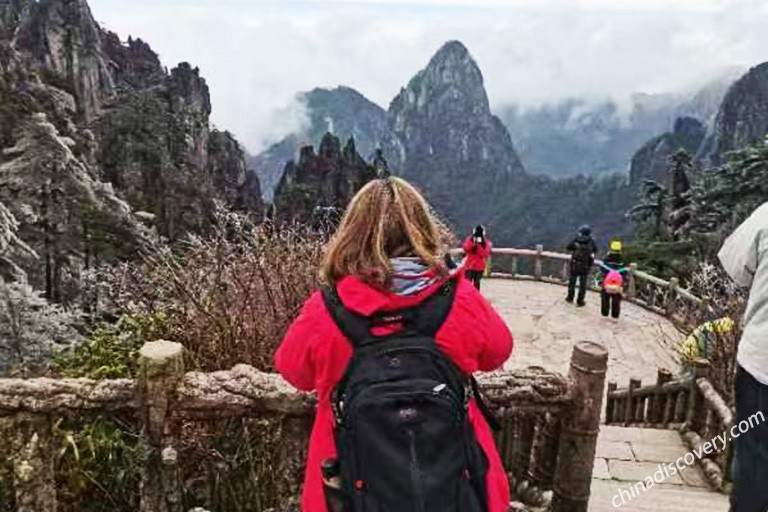 Take a Backpack to Hike the Yellow Mountain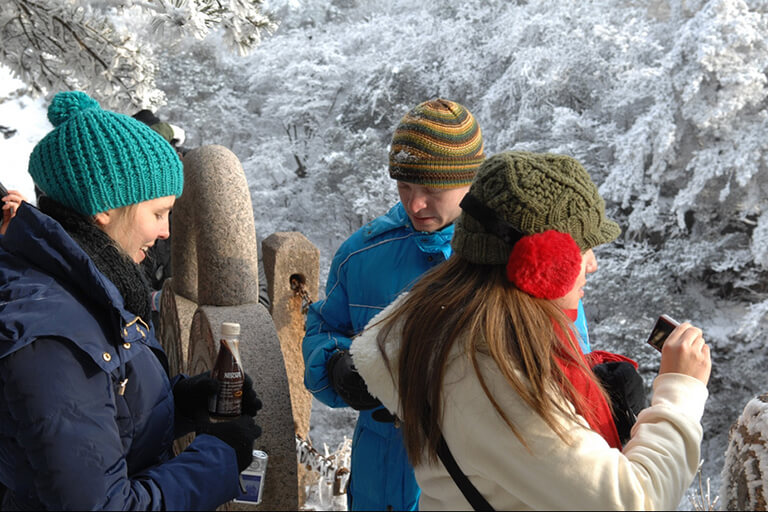 Dress Warm When Visiting Mt. Huangshan in Winter
Shoes: comfortable light hiking shoes or sports shoes, good clean socks. No sandals and heavy boots.
Rain Gear: disposable raincoat in good quality (which can be easily bought at the shops, vendors at the base area.)
Useful links:
>> Huangshan Weather & Season – Best Season to Go
>> Huangshan Weather, Temperature in Spring | Summer | Autumn | Winter
Most Popular Huangshan tour packages for 2023
Food & Drinks
There are plenty of concrete steps waiting for you on the Yellow Mountain. If you want a full exploration to all major scenic spots, that will count a larger number. Usually, you will hike several hours and even longer in a day, and food and drinks sells a higher price on the mountain top areas and taste not good, so better prepare sufficient supplement for your hiking travel based on your taste.
The best option is to take some high energy snacks, and a couple of bottles of water. You can also carry water filter, cups to get hot water in the hotel. Want to minimize your bag? You can buy extra supplies at a more expensive cost.
>> What to Eat in Huangshan - Anhui Cuisine & Recommended Restaurants
>> Why Expensive & Price List on Huangshan Mountain
Other Useful Items
● Money & ID: you valid passport & some cash ( because some vendors/shops only accept cash on the mountain)
● Photography Electronics: Cellphone, Camera, Charging Cables and spare battery.
● Sun Protection: Sunscreen and Sunglasses. Sunhat is especially suggested during summer when the UV rays are the strongest.
● Hiking Equippment: Detailed Huangshan Mountain Hiking Map, Trekking Pole/Hiking Stick, Knee Protector, Antiskid Gloves, Head Lamp or Flash Light
Else articels: Toiletries, Toilet Paper, First-aid Items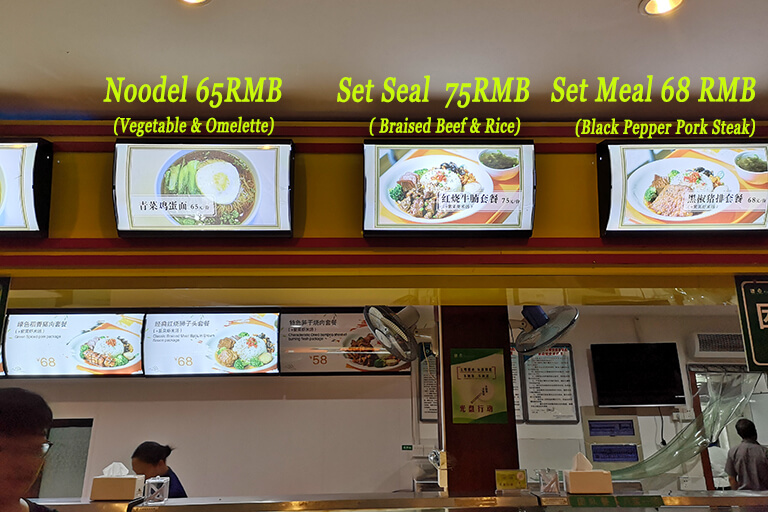 Food Price in Beihai Hotel Restaurant (click to enlarge)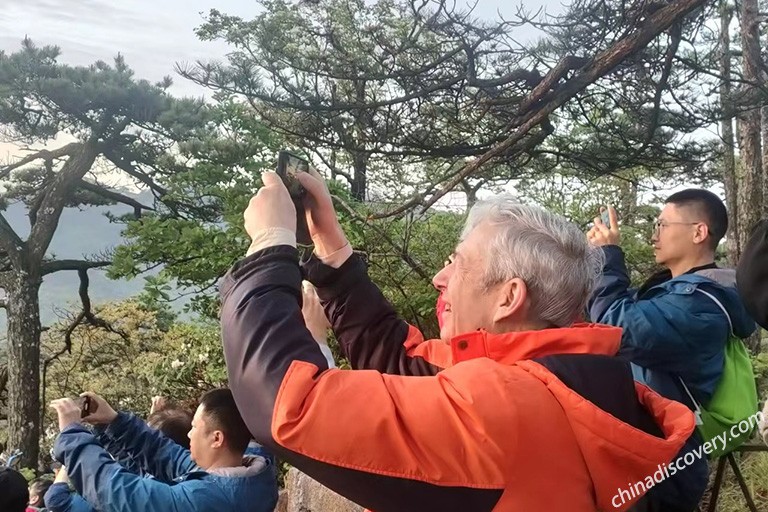 Visitor is take photos of the beautiful sunrise on Huangshan Mountain
How to Plan A Huangshan/Yellow Mountain Tour
With over 50 peaks and numerous scenic spots, the UNESCO World Natural and Cultural Heritage site, Huangshan Mountain has various kinds of sightseeing highlights and hiking routes (Huangshan Mountain Hiking Map). According to private fitness and length of holiday, tourists can plan the once in a life time trip to Huangshan Mountain to 1 day, 2 days, 3 days and longer to an in-depth discovery. The most popular schedule is to spend at least one night on the mountain to catch the magnificent Huangshan sunrise and sunset, and visit major sites (including Bright Summit, Lotus Peak, Lion Peak, Beginning to Believe Peak…) in the Front, Back Mountain and West Sea Grand Canyon. After/before the hiking, you can also travel to Hongcun & Xidi, and nearby ancient villages to complete Huangshan and ancient Huizhou nature and culture exploration. All Things to Do in Huangshan >
Most Recommended Huangshan Mountain Tours:
- 3 Day Huangshan Highlights Leisure Walking Tour
- 3 Days Huangshan Classic Hiking Tour
- 4 Days Best Huangshan Tour with Hongcun & Xidi Ancient Villages
Yellow Mountain & Major Attractions in Huangshan City
Travel Huangshan with China Discovery
China Discovery is professional in offering you a high-value Huangshan tour. Traveling with us, you won't need to worry about the complicated transfer, accommodation and other travel details. We have designed many popular theme tour packages including the Yellow Mountain Hiking, ancient village walking/biking/living experience…. (Huangshan Biking / Huangshan Villages Hiking / Culture Experience / Local Life Experience)
Upon your arrival, our local guide and driver will meet you the exit of the railway station or airport and accompany you to your hotel or the attractions. No matter you are interested in the natural wonders of Yellow Mountain or the rich Huizhou culture or the unique charming ancient villages, we can customize a Huangshan tour according to your taste, needs and budget.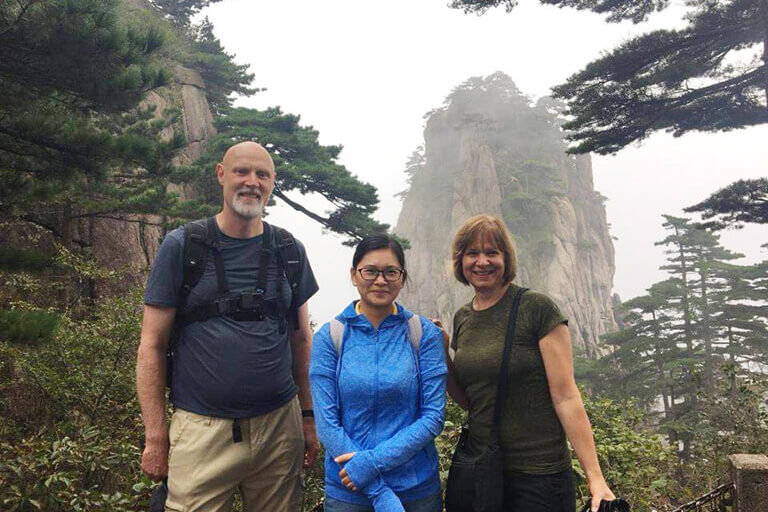 China Discovery helped Mr & Mrs Spence (Canadians) realize their dream tour to Mt.Huangshan
Essential Travel Guide
Extension Readings of Huangshan Travel
Recommended Huangshan Tours
Top 3 Huangshan tours chosen by most customers to explore Huangshan in the best way. Check the detailed itinerary, or tailor your own trip now with us.
3 Days Huangshan Highlights Leisure Tour (Back Mountain + West Sea Grand Canyon)

Tunxi - Huangshan - Tunxi
5 Days Shanghai Huangshan Tour by High Speed Train

Shanghai / Huangshan
6 Days Yellow Mountain Vacation from Beijing by Bullet Train

Beijing / Huangshan / Yellow Mountain
Start planning your tailor-made holiday to China by contacting one of our specialists. Once inquired, you'll get a response within 0.5~23.5 hours.
Customize a Trip
Have a question? Get answers from our travel experts or guests
Your Question:

Your Name:

Your Email: