Top Ancient Villages in Huangshan - Best Huizhou Cultural and Historic Heritages
Apart from the world famous Yellow Mountain, there are many distinctive Huizhou style ancient villages scattered at the foot of the mountain in Southern Anhui. Those villages themselves are precious historic and cultural heritages, and a good media of local traditional culture, history and geography. With elaborate location, masterly layout, delicate architecture complexes, the villages proves the past flourishing age of the areas, and great harmony between human and nature. The simple and lovely locals sticking to the conventional farming adds more primitivism for the village. In China, Huizhou ancient villages are the best preserved in greatest number, which provides tourists great opportunity to closely enjoy one of the most featured regional villages together with a Huangshan Hiking Tour.
8 Best Famous and Most Beautiful Huizhou Villages in Huangshan
Happened to be the former regions of ancient Huizhou, Huangshan has a vast of well-preserved ancient villages, mostly in She County (歙县) and Yi County (黟县). Many of them are important culture protected units, with clan-based social organization of ancient streets,ancestral temples, memorial archways and residences. Hongcun and Xidi Ancient Villages are the most typical ones that have been listed as World Cultural Heritage Sites. Other representatives in Ming and Qing Dynasties include Bishan, Nanping, Tachuan, Chengkan, Lucun, Guanlu and so on.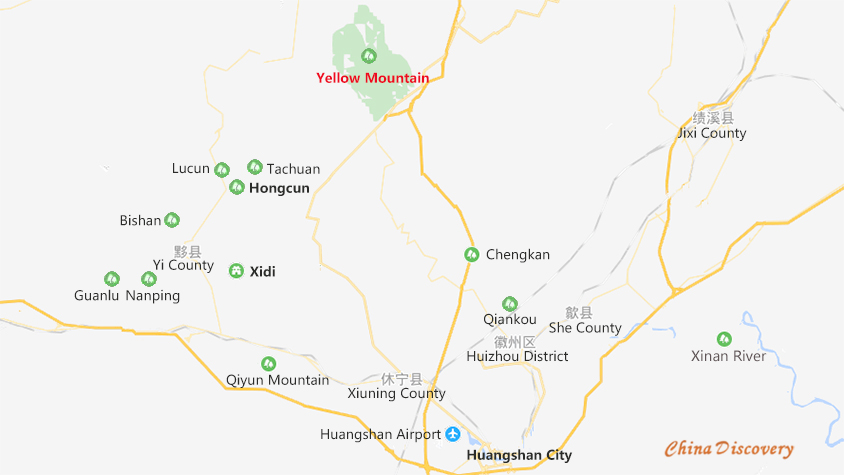 Huangshan Top Ancient Villages Location Map
Which Villages to Visit - Plan A Village Tour in Huangshan
Each ancient village mentioned above has irreplaceable cultural and historic significance and charming. However, they are located in different places from the Yellow Mountain, it takes lots of time to visit them all once. Which one should you put in your bucket list with Mt. Huangshan? How to select the most recommended villages? Here is our advice.
If it is the first time you visit Huangshan, the two UNESCO World Cultural Heritage sites, Hongcun and Xidi Ancient Villages are the must-see old villages, for they are the best two examples with larger number of preserved residences and much more remarkable architectures and history. They are close to each other, so you can simply tour them in one single day. 4 Days Best Huangshan Tour with Hongcun & Xidi Ancient Villages >>
If you already visited Hongcun and Xidi and want to make an in-depth exploration of Huizhou style ancient villages, there are many more beautiful villages off the beaten track nearby. Bishan Village and Nanping Village are highly recommended, because they reserve the original construction and traditional livelihood well, but also idyllic countryside scenery and leisurable serenity away from the chaos. Except the sightseeing, you can also enjoy a biking trip and rural living experience in Bishan, dyeing learning and local flavor cooking in Nanping. Huangshan Local Life Experience >>
Travel with China Discovery
If you are interested in Huizhou culture and history, China Discovery offers you the most classic ancient villages exploration tours to Hongcun, Xidi, Nanping.... So you can see excellent models of Huizhou architecture, and enjoy beautiful natural sightseeing at the same time. Considerately, we design you different ways for your trips, including hiking, biking, photography and more. Beyond the above villages, you can travel to surrounding villages nearby Huangshan as well, such as Wuyuan in Jiangxi Province (4 Days Yellow Mountain Wuyuan Scerny Photography Tour >). Or you can contact us to customize a particular journey for Huizhou ancient villages.
Useful Links: