Pig's Inn - Not-be-missed Quaint Hotel
Pig's Inn (猪栏酒吧) is a brand of rural boutique hotels operated by a couple of poets – Mr. Zheng Xiaoguang (郑小光) and his wife Han Yu (寒玉). When Han Yu was a college student, she had been to Huizhou's ancient villages in Huangshan for painting. Many years later, she decided to come back and live there. They transformed three old houses to quaint and warm inns, one in Xidi Village and two in Bishan Village.
Pig's Inn once owned the Certificate of Excellence awarded by TripAdvisor. Besides, it has attracted huge international media's attention and reports, including New York Times in USA, Fe Figaro in France, Timeout in Britain and Hug in Thailand. It also attracted many international celebrities to visit and stay, including famous French actress Juliette Binoche, Japanese musician Jou Hisaishi, Global President of L'Oreal, etc.
Pig's Inn Xidi - One of Earliest International Countryside Inns
Constucted in 2005, Pig's Inn Xidi (猪栏酒吧西递店) is the first Pig's Inn and one of the earliest international village hotels. It is a three-storeyed building with traditional Huizhou style. Its former owner was a business man doing his business in Shanghai, so this building was abandoned and became a house to raise pigs for the owner's relatives. Mr. and Mrs. Zheng bought this building and spent two years transforming the old building to a hotel. The most attractive thing is that they let the "history of pigpen" continued and change the decayed for the magical. This old pigpen became travelers' temporary home where they can be relaxed as a pig. Without overmuch carvings and decorations, Pig's Inn is concise and simple. The rooms are full of nostalgia and worldly pleasure of country. It all shows the life which the owners themselves seek for – a simple and fufilling life – no one knows where you are from and no one finds you are different.
Relaxing Area in Pig's Inn Xidi
Layout and Rooms
Pig's Inn Xidi has three floors. There are only 6 rooms with different decoration, including 2 sightseeing king rooms, 1 sightseeing suite, 1suite and 2 single rooms.
In the first floor, there are 2 single rooms in traditional Huizhou Style, 1 suite with an independent parlor, and 1 mini-bar. The mini bar is traditionally with old Huizhou's cooking bench, firewood, wooden pot cover etc. The second floor has a sightseeing parlor, 1 sightseeing suite with independent parlor, 2 sightseeing king rooms and open balcony. The bed in suite is made by rattan. The third floor is an open viewing-deck where you can take a panoramic view of Xidi Village. The heavy timber exposed post, beam framing and masonry firewalls were state-of-the-art construction 400 years ago, giving protection against fire, weathering and earthquakes.
Each room is equipped with air-condition, television, electric kettle, bottle water and independent bathroom. There are toiletries, shower, and hair dryer in the bathroom. Breakfast is offered in its Chinese restaurant, but usually not included in your room rate. The room price is about 480 ~ 980RMB usually and it will be incresed or decreased accordingly.
Various Rooms in Pig's Inn Xidi
Location and Transportation
Pig's Inn Xidi is located in the scenic area of Xidi Village, Yi County, Huangshan (黄山黟县西递村). Xidi Ancient Village is about 60km away from Huangshan City. There are daily buses running from Huangshan Bus Station to Hongcun Village via Xidi Village. Within 1 hour's driving, you can get to Xidi Village usually.If you travel to Xidi Village after your Yellow Mountain tour, it is easily to take a bus from Tangkou Town (at the base of Yellow Mountain) as well. All the buses depart from Tangkou Bus Station (Huangshan Tourist Transfer Center) and reach Xidi Village in 45 minutes generally.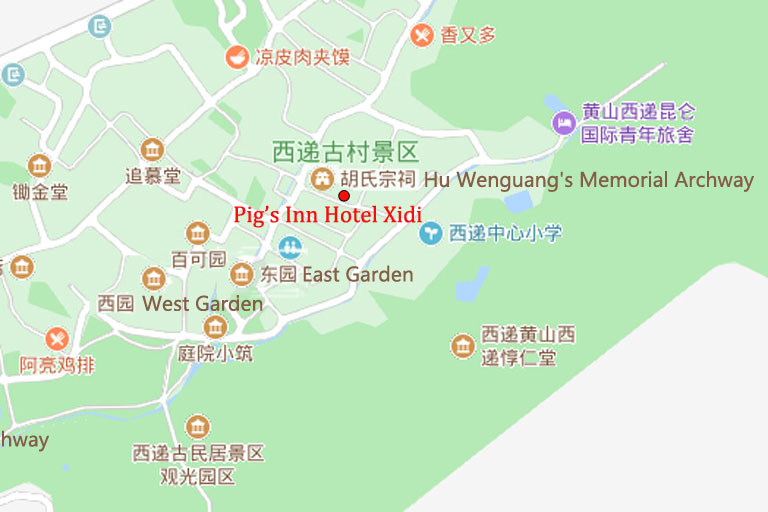 Pig's Inn Xidi Location Map
Travel in Xidi Village
With about 300 well-preserved and time-honored dwellings left from Ming and Qing Dynasties (1368~1912), Xidi Village is listed in UNESCO World Cultural Heritage Sites with painting-village Hongcun Village. The old Huizhou-style architecture with delicate three carvings (woodcarving, stone carving and brick carving) fully shows the Huizhou culture. A relaxing stroll in Xidi Village allows you to experience its primitive simplicity and elegance. You can't miss Hu Wenguang's Memorial Archway – a treasure in Chinese Stone architecture, Zouma Building - built to greet the relatives of daughter-in-law, delicate East Garden and poetic West Garden.
>> 4 Days Best Huangshan Tour with Hongcun & Xidi Ancient Villages
Charming Anicent Village of Xidi
Pig's Inn Bishan - Combination of Hizhou Architecture and Rural Life
The second Pig's Inn is located in Bishan Village which still remains the primitive farmlands and shows a charming rustic view. Bishan is a real and natural village with endless mulberry fields. In spring (late March ~ early May usually), you can see a huge sea of rape flowers and then it comes the flamboyant azalea. Pig's Inn Bishan (猪栏酒吧碧山店), also called Pig's Heaven, is quietly hiding in a courtyard which seems being abandoned. However, as you walk into the plain yard, you will find a world of idyllic beauty. The hotel has front yard and back yard which are paved with small handstones and grown with fruit trees as well as a pond with fishes. The main building, constructed in late Qing Dynasty, is an old Huizhou style residence once belonged to the biggest salt merchant in Bishan. Till now, you can still enjoy the well-preserved carving and exquisite decoration which never lose the elegance of large families. Accommodating at over 100-year-old Pig's Inn Bishan, you can imagine the life of the ancient people.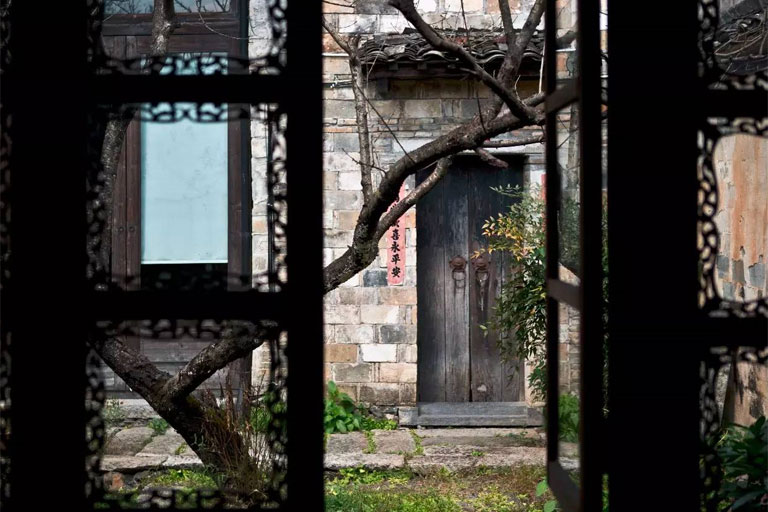 A Glimpse of the Courtyard from Window
Layout, Rooms and Service
Pig's Inn Bishan has one main building and two courtyards. Apart from seasonal fruit trees, the courtyards are placed with stone tables and stone benches. Two porches to hall are bright and gorgeous. The main building has three floors and the lower two floors are equipped with 9 different guestrooms. The Room with an elegantly-carved bed on the second floor is the favorite of Juliette Binoche. The restaurant is located on the first floor. It is well arranged with tables and benches with soft cushion. From the big French windows, you can see the pond outside. On the second floor, there is a book bar for reading, listening to music or chatting with each other.
There is Chinese breakfast available which cost 30RMB per person. You can also have your lunch and super in the inn. All the dishes are made by local cook. Every guestroom has air-condition, television, electric kettle, bottle water and independent bathroom with toiletries, shower, and hair dryer. The rate for the different types of rooms ranges from 780 ~ 1500RMB usually. In high seasons or low seasons, the price will be incresed or decreased accordingly.
There is a bar called Dog's Nest just adjacent to Pig's Inn Bishan. It is a good place to drink a cup of beer and meet some new friends. Many local people also like to chat there.
Rooms in Pig's Inn Bishan
Location and Transportation
Pig's Inn Bishan is located in Bishan Village, Biyang Town, Yixian County, Huangshan City (黄山市黟县碧阳镇碧山村). In spite of being only 13km (about 20 minutes) to Xidi Village and 15km (about 25 minutes' driving) to Hongcun Village, Bishan Village is much off the tourist track and can't be reached easily by public transportation. If you travel from Huangshan City, you need to take one bus to Yixian County first and then take another bus to Bishan Village. The buses between Bishan and Yixian do not run freuqently. You are suggested to travel with a travel agency like China Discovery to avoid the complicate transfer. The driving from Huangshan city to Bishan Village cost about 1 hour and 10 minutes and cover about 60km.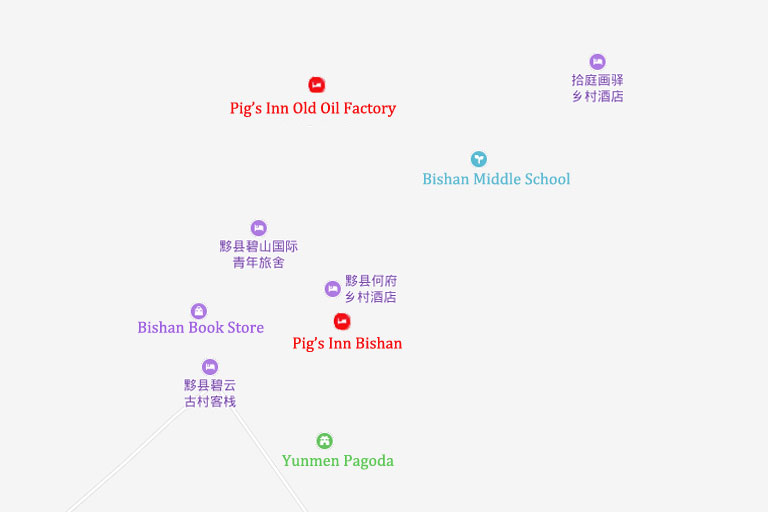 Click to Enlarge Pig's Inn Bishan and Old Oil Factory Location Map
Pig's Inn Old Oil Factory - Hidden in the Rural Fields
Pig's Inn Old Factory (猪栏酒吧老油厂店), the third Pig's Inn, is also located in Bishan, no longer than 1 kilometer (about 10 minutes' walk) to Pig's Inn Bishan. This place once was an oil factory in old times and converted into a quaint inn with hostel-like vibe and basic amenities. From a distance, the transformed architecture complex natural scattered in the field, not disturbing or invading the surrounding environment. You may not find that there is a country hotel if you pass by without special notice. Mr. and Mrs. Zheng Xiaoguang made the inn in harmony with with the rivers, fields, roads and nature.. Even most furniture and decorations in the inn are made of old materials. Almost every room in the hotel has a viewing-deck or courtyard connected with the outside, so the guests can freely breathe rural fresh air and blend with nature.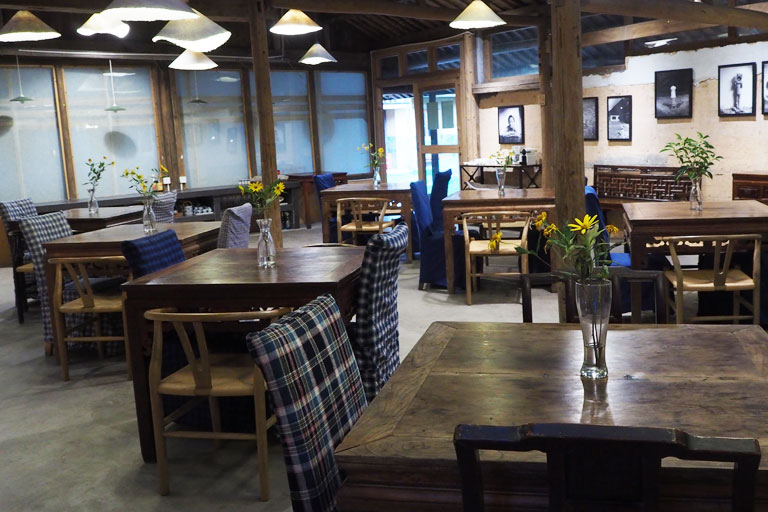 Elegant Resturant in Pig's Inn Old Oil Factory
Layout, Rooms and Service
Pig's Inn Old Oil Factory is the largest inn among the tree. There is a central garden grown with fruit trees and some bonsai trees. The surrounding are the architecture complex with 19 guestrooms and various functional rooms. There are 4 types of guestrooms, namely standard room, king room, family room and triple room. The functional rooms include dining room, book bar, meditation abode, tea room, etc. Though Pig's Inn Old Oil Factory covers a large area of over 7,000 square meters, the guestroom occupies less than 10%. Hence, you will have enough public space even though the guestrooms are filled up. Necessary facilities like air-condition, 24-hours hot water, WiFi, tea set, toiletries, etc. are available.
Chinese breakfast is offered at price of 30 RMB per person. All the dishes are cooked from fresh food materials. It is available to have lunch and dinner there. All the staffs in the inn are from the surrounding villages. They are always kind to help you whenever you need. The rate for different rooms ranges from 980 ~ 1500RMB usually. In high seasons or low seasons, the room rate will be incresed or decreased accordingly.
Different Types of Rooms in Pig's Inn Xidi
4 Days Huangshan with Pig's Inn Carefree Countryside Idyll Tour
Bishan Village is an authentic peaceful rural village providing a perfect world to get away from the crowd. In Bishan Village, you can read in the most beautiful Chinese countryside bookstore (碧山书局), admire the local arts in Supply and Marketing Cooperatives (碧山供销社) and cycling along countryside road with impressive village landscape.
China Discovery has designed a 4 days' tour for those who want to explore the highlights of Huangshan City as well as enjoy a relaxing day in peaceful Bishan Village. You will firstly enjoy the picturesque scenery of Yellow Mountain, including odd-shaped twist pines, spectacular rocky peaks, sea of clouds, hot spring, winter snow, etc. Next, drive to Huangshan's busiest and purest villages – Hongcun Village and Bishan Village to get two different aesthetic feelings of Huizhou ancient villages. In Bishan, you can get pleasure in a comfortable and carefree night stay, amazing food and drinks at Pig's Inn Bishan, and biking around to experience village living. Free bikes are offered in both Pig's Inn Bishan and Pig's Inn Old Oil Factory
>> 4 Days Huangshan with Pig's Inn Carefree Countryside Idyll Tour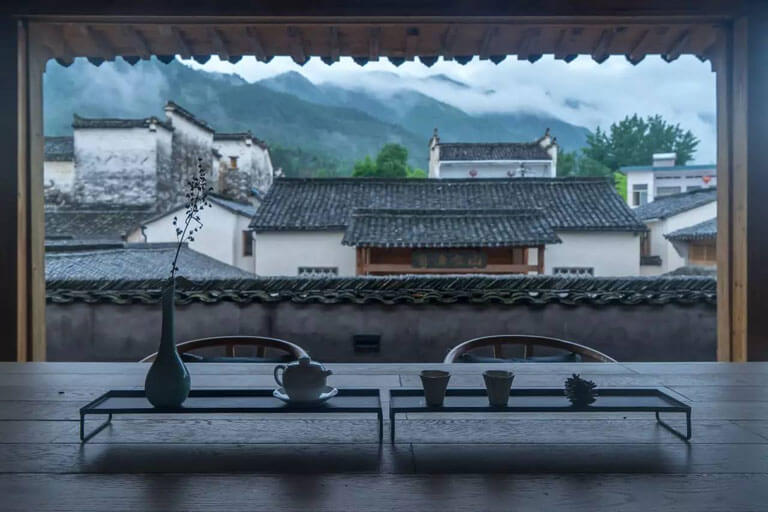 Supply and Marketing Cooperative in Bishan Village
Tips for Accommodating at Pig's Inn
Ticket is Necessary for Pig's Inn Xidi: Pig's Inn Xidi is located in the scenic area of Xidi Ancient Village, so you have to buy the ticket (104RMB) to enter the village. No tickets for Bishan Village at present.
Comparison among Three Inns: Pig's Inn Xidi enjoys a good location in the scenic area, so it can be reached much more easily. However the guestrooms are a little low-slung. Accommodating in Pig's Inn Bishan allows you take a close sight of old Huizhou architecture, but the rooms are relatively small. Pig's Inn Old Oil Factory enjoys more public space and larger rooms.
Pattern of Payment: Credit cards are not accepted in Pig's Inn Xidi but accepted in Pig's Inn Bishan and Pig's Inn Old Oil Factory. If you choose to accommodate in Pig's Inn Xidi, remember to bring enough cash.
Other Tips: Smoking is forbidden in all guestrooms of the three Pig's Inns and there is no elevator in each inn.
Huangshan Hotels
Extension Readings of Huangshan Travel Guide
Recommended Huangshan Tours
Top 3 Huangshan tours chosen by most customers to explore Huangshan in the best way. Check the detailed itinerary, or tailor your own trip now with us.
3 Days Huangshan Highlights Leisure Tour (Back Mountain + West Sea Grand Canyon)

Tunxi - Huangshan - Tunxi
4 Days Best Huangshan Tour with Hongcun & Xidi Ancient Villages

Tunxi - Huangshan Mountain - Hongcun - Xidi
4 Days Huangshan with Pig's Inn Carefree Countryside Idyll Tour

Huangshan - Hongcun - Bishan
Start planning your tailor-made holiday to China by contacting one of our specialists. Once inquired, you'll get a response within 0.5~23.5 hours.
Customize a Trip
Have a question? Get answers from our travel experts or guests
Your Question:

Your Name:

Your Email: