Recommended Huangshan Cultural Experiences to Enrich Your Huangshan Trip
Huangshan is attractive with the breathtaking landscape of Yellow Mountain, featured white-walled and gray-titled dwellings and time-honored Huizhou culture. In Huangshan, you can not only admire the natural beauty but also probe into the rich Huizhou culture. Moreover, it is also available to experience the local life by visiting some local villages.
China Discovery has a good contact with local villages and some tea gardens, so we can provide a customized tour involving various local life experiences, like doing farming work, pick tea-leaves, making Huizhou dessert, watching process of making bean curd, etc.
Local Farm Experience in Nanping Village
With a history of more than 1,000 years, Nanping Village is an ancient village featuring in many cultural sites. Several films are filmed there, including Zhang Yimou Ju Dou and Ang Lee's Crouching Tiger, Hidden Dragon. The local villages still enjoyed a self-sustainable life. In this village, you can spend several hours visiting a local family and enjoying their local life.
The first activity is learning to drive wheelbarrow - a traditional wood agricultural tool with two baskets used in Huizhou villages. The two-wheeled cart is too large to run on the alleys because the buildings were built too close. It is not an easy work to keep the wheelbarrow in balance but you can make it after several attempts. Once you manage to master the skill of driving wheelbarrow, you will go to the mulberry garden to pick mulberry leaves. As you fill the baskets with leaves, you can send them to the farmers' sericulture workshop. In the workshop, silkworms might be seen. Next, you will make preparation for lunch. It's quite interesting to pick up vegetables from the farmers' vegetable garden and lift water from the old well. After that, you will break firewood with an ax and burn firewood for cooking lunch personally.
Note: It is also available to experience farm life in Mukeng Village which is hidden in the lush Mukeng Bamboo Forest. You will spend about 1.5 hours pick up vegetables and cooking.
>> 4 Days Huangshan Mountain Tour with Ancient Villages Living Experience
Experience Farm Life in Nanping Village
Address: Nanping Village, Biyang Town, Yixian County, Huangshan City, Anhui Province (安徽省黄山市黟县碧阳镇南屏村)
Fee: 80RMB (Meal Fee & Village Ticket not included)
Experience Time: Half Day
Best Season: May, August ~ October
Making Yuting Dessert in Qiyue Farm
In Nanping Village, there is a farm called Qiyue Farm (七约农场). 七约,literarily meaning seven promises in Chinese, shows the owner's destination to produce healthy farm products.
The most interesting thing of visiting Qiyue Farm is that you can make the eatable "Huizhou Carving" which is known as Huizhou Carving Dessert or Yuting Dessert (渔亭糕). You need to firstly pound the prepared materials into powder, mix them with water and sugar, and then put it into the mould. The mounds are carved with different patterns, like Chinese dragon, phoenix, bat, Buddha, etc. which stand for lucky.
Travel Ideas: After the local life experience or dessert making, you can take a short visit the ancient Nanping Villages. As the museum of Chinese ancient ancestral hall, Nanping Village gives travelers a good opportunity to learn ancestral hall. If you want to visit more villages, you can travel to Hongcun Village which is only 16km (about 1 hour and 20 minutes' driving). It is praised as the most beautiful Huizhou Village in Huangshan.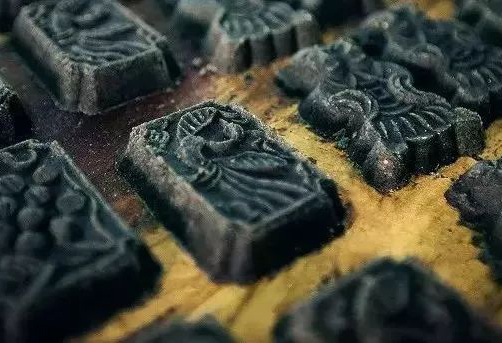 Delicious Yuting Dessert
Address: Nanping Village, Biyang Town, Yixian County, Huangshan City, Anhui Province (安徽省黄山市黟县碧阳镇南屏村)
Fee: 60RMB/person (10 person at least) or 500RMB/group (less than 10 persons)
Experience Time: 1.5 hours
Tea-picking & Tea-making in Xieyuda Ecological Tea Garden
As China's national drink, tea has been widely spread since the ancient times. Maofeng Tea, grown in Huangshan, is one of Top Ten Chinese Tea. Xieyuda Ecological Tea Garden (谢裕大生态茶园) is famous for producing Maofeng Tea. If you are interested in Huangshan tea culture, Xieyuda Ecological Tea Garden is a must. This large garden owns tranquil atmosphere, fresh air and pleasant scenery.
Visiting Xieyuda Ecological Tea Garden, you have a good exploration of Huangshan Tea Culture. You will firstly visit Xieyuda Tea Museum to learn Huangshan tea, like history, culture, feature, skills of making, etc. After you get a basic knowledge of the tea, you will experience tea-picking and tea-making like a tea planter. With the guidance of the teacher, you will walk into the green tea plantation and pick the new tea leaves. Then you will back to the join the tea-making process. Activities in the garden also include watching tea art performance and tasting tea.
Travel Ideas: Except for tea-picking and tea-making experience, you are suggested to visit surrounding attractions like Tangyue Memorial Archways, Bao Family's Garden, Tangmo Village and Chengkan Village. Tangyue Memorial Archway and Bao Family's Garden are two adjacent sites which can be visited together. Tangyue Memorial Archways were built to consecrate the Bao's Family's ancestors for fest of piety and service, while Bao Family's Garden with a great collection of bonsai offered a great relaxing site for the family members. If you want to visit some nearby old villages, Fengshui Village Chengkan and Shuikou Village Tangmo are good choice.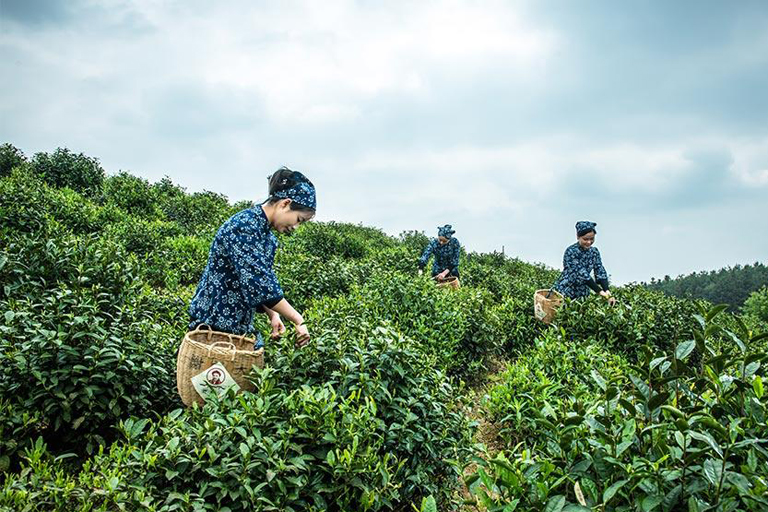 Picking Tea leaves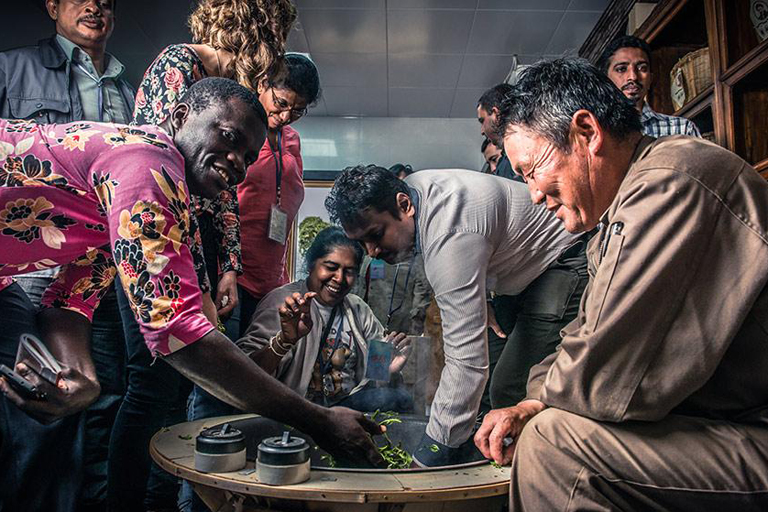 Learning to dry tea
Address: Yuping Mountain, Qiankou Town, Huizhou District, Huangshan City, Anhui Province (安徽省黄山市徽州区潜口镇玉屏山)
Fee: 50 RMB/person
Experience Time: 2 hours
Best Season: April ~ August
Making Toufu in Xuanyuan Farm
Xuanyuang Farm (轩辕农庄) is a farm devoted to producing and making healthy food in traditional way. The food production exhibition center of Xuanyuang Farm displays ancient ways to make food materials and seasonings, including soy sauce, oil squeezing, sesame seeds sugar as well as toufu. You will also pay a visit the farm and see the natural, healthy, ecological green agricultural production.
Before making toufu in person, you need to observe carefully how the masters make toufu. They will squeeze rapeseed oil and grind soybeans on a stone mill in the old way. Then you will participate in toufu production and oil squeezing under the local masters.
Travel Ideas: Xuanyuan Farm is located on the road connecting Huangshan City and Hongcun Villages, about 13km (about 25 minutes' driving) to Huangshan City. After your visit to Hongcun Village or Xidi Village, you can spend several hours to visit Xuanyuan Farom and experience the process of making toufu. After that, you can get back to Huangshan city easily.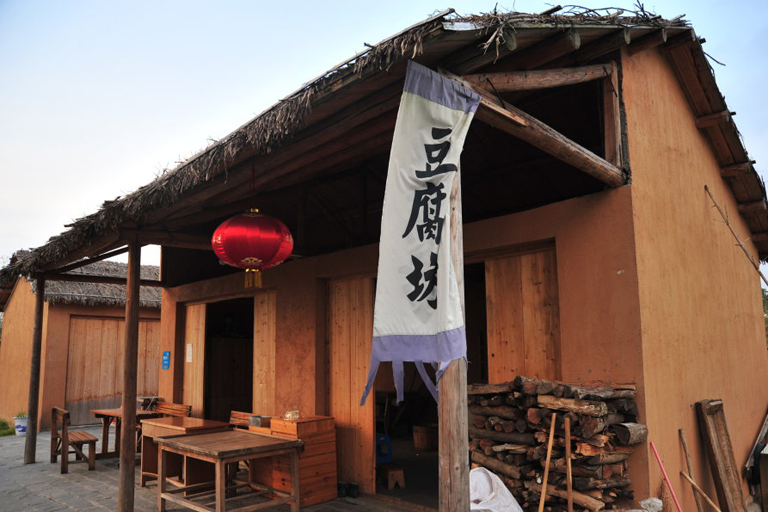 Tofu Work Shop in Xuanyuan Farm
Address: Haining Village, Xiuning County, Huanghsan City, Anhui Province (安徽省黄山市休宁县海宁村)
Fee: 300RMB/group
Experience Time: 1.5 hours
How to Plan a Huangshan Tour with Local Life Experience
Huangshan is more than Huangshan Mountain. It offers much more than what we can imagine.
Huangshan is a top travel destination to give you different experience. No matter want a theme tour focusing on sightseeing, trekking, hiking, biking or Huizhou culture, no matter you want a short but essential Huangshan journey or an in-depth exploration of both Huangshan Mountain and Huizhou culture, China Discovery is ready to meet your needs. 3 Days Huangshan Highlights Leisure Tour is our most popular Huangshan tour covers the highlights of Huangshan Mountain, including picture Black Mountain and charming West Sea Grand Canyon. For trekking lovers, you can choose 3 Days Huangshan Classic Hiking Tour or 4 Days Huangshan & West Sea Grand Canyon In-depth Hiking Tour according to your own physical condition and travel length. 4 Days Huangshan Mountain and Local Village Walking Tour, combing both classical walking trails on Huangshan Mountain and beautiful countryside walking between Hongcun and Xidi, is also a good choice if you don't want to miss a great way to explore ancient villages. Prefer a more peaceful village? It's a good idea to have a 4 Days Huangshan with Pig's Inn Carefree Countryside Idyll Tour. You will have a fantastic stay in Bishan Village.
Of course, all the tours can be customized with a featured local life experience. Just be free to contact us and tell your needs, our travel consultants are professional to arrange everything well for you.
Other Recommended Huangshan Tours:
>> 4 Days Huangshan Hongcun Winter Vacation with Hot Spring
>> 4 Days Huangshan Tour to Huizhou Culture Exploration
>> 4 Days Scenic Huangshan Mountain Tour with Hongcun Biking
>> 5 Days Huangshan Photography Tour with Xidi & Hongcun Villages
Featured Activities
Extension Readings of Huangshan Travel Guide
Recommended Tours
Top 3 tours chosen by most customers to explore in the best way. Check the detailed itinerary, or tailor your own trip now with us.
3 Days Huangshan Highlights Leisure Tour (Back Mountain + West Sea Grand Canyon)

Tunxi - Huangshan - Tunxi
4 Days Best Huangshan Tour with Hongcun & Xidi Ancient Villages

Tunxi - Huangshan Mountain - Hongcun - Xidi
4 Days Huangshan Tour to Huizhou Culture Exploration

Huangshan / She County / Yellow Mountain
Start planning your tailor-made holiday to China by contacting one of our specialists. Once inquired, you'll get a response within 0.5~23.5 hours.
Customize a Trip
Have a question? Get answers from our travel experts or guests
Your Question:

Your Name:

Your Email: