Huangshan Biking/Cycling Trips: Trails, Highlights and Tips
Apart from a hiking trip on Yellow Mountain, biking at the foot of Huangshan Mountain at a leisure pace is a meaningful way to discovery beautiful natural scenery in Huangshan City. Picturesque landscape, featured ancient villages and charming local customs along the routes let the ride a relaxing enjoyment, both for mind and body.
Professional adventures prefer more the annual International Huangshan Mountain Bike Festival (Huangshan MTB Festival) which held in World Cultural Heritages of Hongcun and Xidi Ancient Villages in Yi County, Huangshan City each spring. While most tourists, like you, if interested in bicycle tourism around Huangshan, can get more choices here, biking of different level, lengths, trails and scenery. Pick your favorite from our top recommended bike tours below, or contact us to customize a particular one.
Popular Huangshan Cycling Tours: Route, Length & Highlights
Yellow Mountain hiking and ancient Huizhou style villages touring are two major things to do in Huangshan City. Thus, making a biking journey through the vast farm fields, green mountain roads, lush bamboo forests and old villages are just the perfect way to witness the charming natural sights and quickly look the authentic local living routine.
1. Hongcun to Tachuan & Mukeng Biking
Route: Hongcun Ancient Village - Tachuan Village - Xieli Village - Mukeng Bamboo Forest (宏村 - 塔川 - 协理 - 木坑竹海)
Length: about 13 km/8.0 miles (round trip)
Duration: about 2 hours
Highlights: visit Hongcun, the famous World Cultural Heritage & most beautiful village in Chinese painting; view famous Autumn color spots - Tachua; hike the bamboo sea where filmed Crouching Tiger, Hidden Dragon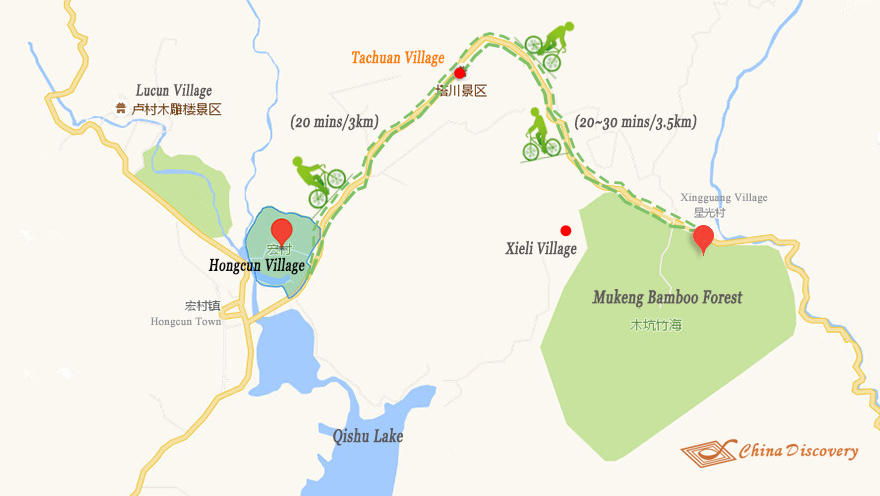 Hongcun Tachuan Xieli Mukeng Biking Trail Map
This Hongcun biking trip is one of the easiest biking tours around Huangshan Mountain, which mainly stretches along well-paved highway. After finishing the circuit in surrounding attractions physically, tourists can visit Hongcun Ancient Village to get an acquaintance with its great waterways, ingenious layout and unique architectures.
Firstly, you will spend 15 minutes on biking from Hongcun to the 2 kilometers' away Tachuan Village, where you may overlook the colorful painting style of rural fields during late autumn and misty scene of overlapping mountain range Tachuan in early morning and at dusk. Then continue cycling on the Hongru Highway, less than 20 minutes later you will see the Xieli Village, a less-known and quiet village located next to Tachuan only through a mountain (straight-line distance is within 2 km). There, you can enjoy the panorama view of Qishu Lake beside Hongcun. The last part is biking to Mukeng Bamboo Forest, a very large-scale sea of bamboos once shoot in the Oscar dark horse - Crouching Tiger, Hidden Dragon. At the destination, you can rest well, enjoy fresh air and green bamboos in the "natural oxygen bar" and attend interesting formworks and taste delicious local dishes.
Popular Huangshan Hongcun Tours:
>> 4 Days Best Huangshan Tour with Hongcun & Xidi Ancient Villages
>> 4 Days Huangshan Hongcun Vacation with Hot Spring
Note: 1.) The roads from Hongcun to Mukeng are mostly upward slopes, so it's a bit demanding, but the returning biking would be easier and faster. 2.) Pay attention to safety, because there will be lots of cars on road during holidays and autumn (peak season).
2. Bishan Village Countryside Biking
Route: around Pig's Heaven Inn
Length & Duration: flexible
Highlights: enjoy the beautiful countryside scenery, mist-shrouded mountains; ride on flat and quiet paths through vast fields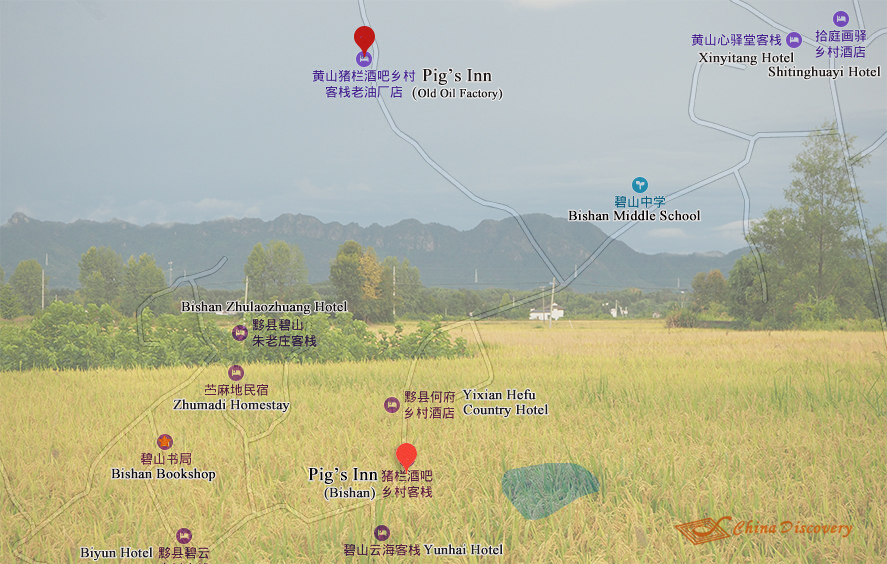 Pig's Inn & Bishan Village Layout Map
Bishan Village is a tiny farming village located in northwest of Xidi and southwest of Yellow Mountain. If you choose stay overnight in the two Pig's Heaven Inn in Bishan, you can not only harvest a relaxing, cozy Chinese rural experience, but also view the authentic and charming idyllic scenery. It's an ideal retreat from the chaotic modern life, just to wander around the village, visit the bookshop with coffee, traverse the fields and see the lovely scarecrow and local farm works.
Riding bikes through the wide range of farmlands is regarded the unique highlight, and the most comfortable and interesting way to touch that serenity. The golden sea of rape flowers in spring and rice paddy in autumn is the most charming and pleasant time for the Bishan biking trip. You are free to bike anytime and as long as you want, and the biking in the morning and afternoon with sunshine, misty mountains are highly recommended.
Popular Huangshan Bishan Tours:
>> 4 Days Huangshan with Pig's Inn Carefree Countryside Idyll Tour
Note: You are free to bike in Bishan Village and the outside countryside fields, because currently the whole Bishan Village charges no entrance fees.
3. Nanping & Guanlu Ancient Villages Biking
Route: Nanping Village - Guzhu Village - Chiling Village - Guanlu Village (南屏-古筑-赤岭-关麓)
Length: about 9 km/5.6 miles
Duration: about 1 hour
Highlights: view groups of traditional local Huizhou style residence; enjoy poetic rural landscape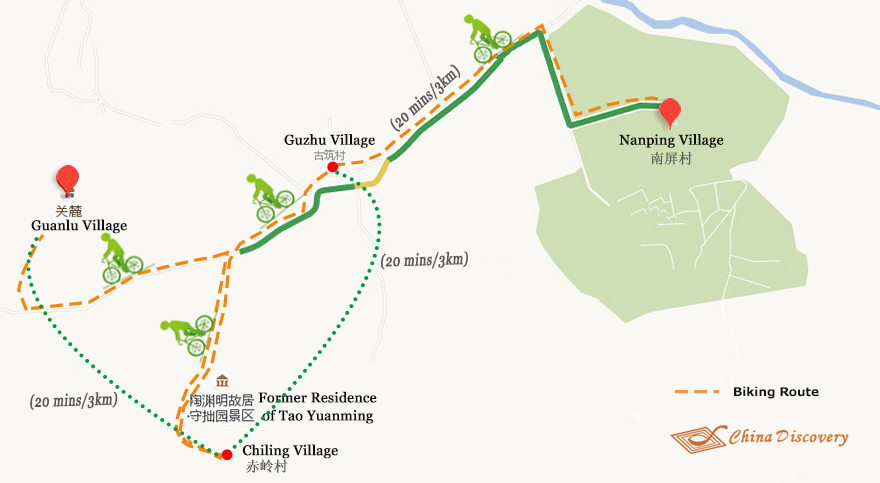 Nanping-Guanlu Ancient Village Biking Route Map
This biking tour connects 4 small off-the-beaten-track Huizhou traditional villages in Yi County, all situated in the west of Xidi. Nanping Village, Guanlu Village and two others are smaller villages near Hongcun & Xidi, but they are less touristy and more tranquil with own characteristics. Compared to the fast driving, biking among those old settlements benefit your health and offers an eco-friendly way to further exploration of Huizhou ancient architectures.
Departing from Nanping, you will ride nearly 20 minutes to Guzhu Village (distance: about 3 km), and then gets another same cycling journey to Chiling Village (about 3 km/15~20 mins biking). The last segment is head towards Guanlu Village. You will ride a bike on the lone stone flagstone roads, pass through old streets and alleys, tracing footprints of the ancestors. When those delicate wooden, brick and stone carvings jumping into your eyes, without noticing, definitely you cannot help stopping and recording the surprises. Don't miss the pretty countryside landscape, lovely people and historical Huizhou style buildings during the joyful biking trip.
Popular Huangshan Nanping & Guanlu Tours:
>> 4 Days Huangshan Mountain Tour with Ancient Villages Living Experience
Note: Bikers holding the tickets can enjoy an original country biking trip in and outside Nanping Village (Admission Fee: 35 RMB per person).
4. Huizhou Greenway Circuit Biking
Route: Chengkan Village - Lingshan Village - Qiankou Town (呈坎 - 灵山 - 潜口)
Length: about 22 km/13.7 miles
Duration: 3 hours
Highlights: view groups of traditional local Huizhou style residence; enjoy poetic rural landscape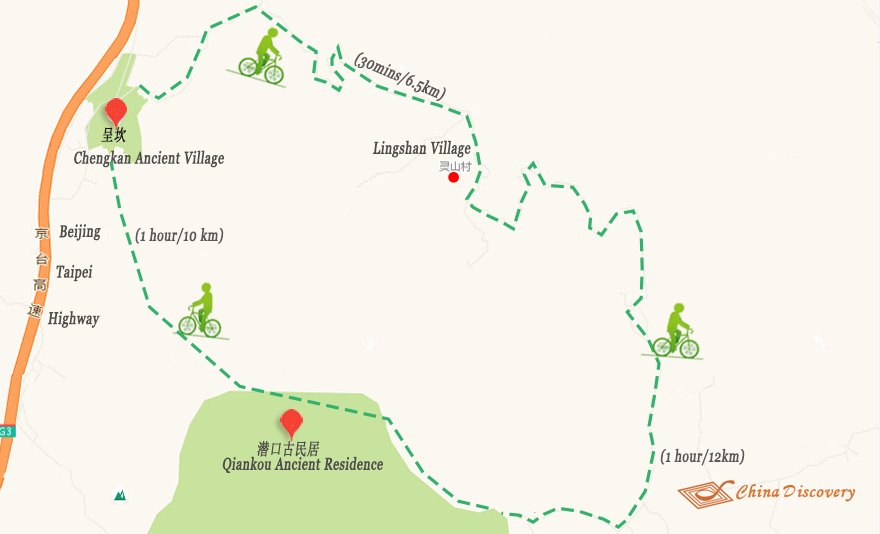 Chengkan Lingshan Qiankou Circut Biking Map
Huizhou Greenway, consisting of 4 routes with a total length of 125km, is a kind of special biking trail in Huangshan City. Those well-paved village roads are natural corridors connecting ancient villages together with the beautiful rural landscape of mountains, rivers, fields and forests. The Chengkan-Lingshan-Qiankou Circuit, rated as the most classic and favorite biking path, has the very scenic and thrilling "Eighteen Bends of Lingshan Pathway", which gives bikers excellent eco-environment for sightseeing, exercising and entertainment.
Starting from Chengkan Village, tourists will first ride eastward about 30 minutes (distance: 6.5 km) to Lingshan Village, passing a large area of lush bamboos forests and picturesque rice terraces. You can rest in midway stations there, and view many ancient Huizhou architectures built along the river. Then you keep riding southwards for 1 hour (distance: 12km), you will get to Qiankou Ancient Residence, a cultural museum of typical ancient Ming & Qing Dynasties residence of Huizhou style.
Popular Huangshan Chengkan Tours:
>> 4 Days Huangshan Tour to Huizhou Culture Exploration
Note: 1.) Part of the biking path is rugged and rough, so it would be little bit of strenuous. 2.) Tourists will do the loop cycling outside the villages.
Other Recommended Cycling Tours in Huangshan
Owing to the abundant tourism resources scattered in different regions of Huangshan City, there are various kinds of biking trails available, in different length, theme and difficulty. According to personal fitness and interests, tourists can follow the popular paths around major attractions, like Hongcun and Xidi, or customize a quiet and no commercial route in surrounding villages and sites, such as Nanping, Lucun and Tachuan. It's undoubtedly an excellent trip to have both an Yellow Mountain hiking and biking experience to fully catch the charming of Huangshan.
Except the above mentioned biking tours, you can also join in other cycling journeys, including Xidi-Qiyun Mountain-Tunxi Biking, Anhui-Hangzhou Ancient Path Biking, Jixi Jingzhou Highway Biking and so on. You are free to contact us to design a memorable biking trip with your Huangshan Mountain hiking.
>> 4 Days Scenic Huangshan Mountain Tour with Hongcun Biking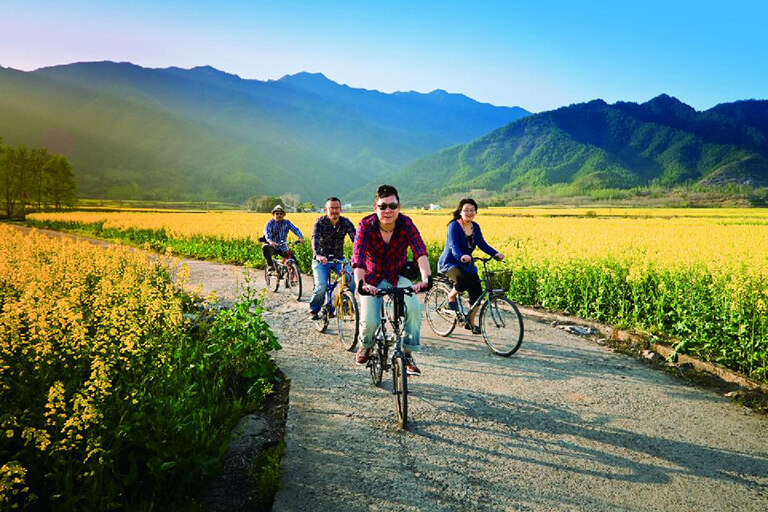 Tourists Enjoy Bishan Biking through Rape Flowers in April
Where to Rent a Bicycle for Huangshan Biking
A mountain bike/bicycle is the most recommend for making a Huangshan biking tour, for its excellent durability and performance on mountain trails with rough terrain. So far, Huangshan City has set up a public bike rental system in 10 major attractions in Yi County, including Hongcun, Xidi, Lucun, Mukeng, Tachuan, Pingshan and etc. Besides, some sites in ancient Huizhou, for example, Tangyue Memorial Arways also provide paid bikes near tourist center. In Bishan Village, guests who live in Pig's Inn can use the bikes free of charge. Therefore, it's easy and convenient to find a bike in main spots in Huangshan. The fares depend on your biking time and which type of bike you choose.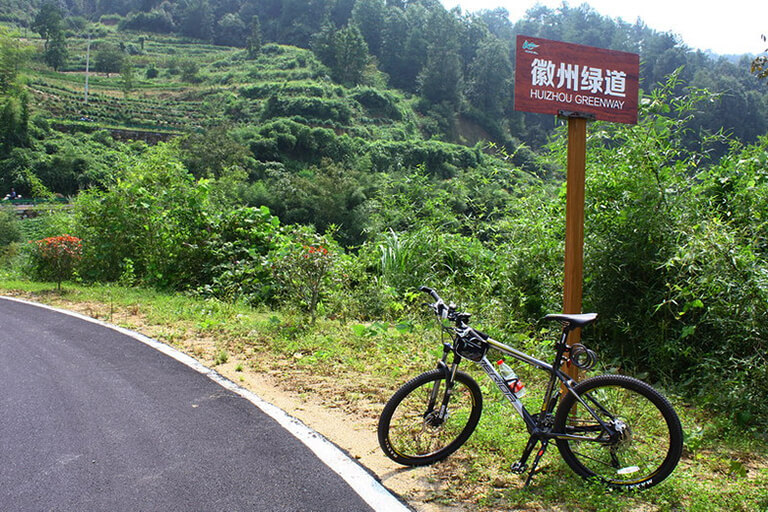 Riding A Mountain Bike on Huizhou Greenway
Travel With China Discovery
Considering complicated travel schedules and tour details, most tourists more like to travel with China Discovery to enjoy a worry free biking tour, because we will help you get a user-friendly bike (rental: 80RMB each bike) and accompany you all the way, offering transfer service, other dining and accommodation arrangements. Hence, you can focus on your biking experience and beautiful scenery on the way. Contact our travel experts to fulfill a dream tour to Huangshan Mountain.
Useful Tips on Huangshan Biking
1. What to Wear & Take: Casual, light and comfortable clothes and shoes is fine for a short leisure biking. If you will ride longer on mountain path, you'd better take more biking equipment, including fast-dry clothes, helmet, sunglasses, cycling gloves and shoes. Also, you need to bring some food and drinks to supplement energy.
2. Best Time to Cycle: Warm spring and cool autumn are the best season for making a biking trip in Huangshan. The golden sea of rape flowers or rice fields is the most beautiful view during that period. Rains may happen suddenly, so better carefully check the weather forecast ahead of departure, and prepare rain gear just in case. Better avoid the rainy days for safety and better experience.
3. Pay Attention to Safety: Be aware of cars and uphill road, especially when you ride from Hongcun Ancient Village to nearby Tachuan during the peak season - autumn. There will be many cars parking in each side and more running on the highways. Don't lean your head to see the scenery while biking.
Featured Activities
Extension Readings of Huangshan Travel Guide
Recommended Huangshan Tours
Top 3 Huangshan tours chosen by most customers to explore Huangshan in the best way. Check the detailed itinerary, or tailor your own trip now with us.
9 Days East China & Mt. Huang Tour by High Speed Train

Shanghai / Suzhou / Hangzhou / Huangshan
6 Days Shanghai Yellow Mountain Tour with Water Town Visit

Shanghai / Huangshan
6 Days Yellow Mountain Vacation from Beijing by Bullet Train

Beijing / Huangshan / Yellow Mountain
Start planning your tailor-made holiday to China by contacting one of our specialists. Once inquired, you'll get a response within 0.5~23.5 hours.
Customize a Trip
Have a question? Get answers from our travel experts or guests
Your Question:

Your Name:

Your Email: