Hohhot Weather, Climate & Temperature - Best Time to Visit Hohhot, China 2023
Hohhot, located in the south central part of Inner Mongolia, has a continental monsoon climate with distinct seasons. The difference between day and night is significant, about 13°C~14°C. It is marked by a long, cold and very dry winter, somewhat humid summer, and strong winds, especially in spring.
The annual average temperature is comparably lower in the north and higher in the south, with only about 2°C in northern Daqingshan area and around 6.7°C in the southern area of Hohhot. The average temperature in the coldest month (usually January) is around -12.7°C ~ -16.1°C; and the average temperature in the hottest month (usually July) ranges from 17°C to 22.9°C. The annual average precipitation is 330mm ~ 530 mm, and most rainfall is mainly concentrated in July and August. The geographical distribution of precipitation in Hohhot is the lowest in the southwest part, followed by the plains area, and the mountain area has the most precipitation.
Check details information below about Hohhot climate, weather forecast, best time to visit, average temperature by months and highlights in four different seasons to plan your Hohhot, Inner Mongolia tour in 2023.
Best Time to Visit Hohhot
The best time to visit Hohhot is from May to October, while July and August are the peak tourist season and also the most beautiful season of the year with the best climate on the grasslands. Besides, it's right at the time when the grand Mongolian festival - the Naadam Festival is held.
(Notice: Visit Hohhot during July and August, the scenic spots might be crowded with tourists, and the cost of accommodation, meals and air tickets might be higher than normal.)
In September and October, as the temperature drops rapidly, travelers' enthusiasm for grassland tourism is gradually fading. The grasslands are no longer green, but turn into golden pastures which have a distinctly vintage feel. Meanwhile, during this time of year, the weather in the deserts in the northwest is clear and refreshing, making it a perfect time for hiking.
Animals and plants are awake in spring (from March to May), migratory birds begin to move south, the trees put out green buds and the azaleas everywhere to drive the residual snow, but if you plan to visit Hohhot in spring, do remember to check the weather forecast before you go. Spring is also the driest season in Hohhot. High winds, sand storms and other extreme weather might occur, so you should be prepared. Winter in Hohhot (December to next year February) may not be an ideal season for outdoor activities, but there are many famous Buddhist temples and museums waiting for you to explore.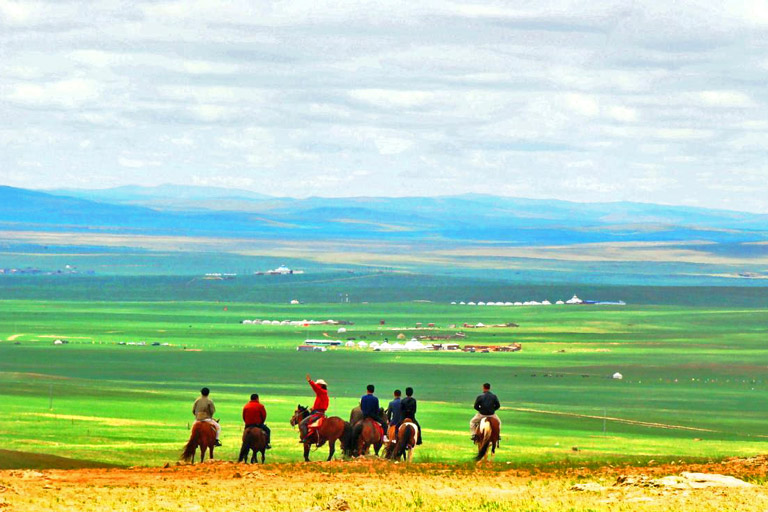 Xilamuren Grassland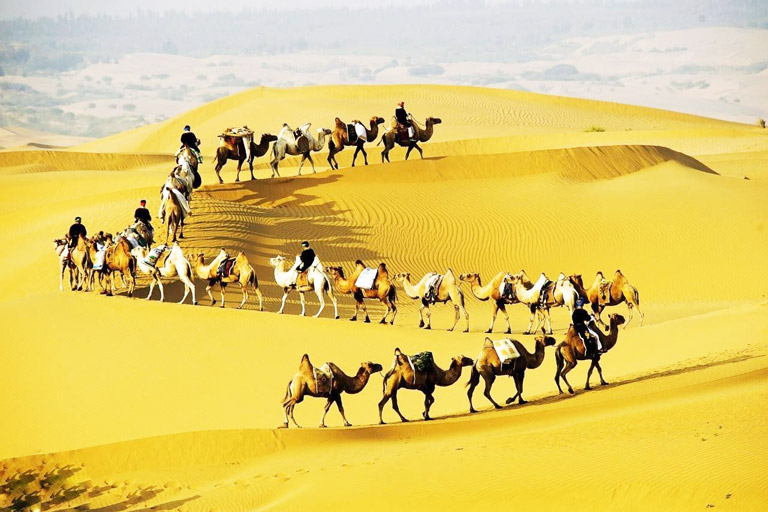 Camel Riding in the Kubuqi Desert
Average Hohhot Temperature by Month
| Month | Recommended Rate | Max Temp. | Min Temp. |
| --- | --- | --- | --- |
| Jan. | | °C | °C |
| Feb. | | °C | °C |
| Mar. | | °C | °C |
| Apr. | | °C | °C |
| May. | | °C | °C |
| Jun. | | °C | °C |
| Jul. | | °C | °C |
| Aug. | | °C | °C |
| Sep. | | °C | °C |
| Oct. | | °C | °C |
| Nov. | | °C | °C |
| Dec. | | °C | °C |
Hohhot Seasons to Go
Spring (March to May) is dry and windy in Hohhot. The temperature changes dramatically and sandstorms may occur periodically; Summer in Hohhot is from June to August, the air temperature is high during daytime and the UV rays are strong with little rain; The temperature drops rapidly in autumn, and frosts often occur in October and November; Winter is long and cold with little snow in Hohhot from late November to early March.
Hohhot Summer (June, July and August)
During summer tourist season, the grassland scenery is at its best. The average daily temperature range in Hohhot in summer is 15°C ~ 27°C. July and August are the two months with the most precipitation in a year in Hohhot. The average monthly precipitation would be over 100 mm. The amount of rainfall in these two months accounts for over half of Hohhot's annual precipitation. Thanks to the more precipitation, the humidity and the air quality in summer are also better than other seasons.
What to Wear in Hohhot Summer
Normal summer clothes like short pants, T-shirts, short sleeves and dresses would be OK for the daytime. As the hours of sunshine are long, do bring some suncare products (sunscreens, hats, parasols and sun-protective clothing, etc.) to protect you from sunburn. Also, please remember to bring a coat or jacket even in summer since the temperature drops dramatically in the evening in the grasslands. If you plan to stay overnight in prairie yurts on the grassland, remember to bring a repellent with you.
Seasonal Activities in Hohhot Summer
1. Astonishing sunrise and sunset, swirling clouds in violet, the rainbow after the rain, sturdy steeds galloping on the grasslands and the cattle and sheep flocks returning home in the afterglow of the setting sun... For photographers, the grasslands offer both majestic scenery and a humanistic environment. You can capture those picturesque scenes mentioned above on any grasslands in Inner Mongolia.
2. Go to Xilamuren, Huitengxile and other grasslands nearby to enjoy interesting activities like horse riding, yurt visiting and exciting performances like dressage, horsehead violin, Mongolian wrestling and archery, etc. If you're lucky, your trip to the grasslands may coincide with the Naadam Fair (那达慕大会). During the festival, you may experience more authentic Mongolian customs and hospitality of nomads on the grasslands.
3. The Mani Temple Fair (嘛呢经会) in Wudangzhao (五当召) in Baotou starts on the 24th day of the seventh lunar month, when visitors can follow the young Living Buddha to make pilgrimages to the temple.
Hot Hohhot Summer Tours:
☛ 6 Days Inner Mongolia Bests Discovery Tour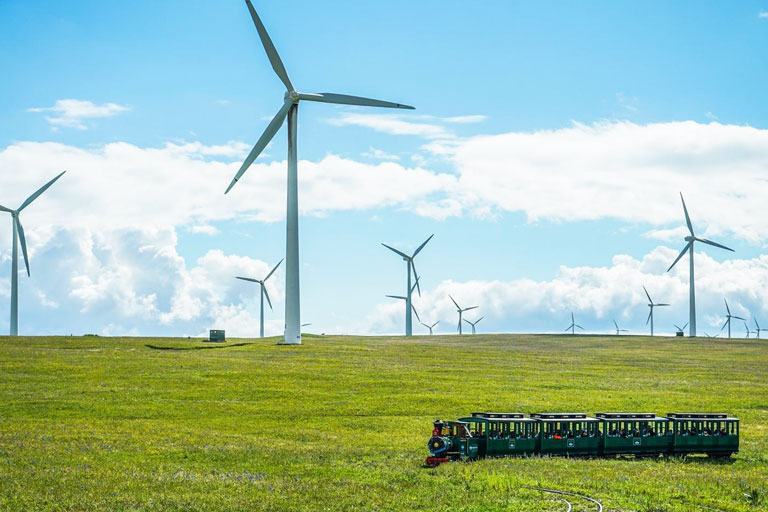 Huitengxile Grassland near Hohhot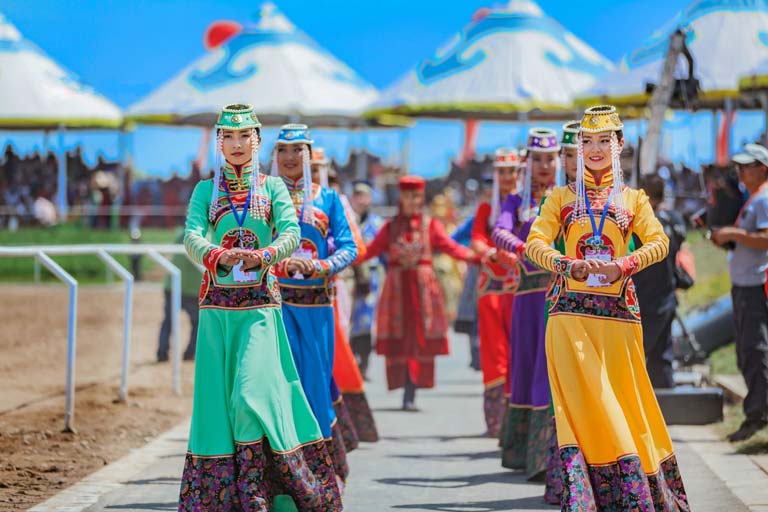 Inner Mongolia Naadam Festival
Hohhot Weather in June
Temperature: 21°C / 70°F
High Temperature: 27°C / 81°F
Low Temperature: 13°C / 55°F
Rainfall: 47 mm
Rainy Days: 9 days
Humidity: 47 %
Hohhot Weather in July
Temperature: 23°C / 73°F
High Temperature: 29°C / 84°F
Low Temperature: 16°C / 61°F
Rainfall: 107 mm
Rainy Days: 13 days
Humidity: 61 %
Hohhot Weather in August
Temperature: 26°C / 79°F
High Temperature: 26°C / 79°F
Low Temperature: 15°C / 59°F
Rainfall: 109 mm
Rainy Days: 13 days
Humidity: 66 %
Hohhot Autumn (September, October and November)
Since Hohhot is deep inland and has less precipitation in autumn, the temperature drops quickly from September. The average monthly temperature is still 21°C during daytime in September, and then dramatically drops to 14°C in October and only 4°C in November. The total precipitation in autumn is around 80mm, and the air quality is best in September. It's a good time to appreciate the golden pasture, enjoy deserts/mountain hiking and watch migrating birds.
What to Wear in Hohhot Autumn
In autumn, you could wear shirts and wind-proof overcoats. Sometimes you may also need thin sweaters. If you are going to the deserts, remember to bring sunglasses, masks, hats and other sand-proof, sun-proof and wind proof stuff.
Seasonal Activities in Hohhot Autumn
1. The Kubuqi Desert is cool in the daytime during autumn. Around National Day, groups of hikers would trek through the desert. Besides, there are also 5A scenic spots, the Whistling Bune Bay, suitable for those who are traveling with kids. There are abundant recreational resources, such as sand skiing, camel riding, desert surfing, ziplining and desert volleyball, etc. You may also choose to stay overnight in those famous and unique desert hotels.
2. From September to October, the grass and leaves turn yellow. It's the best time to enjoy the autumn scenery in Sumu Mountain (苏木山) and Erlongshitai (二龙什台). The main highlights of both spots in autumn are the beautiful birch forests and the layer upon layer of golden peaks and knolls
3. Migratory birds begin to fly south, many seas and lakes around Hohhot are their landing point. So if you like birdwatching, you may pay a visit to sites like Daihai Lake (岱海) and Hasu Lake (哈素海), etc.
Hot Hohhot Autumn Tours:
☛ 2 Days Best Kubuqi Desert Tour to Yemingsha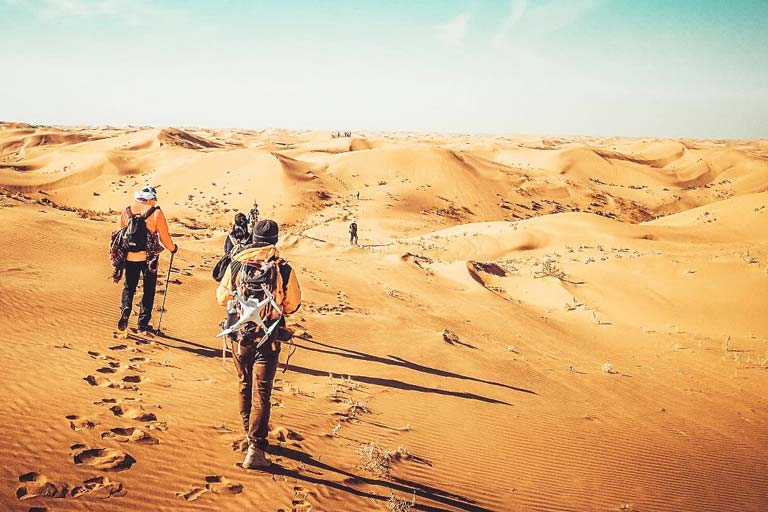 Kubuqi Desert Hiking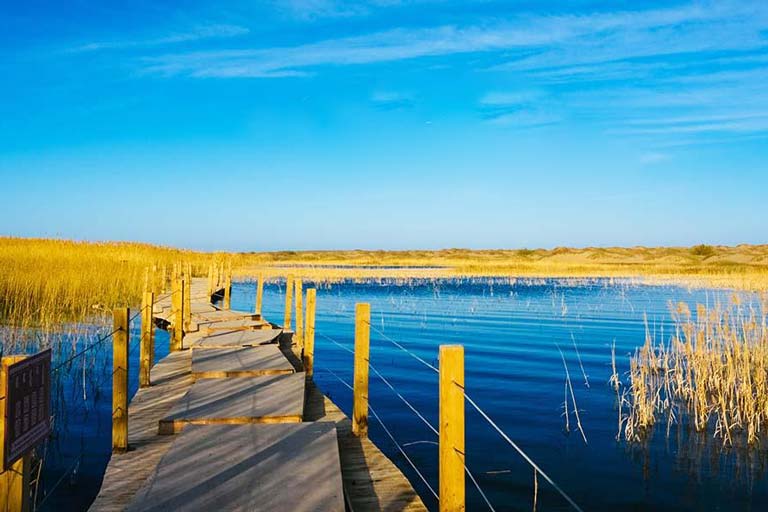 Hasu Lake in Autumn
Hohhot Weather in September
Temperature: 15°C / 59°F
High Temperature: 21°C / 70°F
Low Temperature: 8°C / 46°F
Rainfall: 47 mm
Rainy Days: 8 days
Humidity: 62 %
Hohhot Weather in October
Temperature: 7°C / 45°F
High Temperature: 14°C / 57°F
Low Temperature: 1°C / 34°F
Rainfall: 21 mm
Rainy Days: 5 days
Humidity: 59 %
Hohhot Weather in November
Temperature: -2°C / 28°F
High Temperature: 4°C / 39°F
Low Temperature: -7°C / 19°F
Rainfall: 6 mm
Rainy Days: 2 days
Humidity: 59 %
Hohhot Spring (March, April and May)
Although spring is the season when everything comes back to life, it's not the best time to visit Hohhot. As the temperature rises, evaporation increases. But as Hohhot is deep inland, there is little precipitation in spring, so the weather is quite dry. The average daytime temperature in spring is from 7°C~23°C. The volume of rainfall is low, with around 10mm in March, 15mm in April and 30mm in May. Severe weather such as strong winds and sandstorms may occur from time to time in early spring. Therefore, travelers are advised to check the weather forecast beforehead when visiting Hohhot and surroundings in spring.
What to Wear in Hohhot Spring
You can wear thermal underwear, sweaters and a thin cotton clothes. As the weather is changeable even in one day, it is advised to wear multiple layers, so you can easily take off when you heat up. Taking wind-proof scarfs, sand-proof masks are advised.
Seasonal Activities in Hohhot Spring
1. One of the most important Mongolian festivals falls in spring, the Aobao Festival (May 12th & 13th in the lunar calendar). During the festival, people from far and wide gather at Aobao to take part in worship activities. After the worship ceremony, visitors can enjoy interesting activities of the Mongol nationality such as Mongolia wrestling, singing and dancing. Travelers may enjoy the Aobao Festival on the grasslands in Inner Mongolia, or in Baotou and Ordos near Hohhot.
2. Spring comes with the northbound migratory birds. Dai Lake, Hasu Lakei, and Nanhai are recommended places to go.
3. If you are interested in the ancient Great Wall and the Yellow River, Laoniuwan (老牛湾) is the best place to go. You can appreciate the magnificent view of the Yellow River and the Great Wall Intersect, the "Ji (几)" shaped bay of Shanxi, Shaanxi and Inner Mongolia Grand Canyon and the ancient ruins of the Great Wall of the Ming Dynasty.
Hot Hohhot Spring Tours:
☛ 4 Days In-depth Hohhot Xilamuren Tour with Grassland Activities
☛ 6 Days Beijing Hohhot Highlights Tour with Huitengxile Grassland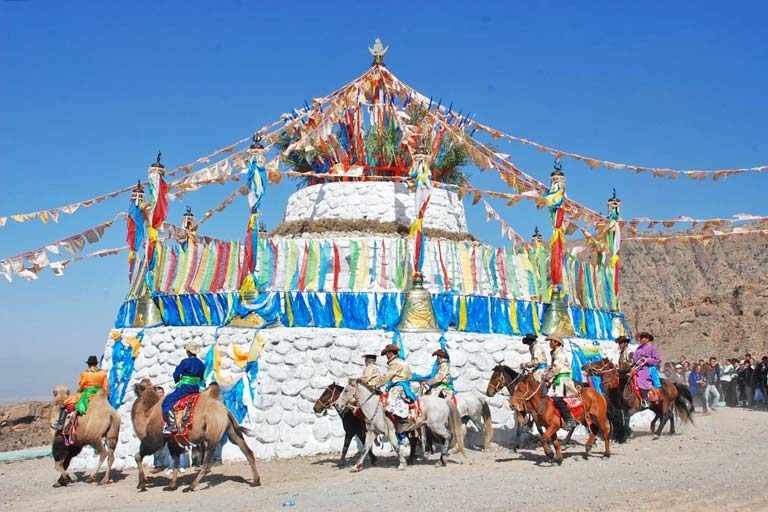 The Aobao Festival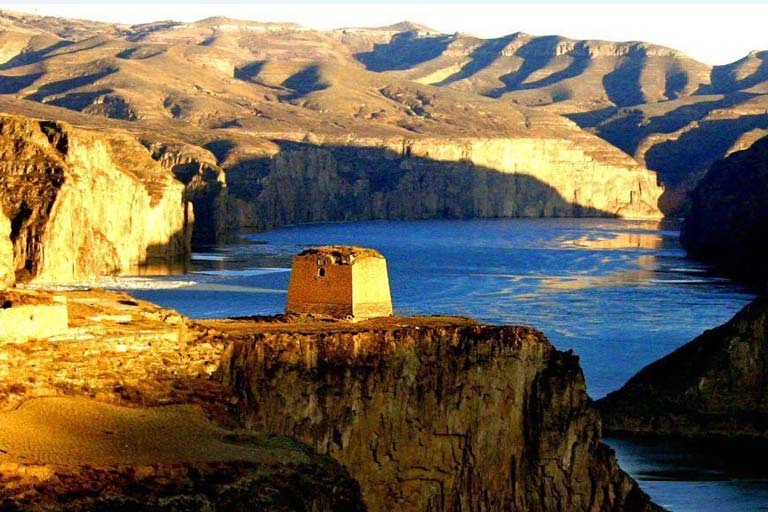 The Panoramic View of Laoniu Bay
Hohhot Weather in March
Temperature: 1°C / 34°F
High Temperature: 7°C / 45°F
Low Temperature: -6°C / 21°F
Rainfall: 10 mm
Rainy Days: 3 days
Humidity: 46 %
Hohhot Weather in April
Temperature: 9°C / 48°F
High Temperature: 16°C / 61°F
Low Temperature: 2°C / 36°F
Rainfall: 14 mm
Rainy Days: 4 days
Humidity: 37 %
Hohhot Weather in May
Temperature: 16°C / 61°F
High Temperature: 23°C / 73°F
Low Temperature: 8°C / 46°F
Rainfall: 28 mm
Rainy Days: 6 days
Humidity: 39 %
Hohhot Winter (December, January and February)
Winter weather in Hohhot is cold and long with an average temperature of -10°C and almost no rainfall and snowfall. The air quality is poor, especially in January.
What to Wear in Hohhot Winter
Winter is the coldest time of the year, so you need to be prepared to keep yourself warm. You have to wear thermal underwear, sweater, fleece series and waterproof jacket. Cold-proof shoes with thick sole, like a pair of hiking boots, are recommended to wear so that you can play or work flexibly. You can also wear wool caps or woolen hats to keep your ears warm. Wearing winter accessories like masks, gloves and wind-proof scarfs, etc when you go outdoors.
Seasonal Activities in Hohhot Winter
1. Even though it is not suitable for travelling to grasslands from November to the following March, visiting famous Buddhist temples in and around Hohhot city would not be affected by the climate and temperature. Dazhao, Five-pagoda Temple and Xilituzhao, etc. in Hohhot city, Wudangzhao (五当召), Meidaizhao (美岱召) around Baotou are all good places to explore Buddhist culture in Inner Mongolia.
2. Winter is also a good time to visit some indoor museums to learn more about Inner Mongolia's history and its nomadic culture. Pay a visit to the Mausoleum of Genghis Khan near Ordos, Inner Mongolia Museum in Hohhot city and Zhaojun Museum in Hohhot suburb, etc. will all make your Inner Mongolia culture trip worthwhile.
3. Get a feast for your appetite would also make a great Hohhot travel experience in winter. There are lots of delicacies you can enjoy in Hohhot, like Mongolian Roast Lamb, Mongolia Milk Tea, Finger Mutton, Shaomai and all kinds of dairy snacks. Saishan Old Street (塞上老街) and the Cow Street (牛街) in Huiming District are good places to savor specialties.
Hot Hohhot Winter Tours:
☛ 6 Days Inner Mongolia Bests Discovery Tour
☛ 4 Days Inner Mongolia Grassland & Genghis Khan Culture Tour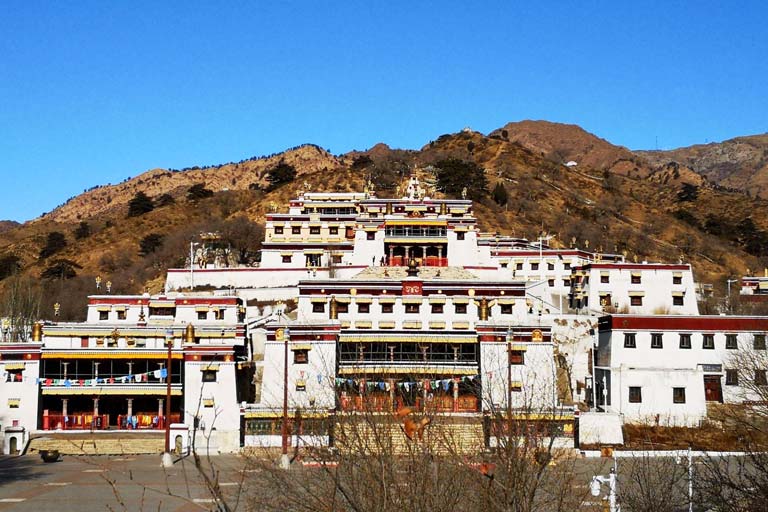 Visit Wudangzhao in Winter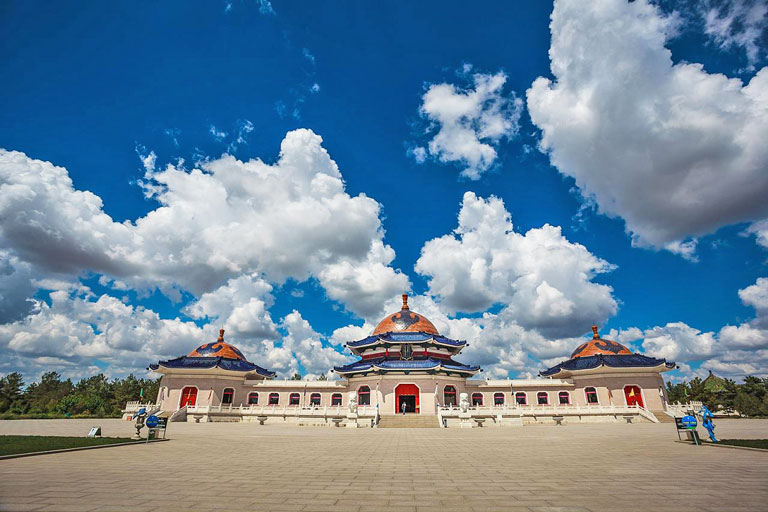 Mausoleum of Genghis Khan in Ordos
Hohhot Weather in December
Temperature: -9°C / 16°F
High Temperature: -3°C / 27°F
Low Temperature: -14°C / 7°F
Rainfall: 2 mm
Rainy Days: 2 days
Humidity: 59 %
Hohhot Weather in January
Temperature: -12°C / 10°F
High Temperature: -5°C / 23°F
Low Temperature: -17°C / 1°F
Rainfall: 3 mm
Rainy Days: 3 days
Humidity: 57 %
Hohhot Weather in February
Temperature: -7°C / 19°F
High Temperature: 0°C / 32°F
Low Temperature: -13°C / 9°F
Rainfall: 5 mm
Rainy Days: 3 days
Humidity: 52 %
How to Plan a Hohhot Tour
Best Time to Visit Hohhot: May ~ October, especially in June, July, August and September…
How to Get There: Flights from Beijing (1.5h), Shanghai (2.5h), Harbin (4.5h), Guangzhou (3.5h), etc. and bullet train from Beijing (2.5~3h), Datong (2.5h), etc.
Usually, visitors spend 2~3 days to visit Hohhot, including one day to explore the highlights in the city, like Dazhao Temple and Inner Mongolia Museum, and 1~2 days to have fun at the nearby grasslands, like Huitengxile Grassland or Xilamuren Grassland.
☛ 3 Days Best Hohhot Grassland Tour with Huitengxile Landscape
☛ 2 Days Huitengxile Grassland Tour from Beijing by Bullet Train
If you have 1~2 days more day, you are highly suggested to add Kubuqi Desert into your trip. Kubuqi Desert is one of the best deserts in China. You can enjoy colorful activities there, like riding camels, hiking, playing sands, etc.
☛ 5 Days Classic Inner Mongolia Tour (Hohhot / Huitengxile Grassland / Kubuqi Desert / Ordos)
Feel not enough? You can spend one day more to Ordos to explore the legend of the great Mongolian conqueror Genghis Khan, 1~2 days more to Xilingol to discover the UNESCO World Cultural Heritage Site - Site of Xanadu, 3~5 days more to Hulunbuir to meet the most beautiful grassland in China and visit fabulous wetlands , forests and Russian Nationality Villages. Have your preferences about Hohhot and Inner Mongolia? Please feel free to tell us your likes and let our experienced travel consultant customize a tour for you!
☛ 6 Days Inner Mongolia Bests Discovery Tour (Hohhot / Ulanqab / Huitengxile Grassland / Baotou / Kubuqi Desert / Ordos)
☛ 5 Days Best Hulunbuir Tour with Grassland Exploration (Hulunbuir)
☛ 6 Days Inner Mongolia Best Desert & Grassland Tour (Hohhot / Baotou / Kubuqi Desert / Hulunbuir)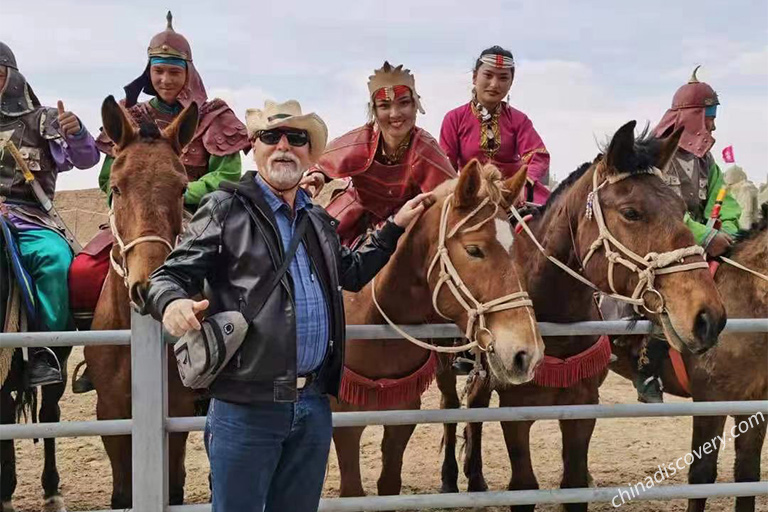 Horse Riding at Inner Mongolia Grassland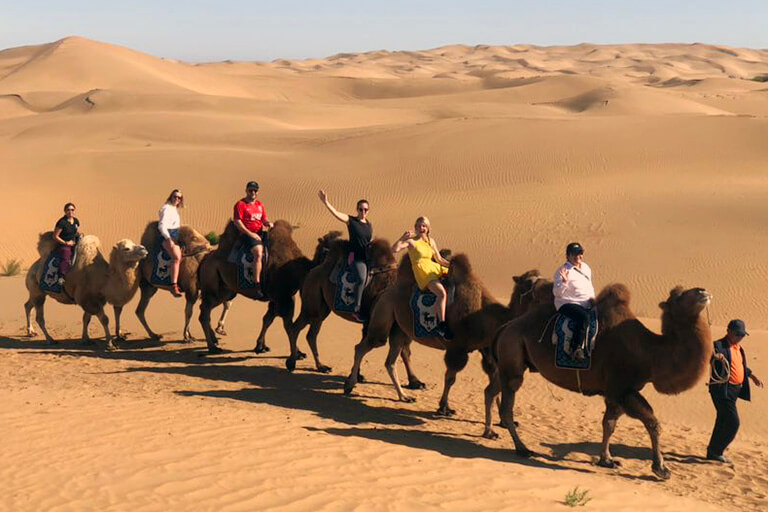 Camels Riding at Kubuqi Desert
Travel Hohhot with China Discovery
Hohhot and Inner Mongolia differ a lot with the classic China you know. And it is not an easy job to arrange the daily flight, train and car travel at this relatively vast land. Therefore, travel with a professional travel agency is usually the best way to visit there. We China Discovery know Hohhot and Inner Mongolia a lot and we are experienced in organizing tours to this region. If you need any help, please feel free to contact us! Private cars, one-to-one guide and travel consultant… Everything is only for you and your group or family! The tour is customized by your interest, budget, plan and every special need!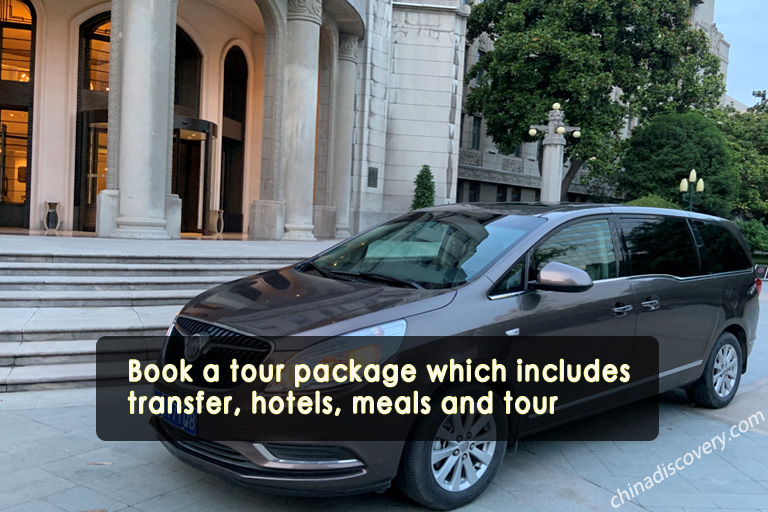 Local Private Transfer Service
Hohhot Tours
Hohhot Travel Guide
More about Inner Mongolia Travel Guide
Recommended Hohhot Tours
Top 3 Hohhot tours chosen by most customers to explore Hohhot in the best way. Check the detailed itinerary,or tailor your own trip now with us.
5 Days Classic Inner Mongolia Tour

Hohhot / Huitengxile Grassland / Yemingsha of Kubuqi Desert / Hohhot
4 Days Huitengxile Grassland & Kubuqi Desert Tour from Hohhot

Hohhot / Huitengxile Grassland / Yemingsha of Kubuqi Desert / Ordos
3 Days Best Hohhot Grassland Tour with Huitengxile Landscape

Hohhot / Huitengxile Grassland / Hohhot