How to Get to Hohhot & Get around Hohhot 2023
Wrapped by gobi deserts and grasslands, Hohhot, the political, economic and cultural center of Inner Mongolia Autonomous Region, is not only an important stopover for Inner Mongolia Tours, but also an excellent place to learn about Mongolian history and Chinese northern horde culture. Hohhot has a well-established land and air transportation network. The Hohhot-Zhangjiakou high-speed railway, which was put into operation on December 30, 2019, has greatly shortened the time of rail transit from Beijing to Hohhot from over 9 hours to around 2 hours. Continue to read the ultimate Hohhot transportation guide to know where Hohhot is, how to get there by flight or train, how to travel around and plan your own Hohhot, Inner Mongolia tour in 2023/2024.
Where is Hohhot?
Hohhot, the capital city of Inner Mongolia Autonomous Region, is located in the central part of this province in north China. It borders Baotou City and Erdos City in the west, Wulanchabu City in the east and Shanxi Province in the south. It is only about 480 km from Beijing (2 hours' bullet train riding), 1,680 km from Shanghai (2.5 hours by flight), 1,000 km from Xian (2 hours by flight), 1,690 km from Chengdu (2.5 hours by flight), 200 km from Datong (2.5 hours' bullet train riding), 310 km from Zhangjiakou (1.5 hours' bullet train riding). Convenient daily flights, high speed trains and normal trains can take you to Hohhot from almost all domestic cities and popular tourist destinations. Besides, there are also international flights/trains to Ulan Bator, the capital of Mongolia.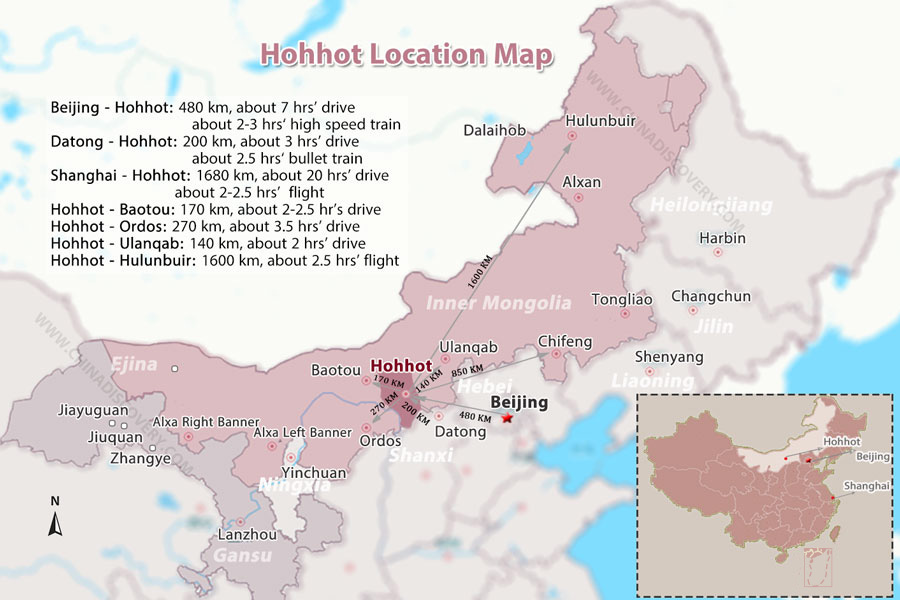 Hohhot Location Map
Click to Jump to:
How to Plan a Hohhot Tour
Travel Hohhot with China Discovery