How to Get to & Around Guizhou, Guizhou Transportation 2023/2024
Guizhou is located in Southwest China boasts lots of excellent outstanding natural wonders for visual and mind surprise and also the famous kingdom of Miao, Dong and other over 30 ethnic minority groups for Chinese culture enrichment! So, how to get to Guizhou and travel around to each top destination to discover the landscape and cultural highlights? Check our ultimate Guizhou transportation guide to know everything you need to plan your coming Guizhou tour 2023/2024 easily!
Best Guizhou Tours:
☛ 3 Days Guiyang City Tour with Huangguoshu Waterfall
☛ 6 Days Diverse Guizhou Tour (Guiyang - Fanjingshan - Kaili)
☛ 6 Days Classic Guizhou Tour to Huangguoshu & Authentic Southeast Guizhou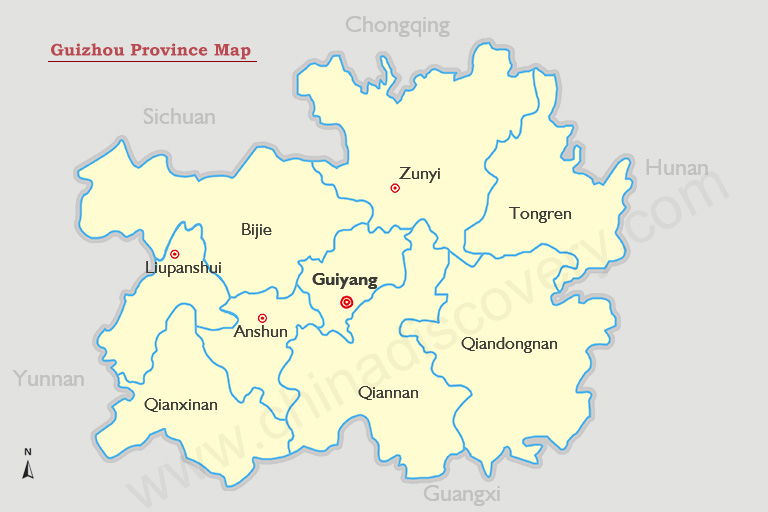 Guizhou Province Map
Quick Jump to:
Get to/away from Guizhou
Get Around Guizhou
Get to/away from Guizhou
To arrive in and departure Guizhou, flights and high speed trains are usually the top choices. Check the detailed information about cities connecting with Guizhou and the shifts of flights and trains at below.
More Train Schedules to Guizhou
Get around Guizhou
After reaching Guizhou, how to transfer between each destination to explore their highlights?
High speed rails have linked Guiyang, Anshun, Kaili, Tongren (Fanjingshan), Congjiang, Rongjiang, Zhaoxing, Zunyi, Duyun, Liupanshui, etc. together in convenience. Besides, the expressways, highways, and world-class bridges make the transfer between the travel destinations with shorter distance and smooth riding. Therefore, travelers can take a bullet train, coach, private car and public bus to enjoy your Guizhou tour!
How to Plan a Guizhou Tour
Travel Guizhou with China Discovery
To help you enjoy a worry-free trip to Guizhou, we highly recommend you travel with us China Discovery. Our local experienced drivers will escort you to the attractions with comfortable car directly with speed and safety. And our English-speaking tour guide will accompany you all the way, show you the best travelling route, share interesting stories, introduce all highlights, and give you warm insider tips of avoiding offending local custom taboos, so you can focus all your attention on the highlights. Our experienced travel expert will help arrange your accommodation and plan your trip sincerely. The tour can be tailor-made according to your group size, time, physical condition, plan, interest, budget and every special need. Please feel free to contact us if you need any help!