Guizhou Map: Guizhou China Map, Guizhou Tourist Map…
Guizhou, the No.1 province in China with the largest number of natural relics, is a wonderful destination for nature lovers! Plus its primitive ethnic culture of more than 48 minority groups of China's 56 ethnic groups, Guizhou is also an ideal place to savor culture atmosphere! To help you have a better understanding about Guizhou, here we will show you some useful Guizhou Maps, including Guizhou China Map, Guizhou Ethnic Villages Map, Guizhou Transportation Map, etc.
Guizhou Location Maps - Where is Guizhou on Map?
Guizhou is located in the southeast part of China, about 1735 kilometers southwest of Beijing, the capital of China. The neighboring cities of Guizhou include Guangzhou, Yunnan, Hunan, Chongqing and Sichuan. The whole Guizhou Province is composed of 9 areas, including its capital Guiyang, Tongren, Anhsun, Zunyi, Bijie, Liupanshui, Qianxianan (southwest of Guizhou), Qiannan (south of Guizhou) and Qiandongnan (southeast of Guizhou). The most famous highlight of Guizhou, the Huangguoshu Waterfall, is located in Guizhou's Anshun City. The cared Mount Fanjing is settled in Tongren City on the east edge of Guizhou. And Guizhou's largest groups of ethnic people and villages are gathering at its Qiandongnan region.
The following Guizhou China Map and Guizhou Province Map will give you more clear info of the location of Guizhou.
Guizhou Tourist Map - Attractions in & around Guizhou
Guizhou is proud of its beautiful natural scenery and profound ethnic culture. Highlights of Guizhou include the world's 3rd largest waterfall - Huangguoshu Waterfall, sacred Mount Fanjing and countless primitive ethnic villages of Miao, Dong, Shui, Gejia, etc. The Guizhou Tourist Maps below will introduce you more details of above highlights.
Check more about Guizhou Attractions >>
Guizhou Transportation Maps - How to Get to & around Guizhou
With the rapid development of high speed railways and airlines of Guizhou, travelers can nowadays get to Guizhou by flight or bullet train in ease and convenience. It now has 11+ airports and 20+ high speed train stations. The frequent used airports used to visit Guizhou are Guiyang Longdongbao International Airport, Anshun Huangguoshu Airport, Tongren Fenghuang Airport and Kaili Huangping Airport. And the popular train stations are Guiyang Railway Station, Guiyang East Railway Station, Anshun West Railway Station, Kaili Railway Station, Tongren Railway Station, Rongjiang Railway Station, Congjiang Railway Station, etc. The following Guizhou Transportation Maps will introduce you more details of how to get to/around Guizhou.
Check more about Guizhou Transportation >>
How to Plan a Guizhou Tour
Guizhou is large and for most visitors, they prefer to plan a long trip covering 2-4 destinations in this province to explore the best natural wonders and proud diverse ethnic minority culture there. For such types, they usually travel from Guiyang and plan an itinerary like Guiyang - Anshun - Qiandongnan (Kaili, Rongjiang, Congjiang or Zhaoxing), or Guiyang - Anshun - Fanjingshan - Qiandongnan, which usually needs 5-7 days
1-2 days in Guiyang:
For easy arrival by flights or bullet train. And take the rest time discovering Qingyan Old Town, Jiaxiu Tower and 1 or 2 top city parks to know the cool and pleasant Guiyang capital city;
1 days in Anshun:
Absolutely admiring the provincial symbolic Huangguoshu Waterfall with various types of beauty. Drop by the dazzling Dragon Palace, or Tianlong Tunpu Military Village if you have 1 more day there;
2-3 days in Qiandongnan (Southeast Guizhou):
Spend 1 day visiting the No.1 Xijiang Miao Village and Qingman Miao Village with Miao girls dressing mini-skirt in Kaili and transfer along to Rongjiang to see the large Zengchong Dong Village. Spend more wonderful time in Congjiang visiting Biasha Miao Village and enjoying the show of Biasha men holding guns, and transfer to Zhaoxing to explore the largest Zhaoxing Dong Village. explore deep to Zhanli Dong Village, Xiaohuang Dong Village in Congjiang or go north to Zhenyuan Old Town if you have another 1-2 days.
1 day in Fangjingshan
If you are fond of the incredible natural formation, plan 1-2 days for the transfer and full discovery of the UNESCO World Natural Heritage mountain resort.
Mount Fanjing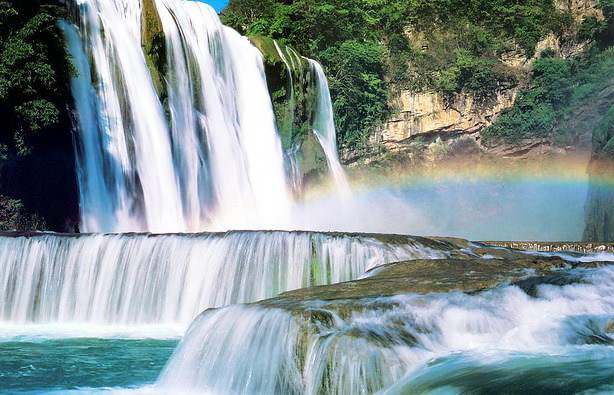 Huangguoshu Waterfall in Anshun, Guizhou
Li River Cruise from Guilin to Yangshuo
Recommended Guizhou Tour Packages:
☛ 3 Days Guiyang City Tour with Huangguoshu Waterfall
☛ 6 Days Diverse Guizhou Tour (Guiyang - Fanjingshan - Kaili)
☛ 6 Days Classic Guizhou Tour to Huangguoshu & Authentic Southeast Guizhou
☛ 6 Days Guizhou In-depth Ethnic Tour with Jiabang Rice Terraces
Besides, lots of travelers to Guizhou also like to plan it with some other hot destinations in China, such as Guilin with fancy Karst landscape of mountains and water, Zhangjiajie with mysterious Avatar mountains, Yunnan with pleasant scenery and wonderful ethnic culture of Naxi, Bai, Tibetan and other ethnic groups, Sichuan with adorable giant pandas and world largest Buddha statue, etc. The tour can be tailor-made according to your group size, time, physical condition, plan, interests, budget and any other special need! Please contact us to help you plan your Guizhou tour or customize a Guizhou tour!
Recommended Guizhou China Tour Packages:
☛ 7 Days Zhangjiajie to Fanjingshan Unbelievable Nature Tour
☛ 9 Days Guilin Guizhou Minority Culture and Landscape Exploration by High Speed Train
☛ 10 Days Yunnan & Guizhou Amazing Minorities Tour
☛ 14 Days Wild China Tours from Shanghai to Yunnan on Expresses
Travel Guizhou with China Discovery
Looking for a worry-free Guizhou tour without the hassles of choosing flight, train, hotel, restaurant and so forth? Travel with China Discovery and we will take care of everything for you! And then our professional guide will accompany you all the way and introduce the stunning Miao and Dong culture for you. And our experienced local driver will help you make transfers in speed and convenience. You can just leave all your energy on the stunning waterfalls, forests, mountains, and the diverse ethnic cultures of this region!
The tour can be tailor-made according to your plan, time, group size, budget and every special need. If you are interested, please feel free to contact us to customize your tour!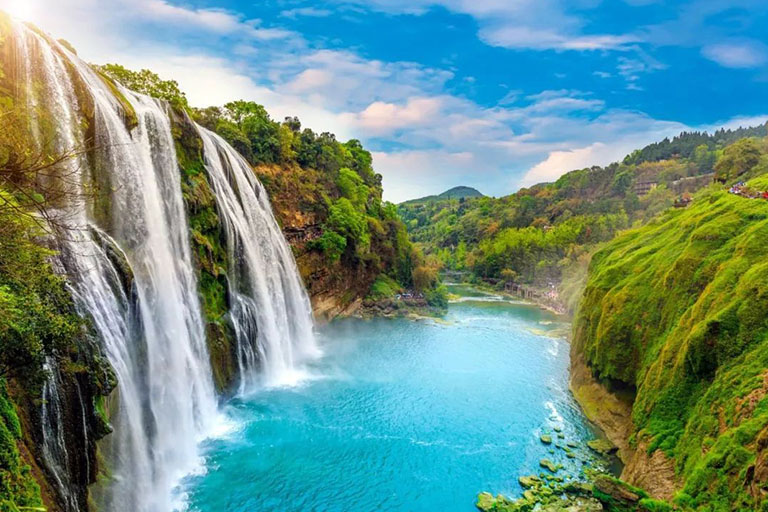 Huangguoshu Waterfall
Recommended Guizhou Maps & Travel Guides
Useful Guizhou Travel Articles
Recommended Guizhou Tours
Top 3 Guizhou tours chosen by most customers to explore Guizhou in the best way. Check the detailed itinerary,or tailor your own trip now with us.
6 Days Classic Guizhou Tour to Huangguoshu & Southeast Guizhou

Guiyang / Anshun / Kaili / Rongjiang / Zhaoxing / Congjiang
6 Days Diverse Guizhou Tour (Guiyang / Kaili / Fanjingshan)

Guiyang / Anshun / Kaili / Fanjingshan
5 Days Guiyang Fanjingshan Tour with Huangguoshu Waterfall

Guiyang / Anshun / Tongren / Fanjingshan / Tongren