Guiyang Weather & Seasons
Sharing the subtropics moist temperate climate, Guiyang has pleasant weather with no intense heat in summer or much cold in winter. It has the annual temperature of 15.3°C. July is the hottest month of the year with a temperature of 24°C averagely, while January is the coldest month with average temperature is 4.6°C. Guiyang weather is fresh and humid without any sandstorm. The agreeable climate makes it a cozy city for living.
Best Time to Visit Guiyang City
With fresh air and mild climate, Guiyang is proud of any time visit. For tourists, summer (from June to September) is absolutely the best time for tourists to travel around Guiyang. Summer in Guiyang is comfortable and pleasant, with temperatures rarely exceeding 30 degree, making it a well-deserved summer resort. The whole city is dressed in Green. Summer is also the best time to take a canyon rafting in the suburbs which is really breathtaking and exciting. Besides, there are a lot of ice slurry served everywhere in the city waiting for you to try! However, in the rainy season, do remember to take a rain gear with you.
Recommended Best Guiyang Guizhou Tours
>> 4 Days Guiyang City Tour with Huangguoshu Waterfall
>> 6 Days Diverse Guizhou Tour (Guiyang - Fanjingshan - Kaili)
Average Guiyang Temperature by Month
| Month | Recommended Rate | Max Temp. | Min Temp. |
| --- | --- | --- | --- |
| Jan. | | °C | °C |
| Feb. | | °C | °C |
| Mar. | | °C | °C |
| Apr. | | °C | °C |
| May. | | °C | °C |
| Jun. | | °C | °C |
| Jul. | | °C | °C |
| Aug. | | °C | °C |
| Sep. | | °C | °C |
| Oct. | | °C | °C |
| Nov. | | °C | °C |
| Dec. | | °C | °C |
Guiyang Seasons to Go
Guiyang Spring (March to May)
Spring is from March and May. The temperatures differ greatly between day and night. The temperature can reach 21°C during daytime but can lower down to 13°C in the night. The average temperature is around 11°C in March, 17°C in April and around 22°C in May. Average monthly humidity in spring is about 76%. Rainfall reaches the highest in May, with a average precipitation about 200mm. Average precipitation in March and May are 72mm and 164mm separately.
Spring in Guiyang is more like that in Kunming of Yunnan, large area of the countryside have been swallowed up by the vast flower sea of rape and pear, which presents to us the extraordinary scenery of "Golden Sea with Silvery Mountain". Cherry blossoms are blooming here and there in downtown area, the scenery may not be inferior to that of Wuhan.
What to Wear in Guiyang Spring
Wearing light sweater and long sleeves is enough. A continues spring rain is often followed by a drop in temperature, so a windproof coat is necessary.
Guiyang Spring Activities
1. Flowers start to bloom in spring. Go to Aha Lake to enjoy the pink cherry.
2. Drive to Qinglong Lake to enjoy the rape flower sea would be the best way to appreciate the beauty in spring.
3. If you are lucky enough to visit in March or April, you can experience a lot of traditional Miao festivals. From April 30 to May 7 there is the Baiyun National Kites Festival.
4. Pay a visit to the one of four ancient town in Guizhou Province - Qingyan Ancient Town. Follow the trail of history and travel back 600 years before.
Hot Tour:
► 2 Days Guiyang Qingyan Ancient Town Tour
► 6 Days Diverse Guizhou Tour (Guiyang - Fanjingshan - Kaili)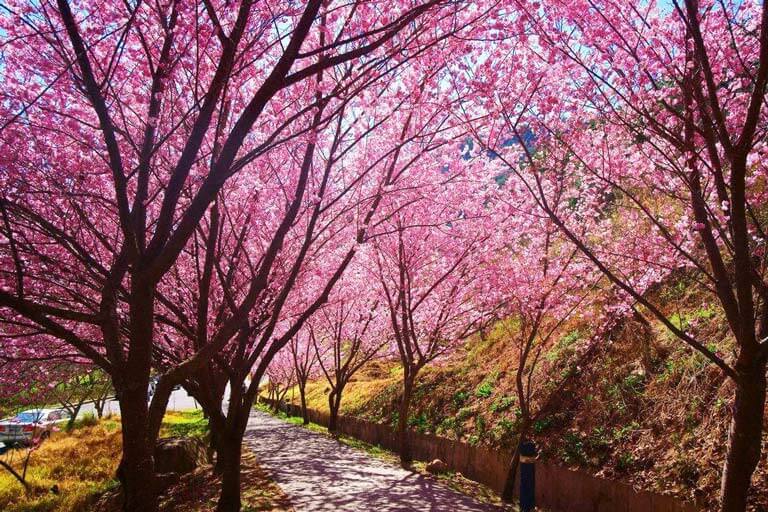 Pink Cherry in Aha Lake Wetland Park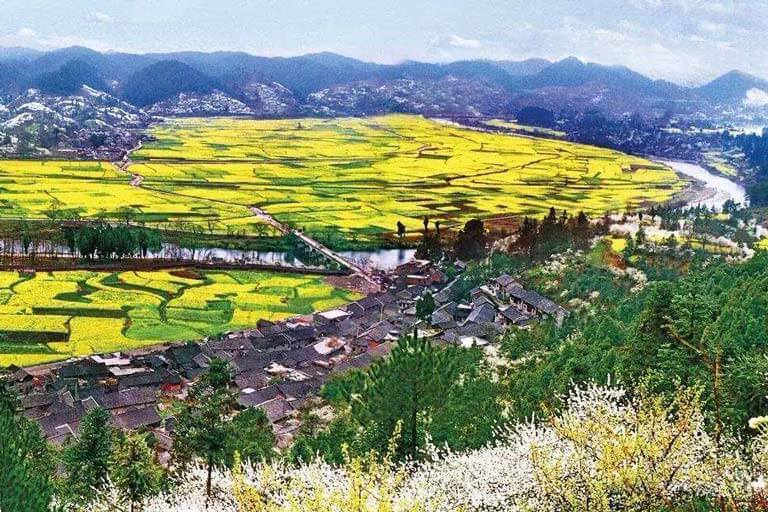 The Rape Flower Sea in Qinglong Lake
Guiyang Summer (June to September)
Surrounded by mountains, the summer in Guiyang is abundant of rainfall, which makes the weather is not hot, only with average temperature at 26 °C. Average temperature during daytime is about 32°C and 22°C during night time. Average monthly rainfall during summer is about 146mm. Summer also enjoys the reputation of best air quality during four seasons of the year.
Summer is the best time to visit Guiyang City. With massive water in the river, you can not only enjoy the spectacle view of the waterfalls but get wet during the exciting rafting in canyon. As a summer resort and transportation hub, Guiyang would welcome quite a group of visitors from near and far in July and September.
What to Wear in Guiyang Summer
Summer is the rainy season in Guiyang, don't forget to bring rain gears with you. Wear any summer clothes, such as shirts, shorts and skirts, but also add a light coat or sweater for early morning and evening. Due to its topography, the things for anti-solar radiation should be fully prepared.
Guiyang Summer Activities
1. The rafting season begins with abundant rainfall in summer. Go to Nanjiang Grand Canyon and have an unforgettable adventure there! However, in case of heavy rainfall in flood season, the Nanjiang Grand Canyon may be closed.
2. Besides, waterfalls in Tianhe Lake enter to their best viewing period in summer.
3. Breath fresh air and meet variety of wildlife in Huaxi Park. The outside world seems to vanish behind enfolding mountains, quarantined away by rivers and wetlands.
4. After munching on cuisines and snacks in the night market, tourists can take a walk along the river side. Walk to Jiaxiu Tower to enjoy the most splendid night view in Guiyang.
5. From June to August is the Hongfeng Lake Tourism Festival, lasting nearly two months.
Hot Tour: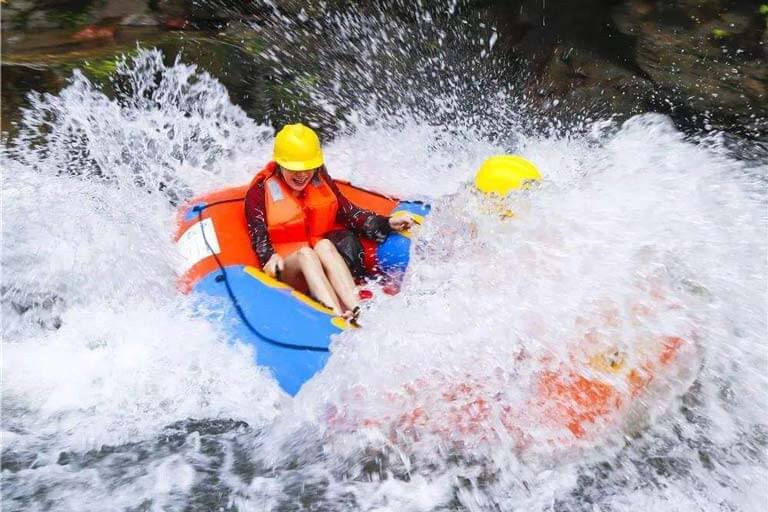 Rafting on Nanjiang Grand Canyon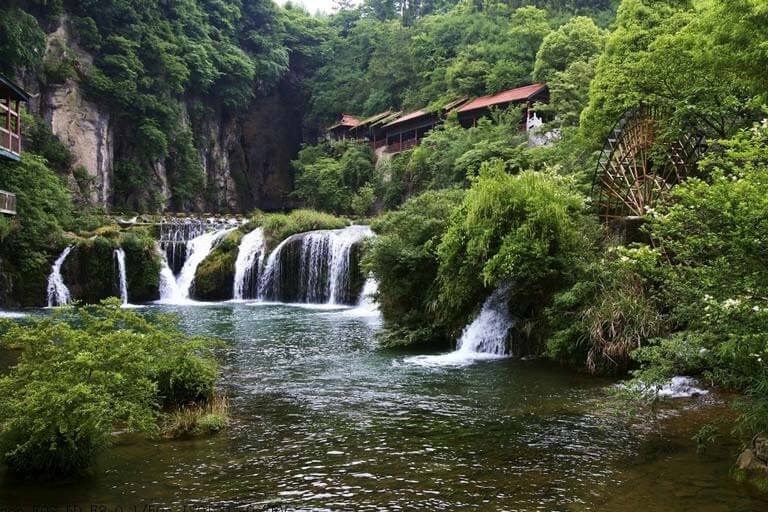 Waterfalls in Tianhe Lake Scenic Area
Guiyang Autumn (October to November)
Autumn in Guiyang is unnoticeable by people but changes the nature distinctly. The weather may change a little bit cooler with breeze and still quite pleasant. In autumn, average temperature is about 17.5°C, with an average daytime temperature about 22.5°C and nighttime temperature about 14°C. Average monthly precipitation decease a lot comparing with summer, with 104mm in October and 68mm in November.
Sometimes, nature is more sensitive than humans, just like the Red Maple Lake. When it gets to the deep autumn, the red leaves are spreading around whole lakeside, worth to take a look...
What to Wear in Guiyang Autumn
Bring long-sleeve shirts, light sweater and coat. Wear sun protection such as hats, sunglasses and sun block when it's sunny.
Guiyang Autumn Activities
1. Autumn is the best season for climbing Qianling Mountain, in addition to climbing high and gazing far, tourists can also enjoy the fun of macaques;
2. If you are looking for more sense of autumn, the red maple forest in Hongfeng Lake is the place you can't miss;
3. The Golden Avenue and reeds in Huaxi Park are all typical autumn scenery waiting for you to explore.
Hot Tour:
► 5 Days Guiyang Fanjingshan Tour with Huangguoshu Waterfall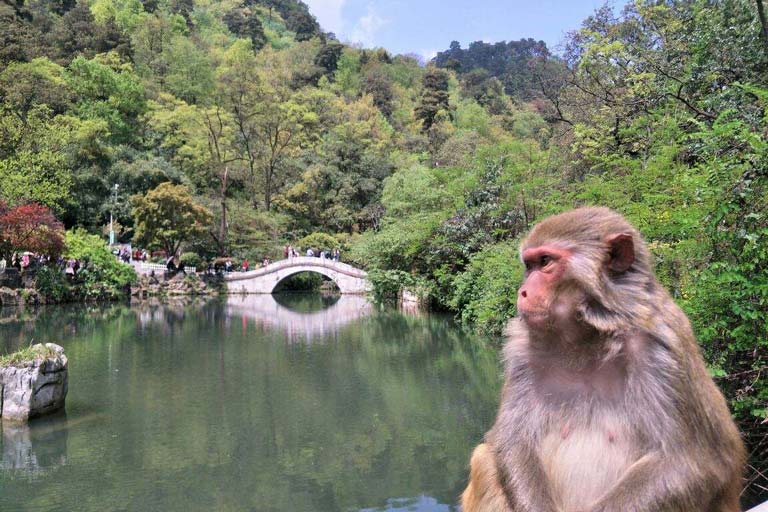 Macaques in Qianling Mountain Park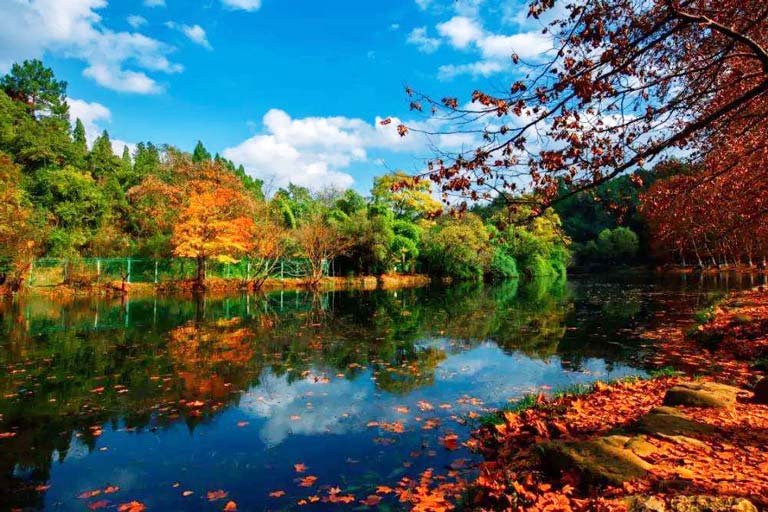 Huaxi Park in Autumn
Guiyang Winter (December to February)
Winter is from December to February. It's the season with the highest humidity in Guizhou, reaches 79% in January. There is little difference in temperature (only 7°C) between day and night in winter. Average monthly temperature of three months in winter is about 6°C. Even the average monthly precipitation in winter is lower than other seasons, but it still has an average number of 47mm rainfall per month. Average number of rainy days is about 7 days a month.
Winter scenery in Guiyang might be a little boring compared to the other three seasons, but delicious and wide variety of food will never absent. The sour and spicy taste can help you relieve the cold and damp in winter. Besides, hot springs are another can not be missed recreation in winter.
What to Wear in Guiyang Winter
Please prepare thick sweater, overcoat or down jacket and thick shoes when you visit Guiyang in winter.
Guiyang Winter Activities
1. In this low season, the attractions can be limited but if you want to explore the ethnic minority culture, Qingyan Ancient Town is the ideal place to go and find the local life. There are lots of activities and celebration being held in Qingyan Ancient Town during Spring Festival;
2. In winter, Huaxi Park becomes a refuge for migratory birds.
Hot Tour:
► 2 Days Guiyang Qingyan Ancient Town Tour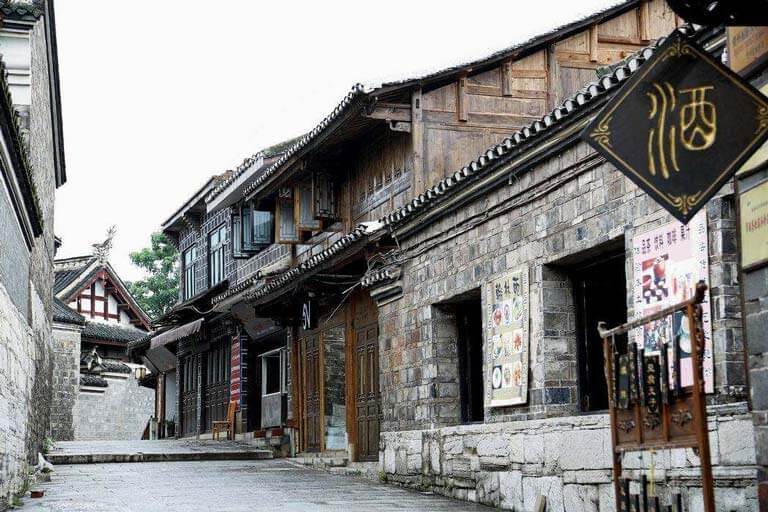 Visit Qingyan Ancient Town in Winter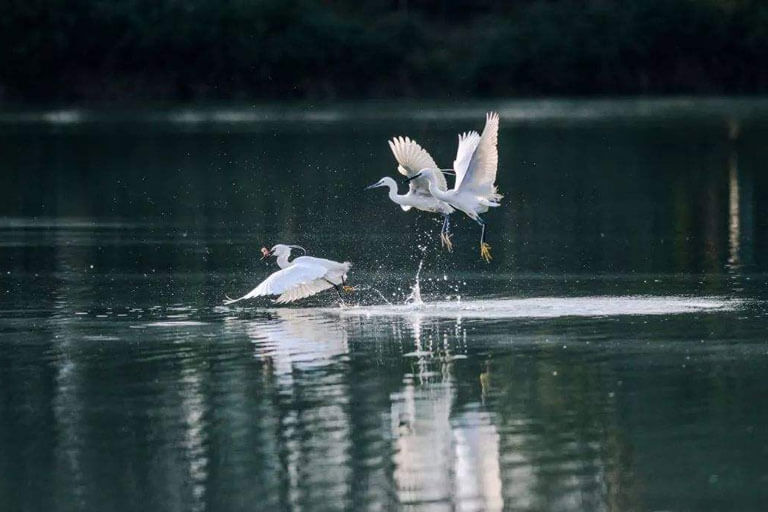 Migratory Birds to Guiyang in Winter
How to Plan a Guiyang Tour
Guizhou is usually the first stop for tourists visiting Guizhou. Visitors spend about 1~2 days there. The first day is for your arrival and good rest. And if you arrive early, you are suggested to visit Qinling Mountain Park to do a hike and meet with adorable monkeys. After night falls, you can head to Jiaxiu Tower to admire the landmark and the most beautiful night views of the city. For the next day after breakfast, it will be a great idea to explore Qingyan Ancient Town and Huaxi Park of the city.
Recommended Guiyang Tour Package:
► 2 Days Guiyang Qingyan Ancient Town Tour
Seldom tourist gets to Guiyang only. It is normally a good start for a Guizhou Nature & Minority Culture tour! Being the No.1 province in China with the largest number of natural relics, Guizhou has lots of natural wonders to offer, like Fanjingshan, Huanguoshu Waterfall, Libo Seven Holes Scenic Area, Jiabang Rice Terraces, etc. Besides that, Guizhou is also the home to ethnic groups, and there are numerous unique Miao Villages and Dong Villages waiting for your steps. How about your preference? Want more travel ideas? Maybe you can check the best Guizhou tours chosen by our customers below for reference!
Recommended Guiyang Guizhou Tour Package:
► 4 Days Guiyang City Tour with Huangguoshu Waterfall
► 6 Days Diverse Guizhou Tour (Guiyang - Fanjingshan - Kaili)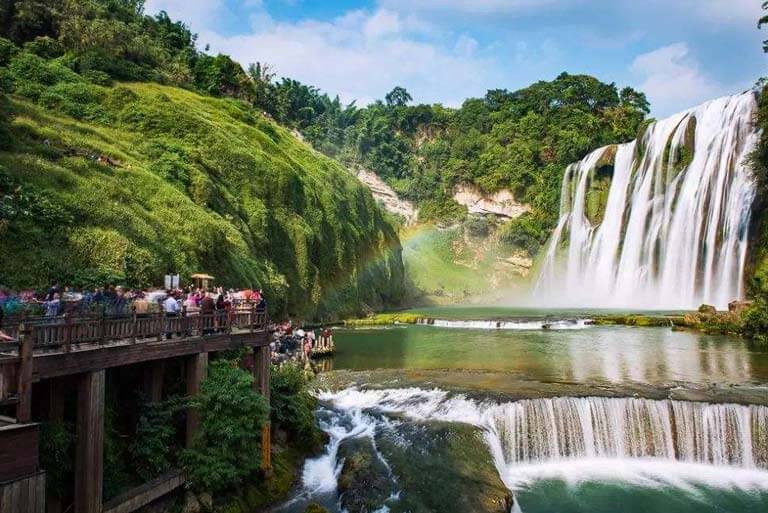 Huangguoshu Waterfalls in Guizhou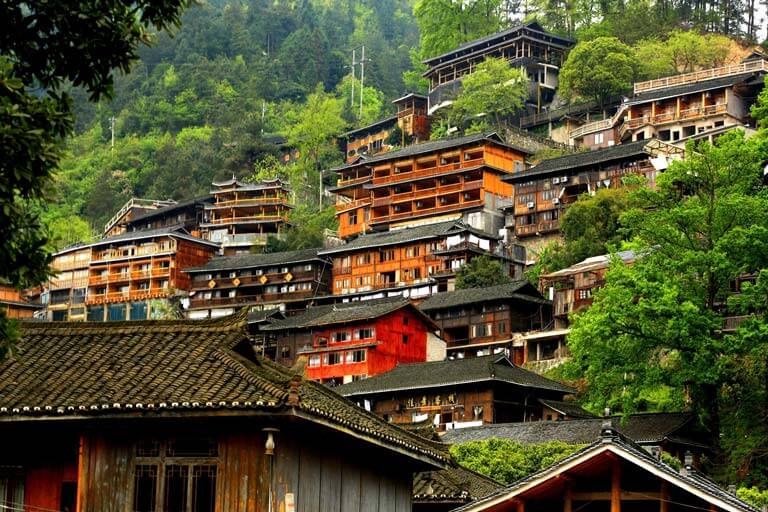 Xijiang Qianhu Miao Villages
Travel Guiyang & Guizhou with China Discovery
Guiyang is a large city, with many attraction, hotel, and restaurant options for you to choose. It is never an easy thing for travelers, especially the first-timers, to travel Guiyang in efficient. Plus there are many must-visit wonders spreading the whole Guizhou Province, you may prefer to extend your Guiyang tour to other nearby destinations. Where to go? How to Plan a perfect tour for you? Let us China Discovery help you! If you travel with us, our professional guide will accompany you all the way and introduce the stunning Miao and Dong culture for you. And our experienced local driver will help you make transfers in speed and convenient.
The tour can be tailor-made according to your plan, time, group size, budget and every special need. If you are interested, please feel free to contact us to customize your tour!
Average Temperature & Rainfall of Guiyang, Guizhou

| | | | | | | | | | | | | |
| --- | --- | --- | --- | --- | --- | --- | --- | --- | --- | --- | --- | --- |
| Month | Jan | Feb | Mar | Apr | May | Jun | Jul | Aug | Sep | Oct | Nov | Dec |
| Temperature(°C) | 5 | 6 | 11 | 16 | 21 | 25 | 27 | 27 | 23 | 18 | 12 | 7 |
| Precipitation(mm) | 39 | 47 | 72 | 164 | 208 | 196 | 119 | 123 | 66 | 104 | 68 | 34 |
| Air Quality(AQI) | 39 | 47 | 48 | 47 | 44 | 32 | 29 | 43 | 45 | 38 | 47 | 59 |
Keep Reading on Guiyang
Useful Guizhou Travel Articles
Recommended Guiyang Tours
Top 3 Guiyang tours chosen by most customers to explore Guiyang in the best way. Check the detailed itinerary,or tailor your own trip now with us.
3 Days Guiyang City Tour with Huangguoshu Waterfall

Guiyang / Anshun / Guiyang
6 Days Classic Guizhou Tour to Huangguoshu & Southeast Guizhou

Guiyang / Anshun / Kaili / Rongjiang / Zhaoxing / Congjiang