Guiyang Map: Map of Guiyang, Guizhou, China
To help you have a better understanding about Guiyang, the capital of Guizhou, now we've collected some useful Maps of Guiyang, including Guiyang China Map, Guiyang Attraction Map and more. All Guiyang Maps are downloadable and printable. You can feel free to use any of them when planning your Guiyang Tours.
Guiyang Location Maps: Guiyang China Map, Guiyang Guizhou Map
Guiyang is located in the south of China and in the middle area of the whole Guizhou province. Tongren City, where you will meet with the sacred Mount Fanjing, is about 1.5 hours' bullet train ride from Guiyang. And Anshun City, home to the grand Huangguoshu Waterfall, is about 1 hour' bullet train ride from Guiyang. You can check the following location maps of Guiyang to know where it is on a China Map and Guizhou Map.
Guiyang Tourist Maps: Map of Guiyang Attractions
Guiyang, the capital city sitting at the central part of Guizhou, is a vital gateway city for travelers heading to explore the colorful Miao Villages and splendid natural mountains, waterfalls, karst caves of Guizhou Province. In addition to its convenient transportation condition, Guiyang also offers the best museum in this area, namely Guizhou Provincial Museum. There are also wonderful parks and ancient towns for you to take a break during your long trip. Looking for what to do in Guiyang? Check the Guiyang Tourist Map below to get inspired. Also, you can check Top Things to Do in Guiyang to get more details if you are interested.
Guiyang Tourist Map
Guiyang Transportation Maps: How to Get to/around
Being the capital of Guizhou Province, Guiyang enjoys the most convenient transportation condition. Its Guiyang Longdongbao International Airport allows you to get there from almost all the popular tourist cities of China and even many cities outside China. And it has as many as three main high speed railway stations. They are Guiyang Railway Station (贵阳站), Guiyang East Railway Station (贵阳东站) and Guiyang North Railway Station (贵阳北站). Inside the Guiyang City, there is also Guiyang Metro Line 1 (Guiyang Transit Line 1) for you to get around. Check the Guiyang Transportation Maps here to know Guiyang Metro and how to get from Guiyang to Kaili, Huangguohu Waterfall, etc.
Check more about Guiyang Transportation - How to Get to and Travel around Guiyang >>
How to Plan a Guiyang Tour
Guizhou is usually the first stop for tourists visiting Guizhou. Visitors spend about 1~2 days there. The first day is for your arrival and good rest. And if you arrive early, you are suggested to visit Qinlingshan Mountain to do a hike and meet with adorable monkeys. After night falls, you can head to Jiaxiu Pavilion to admire the landmark and the most beautiful night views of the city. For the next day after breakfast, it will be a great idea to explore Qingyan Ancient Town and Huaxi Park of the city.
>> 2 Days Guiyang Qingyan Ancient Town Tour
Seldom tourist gets to Guiyang only. It is normally a good start for a Guizhou Nature & Minority Culture tour! Being the No.1 province in China with the largest number of natural relics, Guizhou has lots of natural wonders to offer, like Mount Fanjing, Huanguoshu Waterfall, Libo Seven Holes Scenic Area, Jiabang Rice Terraces, etc. Besides that, Guizhou is also the home to ethnic groups, and there are numerous unique Miao Villages and Dong Villages waiting for your steps. How about your preference? Want more travel ideas? Maybe you can check the best Guizhou tours chosen by our customers below for reference!
>> 3 Days Guiyang City Tour with Huangguoshu Waterfall
>> 6 Days Diverse Guizhou Tour (Guiyang - Fanjingshan - Kaili)
>> 6 Days Guizhou In-depth Ethnic Tour with Jiabang Rice Terraces
Mount Fanjing
Travel Guiyang & Guizhou with China Discovery
Guiyang is a large city, with many attraction, hotel, and restaurant options for you to choose. It is never an easy thing for travelers, especially the first-trimers, to travel Guiyang in efficient. Plus there are many must-visit wonders spreading the whole Guizhou Province, you may prefer to extend your Guiyang tour to other nearby destinations. Where to go? How to Plan a perfect tour for you? Let us China Discovery help you! If you travel with us, our professional guide will accompany you all the way and introduce the stunning Miao and Dong culture for you. And our experienced local driver will help you make transfers in speed and convenient.
The tour can be tailor-made according to your plan, time, group size, budget and every special need. If you are interested, please feel free to contact us to customize your tour!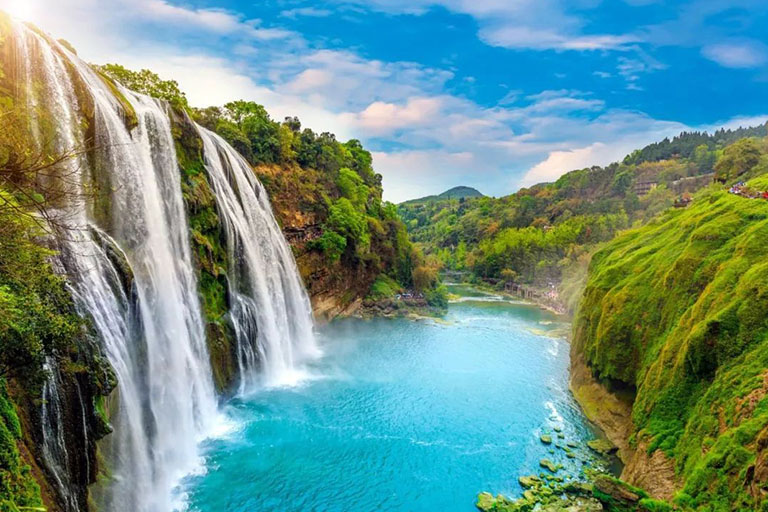 Huangguoshu Waterfall
Keep Reading on Guiyang
Useful Guizhou Travel Articles
Recommended Guiyang Tours
Top 3 Guiyang tours chosen by most customers to explore Guiyang in the best way. Check the detailed itinerary,or tailor your own trip now with us.
3 Days Guiyang City Tour with Huangguoshu Waterfall

Guiyang / Anshun / Guiyang
6 Days Classic Guizhou Tour to Huangguoshu & Southeast Guizhou

Guiyang / Anshun / Kaili / Rongjiang / Zhaoxing / Congjiang