How to Get to & around Xiapu County, Xiapu Transportation
Xiapu, one of the Top 10 best photography bases in China, is regarded as the most beautiful coastal line. The fabulous natural scenery of Xiapu mudflat attracts countless photography enthusiasts to come every year. So where is Xiapu county and how to get there? Xiapu transportation guide below will show you its location, top recommended transfer by bullet train, flights, private car, and more useful planning tips for your Xiapu Photography tour in 2023/2024!
Where is Xiapu County?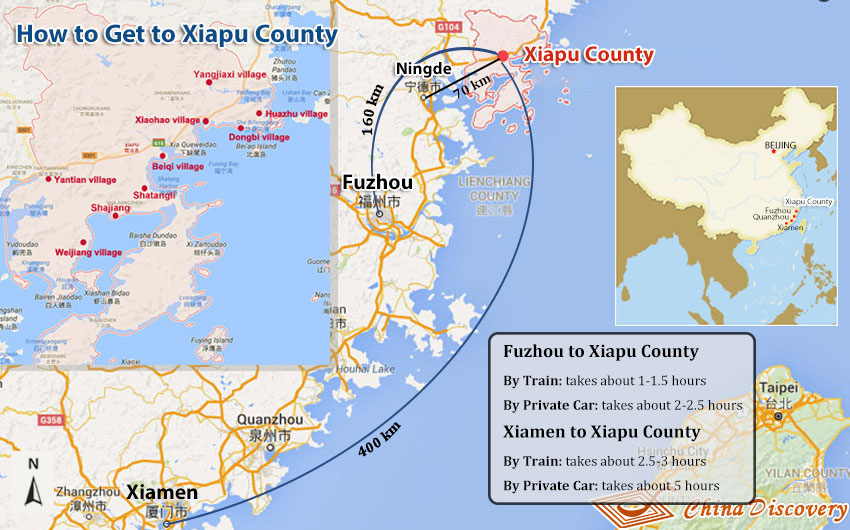 Xiapu County Location Map
Location: Xiapu, County, Ningde City, Fujian Province (福建省宁德市霞浦县)
Xiapu county, under the jurisdiction of Ningde City, is located at the midpoint of China North-to-South Coast Line, northeast part of Fujian Province. It's about 70 km from Ningde, 400 km northeast from Xiamen, 160 km northeast from Fuzhou, 600 km from Shanghai and more than 1700 km from Beijing.
★ Top Recommended Xiapu Photography Tour:
► 4 Days Fujian Xiapu Mudflat Photography Tour
► 6 Days Fujian Tulou & Xiapu Photography Tour
How to Get to Xiapu County?
Visitors can get to Xiapu county by high-speed trains, air-train transfer, car and coach. High-speed rails and air-train transfer are two common ways for long distance travel. You can get to Xiapu county with speed and comfort. However, if you are transferred from places nearby such as Fuzhou, Xiamen, Ningde, Nanjing Tulou, Yongding Tulou or Wuyi Mountain, you may also take cars or coaches to reach Xiapu County.
Quick jump to:
Get to Xiapu by Private Service - Top Recommended Way
Get to Xiapu by High-speed Rail - A Energy-saving Way
Real-time Xiapu High-Speed Train Schedule:
Get to Xiapu by Flight-train Transfer - Time-saving Way
Xiamen to Xiapu
Fuzhou to Xiapu
Fujian Tulou Area (Nanjing / Yongding) to Xiapu
Shanghai to Xiapu
Shenzhen to Xiapu
Get around Xiapu County
There are 4 popular photography travelling routes radiate out from Xiapu county, top shooting places are scattered (even getting to the nearest Beiqi Village needs about 20mins by car) and without sightseeing buses and formal public transport connects each highlight, the best way to travel around Xiapu and fully enjoy the natural masterpieces of Xiapu Mudflats is taking a private car or booking a photo tour service in advance. For independent travelers, you may get around by taking taxis or motorbikes.
Visiting Xiapu Mudflats By Private Car
How to Plan a Xiapu Mudflat, Fujian Tour?
Travel Xiapu Mudflat, Fujian with China Discovery