Brief Introduction of Xiapu Mudflat
Xiapu enjoys the respectable name of the "Most Beautiful Coastal Line in China", because Xiapu Mudflat within is abundant with lots of fabulous natural scenery. And also Xiapu Mudflat is regarded as the "Chinese Most Gorgeous Mudflat" as well as one of the "Top 10 Domestic Photography Bases" by those photography enthusiasts, where you can take countless fantastic pictures of the beach, sunrise, sunset, mists, mountains, fishing-boats, local "sea gypsies", etc. You will feel your camera lack of storage space to collect all the amazing masterpieces of nature. Go to the northeast of Fujiang province, you can arrive at Xiapu county, the "County of Kelps", to enjoy these breathtaking sightseeing.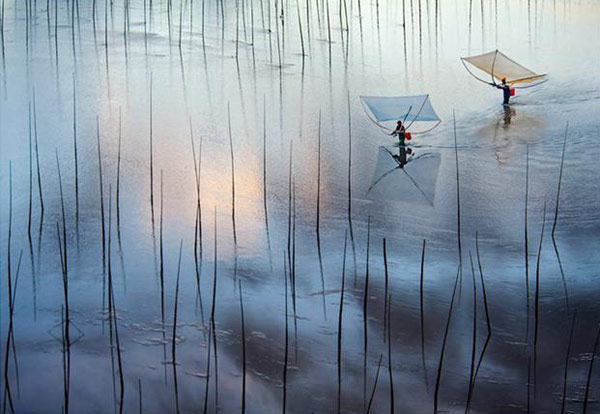 Fujian Xiapu Mudflat Sightseeing like Ink & Wash Painting
Top Attractions in Xiapu
There are a series of places to go in Xiapu County for shooting the best picture of the sunrise, sunset, mists, mountains, local laboring scenes, etc. and since all them are surrounded by water on three sides and backed with mountains on one side, so you can enjoy the best position on the mountains. Here below are the recommended hot spots. Let's go to see the super excellent work of nature from these sites!
Beiqi Village – Sunrise; Sunset; Tiger-skin-like Stripes
Get your camera ready for the sunrise and sunset in Beiqi. You will appreciate the distinct scenery in this place that is just couples of minutes' driving from Xiapu county town. The morning golden sunshine spurting down on the sea, changes the mudflat into a dreamy colorful world. The most famous tiger-skin-like stripes of the mudflat, shadows of fishermen, fishing boats, poles, etc. compose a very harmonious painting, from which you will admire the "Magician Nature" who makes the extraordinarily common point, line, light and shadow full of magic.
From Xiapu County: 18 min driving
Weijiang Village (Mantou Mountain) – Sunrise; Clouds; Kelp; Boats
Weijiang or Mantou (steamed bun) Hill is treated as the sacred place of sunrise in XiapuCounty. Step on the mountain, you will be shocked at the boundless mudflat connecting the horizon, and the florid view of the mudflat dyed by the rosy clouds. With the flying egrets in the charming sky and the steamed-bund shaped hill, the whole scene is really a tranquil landscape of "Master Nature".
From Xiapu County: 1 hour driving
Xiaohao Village – Sunset; Sandiness Mudflat
Xiaohao Beach is one of the favorite shooting places in Xiapu, since they can get the fairest photographs of the sunset here. When the sun is falling down, the shining golden glory paints the whole mudflat, and this is the best moment to record this splendid landscape of the setting sun and the mudflat. Apart from that, you will be surprised with the magnificent view of sandiness mudflat. The sheets of giant golden mudflats change their shapes along the waves, and you can see them through the lens like streams running by, and later becoming the winding artery shining in silver. Moreover, it may be your first time to see such super large-scale scene of kelp harvest, during this happy time, fishing boats like mighty forces shuttling among the bamboo poles on the sea, which is like a grand movement composed by many dancing musical notes.
From Xiapu County: 35 min driving
Yantian Village – Sea Gypsy; Local Culture
Yantian (Salt Field) is the main shooting place of local culture of fishing family. You can use your camera freely to record the real life and laboring scene of the piscatorial families who are called the "sea gypsies" for long time living on their own fishing boats in Xiapu. Just recording their pure, industrial, thrifty feature in the fancy landscape in the simplest way, you will get exceptional works.
From Xiapu County: 30 min driving
Huazhu Village – Sunrise; Mysterious Fuyao Archipelago
Huazhua Village is both a great site to take beautiful pictures of sunrise and mirage-like view. Different from sunrise in other places in Xiapu, the initial-rising sun here is more like a golden moon with soft glory, which adds mysterious charm to the surrounding area. What's more, you can shoot the appealing images of the Fuyao Archipelago rising and falling among the mists, in a partly hidden and partly visible way, which is like a shy and mysterious oriental girl.
From Xiapu County: 1 hour driving
Dongbi Village – Sunset; "S" Shape Water; Fishing Nets
Dongbi is a rattling good place to enjoy the sunset. Despite that, the very big fishing nets are also an uncommon photographic theme. The golden color of the falling sun presents a golden silk dress for the mudflat and the soft lines of the sinuate water ways vary as the waves, some even performing "S" shapes, and this is super magnificent and rare. Furthermore, as some fishermen hang their fishing nets here on the mudflat, it is very lucky to shoot some pictures of the ordinary tools to increase your amounts of cultural themed photographic works of Xiapu.
From Xiapu County: 40 min driving
>>4 Days Fujian Xiapu Mudflat Photography Tour
>>6 Days Fujian Tulou & Xiapu Mudflat Photography Tour (Xiamen / Nanjing / Yongding / Xiamen / Xiapu)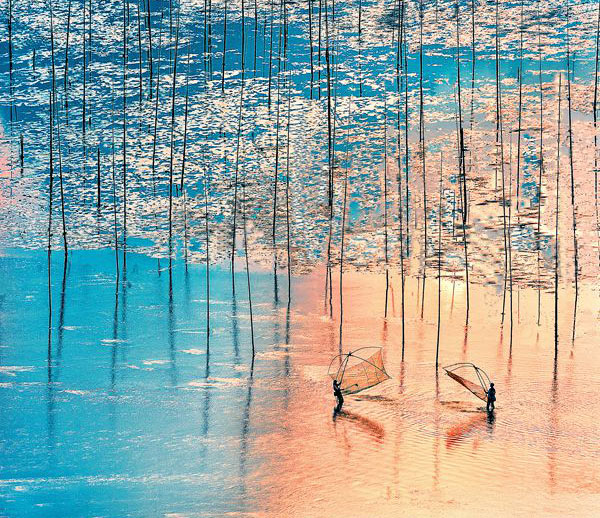 Picturesque View of Beiqi Mudflat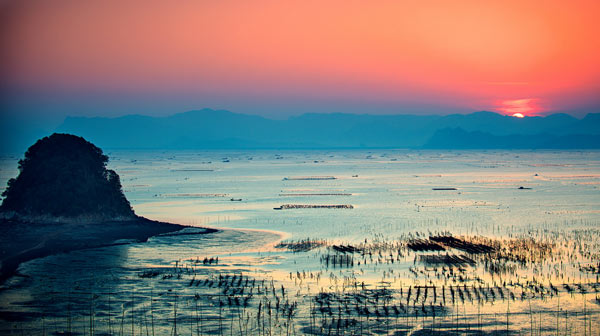 Charming Sunrise in Weijiang Mudflat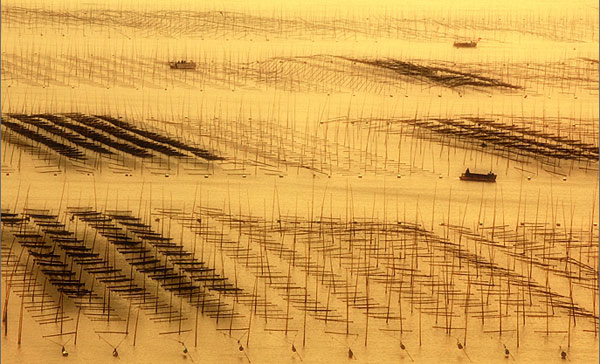 Musical Composition Sceney in Xiaohao Mudflat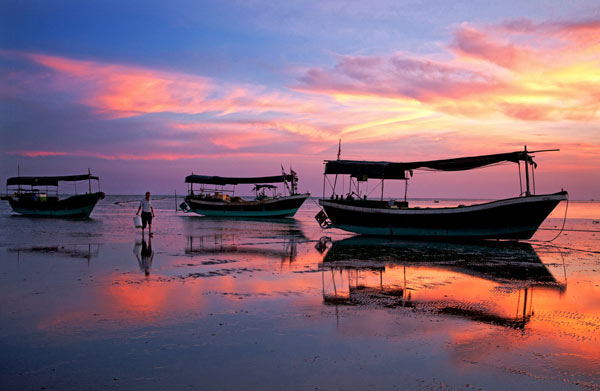 Local Sea Gypsy in Yantian Mudflat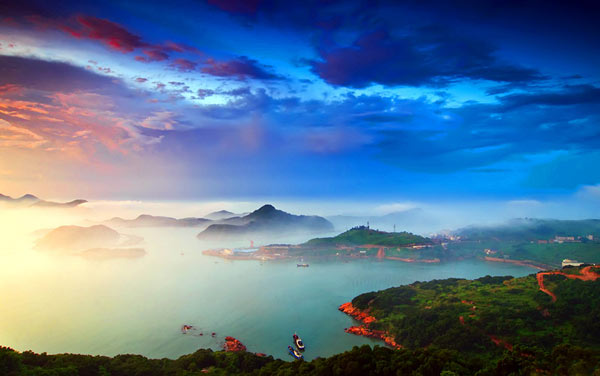 Mysterious Landscape in Huazhu Mudflat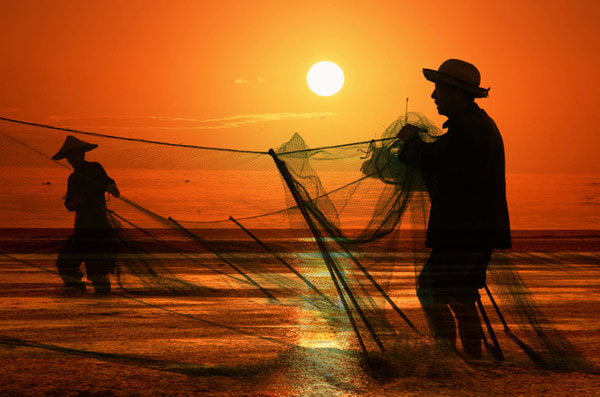 Local Fishermen Hanging Fishing Nets in Dongbi Mudflat
Best Season to Go to Xiapu Mudflat
Since Xiapu Mudflat presents diverse kinds of landscapes in different seasons, you can go there in anytime to explore her beauty.
Spring
In spring, your works will be full of mysterious feature for the non-transparent air that makes the distant view with atomization effect. As a result, pieces of elegant water ink paintings will be created.
Summer
Summer gives you a larger stage to show your high skill, because after the thundershower, the sunshine comes through the rapidly changing clouds and mists, making the mudflat widely different. Items on your photos will be very beautiful under the "stage lights" from the sky.
Autumn
Since autumn is the harvest season, the fishermen take the fishing boats to reap the seaweed of ten thousand acre. That is the best time to collect all their shadow on your photo.
Winter
In winter, you can shoot the especially charming sunrise and sunset of Xiapu, for that the lights are soft and the sun looks more harmonious with low color temperature. Besides, you can also record the laboring moment related to the seaweed.
Here below is the detail time of sunrise and sunset in Xiapu for your help.
| | | | | | | | | | | | | |
| --- | --- | --- | --- | --- | --- | --- | --- | --- | --- | --- | --- | --- |
| Month | Jan | Feb | Mar | Apr | May | Jun | Jul | Aug | Sep | Oct | Nov | Dec |
| Sunrise | 6:45-6:50 | 6:25-6:45 | 5:55-6:20 | 5:20-5:50 | 5:05-5:20 | 5:05-5:10 | 5:10-5:25 | 5:25-5:40 | 5:40-5:50 | 5:50-6:10 | 6:10-6:30 | 6:30-6:50 |
| Sunset | 17:20-17:40 | 17:40-18:00 | 18:00-18:15 | 18:15-18:30 | 18:30-18:50 | 18:50-19:00 | 18:50-19:00 | 18:20-18:50 | 17:45-18:20 | 17:20-17:45 | 17:05-17:20 | 17:05-17:20 |
How to Go to Xiapu Mudflat
Independent Travel
By High-speed Train
To go to Xiapu Mudflat, it is much more convenient and cheaper to take a train. There are many bullet trains running from Xiamen to Xiapu every day, so you can take one to get there for about 2.5 hours, also you can choose to get on a bullet train in Fuzhou to arrive at Xiapu for nearly 1 hour.
By Coach
You can get there by taking a long distance bus from Fuzhou for 3.5 hours. And if you start from Xiamen, it will need about 4 hours and a half.
Private Tour (Top Recommended)
If you want to get rid of hustle of public transportation and troublesome navigation, you can book a private tour package which covers sightseeing, dining and transfer from us. Our local tour guide and driver will escort you to Xiapu Mudflat with speed and convenience, and take care of all the details. You just need to focus on sightseeing.
Click to Enlarge the Location Map of Fujian Xiapu Mudflat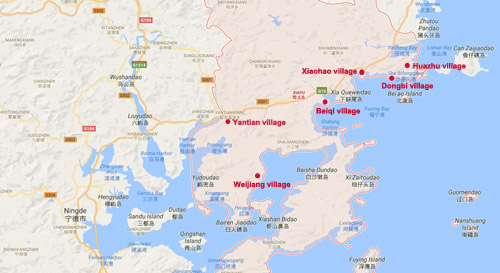 Click to Enlarge the Location Map of Each Village
Tips to Go to Xiapu County
1. To catch the splendid sunshine, you need to get up early, so people usually choose to accommodate in a hotel in Xiapu county city.
2. Well protect your camera, especially the lens, in case that water or sand on the beach goes inside. And keep your triangle stable for the wind on the mountain is strong.
3. Prepare your comfortable shoes for you need to climb mountains to get more beautiful photos.
4. Respect the local culture and folks.
Keep Reading
Recommended Fujian Tours
Top 3 Fujian tours chosen by most customers to explore Fujian in the best way. Check the detailed itinerary, or tailor your own trip now with us.
6 Days Fujian Tulou & Xiapu Photography Tour

Xiamen / Nanjing / Yongding / Xiamen / Xiapu
Start planning your tailor-made holiday to China by contacting one of our specialists. Once enquired, you'll get a response within 0.5~23.5 hours.
Customize a Trip
Have a question? Get answers from our travel experts or guests
Your Question:

Your Name:

Your Email: