Brief Introduction of Xiapu Mudflat
Xiapu enjoys the respectable name of the "Most Beautiful Coastal Line in China", because Xiapu Mudflat within is abundant with lots of fabulous natural scenery. And also Xiapu Mudflat is regarded as the "Chinese Most Gorgeous Mudflat" as well as one of the "Top 10 Domestic Photography Bases" by those photography enthusiasts, where you can take countless fantastic pictures of the beach, sunrise, sunset, mists, mountains, fishing-boats, local "sea gypsies", etc.
On this ancient and beautiful land covering an area of 1,489 square kilometers, the turquoise blue sea overflows with colors, the mudflats are paved with gold, cascading mountains are covered with emerald green, the red rock looming, just like a bright pearl inlaid along the coast of the East China Sea. Xiapu has a moderate climate, a warm winter and a cool summer. Four seasons tide, light of the sky and shadow of the cloud, mysterious shadow of pole full of the sea, dreamlike sea homeland, gull swept over the golden beach and brown reef cluster and the sunset glowing over the sea in the sky are all splendid scenery you may enjoy at Xiapu, Fujian. You will feel your camera lack of storage space to collect all the amazing masterpieces of nature. Go to the "County of Kelps" - Xiapu county, the northeast part of Fujiang province, to enjoy these breathtaking sightseeing!
★ Top Recommended Xiapu Photography Tour:
► 4 Days Fujian Xiapu Mudflat Photography Tour
► 6 Days Fujian Tulou & Xiapu Photography Tour
Top Attractions in Xiapu County
There are a series of places to go in Xiapu County to shoot the best picture of the sunrise, sunset, mist, mountains, local laboring scenes, etc. and since all of them are surrounded by water on three sides and backed by mountains on one side, so you can enjoy the best position on the mountains. There are East, West, South and North 4 classic routes for touring and photography in Xiapu.
East Photography Route: including Beiqi Village and Gulingxia Village in Songgang, Xiaohao Village, Dongbi Village, Huazhu Village, etc. in Sansha Town.
Photography highlights of this line can be the diverse mudflats, seaweed farming, islands, sunrise and sunset over the sea and the night scenery of fishing ports, etc.
South Photography Route: including Shatangli Village, Shajiang Village and Hanjiang Village in Shajiang Town, Weijiang and Taijiang in Xinan Town, etc.
Photographers can shoot sunrise and sunset of mudflats, oyster farming, seaweed harvesting, fishing villages under the sea and other cultural and natural scenery.
West Photography Route: including Beidou, Diaoqi Village, Nantang Village, etc. in Yantian She Autonomous Township
You can photograph folk life at fishing villages, ancient folk houses, dwellings and other cultural landscapes.
North Photography Route: including Yangjiaxi Village (One of the Top Five Red Leaf Resorts in China)
Tourists may enjoy the astonishing scenery of thousands of red maple trees, 1000-yead-old banyan trees group, or take a bamboo raft floating along the coast.
Here below are the recommended hot spots. Let's go to see the super excellent work of nature from these sites!
East Photography Line:
Beiqi Village – Sunrise; Sunset; Tiger-skin-like Stripes
Get your camera ready for the sunrise and sunset in Beiqi (北岐村). You will appreciate the distinct scenery in this place that is just couples of minutes' driving from Xiapu county town. The morning golden sunshine spurting down on the sea, changes the mudflat into a dreamy colorful world. The most famous tiger-skin-like stripes of the mudflat, shadows of fishermen, fishing boats, poles, etc. compose a very harmonious painting, from which you will admire the "Magician Nature" who makes the extraordinarily common point, line, light and shadow full of magic.
From Xiapu County: 7 km / 20 minutes driving
Best Shooting Point: The shooting point of Beiqi is located on the edge of a high mountain, with a very wide field of vision. There are mountains in the distance, and next to the foot of the cliff is the mudflat and nori shelf.
Xiaohao Beach – Sunset; Sandiness Mudflat
Xiaohao Beach (小皓海滩) is one of the favorite shooting places in Xiapu, since they can get the fairest photographs of the sunset here. When the sun is falling down, the shining golden glory paints the whole mudflat, and this is the best moment to record this splendid landscape of the setting sun and the mudflat. Apart from that, you will be surprised by the magnificent view of sandiness mudflat. The sheets of giant golden mudflats change their shapes along the waves, and you can see them through the lens like streams running by, and later becoming the winding artery shining in silver. Moreover, it may be your first time to see such a super large-scale scene of kelp harvest. During this happy time, fishing boats like mighty forces shuttling among the bamboo poles on the sea, which is like a grand movement composed by many dancing musical notes.
From Xiapu County: 22 km / 40 minutes driving
Best Shooting Point: The top of the hill after passing Xiaohao Village. Photograph the magnificent seascape and the Xiaohao village under the foot of the high hill.
Dongbi Village – Sunset; "S" Shape Water; Fishing Nets
Dongbi Village (东壁村) is a rattling good place to enjoy the sunset. Despite that, the very big fishing nets are also an uncommon photographic theme. The golden color of the falling sun presents a golden silk dress for the mudflat and the soft lines of the sinuate water ways vary as the waves, some even perform "S" shapes, and this is super magnificent and rare. Furthermore, as some fishermen hang their fishing nets here on the mudflat, it is very lucky to shoot some pictures of the ordinary tools to increase the amount of cultural themed photographic works of Xiapu.
From Xiapu County: 28 km / 45 minutes driving
Best Shooting Point: On the top of the hill behind the Catholic church at Xiaohao Village.
Huazhu Village – Sunrise; Mysterious Fuyao Archipelago; Mirage view
Huazhua Village (花竹村) is both a great site to take beautiful pictures of sunrise and mirage-like views. Different from sunrise in other places in Xiapu, the initial-rising sun here is more like a golden moon with soft glory, which adds a mysterious charm to the surrounding area. What's more, you can shoot the appealing images of the Fuyao Archipelago rising and falling among the mists, in a partly hidden and partly visible way, which is like a shy and mysterious oriental girl.
From Xiapu County: 35 km / 1 hour driving
South Photography Line:
Shatangli Village – Sunrise; Roseate Clouds; Fishing Boats
Shatangli Village (沙塘里), facing Funing Bay, has a great view. When the sun rises, the gorgeous morning glow reflects onto the mudflat of the "people" shaped fence, producing various warm colored light stripes, so it is definitely one of the best places to photograph the sunrise. Hundreds of small fishing boats moored on the beaches of the bay also becomes a spectacular scenery under the morning glow.
From Xiapu County: 10 km / 20 minutes driving
Shajiang Village (沙江) – "S" Bend Mudflat; Landscape Painting
Fishing boats snaked through large bay paths which are lined with bamboo poles on the sea of Shajiang. The beautiful lines formed by numerous bamboo poles inserted on the beach are well-arranged. During harvest season of kelp, the bamboo poles are hung with dried kelp, and fishermen drive their boats on the S-shaped harbor waterway. The scene made up a perfect beach landscape painting.
From Xiapu County: 18 km / 40 minutes driving
Weijiang Village (Mantou Mountain) – Sunrise; Clouds; Kelp; Boats
Weijiang (围江) or Mantou (steamed bun) Hill is treated as the sacred place of sunrise in Xiapu County. Step on the mountain, you will be shocked at the boundless mudflat connecting the horizon, and the florid view of the mudflat dyed by the rosy clouds. With the flying egrets in the charming sky and the steamed-bund shaped hill, the whole scene is really a tranquil landscape of "Master Nature".
From Xiapu County: 30 km / 55 minutes driving
West Photography Line:
Yantian Village – Sea Gypsy; Local Culture
Yantian She Autonomous Township (盐田畲族自治乡) is the main shooting place of the local culture of the fishing family. You can use your camera freely to record the real life and laboring scene of the piscatorial families who are called the "sea gypsies" for a long time living on their own fishing boats in Xiapu. Just recording their pure, industrial, thrifty features in the fancy landscape in the simplest way, you will get exceptional work.
From Xiapu County: 20 km / 30 minutes driving
Top Recommended Places to Visit around: Beidou (北斗), Diaoqi (钓歧), Nantang (南塘)
North Photography Line:
Yangjiaxi (Yangjia Stream) - Arcadia of Sea Land; Ancient Banyan Tree Group; Red Maple
Yangjiaxi (杨家溪), known as the "Arcadia of Sea Land", has a clear and spotless stream. Take a bamboo row down the river, during which the pond and shoal alternately distribute, the stream is crystal clear, shocking but not dangerous, and is also a good place for taking pictures. Visit Yangjiaxi in spring, the ancient banyan tree forest is shrouded in the drizzle and fog, just like a fairyland. When it comes to autumn, the field is covered by gold. Tens and thousands of red maples are highlights of this season.
From Xiapu County: 40 km / 1 hour driving
Best Way to Explore: by bamboo rafting through ancient banyan forest and maple forest.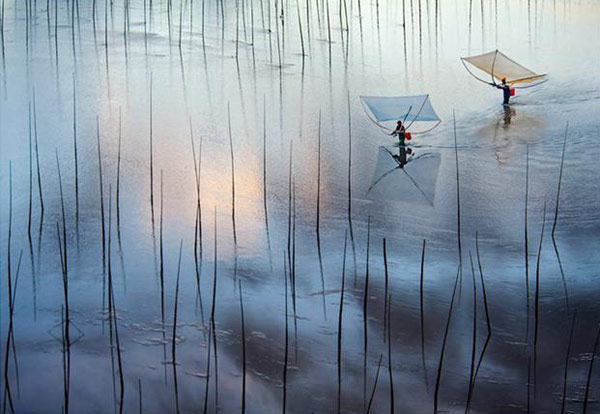 Fujian Xiapu Mudflat Sightseeing like Ink & Wash Painting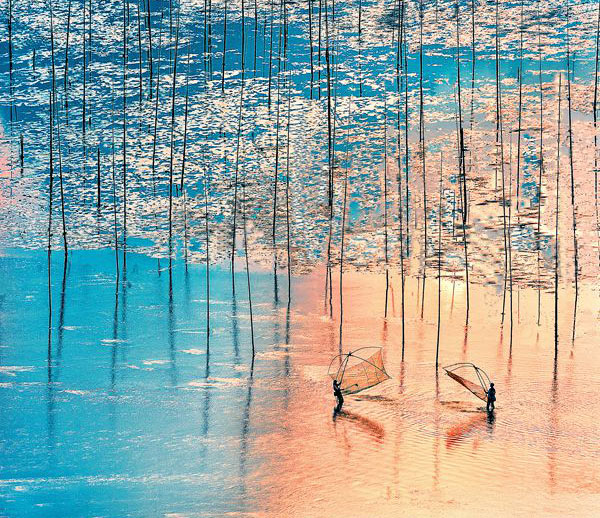 Picturesque View of Beiqi Mudflat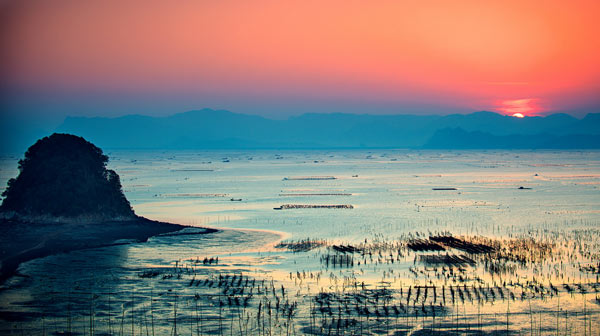 Charming Sunrise in Weijiang Mudflat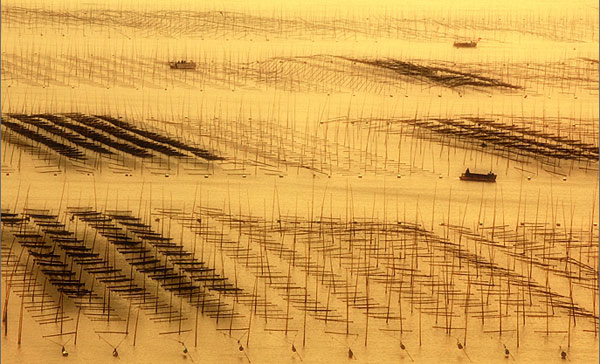 Musical Composition Sceney in Xiaohao Mudflat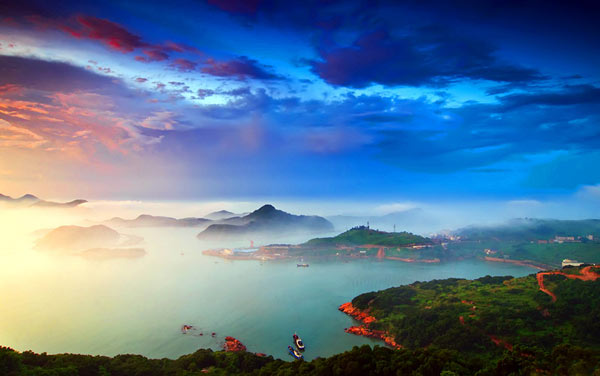 Mysterious Landscape in Huazhu Mudflat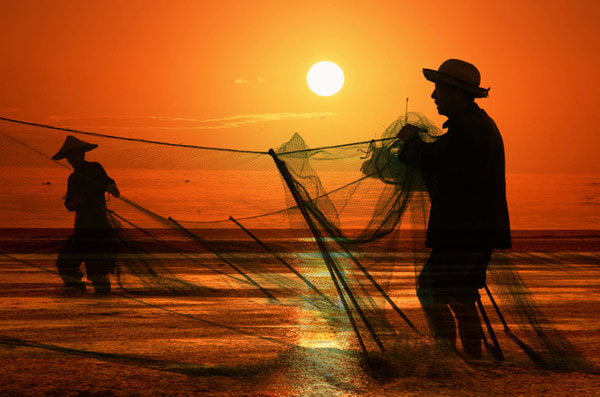 Local Fishermen Hanging Fishing Nets in Dongbi Mudflat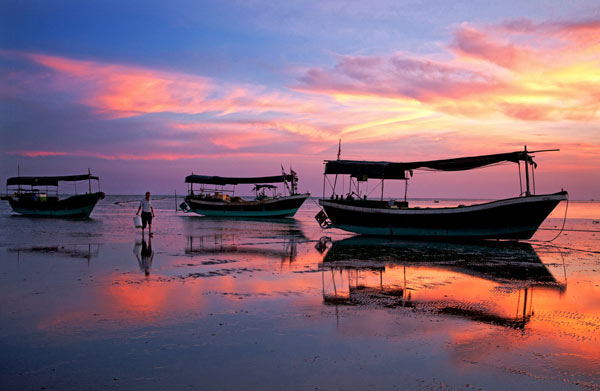 Local Sea Gypsy in Yantian Mudflat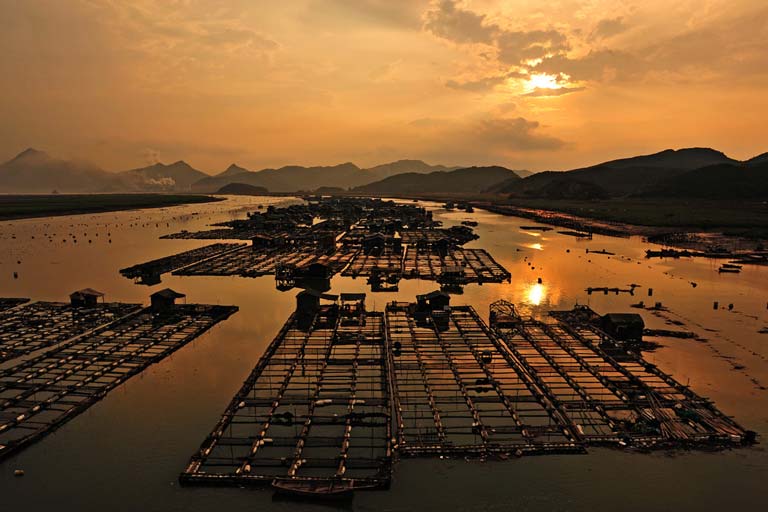 Yantian Fishing Raft
Astonishing View of Yangjiaxi in Spring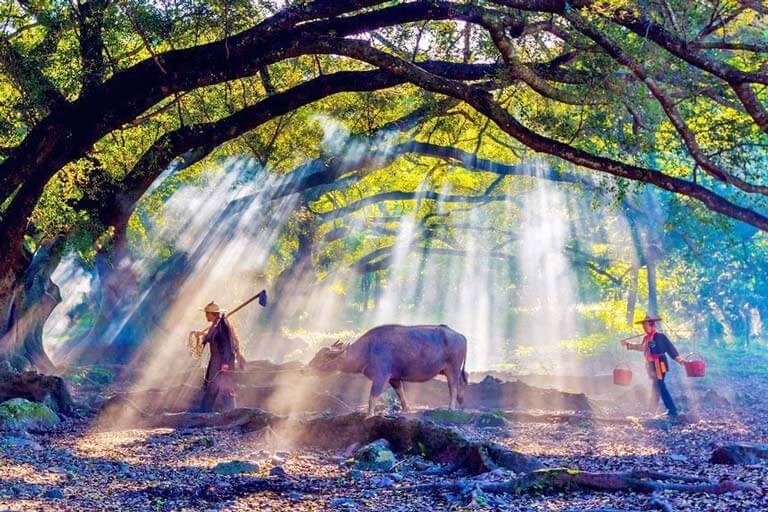 Banyan Tree Group in Yangjiaxi Village
Recommended Touring Route of Xiapu Mudflat
When you come to Xiapu, a photo tour is essential. Generally, it takes 4-6 days to travel around Xiapu. 1-2 days to tour through the east route, 1 day tour to the north route, then take 2-3 days to explore the natural and cultural landscapes through the south and west tourist route.
Day 1: Beiqi Village (sunrise) - Xiaohao Village / Dongbi Village (sunset) - Sansha Town
Day 2: Huazhu Village (sunrise) - Yangjiaxi (Banyan Tree Group/Red Maple) - Xiapu County
Day 3: Xiapu County - Yantian (Beidou; Diaoqi Village; Nantang Village) - Xiapu County
Day 4: Xiapu County - Shatangli Village (Sunrise) - Shajiang ("S" Bend Mudflat)
Top Recommended Xiapu Photography Tour:
► 4 Days Fujian Xiapu Mudflat Photography Tour
How to Go to & around Xiapu County
Xiapu county, under the jurisdiction of Ningde City, is located at the midpoint of China North-to-South Coast Line, northeast of Fujian Province. It's about 160 km northeast from Fuzhou and about 400 km northeast from Xiamen.
Get to Xiapu Mudflat
By High-speed Train: To go to Xiapu Mudflat, it is much more convenient and cheaper to take a train. There are many bullet trains running from Xiamen to Xiapu every day, so you can take one to get to Xiapu Railway Station for about 2.5 hours, also you can choose to get on a bullet train in Fuzhou to arrive at Xiapu Station for only about 1 hour. There are high speed trains to other hot destinations in China such as Shanghai, Hangzhou, Nanjing, Ningbo, Beijing, Shenzhen, etc.
By Coach: You can get to bus station in Xiapu by taking a long distance bus from Ningde city for about 40 minutes, from Fuzhou for 3.5 hours. And if you start from Xiamen, it will need about 4 hours and a half.
Get around Xiapu, Fujian
Highlights and top photography places are scattered in Xiapu County and there are no sightseeing buses running between each spot, therefore booking a private car service with an experienced photography guide is the best way to explore the place. More information about private car booking and Xiapu Mudflat photography tour packages, please feel free to contact us >>
More infromation about Xiapu Transportation, Please visit How to Get to & Travel around Xiapu Mudflate >>
Private Tour (Top Recommended)
If you want to get rid of hustle of public transportation and troublesome navigation, you can book a private tour package which covers sightseeing, dining and transfer from us. Our professional local tour guide and driver will escort you to Xiapu Mudflat with speed and convenience, and take care of all the details. You just need to focus on sightseeing. Feel free to contact us if you need any help >>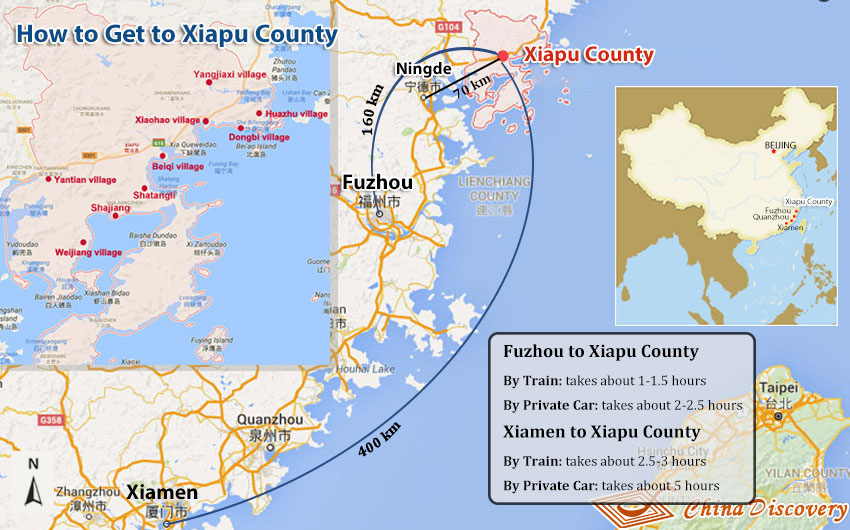 Click to Enlarge the Location Map of Xiapu Mudflat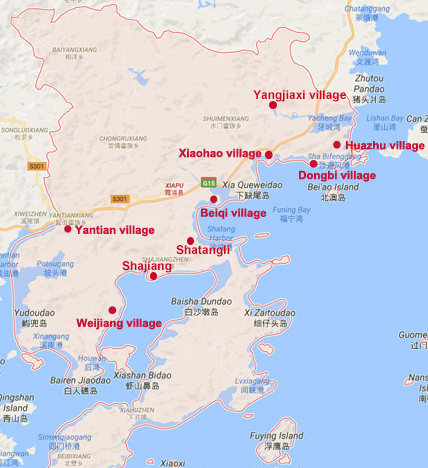 Click to Enlarge the Location Map of Each Village
Xiapu Weather, Dressing Tips & Best Time to Visit
The annual average temperature in Xiapu is between 14℃-19℃. The climate is warm and humid, with four distinct seasons. Xiapu is suitable for travelling all year around. The best time to visit is from April to December. The highest temperature occurs in July, and the average monthly temperature can reach 28℃-29℃. Traveling during summer, cotton short-sleeved shirts or T-shirts are enough for daytime. However, the temperature may drop during the night, so bring an extra long sleeve or thin coat with you. The lowest temperature occurs in January, with the average monthly temperature around 8℃, you are recommended to wear thick sweaters and windproof coats.
Every year from March to June is the plum rain season in Xiapu. There will be more continuous rainy days, however the rain is generally drizzling, but the temperature changes a lot. Visitors need to wear woollen sweaters, thick trousers and jackets. July to September is a season of frequent typhoons and heavy storms. When traveling to Xiapu, you need to pay attention to the weather forecast and prepare raincoats, umbrellas and other related supplies.
Best Season to Go to Xiapu Mudflat & Xiapu Mudflat Seasonal Highlight
The most attractive part of Xiapu is the kaleidoscopic mudflat, which attracts numerous photography enthusiasts to capture wonderful moments every year. Since Xiapu Mudflat presents diverse kinds of landscapes in different seasons, you can go there anytime to explore her beauty.
Spring (March to June) - Abundant Photography Subject
In spring, your work will be full of mysterious features for the non-transparent air that makes the distant view with atomization effect. As a result, pieces of elegant water ink paintings will be created. Fry Catching, kelp seaweed and egrets can be the focused objects during shooting.
Summer (July to September) - Best Season for Photo Creation
Summer gives you a larger stage to show your high skill, because after the thundershower, the sunshine comes through the rapidly changing clouds and mists, making the mudflat widely different. Items in your photos will be very beautiful under the "stage lights" from the sky.
Autumn (October to December) - Harvest Season & Red Maple
Since autumn is the harvest season, the fishermen take fishing boats to reap the seaweed of ten thousand acres. That is the best time to collect all their shadows in your photo. In deep autumn, the Maple Forest in Yangjiaxi was involved in a sea of fiery-red which has another flavor.
Winter (January and February) - Charming Sunrise and Sunset
In winter, you can shoot the especially charming sunrise and sunset of Xiapu, because the lights are soft and the sun looks more harmonious with low color temperature. Besides, you can also record the laboring moment related to the seaweed.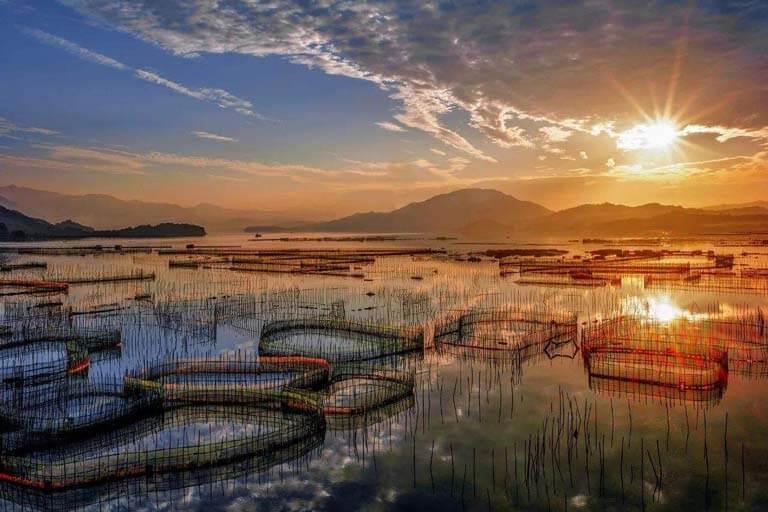 Fry Catching in Spring
Rapidly Changing Clouds and Mists in Summer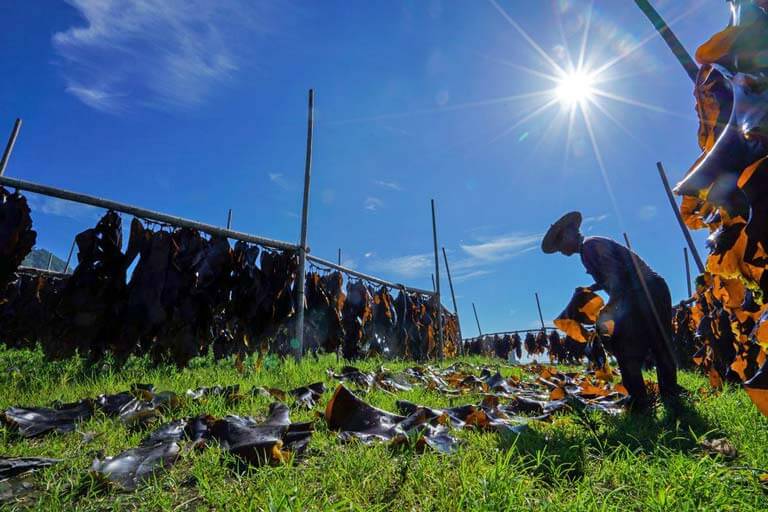 Reap the Seaweed in Autumn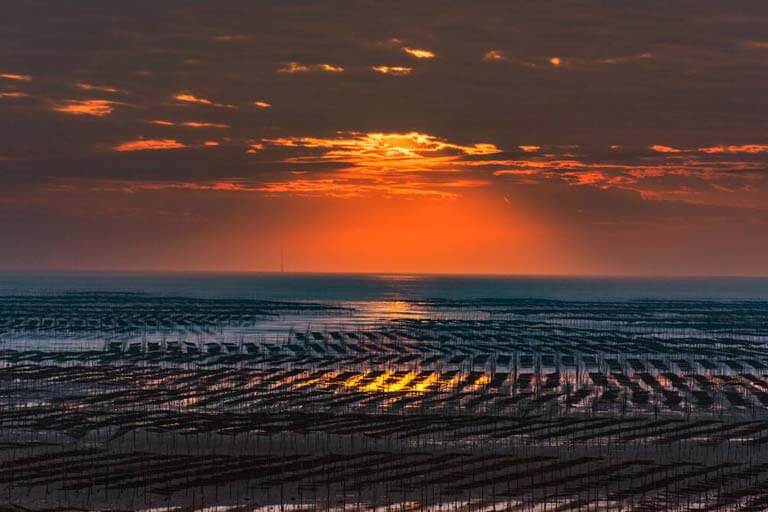 Charming Sunrise and Sunset in Winter
Here below is the detail time of sunrise and sunset in Xiapu for your help.
| | | | | | | | | | | | | |
| --- | --- | --- | --- | --- | --- | --- | --- | --- | --- | --- | --- | --- |
| Month | Jan | Feb | Mar | Apr | May | Jun | Jul | Aug | Sep | Oct | Nov | Dec |
| Sunrise | 6:45-6:50 | 6:25-6:45 | 5:55-6:20 | 5:20-5:50 | 5:05-5:20 | 5:05-5:10 | 5:10-5:25 | 5:25-5:40 | 5:40-5:50 | 5:50-6:10 | 6:10-6:30 | 6:30-6:50 |
| Sunset | 17:20-17:40 | 17:40-18:00 | 18:00-18:15 | 18:15-18:30 | 18:30-18:50 | 18:50-19:00 | 18:50-19:00 | 18:20-18:50 | 17:45-18:20 | 17:20-17:45 | 17:05-17:20 | 17:05-17:20 |
Xiapu Mudflat Photography Technique & Tips
When shooting seascape, medium and high telephoto positions are commonly used, and easy to produce good pictures. So prepare a 300mm or 400mm zoom lens. The telephoto lens will make the subject more prominent and add more tension to the picture.
High placement of camera can photograph the sea in a magnificent way. High angle shots can avoid houses overlaying in the picture. With each step up, the houses are spaced out a little further apart, thus creating a well-organized and strong-spatial image.
It would be easier for photo composition when shooting with a zoom lens. The zoom lens makes it easy to capture the ephemeral shape of people.
Use a wide angle lens when taking pictures of sunrise and sunset, which will help you to shoot more magnificent pictures.
When taking pictures of sunrise and sunset, use spot metering to measure the red cloud or golden cloud. Due to the difference in light ratio between the sky and the sea, reducing the exposure compensation is necessary, so that the sea surface can present more shadow details.
It's also necessary to know the best shooting time. You will get lots of quality work when the weather is fine, tides are in good condition and there are fishing activities going on. The morning and dusk periods around the 1st and 15th of the lunar calendar are the most subtle times for shooting covered and bare mudflat.
Xiapu can produce excellent pictures all year round. Comparatively speaking, there will be more shooting content during May and June when locals collect and dry kelp, or in August and September when fishermen are cultivating nori and constructing nori fields.
Take full advantage of the haze, cloudy days and even rainy days, as well as the means of taking a photograph with back lighting to shoot the ink-painting-like works. and make full use of the color temperature of low light in morning and evening to shoot the oil painting effect works. Fully use the feature of low light intensities and low color temperature during sunrise and sunset to give the works an effect of oil painting.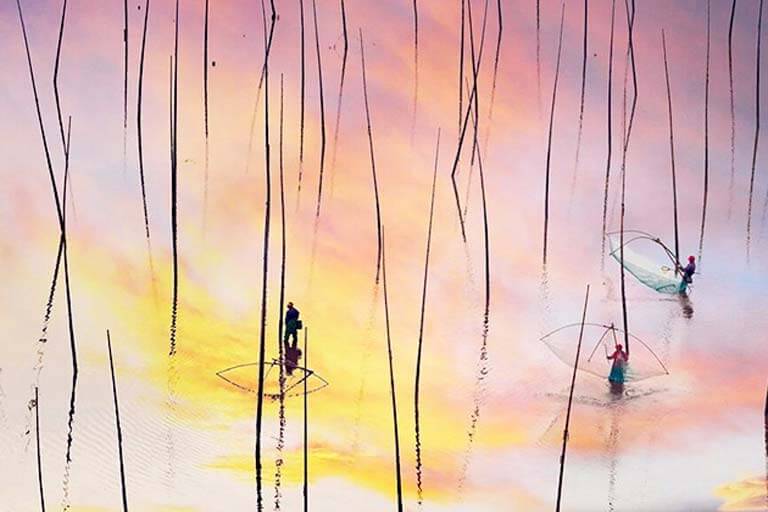 Xiapu Photography - Pink Mudflat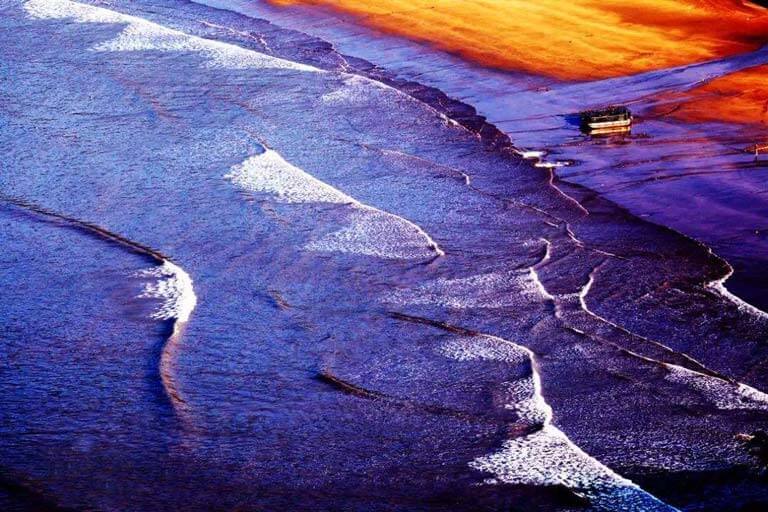 Xiapu Photography - Tide Rises and Falls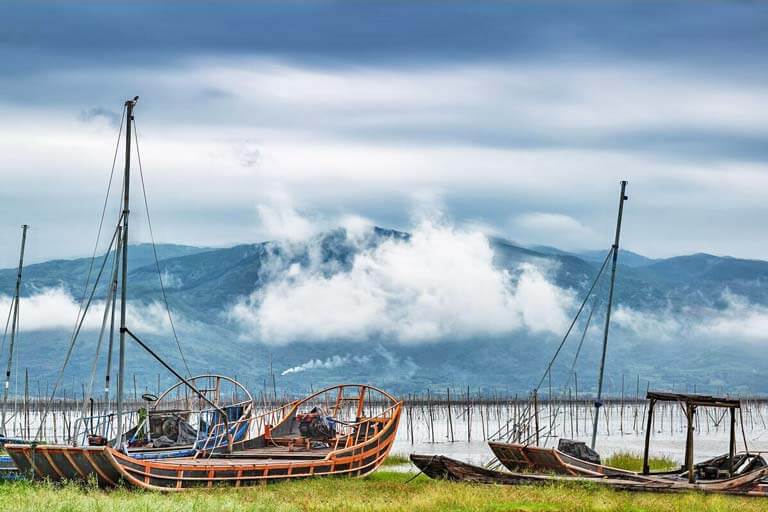 Xiapu Photography - Mist and Cloud
Xiapu Mudflat Photography Tips:
The beach is wet and muddy, you'd better wear a pair of hiking shoes. Rain gears, camera rain cover, cold-proof jackets and pants, scarfs and gloves are recommended. The sea tides rise and fall rapidly, so filming by the sea should be withdrawn in time;
Climate along the coast is humid, you should pay attention to camera moistureproof. It's best not to get too close to the water when shooting on offshore rocks. Don't let the sea water erode your equipment;
3.There are many scenic spots to shoot in Xiapu, therefore book a private car with a experienced local photography guide is necessary.
Accommodation & Where to Stay in Xiapu County
Hotels range from 3-star to 5-star can all be found in Xiapu county. More than 80% of visitors would choose accommodation in the county when visiting the surrounding area. For those who have an early morning photography plan at Sansha Town, there are 5-6 hotels and guesthouses for you to choose. However, the condition of hotels might not be as good as those in Xiapu County.
Attractions Nearby Xiapu County
Taimu Mountain (太姥山)
Taimu Mountain, known as the "Fairyland on the Sea", is one of the top scenic spots in Fujian province, featured with granitic peaks and caves and combines the natural scenery of mountains, sea and river with cultural scenery together. There are 5 scenic spots in Taimu Mountain, which are Taimu Mountain Scenic Area, Jiulixi Waterfall, Qingchuan Seashore, Sangyuan Cuihu, Fuyao Archipelago, etc. Every year in the late autumn and early winter, the maple forest turns red and in harmony with white flowers, add unique charm to the place.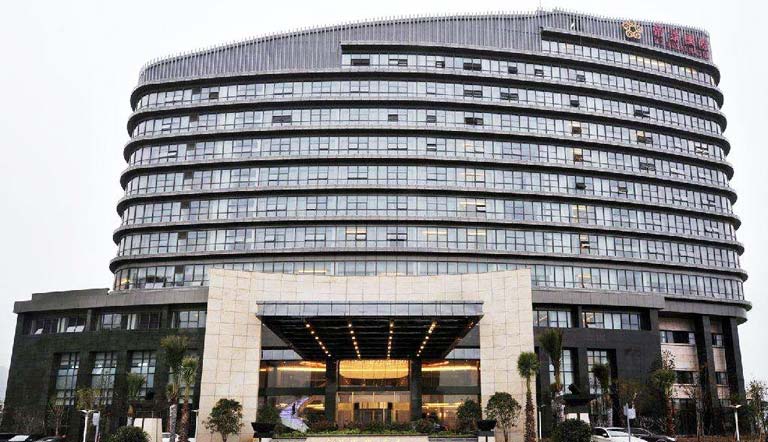 Hotels in Xiapu County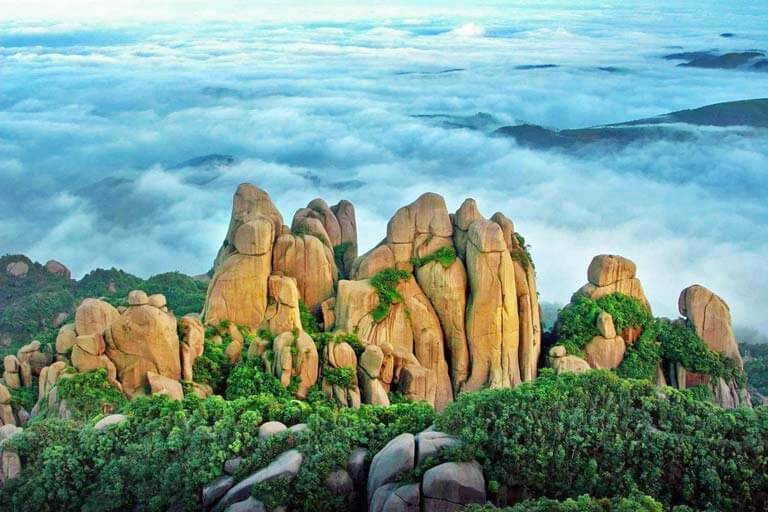 Taimu Mountain
How to Plan a Xiapu Mudflat, Fujian Tour?
To plan a photography tour in Xiapu, most people would spend at least 4 days to travel around. Spend 2-3 days to shoot sunrise and sunset of picturesque mudflats scenery by visiting Beiqi Village, Xiaohao Beach, Dongbi Village and Shatangli Village, etc. Then take 1 day to Yantian She Autonomous Township to feel and the local culture of the fishing family and record it with your camera. Visiting Xiapu during spring and autumn, nearby Yangjiaxi Village is a place you can't miss, spend 1 day to take a bamboo raft floating on the stream and immerse yourself in the banyan tree and red maple tree forest.
✔ 4 Days Fujian Xiapu Mudflat Photography Tour
If you still have time, enjoy 1-2 days to Fujian Tulou clusters in Nanjing and Yongding to see the famous earthen buildings listed as World Cultural Heritage. If you want to explore Then continue your trip to Xiamen, plan a 1-2 days tour to discover Gulangyu Island, South Putuo Temple, Xiamen University, Huandao Road, The Eighth Seafood Market, etc. !
✔ 6 Days Fujian Tulou & Xiapu Photography Tour
✔ 2 Days Xiamen City Tour with Gulangyu Island
If you want to discover more culture and nature highlights to Wuyi Mountain, Fuzhou, Quanzhou, etc., plan 2-3 more days in the world cultural and natural heritage "Wuyi Moutnain" and 1-2 days each for Fuzhou City and Quanzhou City.
✔ 3 Days Classic Wuyi Mountain Tour
✔ 2 Days Fuzhou Highlights Tour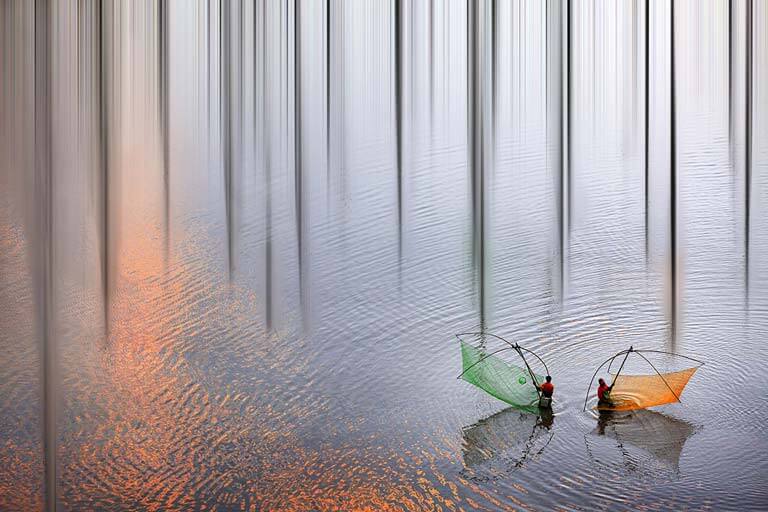 Beiqi Village in Xiapu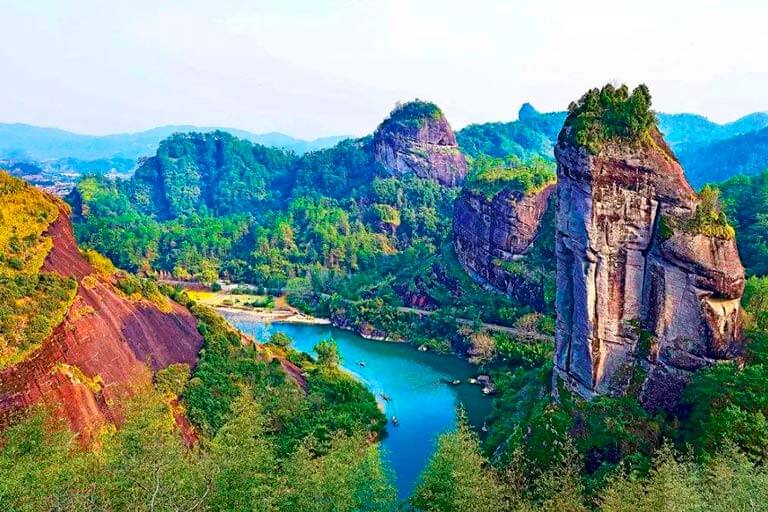 Wuyi Mountain - Tianyou Peak
Travel Xiapu Mudflat, Fujian with China Discovery
China Discovery is an experienced, professional and reliable travel companion devoted to offering high-quality and the best tour services for all travelers to China. In order to have a hassle-free travel and focus on the trip itself, it's highly recommended travelling with China Discovery. So, you can enjoy convenient airport pick-up and drop-off service and transportation to all scenic spots in a safe, clean, comfortable, air-conditioned and non-smoking vehicle. Also, we will arrange local photography English-speaking tour guide, excellent accommodation and dining arrangements to ensure you rest well and without missing any chance to take the best picture in Xiapu. The tour can be tailor-made according to your interests, time, group size, budget and every special need. If you are interested, please feel free to contact us to customize your tour!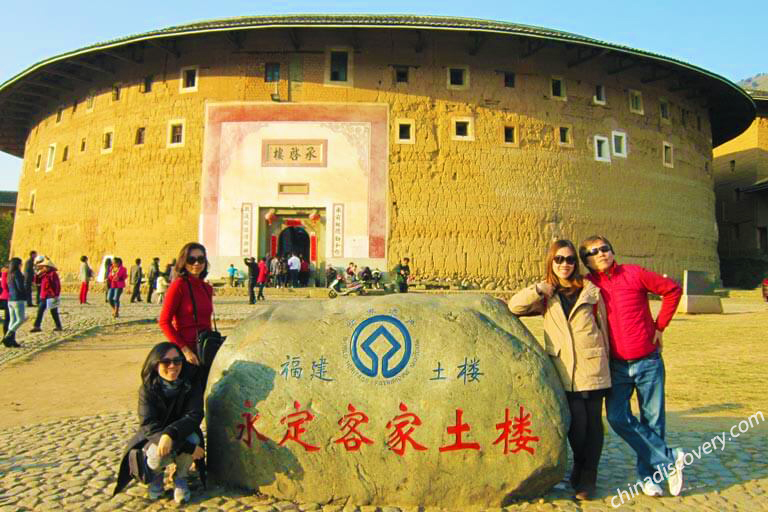 Our Customers Traveling in Fujian
More about Xiapu Fujian Travel Guide
Recommended Xiapu Tours
Top 3 Xiapu tours chosen by most customers to explore Xiapu in the best way. Check the detailed itinerary, or tailor your own trip now with us.
12 Days China Xiapu Mudflats Xiamen Tulou Coastal Tour by Bullet Train

Shanghai / Hangzhou / Putuoshan / Xiapu / Xiamen / HK
6 Days Fujian Tulou & Xiapu Mudflat Photography Tour

Xiamen / Nanjing Tulou / Yongding Tulou / Xiamen / Xiapu
Start planning your tailor-made holiday to China by contacting one of our specialists. Once inquired, you'll get a response within 0.5~23.5 hours.
Customize a Trip
Have a question? Get answers from our travel experts or guests
Your Question:

Your Name:

Your Email: