Brief Introduction of Wuyi Mountain
Wuyi Mountain, or Wuyishan (武夷山), or Mount Wuyi is located in Fujian Province. It was listed as the World Cultural and Natural Heritage Site in 1999 because of its rich Chinese culture for thousands of years and the about 5000 species wide animals as well as 2527 types of plants. Also, it is announced as the National AAAAA Tourist Area and has long been an enchanted place for beautiful sightseeing and summer resort. Having been well preserved for over 12 centuries, Wuyi Mountain keeps a series of very historic site of thousands of years old. Besides, it is a god-given chance to visit multiple temples, monasteries and nunneries on this one mountain, since Wuyi Mountain is a famous mountain of three religions in China. To feel the great culture of ancient China and appreciate charming natural scenery in Southern China, Wuyi Mountain is really a very nice tourist attraction.
Top Cultural Attractions in Wuyi Mountain
As Wuyi Mountain preserves a great number of precious brilliant ancient site and relics here, you can visit many places in this mountain to experience the broad culture of ancient China.
Ancient Fujian Culture
More than 4000 years ago, ancestors in the south part of China started to live here in Wuyi Mountain and developed the world and Chinese only "ancient Fujian ethnic group" and "Fujian& Vietnam ethnic group" of their own feature. After over 2000 years, they left multiple excellent cultural relics, like the hanging ship coffins, hongqiaoban plank.
The ship coffins hung on the cliff for over 3750 years are the oldest found in the whole world. This kind of coffin of boat shape is a kind of burial custom that ancient people bury the dead person in the coffin and hang it on the cliff to make him or her closer to the heaven. To see the special boat coffins, you can go to Dazang Peak, Baiyun Yan and Dawang Peak, etc. where you can think about how did the ancient Chinese put the so heavy coffin up to the cliff.
Site of the Ancient City in Han Dynasty
The Site of the Ancient City in Han Dynasty has a long history of over 2200 years. Covering 480 thousand square meters, this site is the only ancient city site in Han in dynasty in China and the best-preserved in the south of Yangtze River. As a result, you can get this great change to feel the remaining flavor of ancient southern China. Moreover, since a great quantity of precious cultural relics of that dynasty were found, from ceramics, iron, bronze, etc. In order to well keep these relics, people in Wuyishan exhibit them in the Wuyishan Museum on the Song Street, so you can get close to them to feel the rich historic flavor and know about the events then in the museum.
Wuyi Palace
Wuyi Palace (武夷宫) built between 742 AD and 755 AD is the oldest palace on Wuyi Mountain. This palace was one of the top 6 famous Taoist temples in Song dynasty and the generations of emperors worshipped the respectable Wuyijun in this palace. For wars, turmoil, fire and other reasons, Wuyi Palace has been rebuilt for several times. And now you can still admire its original magnificent look from the newly built palace with the remaining ancient tree of about 900 years old from Song dynasty. In Wuyi Palace, there is Song Street that is an imitating street full of Song style buildings. It is a great attraction to feel the featured Song culture.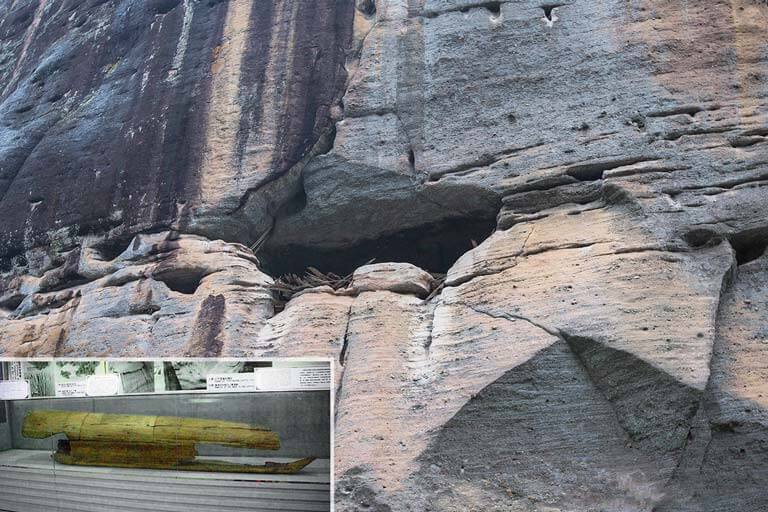 Hanging Boat Coffins on the Cliff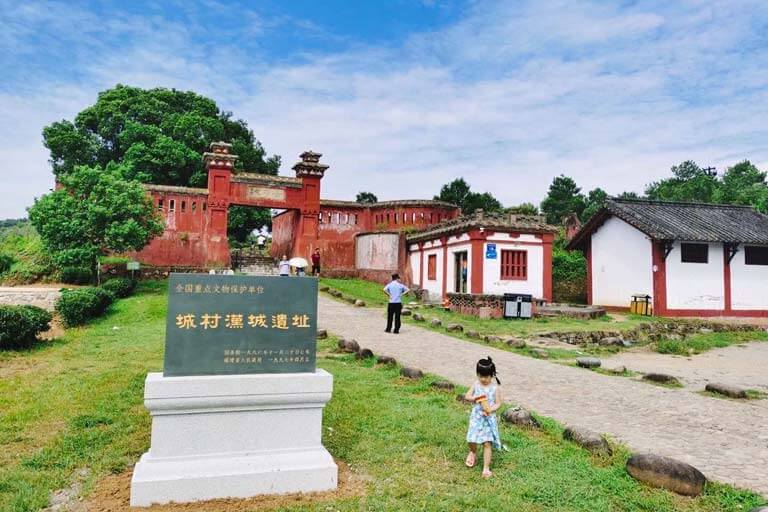 2200 Years Old Ancient City in Han Dynasty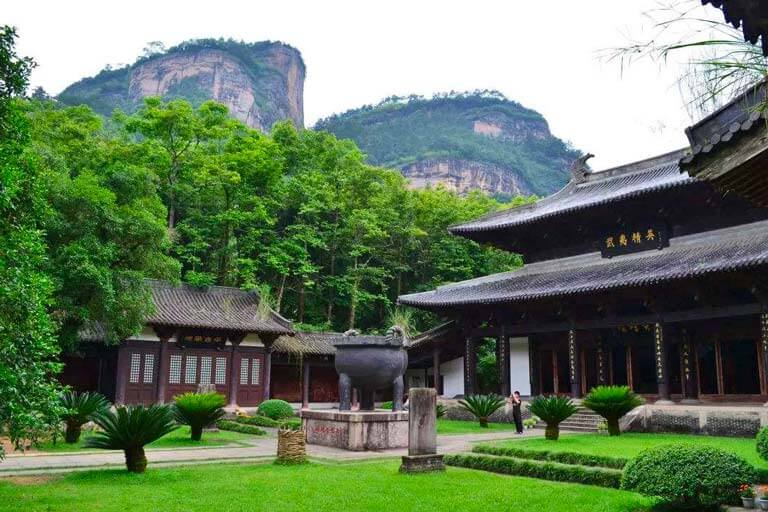 Wuyi Palace Built in the 7th Century
Can't-miss Natural Sceneries in Wuyi Mountain
Wuyi Mountain is terrific resort abundant with hills, stone, rivers and streams, so you can take your time to explore its diverse gorgeous sightseeing of peculiar, elegant, beautiful, and antique characteristics.
Nine Bend Stream (Jiuquxi)
Nine Bend Stream (九曲溪) is the high highlight of Wuyi Mountain. You can take the bamboo raft floating on the clear cool water along the whole distance of 62.8 km to appreciate the mountain sightseeing, waterscape and the distinct image of the blue sky. Since every bend differs a lot, it gives you multiple experience of leisure, relax, excitement, thrill and great fun. You can just focus on the picturesque landscape and the interest of rafting because the vehicle is very safe.
Heavenly Tour Peak (Tianyoufeng)
Tianyou Peak (天游峰) or Heavenly Tour Peak is the most perilous peak in Wuyi Mountain. Along the way up, you can see many famous ancient trees growing prosperously. And when you reach the peak, you can feast your eyes all with the sea cloud various unpredictably like a fairyland.
Big Red Robe Scenic Area (Dahongpao)
Big Red Robe (大红袍) Scenic Area is at the central part of Wuyi Mountain. In this area, you can not only see Yongle Buddhist Temple, the biggest temple in this mountain, but also visit the place that the world-known Da Hong Pao tea grows at. Da Hong Pao is one of the top 10 famous teas as well as the treasure in China, and it was also a tea as tribute to the emperor in Ming dynasty. There are only less than 10 seed trees growing on the cliff, and they are all over 1000 years old.
Water Curtain Cave (Shuiliandong)
Water Curtain Cave (水帘洞) is the widest cave in Wuyi Mountain and can contain 1000 people inside. Rafting on the pure stream, you can enjoy a waterfall flying down, and two cliff springs pouring like flying dragons. Moreover, you can see the landscape of a bonsai style tea garden through the bright water curtain like made of crystals.
Great King Peak (Dawangfeng)
Great King Peak or Dawang Peak (大王峰) seems a majestic emperor in Wuyi Mountain. Among all the 36 peaks, this one looks great and momentous like a giant pillar reaching the sky. Standing on the peak, you can have the bird view of mountains and streams forming a pleasing waterscape painting. But the narrow path up needs you to be brave and cautious.
Tiger Roaring Rock (Huxiaoyan)
Tiger Roaring Rock or Huxiao Yan (虎啸岩) is a magical place in Wuyi Mountain, since you can hear the wind roaring like a tiger while it is going through the cave on the rock, which is very shocking. What's more, you can stand on a viewing deck near Dingmin Bridge, the end of Huxiao Yan, so all the magnificent panorama of the lush mountains are before you.
You want to get this awesome feeling? Just get through the Yixiantian in front of this attraction. Since this way between two cliffs is narrow as only 40 cm wide, where you can see the rare white bats change into transparent under the sky.
Impression Da Hong Pao
It is a feast to enjoy the Impression Da Hong Pao show (印象大红袍) that is a large-scale live performance directed by Zhang Yimou who is the chief director of both the opening and closing ceremonies of the 29th Olympic Games held in Beijing in 2008. Appreciating this show, you can see the distinct beautiful night view of Wuyi Mountain in front of the world largest stage of 12000 m long. And since Zhang Yimou perfectly arranges the lights and shadows, you can get a super talented visual and audio enjoyment among mountains and waters, know about the history and development of Chinese tea, love story between Dawang and Yunv, origin of Da Hong Pao tea, happiness from a cup of tea, and feel more about life from the story of tea, etc.
Fee: 218-688 RMB / person
Show time: 20:00-21:10; 21:30-22:40; 22:50-23:50, every day
Place: No. 16, South Huandao Road, Sangu Holiday Resort
>>Check more about Top 7 Impression Shows in China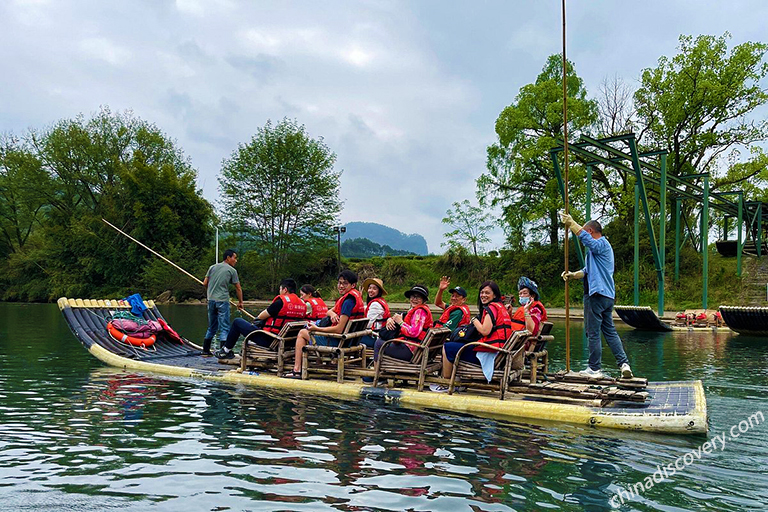 Rafting on the Nine Bend Stream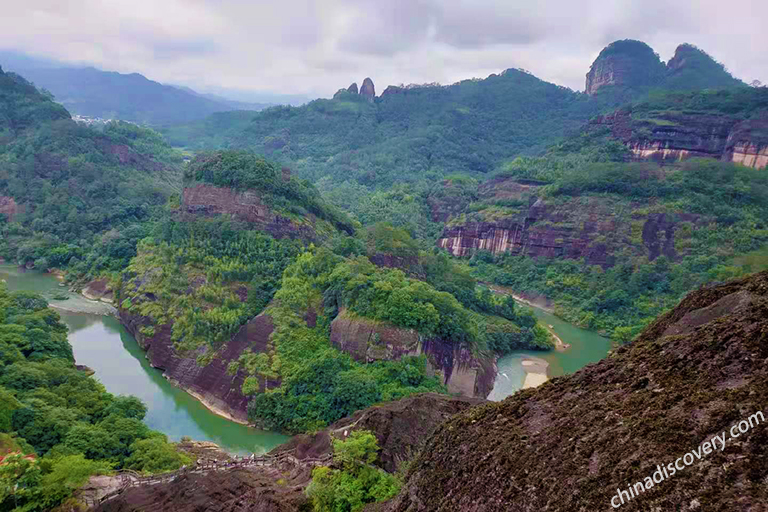 Mysterious Panorama of Tianyou Peak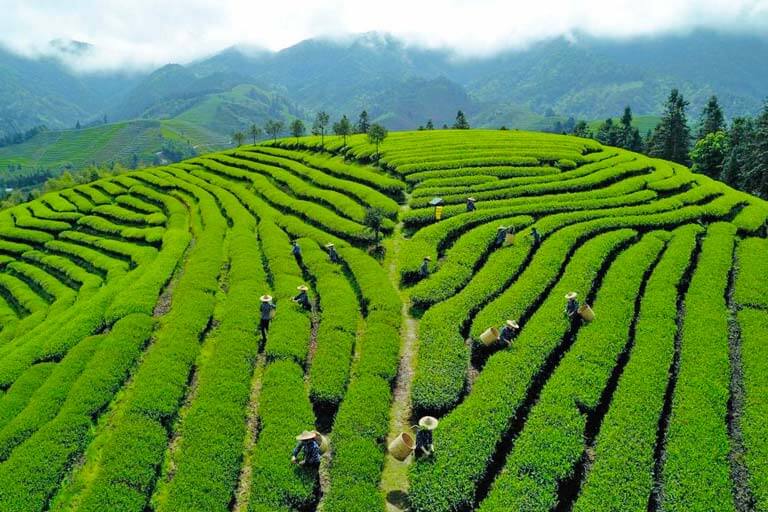 Tea Garden in Dahongpao Scenic Area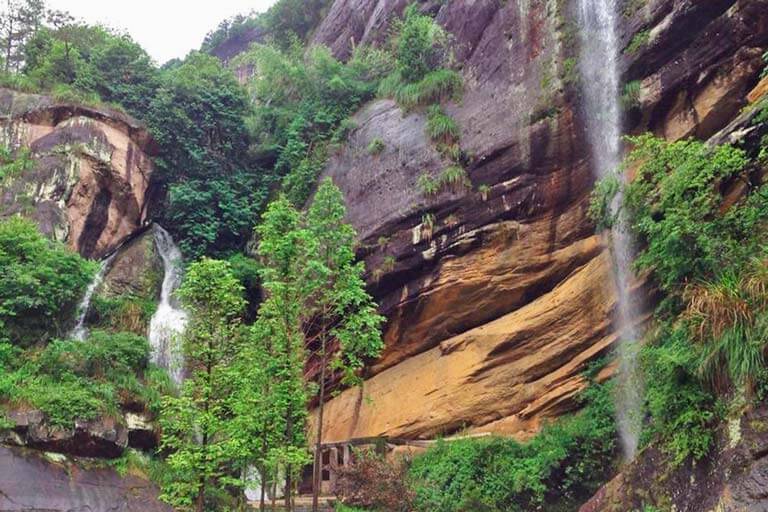 Waterfall at Water Curtain Cave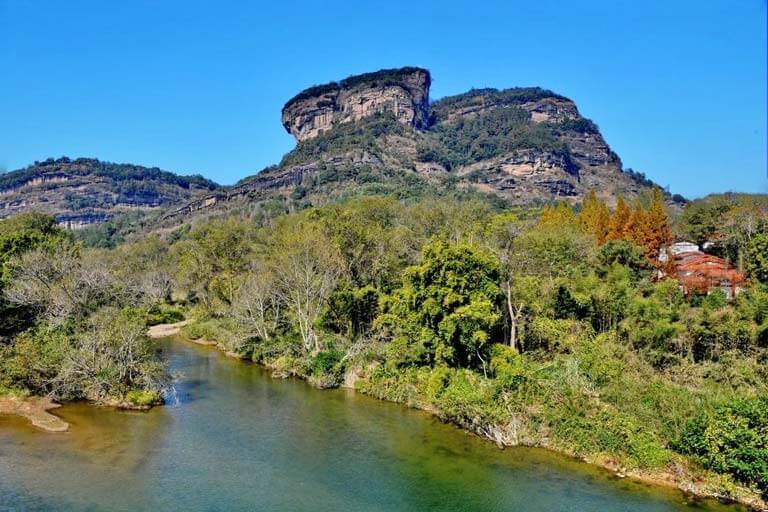 Gorgeous Landscape of Dawang Peak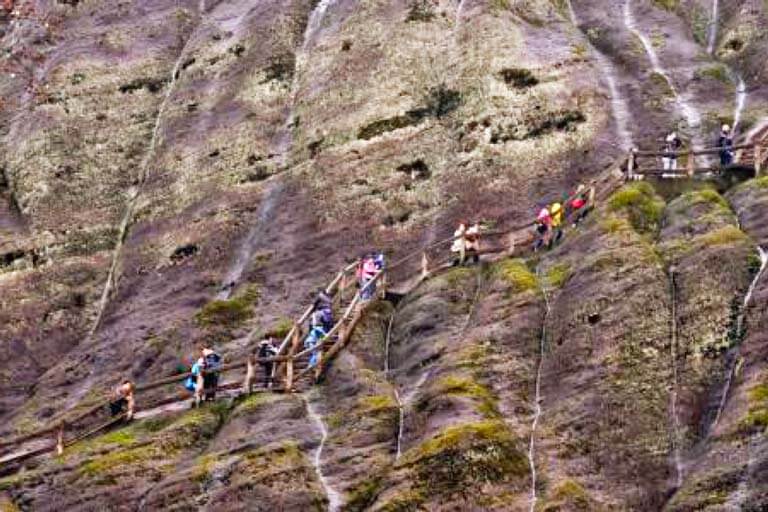 Steep Way up to Tiger Roaring Peak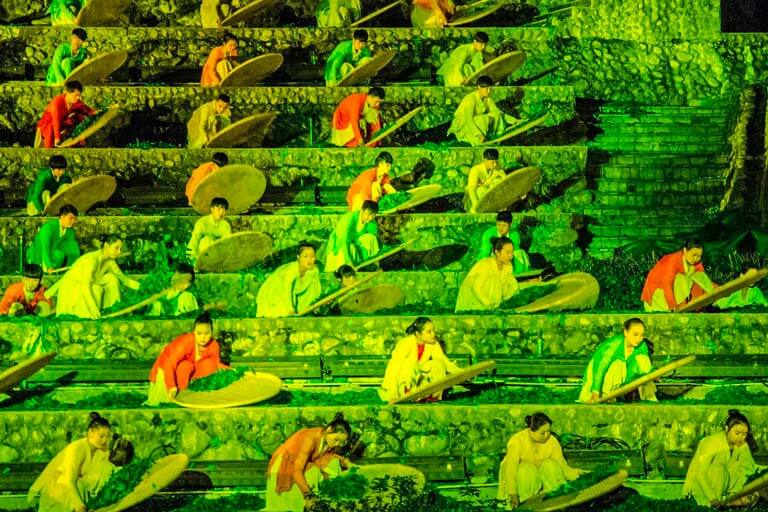 Excellent Show of Impression Da Hong Pao
Attraction near Wuyi Mountain
Xiamei Village Ancient Dwellings
Xiamei Village (下梅村) is a worth-visiting place after appreciate the natural sceneries in Wuyi Mountain, because this ancient village built in Sui dynasty (581 AD- 618 AD) is proofed to have been the active place of people of the Neolithic Age. As a result, you can walk on the stone paved old streets to see the remaining relics, over 30 featured dwellings, old wells, etc. and then you could know how nice it is to live in this serene small village among lush mountains and singing streams in ancient China.
(About 10 km away, driving for 16 min.)
Qinglong Waterfall
Located at the west side of Wuyishan Grand Canyon ecological park, the nationally rare Qinglong Waterfall (青龙大瀑布) make you immersed into the irresistible charm of nature. This waterfall enjoys continuous flying water all year round, with the refreshing air, the flourishing forest surrounding and the waterfall of over 200 m long in ladder pattern, therefore this landscape is the best way to drive your summer hot away.
(About 33 km away, driving for 50 min.)
>> 3 Days Classic Wuyi Mountain Tour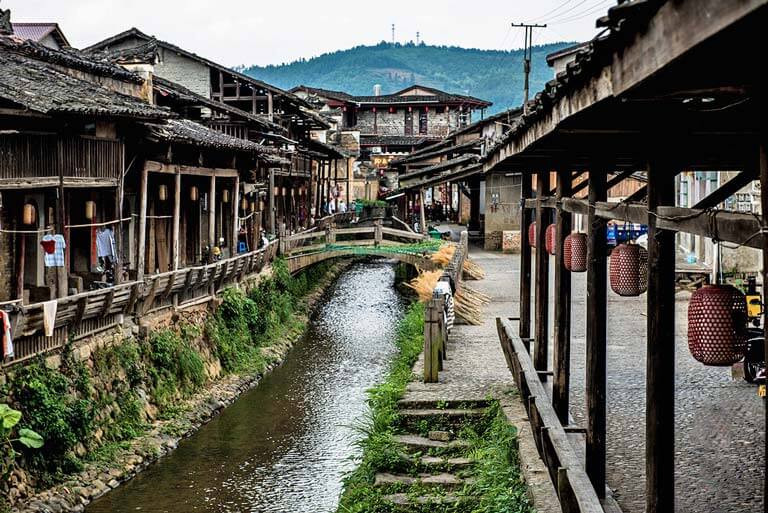 Over 1400 years Old Xiamei Village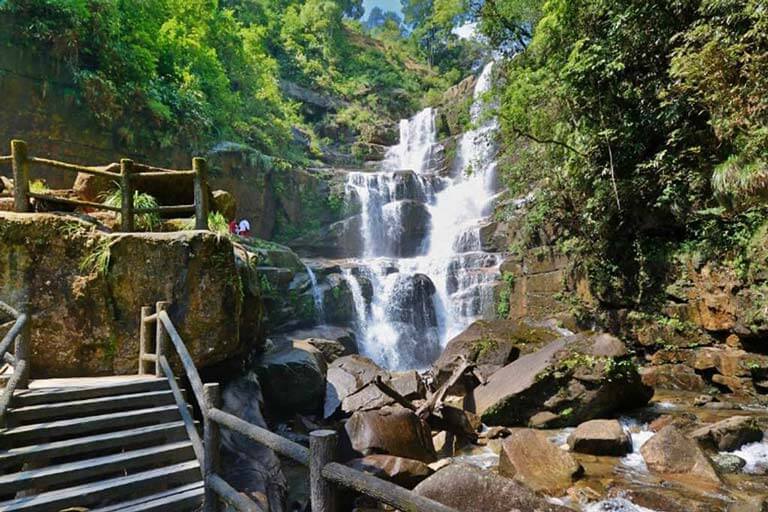 Breathtaking View of Qinglong Waterfall
Recommended Route to Visit Wuyi Mountain
1 day tour
Float along the Nine Bend Stream on the bamboo raft to appreciate the natural scenery, and then visit Wuyi Palace as well as the Song Street to feel the rich culture and history of ancient China. Finally, climb up to the Tianyou Peak to appreciate the breathtaking view.
2 days tour
Day 1:
Take the bamboo raft to flow along the Nine Bend Stream. Along the way, you can see the Heavenly Tour Peak, Dawang Peak, the hanging boat coffins. Then visit Wuyi Palace and feel the historical feature on the Song Street. At night, appreciate the world largest live show –Impression Da Hong Pao to know more about the tea culture and admire the different charm of Wuyi Mountain.
Day 2:
Go through the narrow way of Yixiantian and see the transparent white bats here, and then go to Tiger Roaring Rock to hear the shocking sound of wind like the roar of a tiger. Visit Big Red Robe Scenic Area to see the growing place of Dahongpao tea, and admire the crystal-like waterscape at Water Curtain Cave. After that, go to Xiamei Village to admire the ancient dwellings.
Fee in Wuyi Mountain
Entrance Fee:
¥140 +75 sightseeing Vehicle for 1 day tour / person
¥150 +85 sightseeing Vehicle for 2 days tour / person
¥160 +95 sightseeing Vehicle for 3 days tour / person
Nine Bend Stream Bamboo Rafting:¥ 100 / person; Insurance Premium: ¥2 / person
Other attractions : ¥60 / person / Place (Qinglong Waterfall,Xiamei Village Ancient Dwelling, Yulong Scenic Area, Longchuan Grand Canyon, Wuyishibazhai, LongjingMontain)
The above fee information in for your reference only, for the updated and detail information, please contact our Travel Consultant!
How to Go to Wuyi Mountain
Since Wuyi Mountain is a very popular attraction, there are many different ways you can choose to get there.
Independent Travel
By flight
Wuyishan Airport is 12 km away from Wuyi Mountain Scenic Area, which needs about 20 minutes by taxi. It has opened more than 30 domestic airlines to and from many main cities in our country, like Beijing, Shanghai, Guangzhou, Hong Kong, Macau, Shenzhen, Xiamen, Nanjing, Hangzhou, Xian, etc., so you can easily get to Wuyi Mountain by air.
By train
More than 160 bullet trains run to Wuyi Mountain every day, and it takes you only about 3 to 3.5 hours from Xiamen, and about 1-1.5 hour from Fuzhou to arrive. It would need about 35 minutes to reach Wuyishan from Wuyishan North Railway Station or Wuyishan East Railway Station. Besides, there are many bullet trains from Huangshan North Station in Huangshan City, which needs about 1-1.5 hours.
Moreover, the local bus and taxi are both very convenient and cheap, therefore, you can go anywhere in this area without effort.
Private Tour (Top Recommended)
If you want to get rid of hustle of public transportation and troublesome navigation, you can book a private tour package which covers sightseeing, dining and transfer from us. Our local tour guide and driver will escort you to Wuyi Mountain with speed and convenience, and take care of all the details. You just need to focus on sightseeing.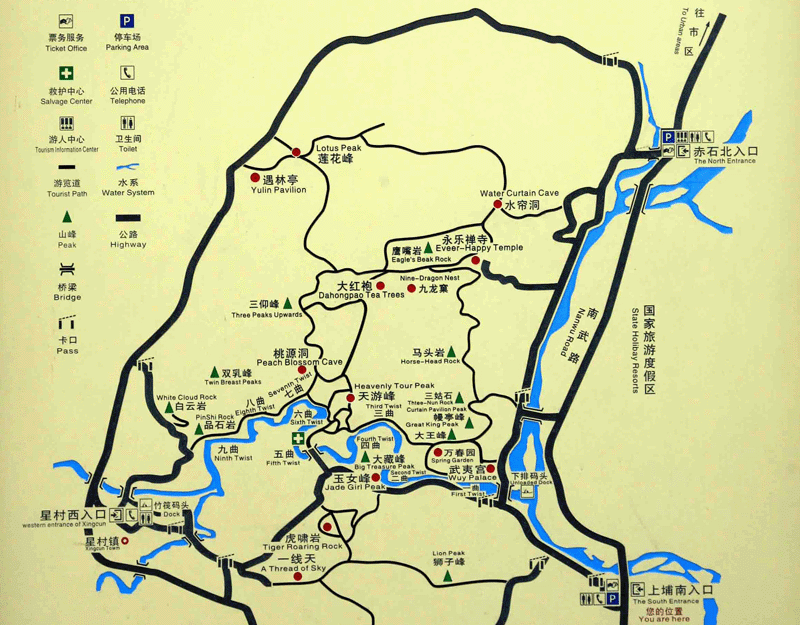 Click to Enlarge the Sketch Map of Wuyi Mountain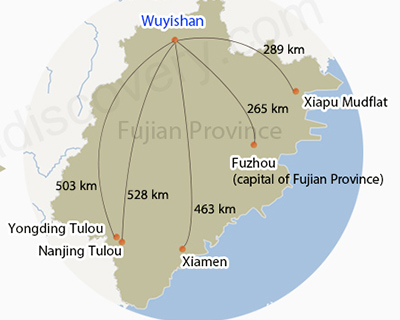 Click to Enlarge the Location Map of Wuyi Mountain
Accommodate in Wuyi Mountain
There are multiple hotels and hostels in Wuyi Mountain Scenic Area and Wuyishan city for your choice. Check the following recommended hotels for your reference!
Luxury
C & D Resort, Wuyi Mountain in the scenic area is the best hotels here, which gives you the best view of Dawang Peak. With charming natural scenery and clean air, your stay here will be so good. Besides, you can also choose to accommodate at Dahongpao Resort near the scenic area. This luxury resort hotel enjoys elegant sightseeing of Wuyi Mountain and serene environment, so you will have a rest of high quality during your tour! Furthermore, you can choose to accommodate in S Hotel that is near the Da Hong Pao Theater. You can not only enjoy the fancy natural scenery like painting, but also have the excellent room and considerate services.
Accommodate at Wuyi Mountain
Comfort
Jiu Long Wan Resort · Wuyi Mountain facing the main tourist area has exquisite villa and terrace with full view. You can relax yourself in the waterscape and mountain scenery resort with very great services and ficilities. Also, Wuyi Mountain Villa close to Wuyi Palace is a very popular comfort hotel. Staffs are especially professional because this hotel has rich serving experience of state leaders and other famous celebrities worldwide. Moreover, WuyishanJooch Resort is also a very worth choice for stay, because you can stroll on the bank of Nine Bend Stream and feel the pleasing landscape. Since delicious food, full facilities and nice services are offered, you can just concentrate on how to play to the most.
Economy
Having very clean and warm rooms, Sweet Time Hotel is well equipped with great facilities, and you will feel the real sweet time in the serene mountain area. Situated at the prosperous area of the tourist area, Yuanhua International Hotel is very convenient to find. Fancy design in the hotel, gym room, garden, swimming pools, tasteful cuisines of Chinese and Western style, and so forth, are all accessible. Moreover, you can consider living in Ancient Street NO. 3 Tea Hotel, which is in front of Dawang Peak. This special hotel themed with tea culture has very simple but elegant decoration outside and in the rooms, which provides you a good place to rest.
Eat in Wuyi Mountain
You can find there are countless kinds of delicious food in Wuyi Mountain and Wuyishan city, from the meat, mushrooms, fresh vegetables, etc. Besides the western food in the hotels, you can try the Taoist Feast and discover various local snacks along Xilin Street that is a famous snack street there.
Tips to Go to Wuyi Mountain
1. Prepare your camera with enough electricity and storage room to take more beautiful pictures and protect it well;
2. Take enough comfortable clothes and antiskid shoes to both keep warm and make your long-term mountain tour with more safety;
3. Since some ways on the mountain are very steep, please watch out walking;
4. Since the Impression Da Hong Pao show is very popular, it is recommended to book the ticket in advance for at least 1-2 days.
5. Please respect the local culture during your tour.
Keep Reading
Recommended Fujian Tours
Top 3 Fujian tours chosen by most customers to explore Fujian in the best way. Check the detailed itinerary, or tailor your own trip now with us.
3 Days Classic Wuyi Mountain Tour

Wuyishan
5 Days Xiamen, Nanjing Tulou & Mount Wuyi Discovery Tour

Xiamen / Nanjing Tulou / Xiamen / Wuyishan
Start planning your tailor-made holiday to China by contacting one of our specialists. Once enquired, you'll get a response within 0.5~23.5 hours.
Customize a Trip
Have a question? Get answers from our travel experts or guests
Your Question:

Your Name:

Your Email: