Fujian Tulou (福建土楼) are an amazing kind of earthen building scattered in the mountain regions in Southeast China. While, Fujian boasts the most outstanding Tulou around Nanjing, Yongding and Hua'an in the southwest part. Fujian Tulou are the dwellings of Hakka minority and constructed into round and square appearance with high and thick exterior wall for defensive function, with the largest Tulou can hold 800 members to live at once. That unique construction is really a big architectural miracle. However, they were once thought as the wonder of nuclear base by CIA of the US with the outlook like fly saucers. Among thousands of earthen buildings, 46 lucky dogs from 15th - 20th centuries were listed as a cluster of UNESCO World Cultural Heritage as Fujian Tulou in 2008 with the description as "exceptional examples of a building tradition and function exemplifying a particular type of communal living and defensive organization, and, in terms of their harmonious relationship with their environment, an outstanding example of human settlement." Thus, Fujian Tulou have stunned with world, particularly architectural lovers to have a personal look at the incredible designs and technologies to make them stand stable hundreds of years and also admire the idyllic and harmonious living homeland amongst rice, tea and tobacco mountains with streams running by!
Why Visit Fujian Tulou, China:
Appreciate Various Kinds of Earthen Buildings - Most Fujian Tulou are built into earthy yellow with wide dark tiled roof. However, take you time to find the multiple shapes of Tulou, like round, square, quadrangle, pentagonal, octagonal, and even some like flying phoenix, etc. to savor each amazing exhibit in the natural architectural gallery!
Enter Hakka People's Homeland - Step into Fujian Tulou building to slowly appreciate the fine decorations and designs from the wise Hakka ancestors, like those old paintings, delicate carvings, fun echo in the courtyard, wobble on the pebbled patio, etc. And see local Hakka elders and descendants living in their own harmonious style in the big family community!
Admire Harmonious Scenery of Dwellings with Mountain Landscape - Fujian Tulou constructed against emerald mountains and by clear streams blend in nature perfectly. Green and golden rice terraces in Summer and Autumn separately, rippled lotus pond in Summer with swimming ducks, various fruit trees, multi-colored flowers in each season make Fujian Tulou always enjoy the pleasant and idyllic natural landscape, which is particularly not-missing to be pleased by the gorgeous natural painting scroll!
Popular Extension from Xiamen - Fujian Tulou are only 115 kilometers from Xiamen, thus most visitors plan an extensional visit to Fujian Tulou in Nanjing and Yongding from its best gateway city - Xiamen with only 2.5-3.5 hours by car!
Fujian Tulou History:
Tulou in Fujian was first found in Song and Yuan Dynasties during 11th-13th century.
More than 1,000 years ago, ancestors of Fujian Tulou villagers moved to the mountain regions of southwest Fujian Province to escape from wars and famine, and finally settled down at the mountainous junction of Fujian, Guangzhou and Jiangxi provinces. However, to stop being suffered from the danger of wild animals, robbers and bandits, and also the harmony with locals at the new place, they built the rudiment of earthen buildings using local materials of earth, wood, etc. and live like a community. Later in 1478 with Yongding being announced as a county, local economic and cultural development helped Fujian Tulou made a progress in Yongding.
During 17th - 18th century under the reign of Kangxi and Qianlong emperors, living condition of southwest Fujian locals has been improved as tobacco and tea industries boomed and those commodities were well sold across the country and even overseas,. Therefore, to benefit the common interests of families and house more family members, local Hakka people built larger-scaled earthen buildings with various shapes of round, square, etc. Most were finely designed and exquisitely decorated. Some outstanding Tulou were even built with exotic elements after their local Chinese overseas owners brought their fortune from foreign countries. Fujian Tulou enters the golden age.
After 1950s, Fujian Tulou construction emphasizes function and simpler construction and decoration, which has been kept on nowadays.
From middle 1950s to 1980s, Fujian Tulou were admired by domestic architecture field and were introduced overseas for a big heat. Till July, 2008, Fujian Tulou were announced as a UNESCO World Cultural Heritage site in Quebec, Canada!
What to See at Fujian Tulou
Fujian Tulou has 46 earthen buildings listed into UNESCO World Cultural Heritage record, which are scattered at Nanjing, Yongding and Hua'an, with Nanjing and Yongding being the most visited Tulou clusters. You can visit the top earthen buildings with round or square exterior walls, like Tianluokeng, Chengqi Building, Huaiyuan Building, etc., enjoy Fujian countryside view, walk at old towns and streets of South Fujian flavors... Click to see all top Fujian Tulou >
1. Nanjing Tulou
Nanjing Tulou has the must-see Tulou cluster, special buildings and tranquil villages for your discovery. And it contains mainly 2 clusters and 2 buildings recorded into World Heritage list, namely Tianluokeng Tulou Cluster, Hekeng Tulou Cluster, Hegui Building and Huaiyuan Building. Besides, the famous Yuchang Building is also located in Nanjing and quite popular to visit together. Click to see more about Nanjing Tulou >
Tianluokeng Tulou Cluster
Tianluokeng Tulou Cluster is the must-see Fujian Tulou, which usually shows on Fujian Tulou posters. With 3 round earthen buildings, 1 oval building and 1 square building located among the beautiful rice terraces, they look particularly like "four dishes and one soup" from high.
Yuchang Building
Yuchang Building construction during 1308-1338 is famous as "Zigzag Building" with the largest inclination of 15 degrees. Also, it is the round Tulou with most floors and highest floor height in whole Nanjing County region. No one will miss this "miraculous building in China"!
Taxia Village
Taxia Village originated along a stream is a tranquil and lovely typical Fujian Hakka village where to see the 47 various earthen buildings dotted among the the mountain range. And two special Tulou at the bending places makes the village a scene of a Taichi water town for visual surprise!
Hekeng Tulou Cluster
Hekeng Tulou Cluster has 13 earthen buildings constructed against emerald mountain and belted by winding water and is more primitive. It is must to catch the fabulous scene of "Big Dipper Constellation" from top of the Lion Rock. Which is the praisable work of nature and mankind.
Hegui Building
Heguilou from 1732 is the tallest square Tulou listed as UNESCO World Cultural Heritage, with the height of 17.08m and 17.95m for the front and rare parts. The most conspicuous aspect is that this giant Tulou was built on marshland and still remains stable for over 200 years. Feel the shaken if you stamp on the pebbled patio.
Huaiyuan Building
Huaiyuanlou is a round Tulou with one circle within another and was built during 1905-1909. It is still smooth on the wall with outstanding technology of earthen building. The classroom in this Tulou with three characters "Si Shi Shi (斯是室)" hanging indicates the owner's emphasis on education and further contribution to country!
Yunshuiyao Scenic Area
Yunshuiyao is a famous old town boasting Hegui Building, Huaiyuan Building and other over 50 Tulou with diverse looks. Take a leisure walk along the pebbled old plank, under ancient banyan tree, along lovely stream, by earthen building, and watch art students sketching is the best way to savor the beauty of Yunshuiyao.
2. Yongding Tulou
The famous Yongding Tulou has Hongkeng Tulou Cluster, Gaobei Tulou Cluster, Chuxi Tulou Cluster, and Yanxiang Building with Zhenfu Building in Nanxi Tulou Cluster listed into World Heritage site. And visitors are highly recommended to see its famous simple Tulou like Chengqi Building, Zhencheng Building, etc. Click to see more about Yongding Tulou >
Hongkeng Tulou Cluster
Hongkeng Village in Yongding is reputed as the most beautiful village in Fujian. This major tulou cluster has abundant earthen buildings originated from 13th century for your appreciation of those round, square, rectangle, half-moon-shaped and other styles of Fujian Tulou accompanying the old water wheel at the entrance of the village.
Chuxi Tulou Cluster
Chuxi Village gets big fame with some of the most beautiful, oldest, most complete, most famous Fujian Tulou. Walk up to the top of the mountain to catch the splendid sightseeing of traditional Fujian old village with dotted Tulou located peacefully with layers of rice terraces and belting stream in mystery and harmony!
Gaobei Tulou Cluster
Gaobei Tulou Cluster leaning the lush mountain with a stream running from west to east is one of the not-missing site of Fujian Tulou. You can walk along the paved paths to visit the 4 representative Tulou including Chengqi Building, etc. And admire the fresh color combination of yellow building, green fields and seasonal blossoms.
Nanxi Tulou Cluster
Nanxi Tulou Cluster with over 100 earthen buildings scattered along the river banks into over 10 kilometers enjoys the reputation as "Great Wall of Fujian Tulou" for such a grand scene. Do catch the panorama during your visit. Besides, Zhenfu Building and Yanxiang Building there have been listed into the UNESCO heritage record for your step by.
Chengqi Building
Chengqilou in Gaobei Tulou Cluster is known as "Tulou King" as it is the largest and most circular Tulou, covering 5,300 s.q.m. wide. Strictly designed based on Bagua and Feng Shui, Chengqilou integrates heaven, earth, people and buildings harmoniously. It has also been printed on China's national stamps issued in 1986.
Zhencheng Building
Zhenchenglou in Hongkeng Tulou Cluster is praised as "Prince of Tulou Architecture". built from 1912 with 57.2 meters high according to the Chinese Bagua theory, it has quiet unbelievable layout and with bold use of colors and Chinese and Western architectural styles, Zhenchenglou is a masterpiece for your marvel!
Rusheng Building
Rushenglou at Hongkeng Village is the smallest UNESCO Heritage recorded Fujian Tulou with a coverage of only 500 s.q.m. and a diameter of 23 meters, thus, tourists often call it "Pocket Tulou". Built during 1875-1908 AD, this small Rushenglou looks like a traditional bamboo tool to measure rice for your closer discovery!
Fuyu Building
Fuyulou is the classic representation of five-phoenix-style Tulou in Fujian and situated at Hongkeng. Standing on the opposite bank of the stream, you'll see the roofs with flying eaves cover layer by layer like a flying phoenix with wings spreading. Besides, it boasts delicate carvings, sculptures and other art decoration for visual enjoyment.
3. Hua'an Tulou
Hua'an Tulou are visited less by visitors since they are a little far from Fujian Tulou in Nanjing and Yongding with a driving of about 2.5-3.5 hours. There are three Tulou listed into World Cultural Heritage site, namely Eryi Building, Nanyang Building and Dongyang Building.
Dadi Tulou Cluster
Huan'an Dali Tulou Cluster was originated in 1740. You will see diverse shaped Tulou with exquisite layout and habitable location, like the tallest one with 6 floors, largest one with a diameter of over 80 meters. Earthen buildings, temple, old streets, fields and mountains together forms a special harmonious Fujian countryside view!
Eryi Building
Eryi Building is the must-see of Hua'an Dadi Tulou Cluster, which was built in 1740. This Tulou covering 9,300 s.q.m. wide also stands out with the delicate decorations of painting, fresco, couplets, wood carvings and also surprising kept of old newspapers from America for a interesting inspiring collision of Chinese and Western culture!
What to Do at Fujian Tulou, China
Visiting Fujian Tulou, there are lots of interesting things to do for your more enjoyable vacation, such as walk into Tulou buildings, photographing, hiking on beautiful mountains for panoramic Tulou scenery, join Hakka cultural activities, etc. Click to see more about Fujian Tulou Activities >
Hiking / Walking
Take a scenic hike or walk on layers of rice terraces backing Fujian Tulou is quite enjoyable, since you'll appreciate the fields in green, yellow, golden, etc. in different seasons and also have the fabulous panorama of the large scaled of earthen buildings from the best angles. Hiking at Chuxi Tulou Cluster is quite popular! Besides, walking on paths at Taxia Village is also pleasant for architecture and nature admiration!
Photography
Fujian Tulou being a peculiar and graceful kind of architecture surely are the great photography theme for shutterbugs. Catch the grand bird's eye view of some special Tulou clusters with lush mountain, fresh rice terraces, patched fields and running stream, the round and square outlook of typical Tulou, inner designs and decorations, and even the lively life scene of Hakka people living in there to make one of the top ideal photography works of you!
Step into Hakka Tulou
Enter some of the representative Tulou buildings and walk upstairs to clearly witness the construction mysteries and those different and exquisite decorations of paintings, couplets, red lanterns, carvings, sculptures in traditional Chinese styles and some contrasting elements in Western features to learn the cultural collision. Also, feel the enjoyment from the special construction techniques to your auditory and balance sense.
Enjoy Hakka Cultural Activities
Hakka people still keep some traditional Chinese skills on art and living. You can join in their special activities to learn their culture and create more fun during your trip, such as learn to make glutinous rice cake, paint Tulou building, do paper cutting, watch drying persimmon, enjoy seasonal Hakka song and dance performance, join in the Spring Festival celebration, etc.
Weather & Best Time to Visit Fujian Tulou, China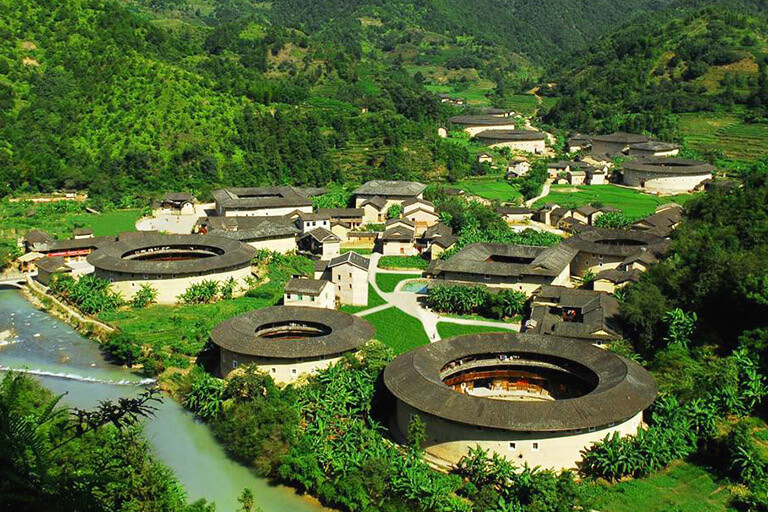 To know Fujian Tulou weather, it usually means to know the weather in Nanjing County and Yongding where they are located around. Also, as Nanjing and Yongding are very close to each, weather and best time to visit are usually the same. Nanjing and Yongding belong to the subtropical ocean monsoon climate zone with wed and modest feature, so there is no hot summer or cold winter around Fujian Tulou. Besides, they share an annual temperature of about 18℃-20℃, with January being the coldest month with an average temperature around 9℃ and July being the hottest one with an average temperature around 28℃-29℃. rainy season mainly comes during March to September, particularly in June!
With modest climate and temperature, Fujian Tulou in Nanjing and Yongding are suitable to visit all year round with different sightseeing to admire, particularly in Spring and Autumn when to see beautiful refreshing countryside view and harvest scene!
Click to see more about Fujian Tulou Weather & Best Time to Visit >
Fujian Tulou Spring
As temperature rises gently, various bright flowers around Fujian Tulou and on the mountain range are in full blossoms continuously. Also, it's the best time to see local Hakka villagers make their spring approaches at the rice terraces and the mirror-like terraced fields irrigated with water!
Fujian Tulou Summer
Lush mountains, emerald rice terraces, lotus ponds... makes Fujian Tulou a great place for fresh air. Walk into the Tulou building to cool down by the high architectural skills. Also, middle May to middle July is the best time to find glowworms, however, long sleeves, trousers and mosquito repellent are highly suggested.
Fujian Tulou Autumn
Autumn is the best time to see "golden" Fujian Tulou with large spread of golden rice terraces to be or on harvest. Hanging red persimmons, lush vegetable fields, hard working villagers busy for harvest, etc. are all terrific to enjoy the Fujian Tulou scenery and Hakka culture! Nice season for photography!
Fujian Tulou Winter
Mountains around Fujian Tulou are also emerald for visual satisfactory in winter. You can avoid crowds at Fujian Tulou during December to February, and also there are usually many interesting events and cultural activities such as lion dance, hang red lanterns, etc. around traditional Chinese Spring Festival.
Transportation of Fujian Tulou, China
Get to Fujian Tulou
Fujian Tulou mainly scattered in Nanjing County and Yongding District are about 115 kilometers from Xiamen. There is no airport available nearby. So lots of visitors prefer to visit Fujian Tulou from the best gateway - Xiamen that offers with more convenient flight / bullet train connecting Beijing, Shanghai, Guangzhou, Hong Kong, Huangshan, Hangzhou, Chengdu, Chongqing, etc.
Xiamen to Fujian Tulou
By Private Car: It usually needs about 2.5-3.5 hours to get from Xiamen to Fujian Tulou in Nanjing and Yongding by car. We China Discovery highly recommend you travel with us. Our local English-speaking guide and professional driver will escort you from Xiamen to Fujian Tulou directly, between each Tulou Cluster by the safe, licensed, clean and comfortable vehicle of China Discovery, and our guide will give interesting introduction of the highlights, so you can enjoy all the highlights on the way! And you will save more time on the road navigation, vehicle waiting and hard communication with locals. Please tell us if you need any help!
By Coach: Xiamen Hu Bin Nan Long Distance Bus Station and some other major bus stations offer direct coaches to Nanjing Tulou and Yongding Tulou with limited 1-3 shifts every day, which usually takes about 2-3.5 hours. Besides, more non-direct buses are available to Nanjing downtown and Yongding downtown with another transfer.
By Bullet Train: You can take a bullet train to Nanjing Railway Station (closest to Fujian Tulou) for 30-50 minutes from Xiamen and get to Nanjing Tulou by local transfer of 1 hour.
Besides, travelers can also take a bullet train from Fuzhou, Quanzhou, Guangzhou, Huangshan, etc. To arrive in Nanjing County or Yongding.
Travel Around Fujian Tulou
Local transportation at Fujian Tulou is relatively poor for traveling, and there are only buses, hiring cars, hiring motorcycle taxis for the choice of independents. Besides, there is no direct bus between Nanjing Tulou and Yongding Tulou. International visitors are recommended to travel with us to enjoy worry-free transfer among Fujian Tulou!
Click to see more about Xiamen to Nanjing Tulou | Xiamen to Yongding Tulou | Nanjing Tulou to Yongding Tulou | How to Get to & around Fujian Tulou >>
Accommodation of Fujian Tulou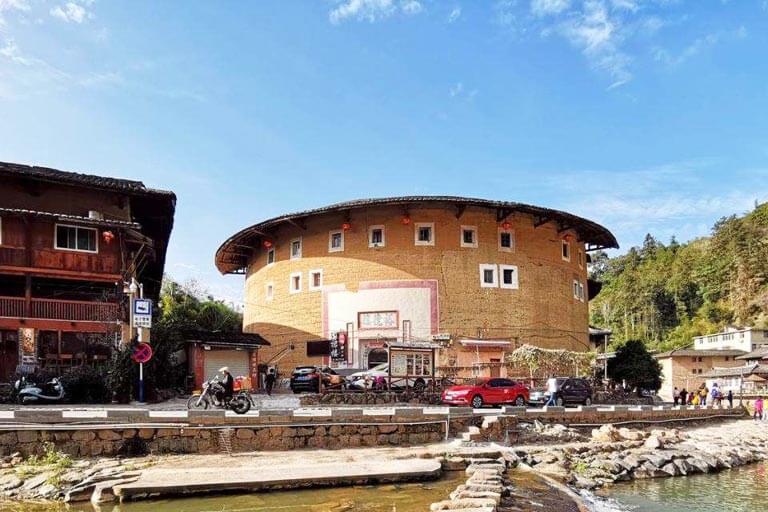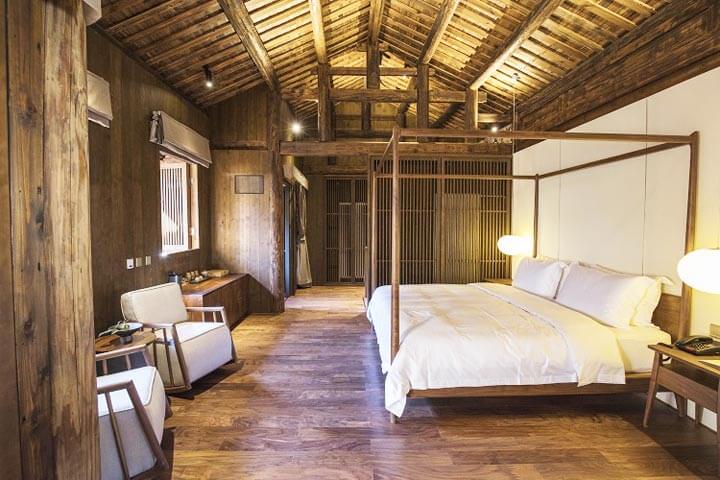 Nanjing Tulou, Yongding Tulou and Hua'an Tulou all have many accommodations for visitors, from starred hotels, economic hotels to hostels and boutique inns, however, most of them can not be compared with accommodations in large cities like Beijing, Shanghai, and Xiamen. To feel staying in a Hakka earthen building, you can find one at Tulou areas, however, some do not offer private bathroom or 24 hour hot water or Wi-Fi. And if you want a better environment and service, you can stay in Nanjing downtown or Yongding downtown with more higher ranked hotels.
Where to Stay
Taxia Village in Nanjing is the favorite accommodation area for visitors to Nanjing Tulou, where you can find both authentic Tulou hostels / inns and fine boutique hotels for a close savory of Hakka people's life and lovely mountain landscape. Moreover, Chuxi Tulou Cluster and Hongkeng Tulou Cluster are both popular places for staying in Yongding Tulou to plan a morning hike or Tulou life appreciation.
Click to see more Fujian Tulou Hotels | Fujian Tulou Hostels | Fujian Tulou Travel Tips
Useful Fujian Tulou Maps
To help you know better about Fujian Tulou location, attractions, transportation, etc. for an easier Tulou trip planning, here we collect some useful Fujian Tulou Maps that are latest, downloadable and printable! Click to see more Fujian Tulou Maps 2022 >
Other Popular Destinations Around Fujian Tulou
Apart from Fujian Tulou, there are many other wonderful destinations in Fujian Province for your discovery of the nature, culture, history, food... of this large coastal province in southeast China!
Other Popular Destinations in China
China is vast and diverse. You can choose your favorite destination among more than 70 tourist destination and regions. Following are 4 popular destinations you may get interested in. Check all destinations in China
Plan Your Fujian Tulou Tour
Usually, 1-2 days is needed to catch the essences of Fujian Tulou without the arrival and departure days. You can spend day 1 in seeing Tianluokeng Tulou Cluster, Taxia Village, Yuchang Building in Nanjing. For day 2, you can go to discover Hegui Building and Huaiyuan Building with Hekeng Tulou Cluster in Nanjing or Chuxi Tulou Cluster in Yongding. And to explore Fujian Tulou deeper, you can spend another 1-2 days to Hongkeng Tulou Cluster, Gaobei Tulou Cluster, etc.
In fact, lots of visitors prefer travel Fujian Tulou from Xiamen with convenient transfer and also city highlights for leisure, and such a combo usually needs about 3-5 days. It is also a good idea to extend to Wuyishan, Xiapu, Quanzhou, Fuzhou, etc. to soak in more splendid landscape and cultural charm of Fujian Province.
Furthermore, visitors also like to plan Fujian Tulou with other hot destinations in China, such as Huangshan, Guangzhou, Hong Kong, Shanghai, Hangzhou, Yunnan, etc. to discover more and save more. All our tours are customizable! And we China Discovery are experienced in customizing China tour based on your interests, special needs, and budget! If you have any idea about your trip planning, please feel free to contact us to help plan you Fujian Tulou Tour or Fujian China Tour!
Recommended Tours
MORE